Silverado capitalizes on Liberty's miscues
January 23, 2009 - 10:00 pm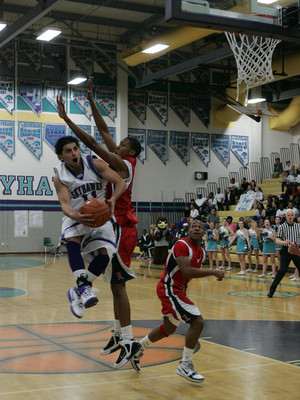 Liberty's boys basketball team shot 50 percent from the field in the third quarter Thursday.
Unfortunately for the Patriots, they had more turnovers in the period than shot attempts.
Silverado took advantage of the sloppy play to build a double-digit lead, then held on for a 57-52 home victory.
"Once we made a run and we felt like it was comfortable, we just knew we could beat them," Skyhawks senior guard Ali Sabra said. "It wasn't like they were unstoppable."
Silverado took advantage of nine third-quarter turnovers to push the lead to 11 points. But Liberty battled back in the fourth quarter behind junior forward Ashante Ross, who had eight of his 12 points in the period.
His last basket cut the Skyhawks' lead to 51-49 with 46 seconds to play, but Silverado made 6 of 8 free throws down the stretch.
Wade Collie was 5-for-6 from the line in the final minute. After a scoreless first half, Collie finished with a team-high 13 points. But his biggest contribution in the second half might have been on defense as he helped shut down Kenneth Peters, who had 15 points in the first half but two after halftime.
"Wade did a good job on him," Sabra said. "He did a good job containing him and not letting him shoot, and when Kenneth would go around him, we had help right there the whole time. This is probably the best defensive game we've had."
Sabra had 12 points, James Lata had 11 points and nine rebounds and Isaiah Simmons scored 10 for Silverado. The Skyhawks remain one game behind Foothill in the Southeast League at 5-1. Liberty fell to 3-2.
"You can be 0-15 and it's always good to beat Liberty," Silverado coach Ron Childress said. "Growing up in Indiana, we don't like to lose to anybody. We don't like to lose to a team of hogs, pigs or nothing. We just want to beat everybody."
Liberty's Milos Knezevic had 16 points and eight rebounds.
Contact prep sports editor Damon Seiters at dseiters@reviewjournal.com or 702-380-4587.
In-depth high school sports coverage
Slideshow THURSDAY'S HIGHLIGHTS BOYS Legacy's Sam Johnson scored 16 points in the third quarter and finished with 26 points and 11 rebounds in a 65-61 home win over Cimarron-Memorial. Bonanza's Arin Matt had 28 points in the Bengals' 75-70 win at Pahrump Valley. Spring Valley's Jesse Chippoletti went 8-for-8 from the free-throw line in the fourth quarter and had 24 points in the Grizzlies' 60-52 home win over Clark. GIRLS JaLeesa Williams' jumper at the buzzer lifted host Arbor View to a 51-49 win over Cheyenne. Legacy's Kindrea Poole had 22 points and 16 rebounds in a 66-63 home win over Cimarron. Durango's Mia Bell had 35 points — her fourth straight game with at least that many points — in a 52-50 win at Sierra Vista.