Smaller Centennial outruns Gorman
January 30, 2014 - 12:01 am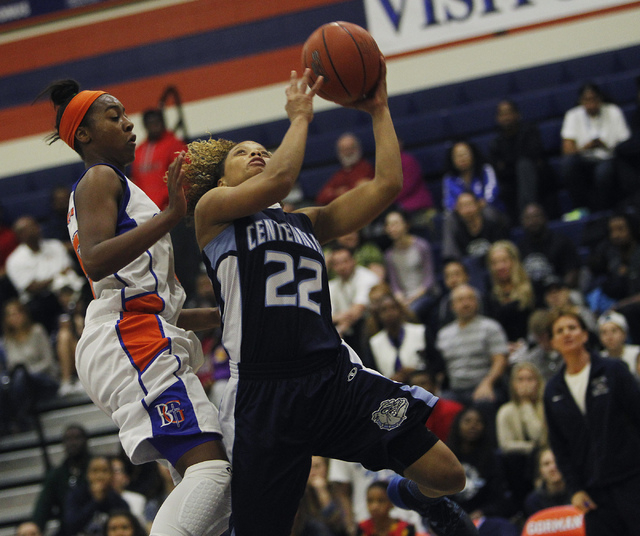 The tallest player on Centennial's girls basketball team is generously listed at 5 feet 9 inches tall.
And at least a couple of the Bulldogs might be just a hair taller than the red-and-white stick at an amusement park.
But it didn't stop Centennial from giving much taller Bishop Gorman fits Wednesday.
The top-ranked Bulldogs scampered all over the floor, constantly applying pressure and forcing turnovers en route to a 67-52 win at No. 2 Gorman.
"When I'm the tallest person on our team, we're going to have to play good defense and try to be up-tempo," said Centennial coach Karen Weitz, whose team handed the Gaels their first Southwest League loss since Jan. 7, 2004.
Gorman started four players taller than anyone on Centennial's roster, including three players who stand at least 6-1, but the Bulldogs' constant trapping, running and jumping forced Gorman into 32 turnovers.
The Bulldogs (17-4, 5-0 Southwest) also worked hard on the offensive end, building a 20-8 lead in the final minute of the first quarter. Gorman (14-5, 4-1) twice closed to within three points, but got no closer.
An 11-0 run in the middle of the third quarter gave the Bulldogs a 46-31 edge, and the Gaels didn't seriously threaten again.
Teirra Hicks, who returned from a high ankle sprain, came off the bench to score 10 points in the first quarter and finished with 19 points and 11 rebounds for the Bulldogs.
"We weren't ready to start her, but we're glad she did play and kind of come around," Weitz said. "We needed someone who could rebound. We need our post players, whatever it is we're calling post players. I guess when you're the next tallest, you're a post."
Starting post Karina Brandon added 17 points and four rebounds while tap dancing around foul trouble for most of the game.
"If you get in foul trouble, you've got to be disciplined and stay in the game for your team," Weitz said. "You've got to play with three fouls. You've got to play with four fouls."
Tramina Jordan added 14 points, including a buzzer-beating 24-footer at the end of the first half.
Maddison Washington paced the Gaels with 21 points and 12 rebounds. Washington made 10 of 13 field-goal attempts. Raychel Stanley added 15 points and nine rebounds for Gorman.
"For whatever reason, everybody wants to say this is a big game," Weitz said. "Ultimately does this mean anything in terms of region or state? No. I'm happy for the kids. Sheryl (Krmpotich, Gorman's coach) and I have been doing this for 15 or 16 years, and to us it's probably just another game.
"To the kids, it probably means a lot."
Contact reporter Bartt Davis at bdavis@reviewjournal.com or (702) 387-5230.