NFL's Week 16 starts with games in Baltimore, Green Bay
December 22, 2017 - 5:25 pm
Updated December 22, 2017 - 10:43 pm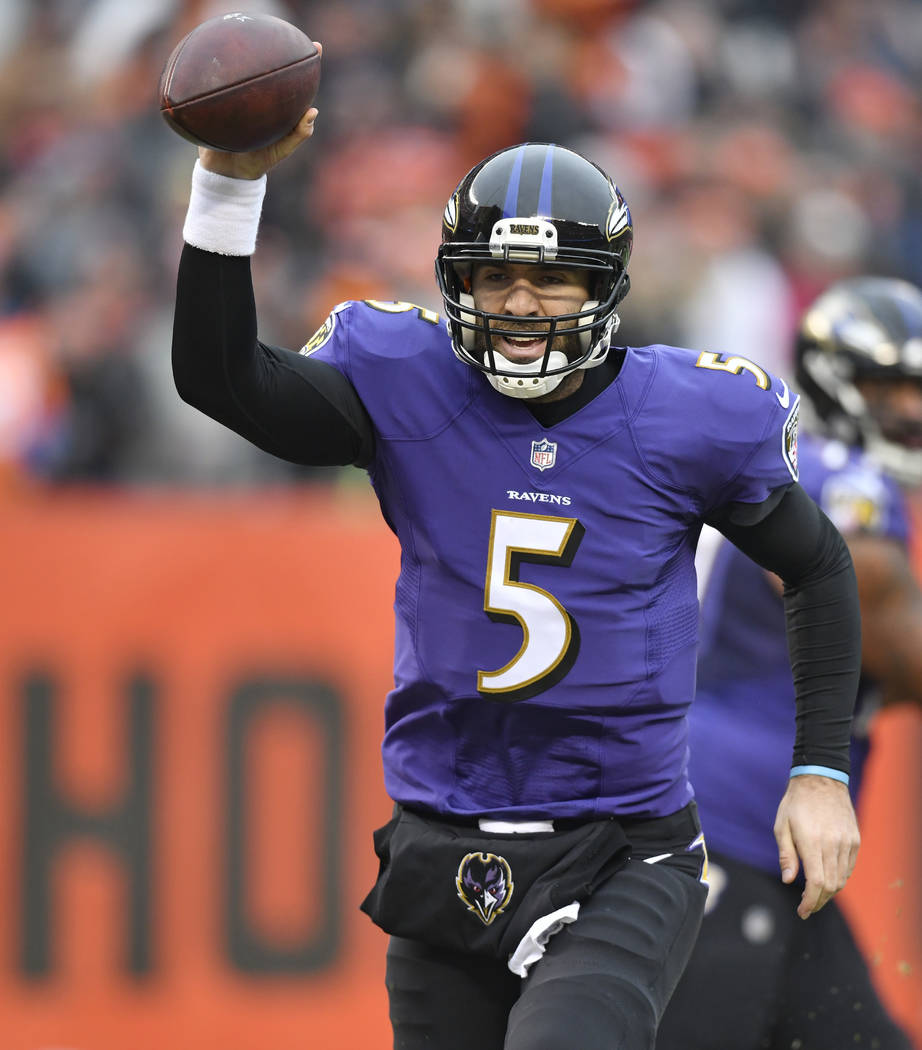 Saturday offers an NFL doubleheader featuring two playoff contenders that are facing teams out of the postseason mix. But bettors, be careful. There could be a trap out there.
■ Colts at Ravens
Line: Ravens -13; total: 41
My former colleague Dan Fouts, who is broadcasting NFL games for CBS, said Thursday on VSiN's "My Guys in the Desert" that whenever a team completely out of the playoff picture falls behind early in a game, that team will head for the exits. That team here could be the Colts (3-11 straight up, 6-8 ATS), who were never the same after quarterback Andrew Luck checked out for the season. Jacoby Brissett has been a game warrior, but he's not the long-term solution.
The Ravens (8-6, 8-5-1 ATS) are very much alive in the race for an AFC wild card. I think they have been the most overlooked playoff contender. Quarterback Joe Flacco, who missed the preseason because of back trouble, has shown significant improvement this month. In the first 11 games, he had nine touchdown passes to go with 11 interceptions. But he has thrown for five TDs and one interception in the past three games.
The Baltimore defense is still strong — ranked in the top five in yards per play and points allowed — and John Harbaugh is a good coach who is often overlooked. A big surprise has been running back Alex Collins, who has rushed for 844 yards and 4.9 yards per carry.
If the Ravens get an early lead, they'll roll right past the spread.
■ Vikings at Packers
Line: Vikings -8½; total: 41
There's a common theme among NFL handicappers that Minnesota (11-3, 10-4 ATS) should be backed because it's in pursuit of home-field advantage through the Super Bowl. Beware of that theory. When athletes wrap up division titles as the Vikings have, the edge frequently is not there.
This is a trap game for the Vikings against the spread. Expect Green Bay (7-7, 7-7 ATS) to turn Brett Hundley loose to see if they have a viable quarterback behind Aaron Rodgers. There is nothing left for the Packers except to spoil the Vikings' pursuit of the Eagles for the NFC's best record.
The choices are to either back the Packers with the points or pass on the game.
That brings us to Sunday and a surprisingly good game.
■ Jaguars at 49ers
Line: Jaguars -4½; total: 42
Who would have thought last summer that on Week 16 in the NFL we would be fascinated with this game? Who would have thought so even four weeks ago? And who would have thought Blake Bortles and Jimmy Garoppolo would be leading the two hottest teams in the NFL? Look it up. Along with the Cowboys, the Jags and Niners have three-game winning streaks.
The arrival of Jimmy G. has changed the fortunes of San Francisco (4-10, 7-7 ATS). He has completed 68 percent of his passes for an average of 243 yards a game with three touchdowns and two interceptions. More important, he is 5-0 as a starter, including two wins before he was traded by New England.
Sunday will be the biggest test Jimmy G. has faced. On its way to the playoffs for the first time in 10 years, "Sacksonville" has the NFL's best defense. It reminds me of what Pete Carroll started putting together six years ago in Seattle. That's when the Seahawks made their move toward the championship that they won in 2013.
As long as Bortles continues to play solid football, I'm buying into the Jaguars (10-4, 9-5 ATS).
■ Falcons at Saints
Line: Saints -5½; total: 52
I don't have a strong feeling about this game, but I do know the NFC South is still at the top of the league.
Don't forget, it's the division that has sent a team to the Super Bowl each of the past two seasons, and this season Atlanta (9-5, 6-8 ATS), New Orleans (10-4, 7-7 ATS) and Carolina all might reach the playoffs.
Brent Musburger's betting column appears Saturday in the Las Vegas Review-Journal. His show on the Vegas Stats & Information Network can be heard on SiriusXM 204 and livestreamed at reviewjournal.com/vegas-stats-information-network.