Alex Tuch tutors teammates while chasing NHL dream with Golden Knights
Updated June 30, 2017 - 9:49 pm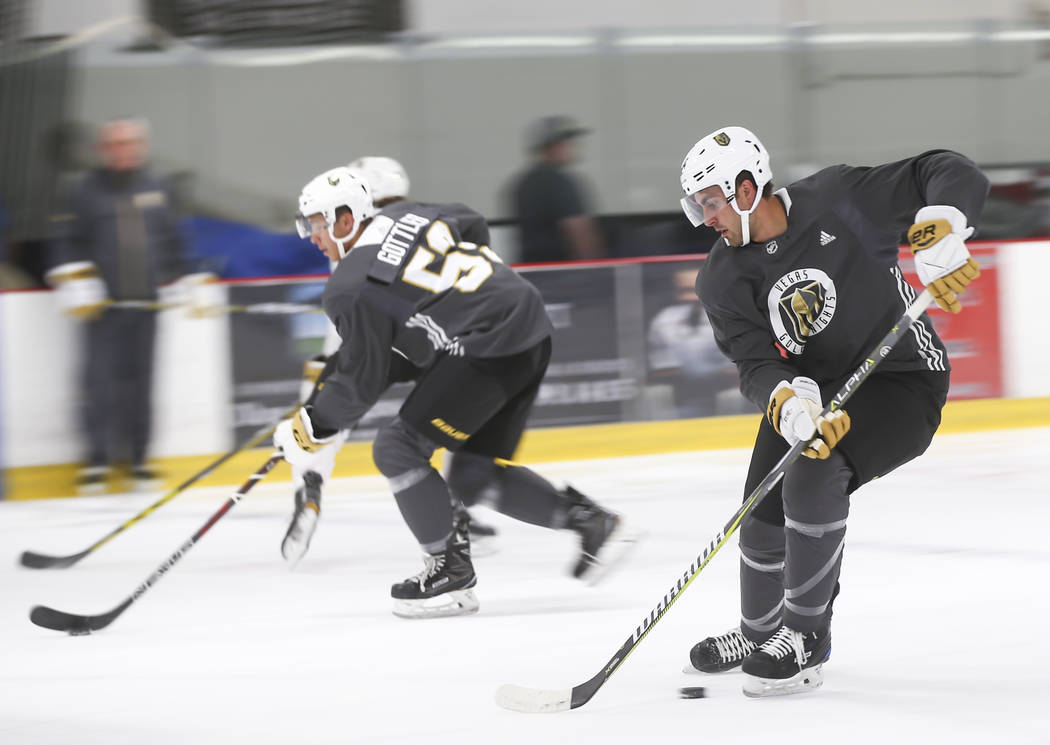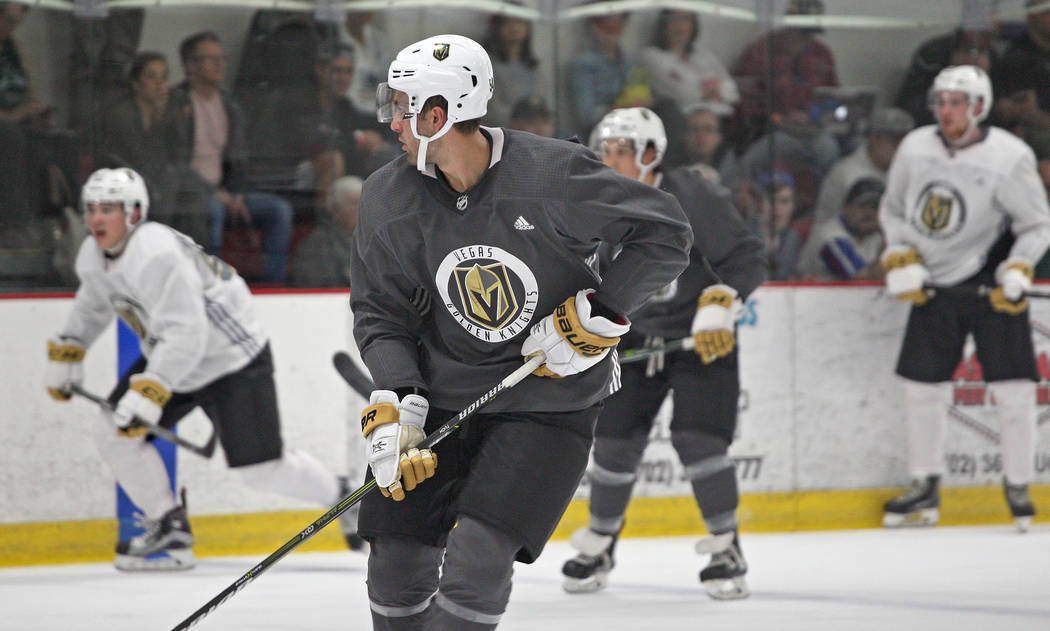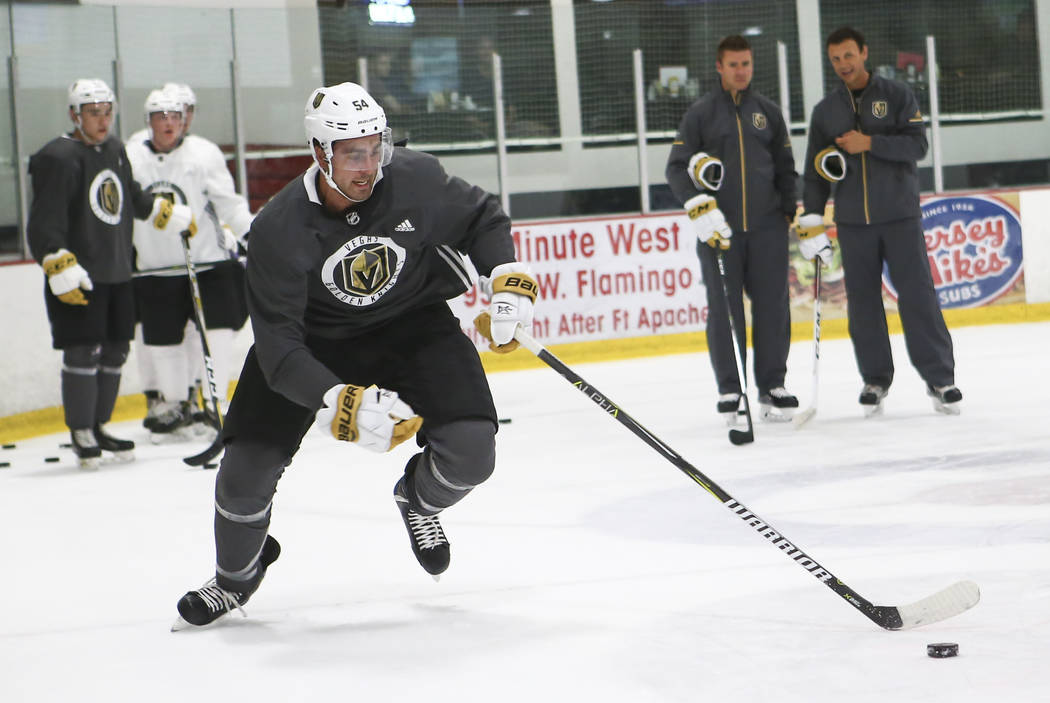 Alex Tuch has been as much tutor as teammate this week, as much counselor as competitor. He didn't have to be here. He wasn't required to spend five days at the Las Vegas Ice Center.
But while most participating in the Golden Knights' development camp understand theirs is a hockey journey that will continue next season outside an NHL roster, Tuch believes he can be with the expansion team on opening night in Dallas.
That's part of the reason he chose to play this week.
The other part is about everyone else.
"I want to show management I've already improved this summer, but I also wanted to come in and be a leader to all the young guys," Tuch said. "This is my fourth development camp. These kids are eyes wide, mouth open, really nice kids. Free agents, draft picks, just a lot of young guys that I wanted to be here to help."
Young guys. Kids.
Tuch, by the way, is 21.
That's the way things go in hockey — you grow up fast.
"He's a pro, a guy that showed a lot of character phoning and saying, 'I'd like to come to camp and meet some of these players,' " Knights coach Gerard Gallant said. "He looks real big and real good out there."
Tuch is here via an expansion draft trade with Minnesota, when the Knights agreed to steer clear of certain players for the Wild, made center Erik Haula their choice and also received a top prospect in Tuch.
It takes, oh, a few shifts into a scrimmage like the one the Knights held the past few days and will end camp with on Saturday to understand where the truly skilled players reside.
Draft picks and guys such as Tuch, who spent most of last season with Iowa in the American Hockey League before playing six games with the Wild, tend to stand out.
They just look like they belong.
Anyone with the ability to score probably will get an opportunity to challenge for a roster spot in training camp, given there is a good chance the Knights will find themselves starving for goals most nights when the season begins.
Put it this way: You're apt to see a lot of 3-1 scores, and you can guess which team most think will have the 1.
In the 6-foot-4-inch Tuch, you have a former first-round draft pick who managed 37 points in 57 games with Iowa, a right wing who played at Boston College and spent two years training with the U.S. national team development program.
He's at a part of the process often toughest to solve, standing in front of a safe that could unlock a full-time NHL career and yet not in possession of the last few digits of the combination.
Which is one reason he hasn't let up on the kids this week.
"As soon as it comes down to the ice and things like a scrimmage, it's time to go," Tuch said. "I'm not going to take it easy on anyone. I don't care how old they are, how big they are, that's another thing young guys have to learn.
"It helped me the last few years, and it will help them. Guys never took it easy on me. They went hard at me. They knew I was a first-round pick who was coming up and could possibly take their spot in the near future. You want to make it as hard as you can on guys. They're not only going to be your future teammates, hopefully, but also your future competition."
He admits there would be feelings of serious disappointment if Oct. 6 arrives and, instead of with the Knights in Dallas, he is with the team's AHL affiliate in Chicago. But there is certainly a chance things will play out that way to begin the season, and all it would mean for Tuch is training harder in search of those final few numbers to the combination.
He thought his chances of making the Wild last season were good and believes even more in the opportunity an expansion team might offer someone so close to unlocking that safe.
How much playing this week will ultimately lead to that conclusion is unknown, but this isn't: Tuch left a major impact on those players learning what it means to be a pro.
"He has been unbelievable to all of us younger guys," said Cody Glass, the team's first-round pick who was chosen sixth overall. "He's been awesome and makes it easy to be here and be comfortable with yourself.
"A good character guy and someone you want in the dressing room — super outgoing and he treats everyone the same. For a guy like that to come in and be here when he didn't have to be and really help us is a real mature, character act."
Said the young, innocent 18-year-old, eyes wide and mouth open, about the old, wise leader at the ancient age of 21.
Contact columnist Ed Graney at egraney@reviewjournal.com or 702-383-4618. He can be heard on ESPN Radio 100.9 FM and 1100 AM from 11 a.m. to 2 p.m. Monday through Friday. Follow @edgraney on Twitter.