Bad BYU football team still owns UNLV
November 11, 2017 - 12:55 am
Updated November 11, 2017 - 1:00 am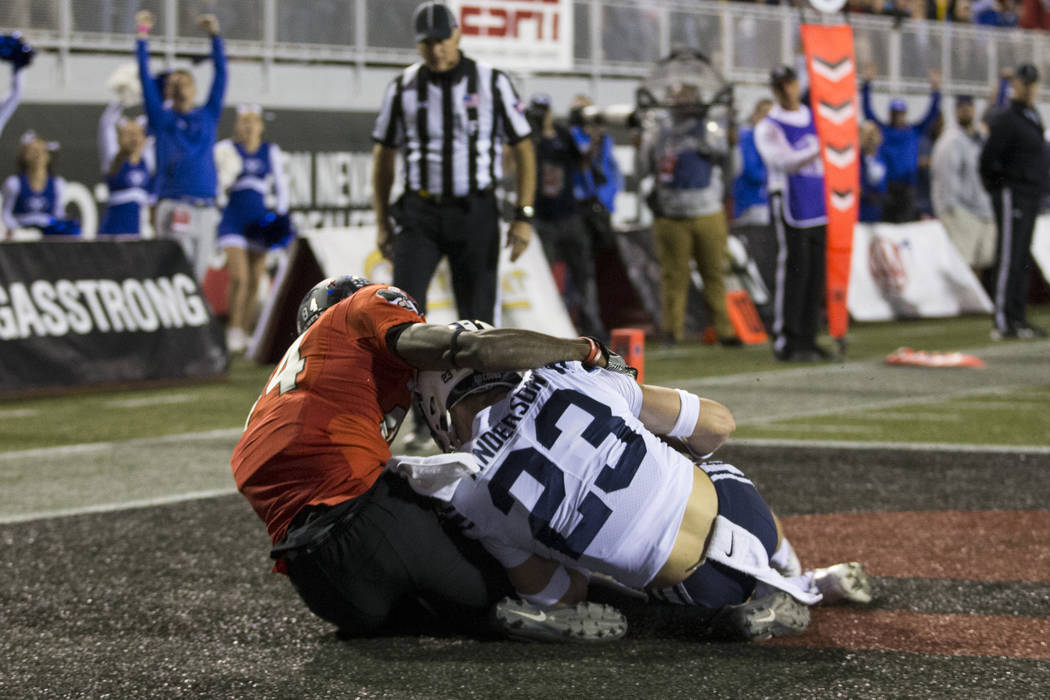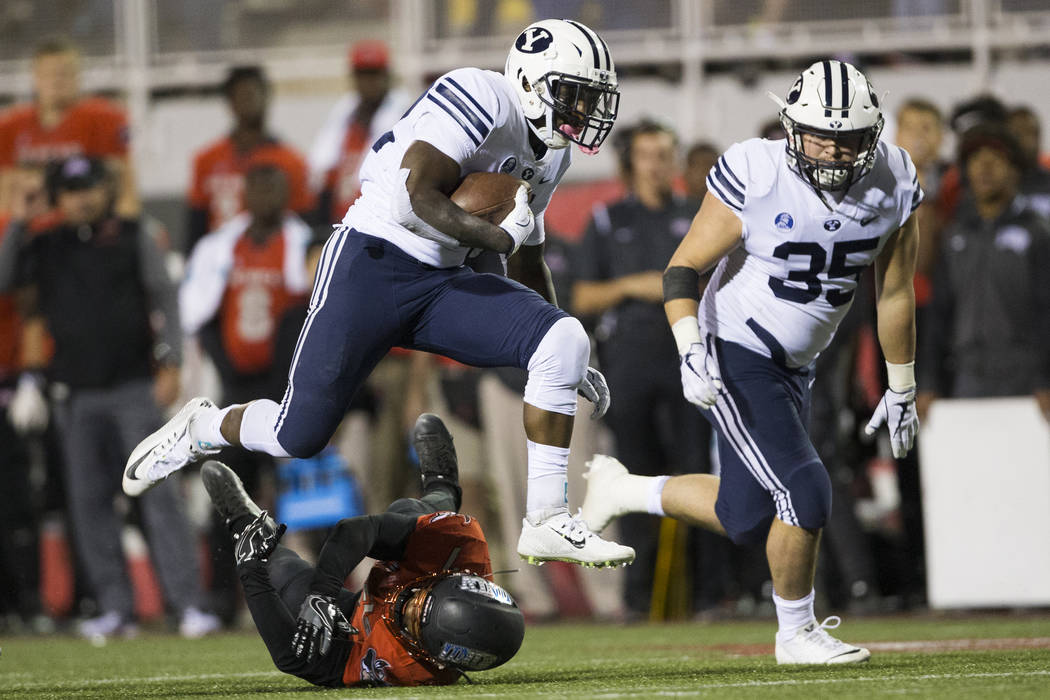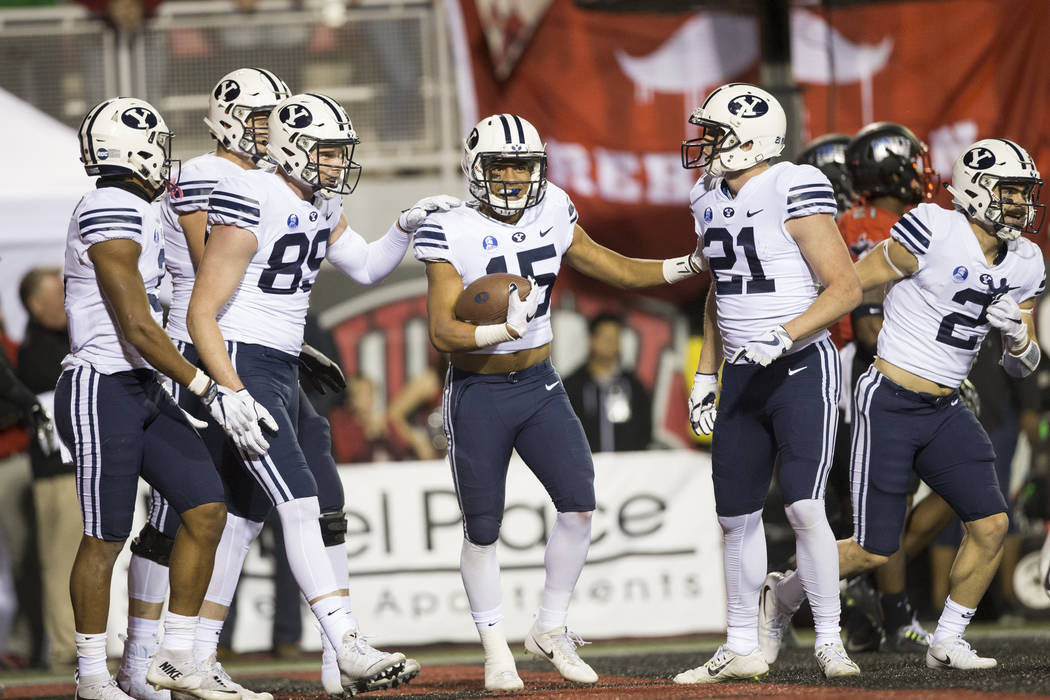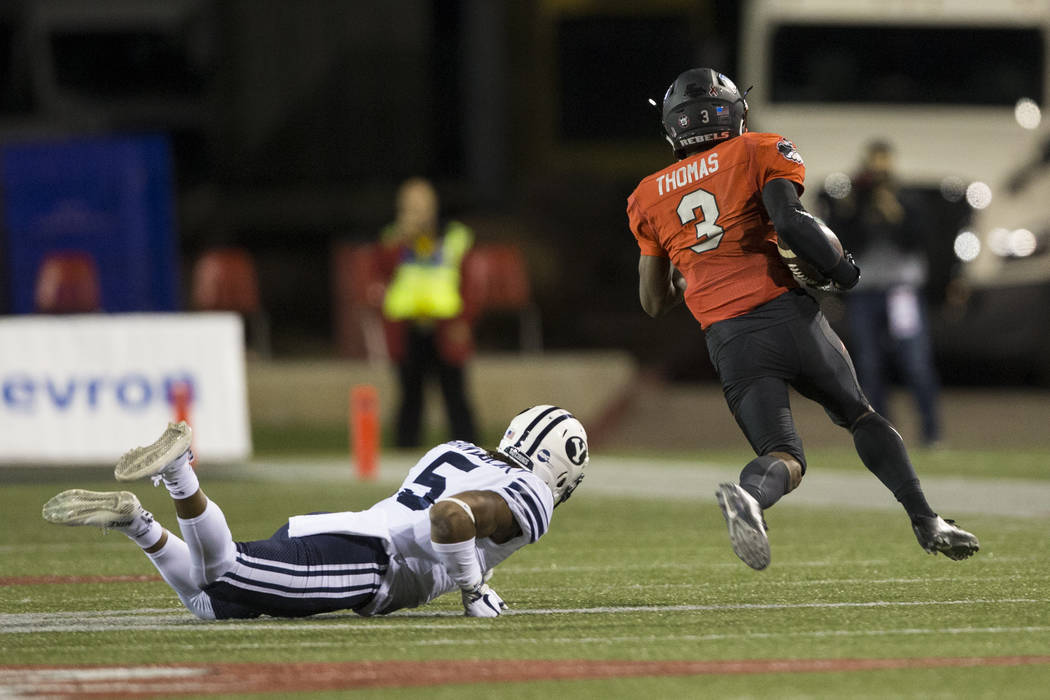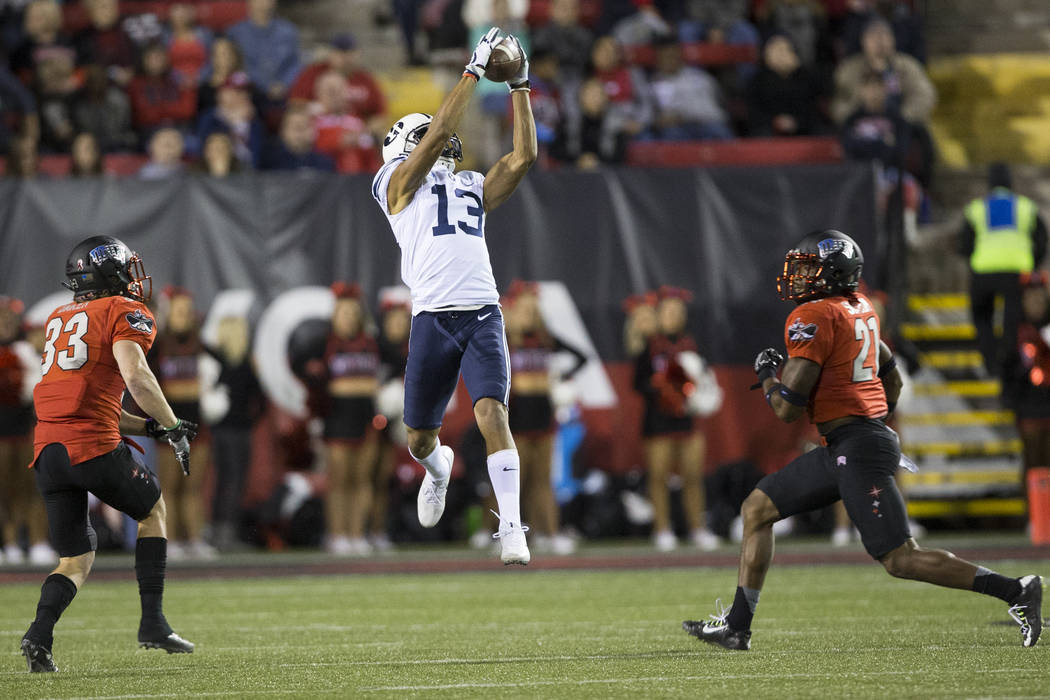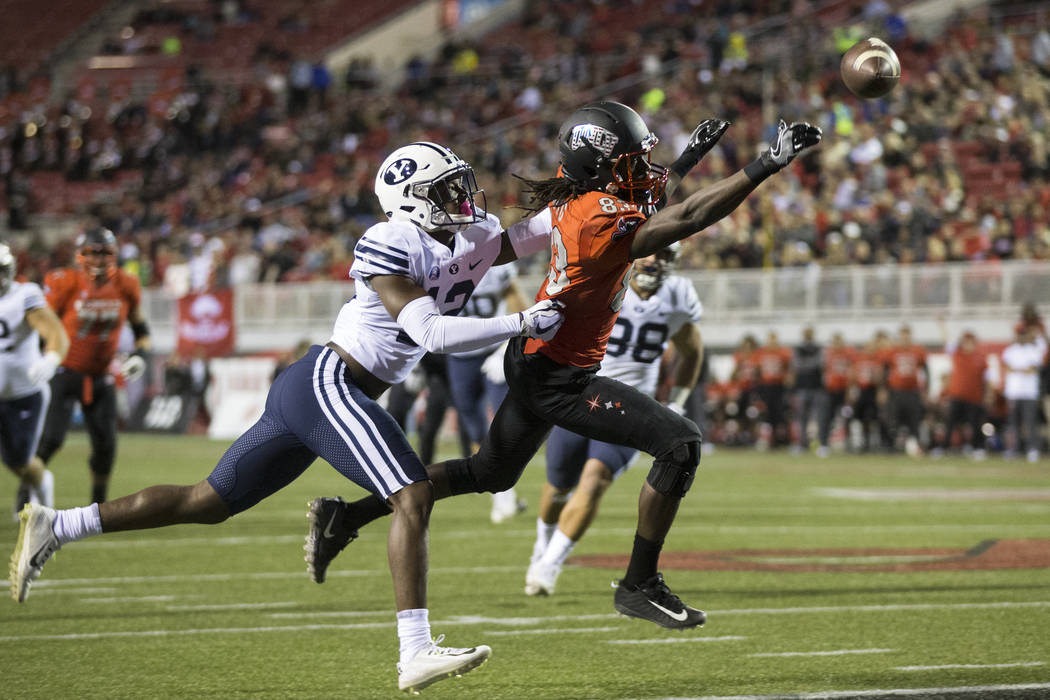 There were about three minutes remaining Friday night in what would be a UNLV loss to the worst Brigham Young football team in forever, or at least the past 14 years, when a voice in the press box wondered: "Why can't they tackle anyone?"
The gentleman was obviously not a longtime follower of the Rebels.
Given his statement, this might have been his first time watching them.
It apparently doesn't matter how low BYU has fallen — it's a shell of its former self in many areas — because it absolutely owns the Rebels, walking out of Sam Boyd Stadium a 31-21 winner before a Senior Night gathering of 19,811.
The Cougars are now 9-0 against UNLV in Las Vegas, which might explain why so much late money went the way of the team from Provo, Utah.
The line dropped from UNLV minus-4 to minus-1.
BYU isn't any good, every ounce of 3-8.
And yet this wasn't close at all up front.
UNLV again was the little guy to a much bigger and tougher man.
"Our guys are hurting," UNLV coach Tony Sanchez said. "It's a game that mattered late in the year. We're leaving this stadium knowing we had an opportunity to win. I wouldn't say we should have won — they did a lot of good things — but we had an opportunity if we executed better. It stings."
Look at it this way: It's November, and UNLV is still not eliminated from a possible bowl game.
If seasons are meant to be viewed in a collective breath, two games remain before a final judgment can be made on Sanchez's third year. The Rebels at 4-6 need road wins against New Mexico and UNR to qualify for a bowl.
Good luck predicting those outcomes.
Nobody really knows what will happen, often the case with below-average teams such as UNLV. Their performances are so erratic, their results so inconsistent, their talent level so lacking in key areas that offering any sensible prediction on a weekly basis against like opponents is impractical.
UNLV does things like this: BYU entered averaging 110.5 yards rushing, which ranks 120th nationally.
It ripped the Rebels for 265 yards on 42 carries, a 6.2 average.
And this: Squally Canada had 333 yards rushing on the season, which led the Cougars. The junior carried 25 times for 213 yards and a touchdown Friday. He often wasn't touched until reaching the second level of defense.
It was silly, really, how easily a team that can't run the ball actually did.
And this: The Rebels never bothered a true freshman quarterback (Joe Critchlow) making his first start, as he was 14 of 22 for 160 yards and a score. That's a 63.6 percent completion rate.
He was sacked just once.
"I thought they played a little harder than we did," Sanchez said. "Our guys played hard, but they were more physical at the point of attack than we were. We knew it was going to be a dog fight and a tough game. That's exactly what it was. We have got to clean up a lot of little things and get ready for these last two."
Film study might lead to a different conclusion, but it appears Sanchez has made the decision to roll with senior Johnny Stanton at quarterback. UNLV chose not to play redshirt freshman Armani Rogers on Friday, while Stanton finished with 325 passing yards — the most by a UNLV quarterback since Blake Decker in 2015.
But a terrible decision to throw into coverage resulted in an interception in the end zone early in the second quarter, and Stanton took a bad sack on the team's opening drive that led to a field-goal attempt from 48 yards. It missed short and left.
At worst, UNLV should have come out of those drives with field goals and six points.
Instead, nada.
If he indeed remains the guy for now, then Stanton is your guy. You really can only go back to Rogers once without completely confusing your team, and it's not as if Stanton was a chief reason UNLV lost.
You can begin and end that issue with allowing "Oh Squally Canada," even if he has battled injuries, to rush for 200-plus.
That's inexcusable, and yet so UNLV.
How will this 2017 story end for the Rebels?
Flip a coin, play rock-paper-scissors, throw all scenarios in a hat and choose.
Nobody really knows.
That's the infuriating thing about below-average teams.
All we know is that it's November and the Rebels can still make a bowl.
They also could get run over at New Mexico.
Seasons are meant to be viewed in a collective breath, and the roller-coaster of this one still has some twists and turns ahead.
Contact columnist Ed Graney at egraney@reviewjournal.com or 702-383-4618. He can be heard on "The Press Box," ESPN Radio 100.9 FM and 1100 AM, from 11 a.m. to 2 p.m. Monday through Friday. Follow @edgraney on Twitter.