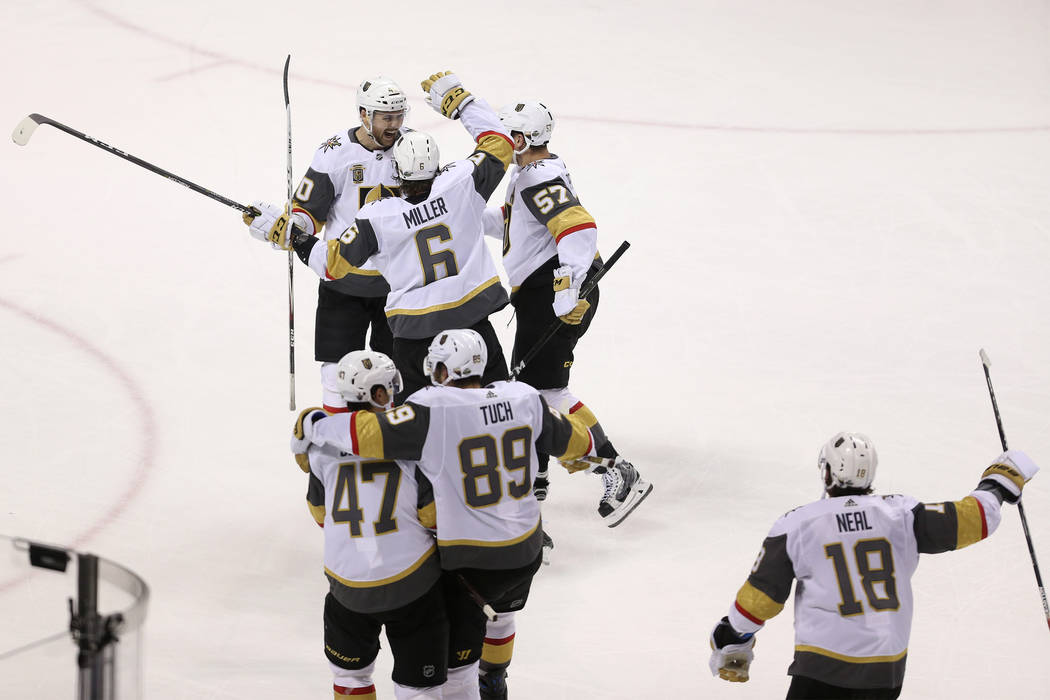 WINNIPEG, Manitoba — The narrative many want you to believe: That a season-long journey to this capital of a Canadian province is the result of some magical phenomenon, a sort of folklore genre that usually takes the form of a short story and features entities such as dragons and elves and fairies and giants and talking animals and, yes, sometimes a Knight or two.
The truth: While advancing to a Western Conference Final of the Stanley Cup playoffs as an expansion team checks all boxes related to an achievement of historical measures, the Golden Knights are no fairy tale.
There is nothing make-believe about how Vegas has landed in this place of 20th-century architecture and numerous art galleries and warehouses converted to shops and restaurants, the Knights set to open a best-of-seven series against Winnipeg on Saturday at Bell MTS Place.
Cinderella is a romantic fantasy, and yet there were no characters named McPhee or Gallant or Fleury or Neal — although William Karlsson and his hair would be a shoe-in for Prince Charming.
"We never approached them as an expansion team, certainly not now," Jets winger and captain Blake Wheeler said Friday. "Yeah, it's unique because it's the first year of the team. But these are all established NHL players that have quite a bit more playoff experience than our team. Nobody took them for granted. Nobody treated them like an off night.
"This is no fluke. This isn't Cinderella. They're for real."
A major part of the story that will forever be etched into the hearts and minds of what has become a fanatical base of Golden Knights followers is how the franchise reacted in the days and weeks following the mass shooting at the Route 91 Harvest festival on 1 October, where 58 were killed and more than 700 injured.
That's when a faithful bond between Southern Nevada and the team was born, when a majority of players and staff that had no ties to Las Vegas before opening an inaugural season suddenly became a vehicle by which the town could begin its long and difficult road to recovery.
Building a winner
The hockey part always has been a far more dispassionate exercise: Vegas is the most successful first-year franchise in five decades because of, in part, the most generous expansion draft rules in history that allowed more players to be made available, salary cap issues that made it difficult for teams when choosing who to protect and Knights general manager George McPhee and his staff being knowledgeable and savvy enough to take full advantage.
That, and a room full of players who responded with career seasons and a head coach in Gerard Gallant whose deft and decisive guidance proved masterful.
There wasn't an evil stepmother in sight and no one ever reported a carriage turning into a pumpkin outside T-Mobile Arena, although I don't want give the Chance character any ideas.
"The (expansion draft rules) had an impact," McPhee said. "It gave us something to work with. It gave this team an opportunity to be good. It was also a lot of work.
"It was important to the league and to Las Vegas and (team owner) Bill Foley that this franchise had a chance to work, that people coming to games could enjoy the product and become real fans and grow some deep roots in this marketplace. I don't think you can point to any one thing for (the team's success). Everyone has done their part."
Here's the thing: It's not as if sports aren't full of Cinderella stories down through the annals of Miracles on Ice and other colossal upsets, the idea in which competitors achieve far greater success than would reasonably have been expected.
And, strictly by way of preseason odds, the Knights could be categorized as such.
But once we saw what the roster was capable of delivering, it was no more a Cinderella this season than Loyola-Chicago basketball, which advanced to the Final Four of the NCAA Tournament not for some folk tale embodying myth, but because it had an experienced lineup with a veteran coach, traits that have been known to play really well in March.
No glass slippers needed
Once we saw this was more the Marc-Andre Fleury of 2009 in goal than recent years and that Columbus obviously goofed in not protecting Karlsson and that James Neal's experience really was that important in the room and that Alex Tuch might very well be the next James Neal, any thoughts of fictional-based magic were ground up under the blades of a Zamboni.
"I think it all just came together," said Knights forward Pierre-Édouard Bellemare. "We realized how lucky we were to be here and put in this position. We kind of rolled with the fairy tale (storylines), but even before that when the shooting happened, it just became bigger than everything else.
"I guess you can say it's a Cinderella story because we're a brand new team and one of four left in the playoffs and the other three don't have our story behind them.
"But in the room, we don't see ourselves as Cinderella or that we shouldn't be here. This isn't a fairy tale for us. We know we're good."
And to think, they made it all the way here to four wins from playing for a Stanley Cup, to the confluence of the Red and Assiniboine Rivers, wearing skates and not glass slippers.
More Golden Knights: Follow all of our Golden Knights coverage online at reviewjournal.com/GoldenKnights and @HockeyinVegas on Twitter.
Contact columnist Ed Graney at egraney@reviewjournal.com or 702-383-4618. He can be heard on "The Press Box," ESPN Radio 100.9 FM and 1100 AM, from 11 a.m. to 2 p.m. Monday through Friday. Follow @edgraney on Twitter.