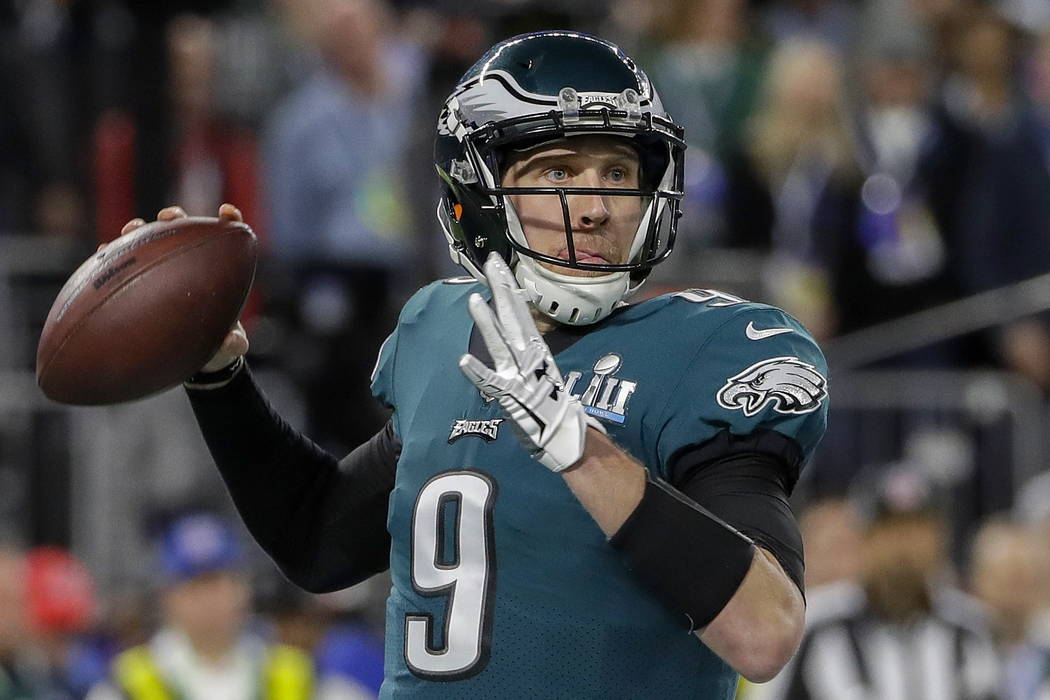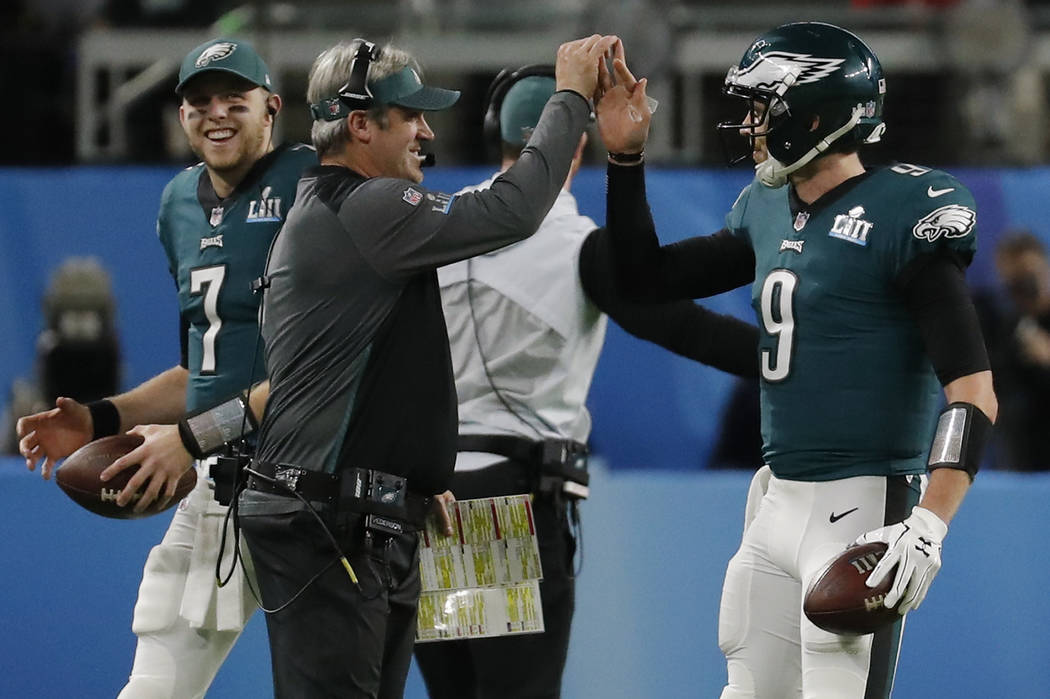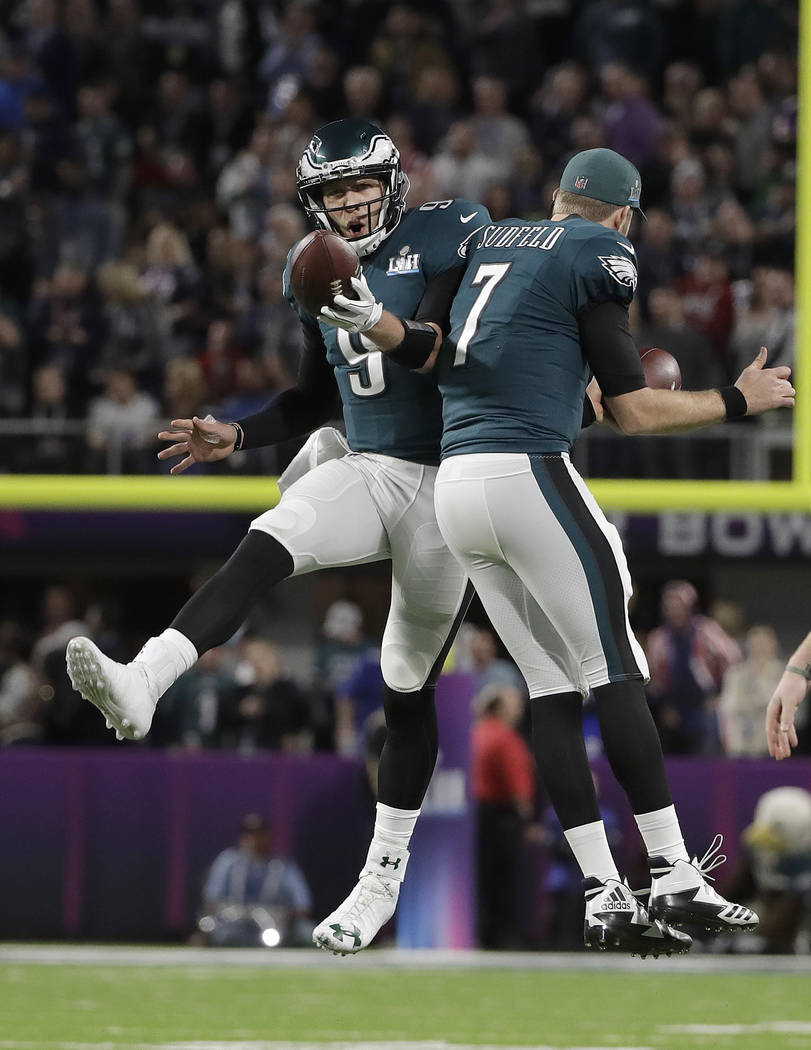 MINNEAPOLIS — It was blaring from the speakers as green confetti lay strewn across the once spotless playing surface in this beauty of an NFL stadium, the song about trying hard now, getting strong now and flyin' high now.
"Rocky" was a movie, and yet this was anything but fiction.
If you closed your eyes and Nick Foles was the one talking about moving forward and willing to take the hits and knowing what you're worth and going out and getting it, well, you wouldn't question a word and Hollywood might have another winning screenplay.
Lord help the streets of Philadelphia this day — someone at least protect the Rocky Balboa statue and check on that bell over at Independence Hall — because the Eagles are a Super Bowl champion for the first time.
The (under)dogs never have barked louder in Pennsylvania's largest city.
The Eagles put their financial trust in Foles before the season, and the quarterback more than delivered in its final game, leading Philadelphia past defending champion New England 41-33 before 67,612 in Super Bowl LII at U.S. Bank Stadium.
Minnesota did a wonderful job hosting the week, and just for giggles sake, gave the world a Big 12 shootout in a Big Ten town, where Tom Brady threw for a Super Bowl-record 505 yards, New England gained 613, never punted and still lost.
In a season when the NFL saw its television ratings drop 10 percent and several stars suffer major injuries and a public spat emerge between players and the president over national anthem protests and no one fully understanding what constitutes a catch anymore, all such negativity was shoved aside for one classic game.
"We have a great, resilient group of guys," Eagles coach Doug Pederson said. "I'm so happy for Nick. A lot of people counted him out. We believed in him."
Now, you can bet others will.
It seems, after such a performance, a preposterous notion Foles will return for offseason practices as a backup, but that's likely where the Super Bowl MVP is headed for the time being.
He completed 28 of 43 passes for 373 yards with three touchdowns and an interception that was deflected and even caught a 1-yard scoring pass on a trick fourth-and-1 play late in the second quarter.
He did it all for one reason: Starting quarterback Carson Wentz, in the midst of an MVP-type season, tore his left ACL in Week 14.
Football coaches are famous for preaching the concept of next man up. They talk about it ad nauseam.
This was such a case of historic proportions.
"I felt calm," Foles said. "We've played this game since we were little kids, dreaming about this moment. I'm blessed to be part of it."
You can count on it happening, as it has so often in the NFL, when a quarterback not thought among the league's elite goes on such a memorable run: Teams pursue him and react swiftly to such moments.
Foles just had one for the ages.
He is signed through 2019 because owner Jeffrey Lurie approved a five-year, $27.5 million deal ($11 million of which is guaranteed), but if Foles is on the roster in February 2019, the final three years will be voided and he becomes a free agent.
That usually would assure he is traded beforehand.
But what now?
It's a decision for another time — do you move the 29-year-old former Pro Bowler at obviously the height of his worth or keep him as insurance to Wentz's surgically repaired knee? — and not one the Eagles were discussing minutes after winning the Super Bowl.
'Yo, the backup did it'
After they came to win, is right.
The Eagles were aggressive from the start, understanding that a conservative approach doesn't beat Brady and Patriots coach Bill Belichick in these moments.
Had it lost, Philadelphia sure wouldn't have done so playing scared.
It converted 10 of 16 third downs and both fourth-down tries — one for a score and another on the game's biggest play when Foles hit tight end Zach Ertz with a 2-yard pass trailing by one with 5:39 left in what would prove the winning drive.
And all of it was orchestrated by a quarterback who showed the spirit and resolve of a small-time boxer from working-class Philadelphia.
Only this wasn't a movie.
"There was a time when I considered hanging up the cleats," Foles said. "It was a moment in my life where I thought about it, prayed about it. I'm grateful I made the decision to come back. I think what helped in this game is that I knew I didn't have to be Superman."
Maybe not, but he sure played like another fictional character in the greatest of underdog roles.
Trying hard now, getting strong now, flyin' high now.
Do you see the guy raising a Lombardi Trophy to the heavens after the final bell rung?
Yeah, him.
Yo Adrian, the backup did it.
Contact columnist Ed Graney at egraney@reviewjournal.com or 702-383-4618. He can be heard on "The Press Box," ESPN Radio 100.9 FM and 1100 AM, from 11 a.m. to 2 p.m. Monday through Friday. Follow @edgraney on Twitter.