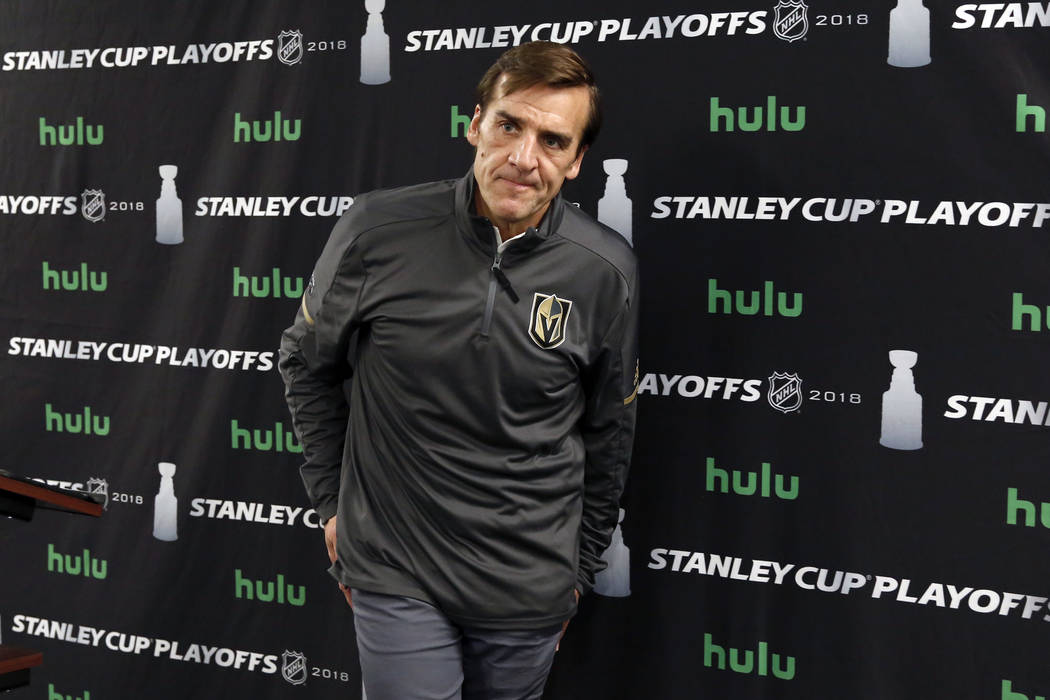 This wasn't the sort of second chance a guy gets because he royally screwed things up the first time.
It wasn't some do-over to produce the right results because the initial ones were so incredibly wrong.
George McPhee spent 17 years as general manager of the Washington Capitals, and in that time his teams delivered a Stanley Cup Final appearance and seven division titles and even a franchise-record 121 points in 2009-10.
His resume was more good than bad, results on ice consistently positive — and yet an inability to push deep into the playoffs one reason that eventually cost him the job.
There were memorable trades and drafts during McPhee's tenure, some really forgettable ones too, at one point blowing up the roster and starting from scratch, coaching changes, sudden style changes, every high and low you might imagine such an extended period of time would include.
But he never won it all in Washington, and eventually an owner is going to become overly sensitive about that when he believes his team has such ability.
So it goes that all these Golden Knights are from somewhere, be it players not wanted by previous teams or management and coaches dismissed from former stops.
McPhee is no different a misfit.
"I thought we put together a heck of a team in Washington that has been really good for a long time, had a bad season (in 2013-14), got fired," he said. "I'm grateful for a second chance, like almost everybody else here."
He has made the most of it in historic fashion, the architect of an expansion team that has advanced to the Western Conference Final against the Winnipeg Jets, where the Knights open a best-of-seven series on Saturday.
He was one of seven interviewed for the Vegas general manager's job by owner Bill Foley, who as a graduate of the U.S. Military Academy at West Point displays the sort of no-nonsense disposition when hiring staff that such a background suggests.
Winning helps. It's everything. Never discount its importance. But long before the Knights were one of the great sports stories of recent times, before they defied any and all reasonable odds and logic set forth in relation to this season, owner and general manager began to forge a partnership defined by both respect and admiration.
The most meaningful sign: They sat in the same box for games.
It wasn't a practice McPhee supported early in his management career, but when he was hired after his time in Washington by the Islanders as a vice president and special adviser to general manager Garth Snow, he saw benefits to the practice.
McPhee witnessed how it helped the relationship between Snow and former majority owner Charles Wang, so he thought it might pay similar dividends with Foley
Oh, yeah. There is also this: The boss wanted it that way.
Learning from each other
"I think George has one of the great hockey minds in the country, and sitting with him and (assistant general manager Kelly McCrimmon) during games has been invaluable," Foley said. "I played hockey some as a little kid but hadn't been involved in it like this. George has helped me a ton, and yet I still know that I know nothing.
"I decided pretty early on about George. He had the most experience. He had the most depth. He played in the NHL. He's a lawyer. He checked all the boxes. He is completely dedicated to this.
"He told me, 'Bill, I don't care about the salary. I just want to win the Stanley Cup.' I told him, 'We'll take care of the salary. Winning it is all I care about, too.'"
That they are so close this first season — one of four teams remaining — continues to amaze many in a league where countless franchises have long suffered the absence of playoff success.
These things just don't happen with expansion sides until, well, they do.
Winning helps. It's everything. But in dissecting the voyage to this Western Conference Final, understand a central cause points directly to the top, where a 73-year-old owner and his 59-year-old general manager almost immediately fit in terms of how best to construct a team that is now eight wins shy of hoisting that coveted Cup.
"It has been interesting to watch Bill operate," McPhee said. "He makes decisions quickly and is very decisive. I really wanted to manage again. I thought that I had something to offer and had a lot of experience and knowledge that would help an expansion team.
"If you look at the history of expansion teams, those that hire experienced people usually did pretty darn well and the ones who didn't, didn't do well. I was hoping Bill was aware of that before we met and then tried to make my case when we met."
McPhee is the loudest of talkers, but he obviously chose the right words.
More Golden Knights: Follow all of our Golden Knights coverage online at reviewjournal.com/GoldenKnights and @HockeyinVegas on Twitter.
Contact columnist Ed Graney at egraney@reviewjournal.com or 702-383-4618. He can be heard on "The Press Box," ESPN Radio 100.9 FM and 1100 AM, from 11 a.m. to 2 p.m. Monday through Friday. Follow @edgraney on Twitter.