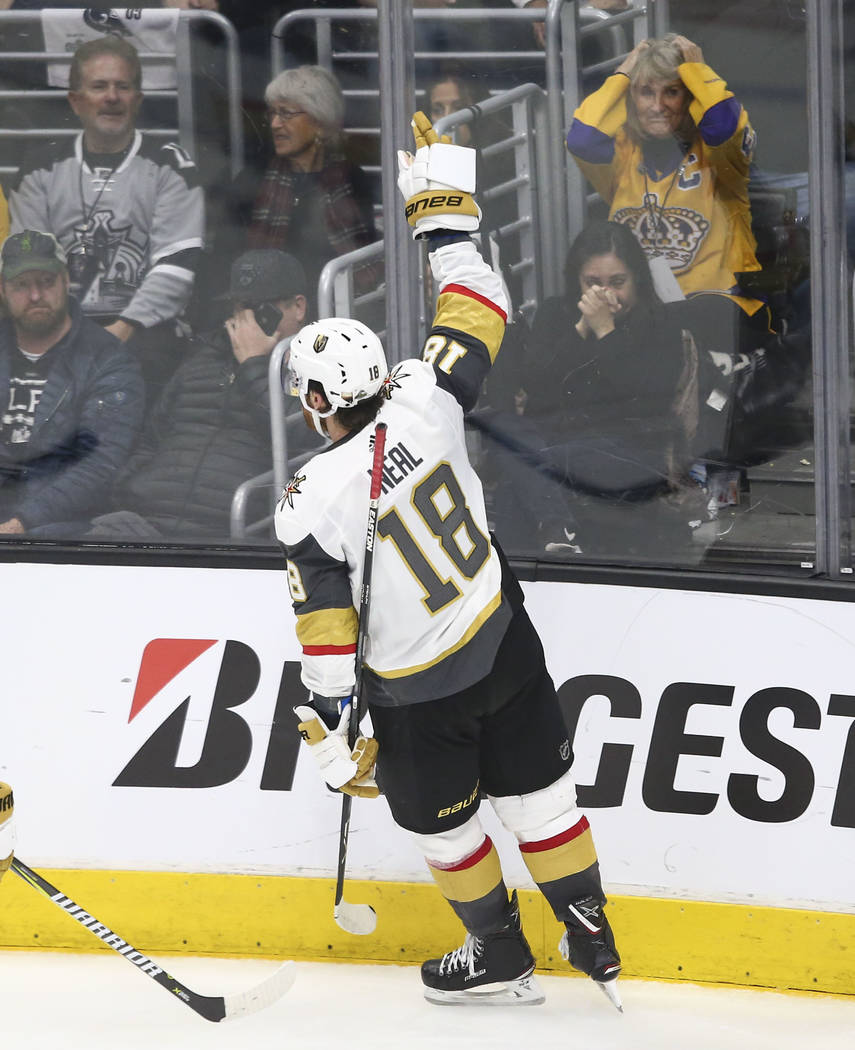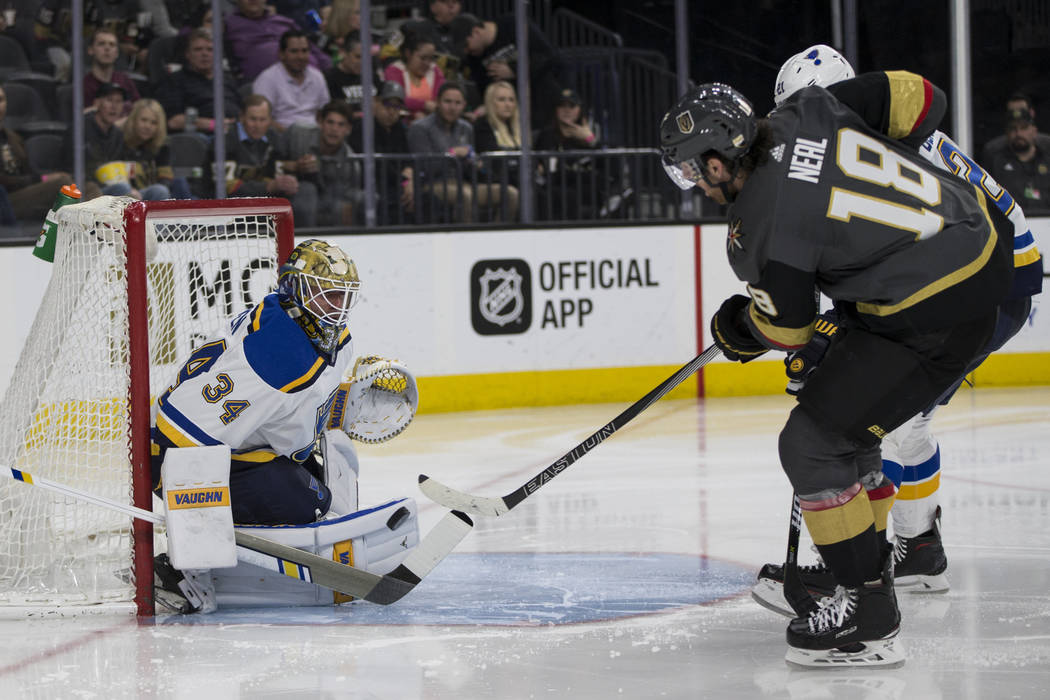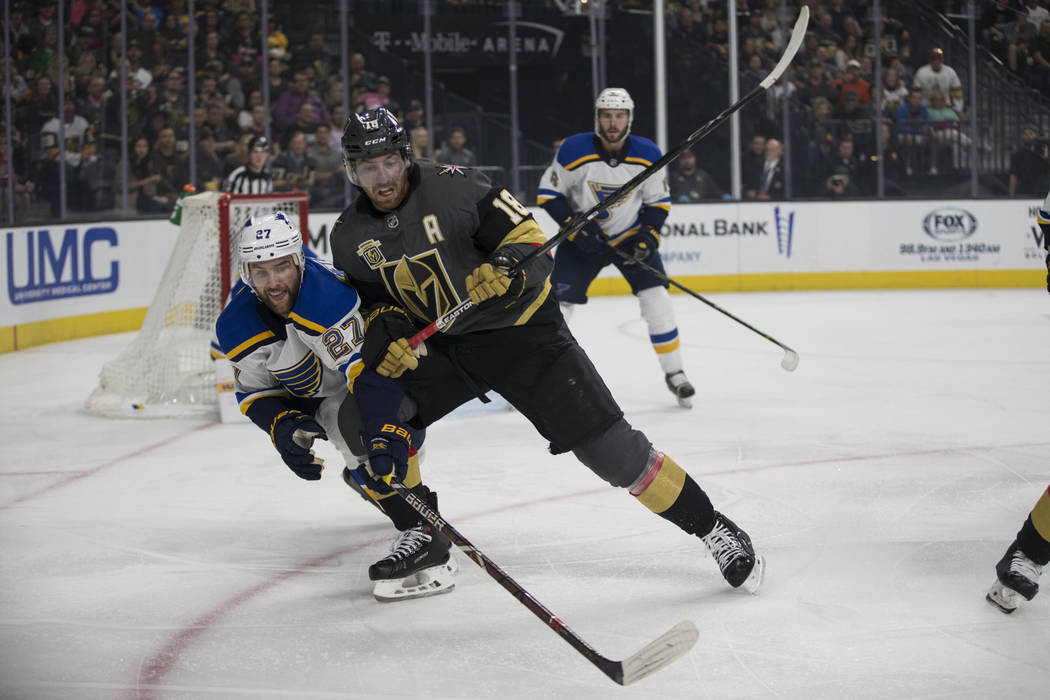 The hunger intensifies as you draw closer to it, as you watch others kiss it and embrace it and hoist it above their heads.
I can't imagine the number of dreams that hockey players have about it.
I can't imagine how painfully frustrating it must be to fall just short.
James Neal knows such disappointment, having been a member of the Nashville Predators side that reached the Stanley Cup Final last year, losing in six games to Pittsburgh and then being left unprotected in the expansion draft to be selected by the Golden Knights.
He is back winning in the playoffs — Neal has 84 postseason games on his NHL resume — and is again among those counted on to lead Vegas as it opens a Western Conference semifinal against San Jose on Thursday night at T-Mobile Arena.
It's a role that has been played often throughout sports — an unrestricted-free-agent-to-be trying to win a championship with his current team, a player who could potentially walk for a bigger and better deal at season's end hoping to make a difference now in pursuit of being the one who embraces and kisses that historic trophy.
"I'm only worried about our next game and the Sharks," said Neal, in the final season of a six-year contract that pays him $5 million annually. "Ever since you're a little kid, you dream about winning a Stanley Cup. First, you dream about making the NHL. Then the playoffs. Then the Stanley Cup. I've been close, had a few good runs, but haven't hoisted it.
"It would mean everything to me, to the hard work and dedication of your family and coaches and teammates. You want it for yourself and the guy next to you. There is a lot of drive in this room to get it done, a lot of drive within myself to get it done. Having a chance to win a Stanley Cup is what is at stake here.
"When we're older, we'll look back and say, 'Wow, that was a really cool year.' For now, we have a great team and can do something special."
Determining his worth
The business decision from Vegas will come later, whenever this inaugural playoff run concludes, how to approach a 30-year-old second-line winger (he will be 31 before next season begins) who is sixth on the team in points, minus-11 in plus-minus and has played 75 games just once in his past six seasons, but whose leadership and penchant for playing his best in the biggest moments have been obvious strengths in this historic season.
Neal is the team's smartest player and unquestionably one of its most important this time of year.
The Knights must decide what type of salary cap hit they would be comfortable with if desiring to re-sign Neal and if there are better, smarter ways to spend their money, while he has every right to see what the market believes his worth.
This probably will be his final big NHL contract. He should see what is out there.
That's stuff of real life and not the impractical fairy tale opinion so many have of the Knights.
So however it goes with Neal — this being his only postseason run with Vegas or he returns and possibly has a hand in leading it to more — his importance in the Knights sweeping the Kings in the first round and now facing the Sharks can't be overstated.
Vegas could replace his numbers in the offseason, whether with players already on the roster (Alex Tuch one day might be James Neal) or via a trade or free-agent signing.
Intangibles are another matter.
"Great player, great shot, accurate, scores big goals, big playoff guy," said Knights goalie Marc-Andre Fleury, who played with Neal in Pittsburgh and was on the Penguins' side that beat him and Nashville last season. "Big Game James, right? I heard that somewhere …
"He just wants to win. He was so close last year. He really wants it, and it shows in how hard he plays and battles. Nobody is jumping up and down here. We haven't won anything. Even after (sweeping the Kings), the room was excited but not crazy. I think leaders (like Neal) understand how tough this is."
He understands how profound the hunger can be when it draws close.
For now, however, Neal's only concern is not letting himself and his teammates become Shark bait, which for him and Vegas would be more nightmare than dream.
Contact columnist Ed Graney at egraney@reviewjournal.com or 702-383-4618. He can be heard on "The Press Box," ESPN Radio 100.9 FM and 1100 AM, from 11 a.m. to 2 p.m. Monday through Friday. Follow @edgraney on Twitter.