Golden Knights push blade down on neck of struggling Canadiens
February 17, 2018 - 9:19 pm
Updated February 17, 2018 - 9:36 pm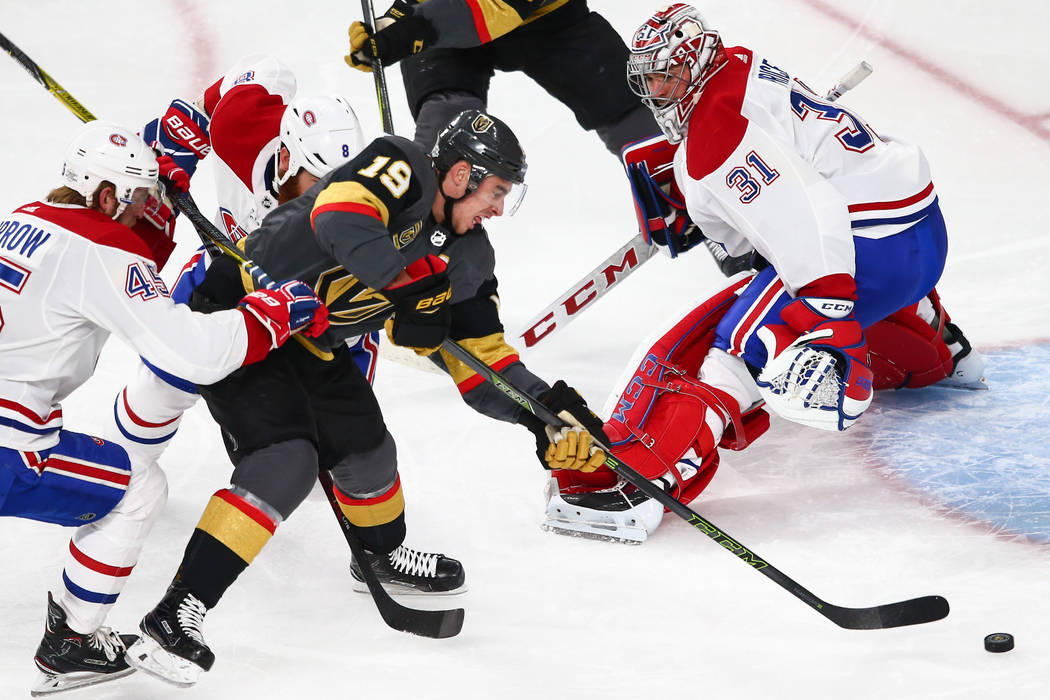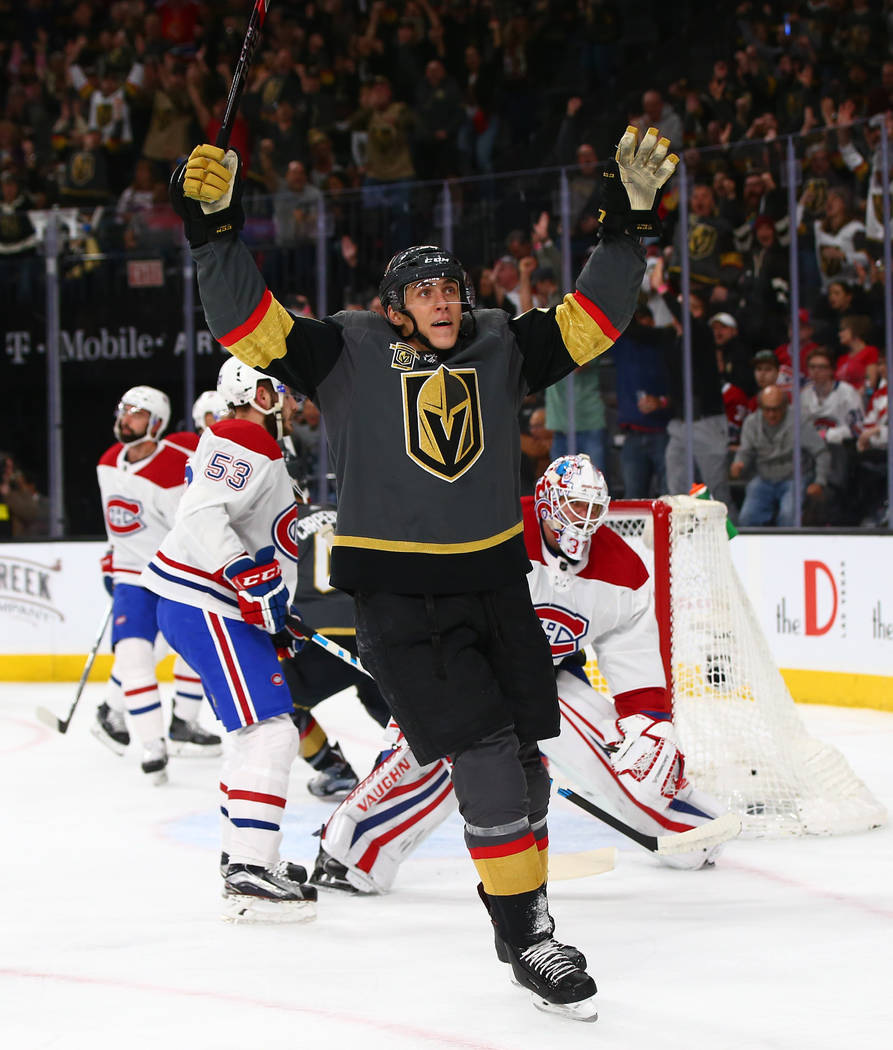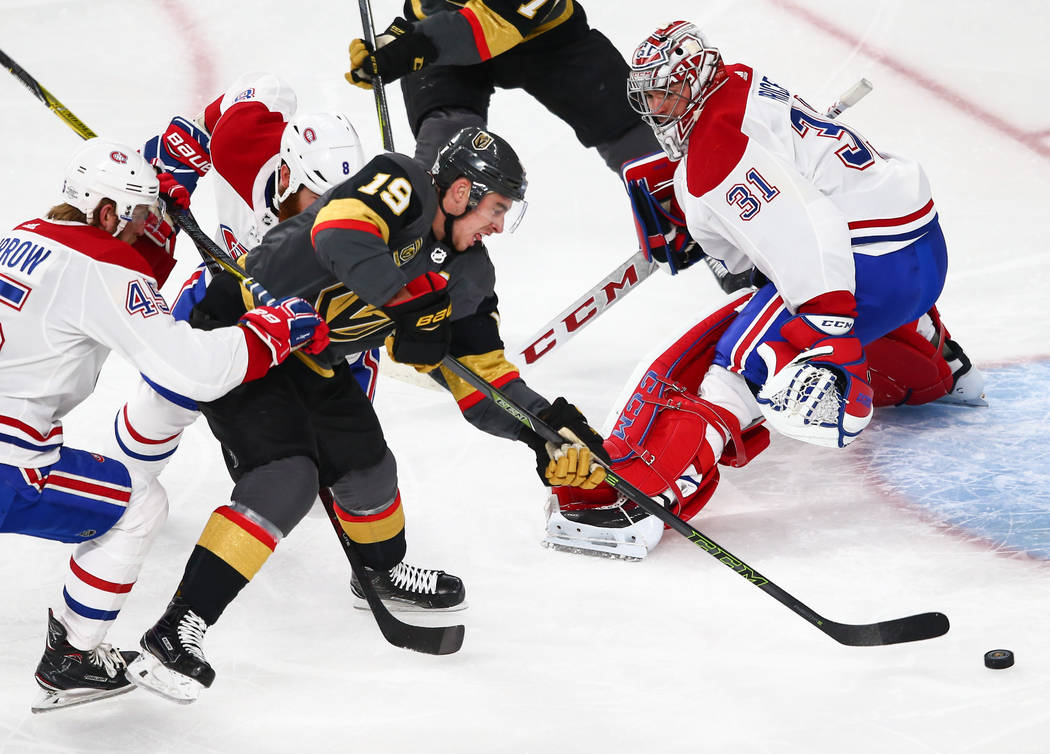 Here's the thing about sports: Sometimes, it doesn't matter the level or circumstance or skill of those athletes involved.
Some forms of strategy never change: When you have a bad, struggling team down, you step on its throat — in this case, with the blade of your skate — and never allow it a flicker of hope.
It's a few weeks into February and the Golden Knights are back sitting atop the NHL, a feat reached Saturday when Tampa Bay lost and Vegas beat a Montreal Canadiens side in the process of shaming the league's most successful and historic sweater.
For the love of Rocket Richard and 24 Stanley Cups, the Canadiens are awful.
Vegas beat Montreal 6-3 before 18,122 at T-Mobile Arena, and if you thought that poor Ryan Zapolski was an Olympic sieve for the U.S. against the Russians earlier in the day in South Korea — our guy Vadim "Shippy" Shipachyov didn't play, by the way — Montreal goalies Antti Niemi and Carey Price more than matched his shoddy play.
I have no idea why the Canadiens chose to start the backup Niemi after an off day, but his 9:51 of ice time and three goals allowed in six shots more than defined a team that has lost a league-high 19 road games in regulation and has been outscored 41-16 in the last 12 of those.
"It was the same against Chicago (on Tuesday), in that they had lost some games and in the locker room, the thinking is, 'Hey, if we can get a couple goals, it's going to be a here-we-go-again mindset for them,' " said Knights defenseman Nate Schmidt, who had a goal and assist in almost 21 minutes. "It's hard getting out of a funk. So you just try and be methodical with your game against them. Everyone has been through the lulls. It's tough to get out of."
It's the third win in four tries on a seven-game homestand for the Knights, and maybe the reason they have 82 points and are 12 clear of second-place San Jose in the Pacific Division is because of the philosophy constantly spread from the highest levels of the organization.
"I'm only worried about Anaheim on Monday," owner Bill Foley said.
He has the hottest team in hockey and the most incredible story in sports going, and you would think someone just called from his Chalk Hill Winery near Napa to report frost, flooding and hail all descended upon the vines at the same time.
Maybe that's the answer, after all.
Maybe beyond all the balanced scoring and goalie Marc-Andre Fleury playing like it's 2009 all over again, these guys really never do think ahead.
"I did see that Tampa lost, but I was mostly watching our game and score," Foley said. "Fragile. It's still very, very fragile. Belly (Pierre-Edouard Bellemare) got hurt today, and (Shea) Theodore has a terrible throat infection.
"I'm concerned. Happy but never satisfied."
Mercy, someone tell Foley the sauvignon blanc is going to be fine.
It's true, though, that things can turn bad fast.
Look at Montreal, just a year removed from 103 points and an Atlantic Division title.
You lose a few guys and add some new faces and one of the world's best goalies (Price) gets hurt early and then doesn't play close to form, and suddenly you're tied for sixth place with 51 points and all the talk is about trade deadlines and whether to take on bad contracts and add draft choices.
It becomes about the future and not the present.
So when you have a team like that down, you press the blade a little harder.
"I think it's in the back of your mind," said Knights defenseman Brad Hunt, who scored a goal. "It's all part of the game within the game. You get a feel for it, and when you can put the pedal on the gas, you go for it and go all out. We don't want to let off the gas. We want to play the same way that has made us successful.
"We want to remain the same and stay with it. It's cool to have the (most points in the NHL), but we just take it day by day and get ready for Anaheim on Monday."
The Ducks, trying like mad to keep hold of a playoff spot, should present a much tougher challenge.
They won't, after all, have a Ryan Zapolski lookalike in goal.
Contact columnist Ed Graney at egraney@reviewjournal.com or 702-383-4618. He can be heard on "The Press Box," ESPN Radio 100.9 FM and 1100 AM, from 11 a.m. to 2 p.m. Monday through Friday. Follow @edgraney on Twitter.