In a time of unspeakable tragedy, Golden Knights unite Las Vegas
October 10, 2017 - 11:01 pm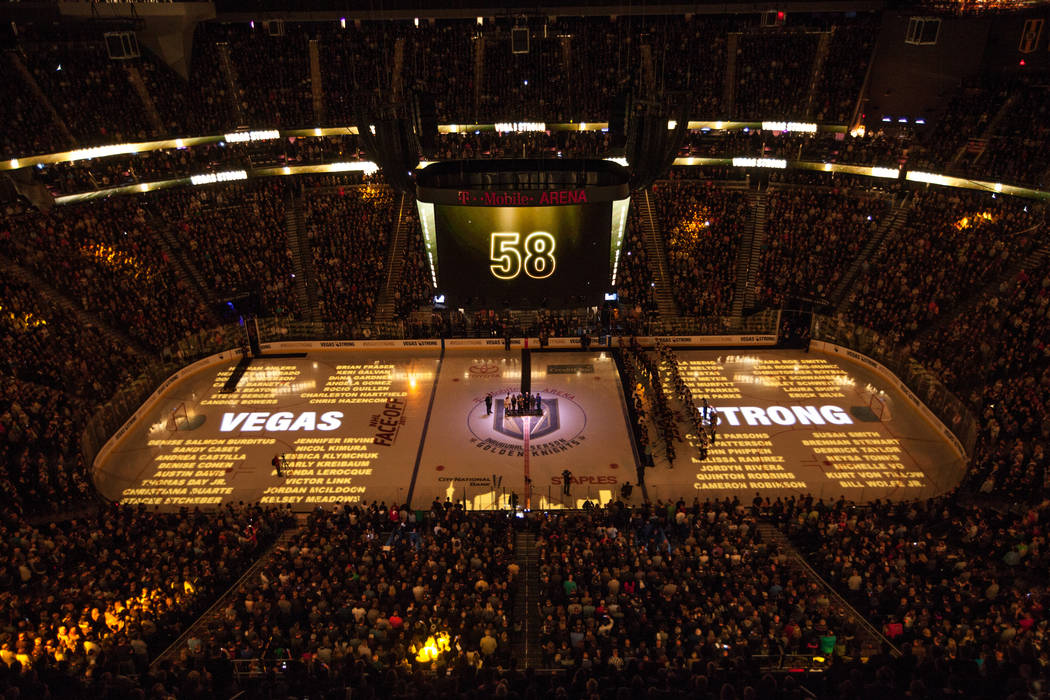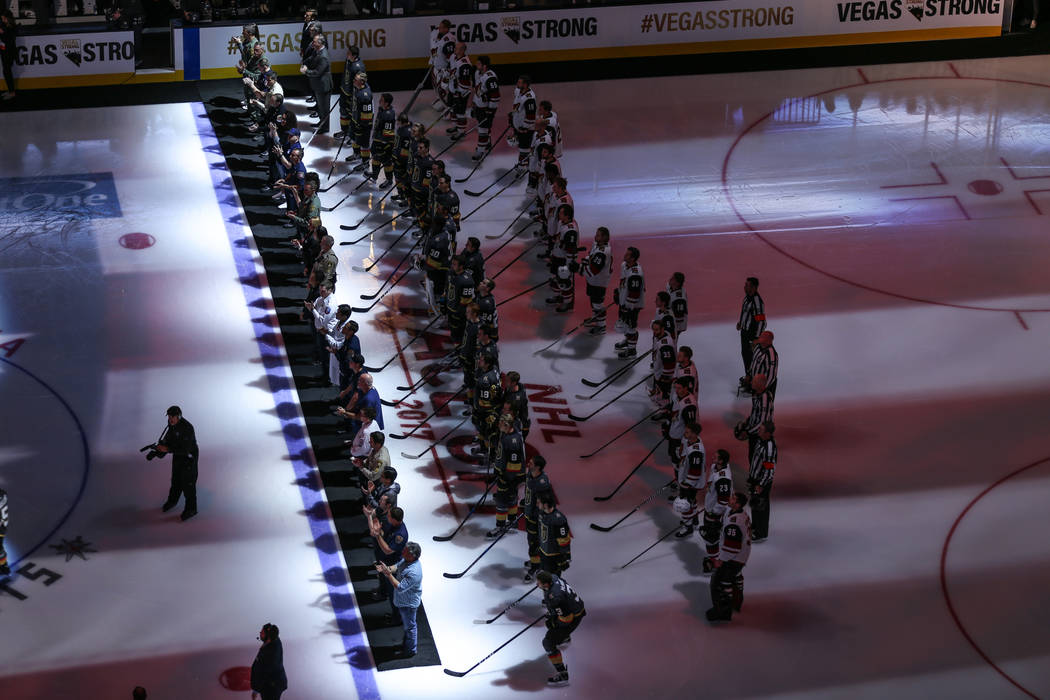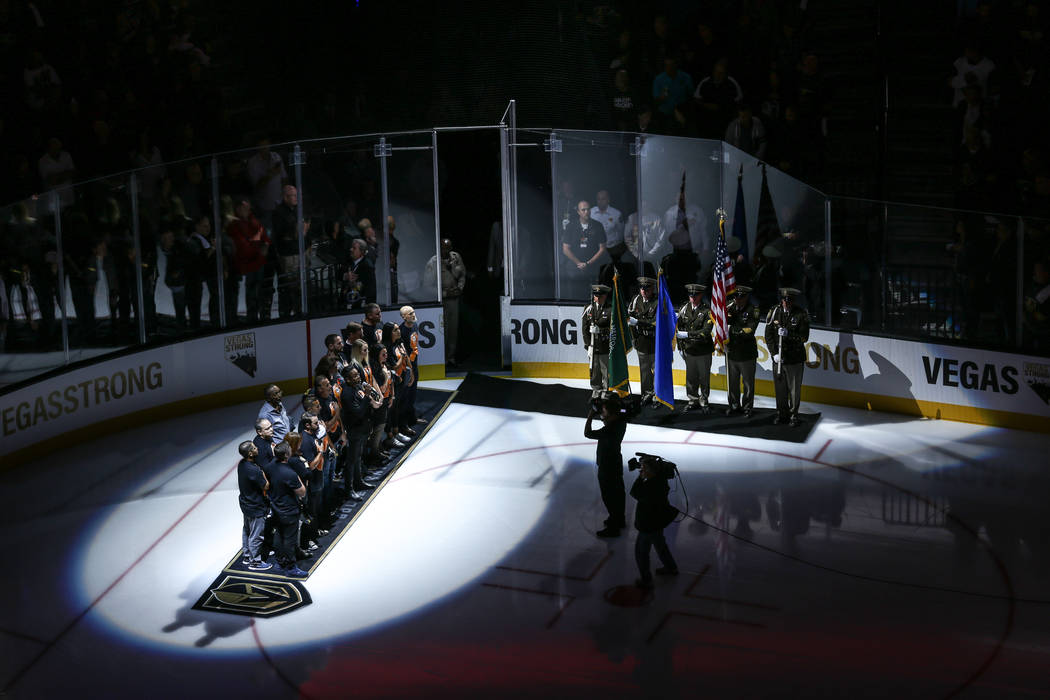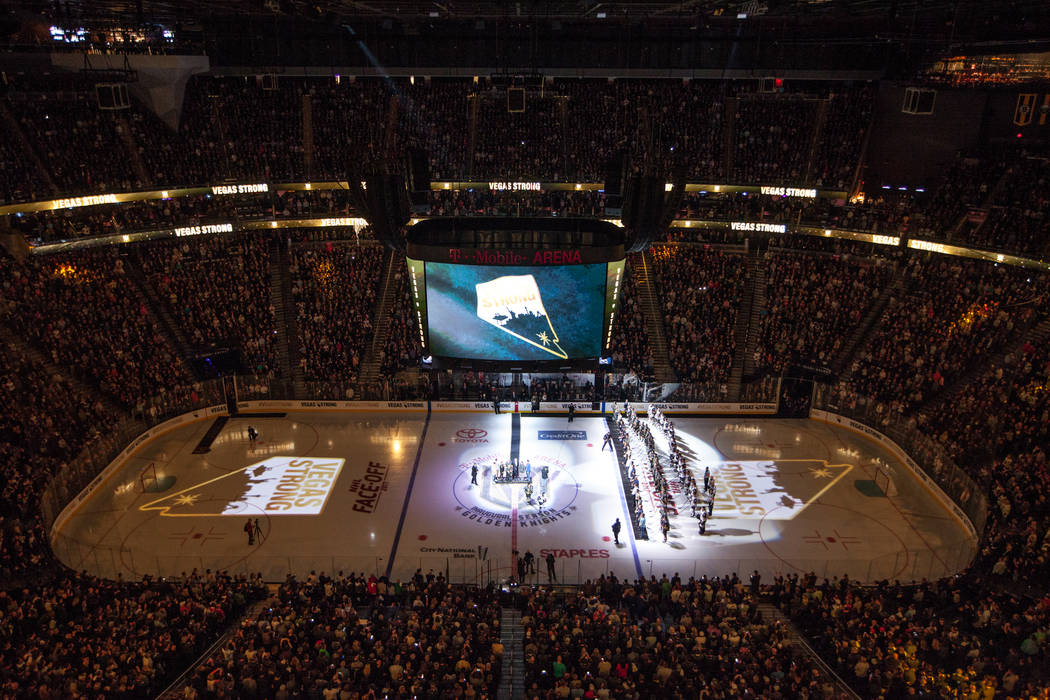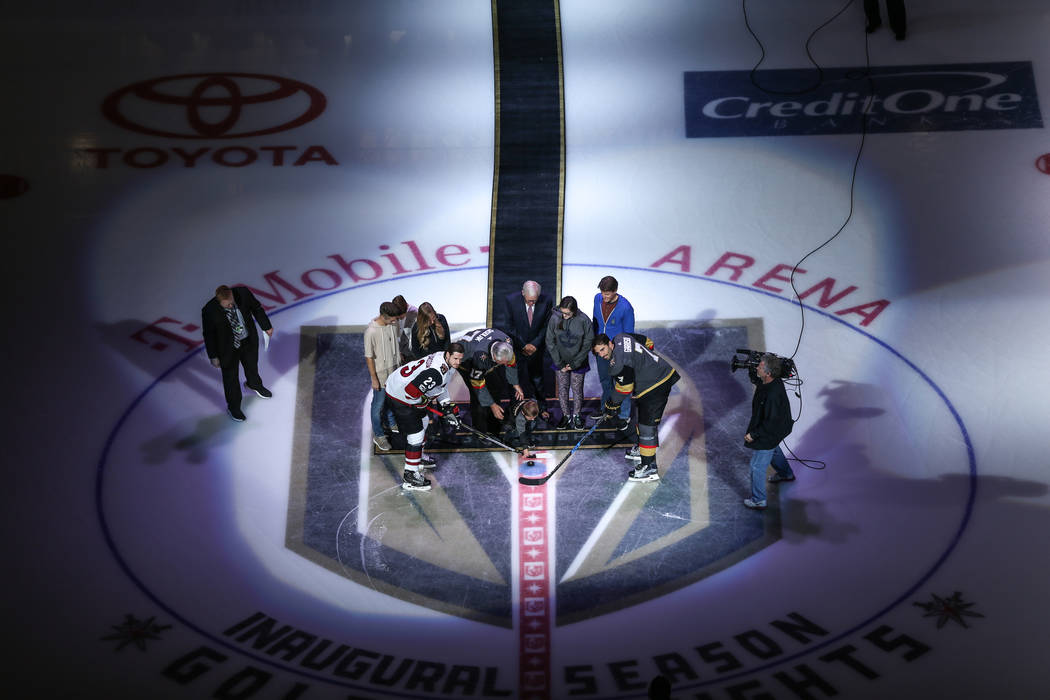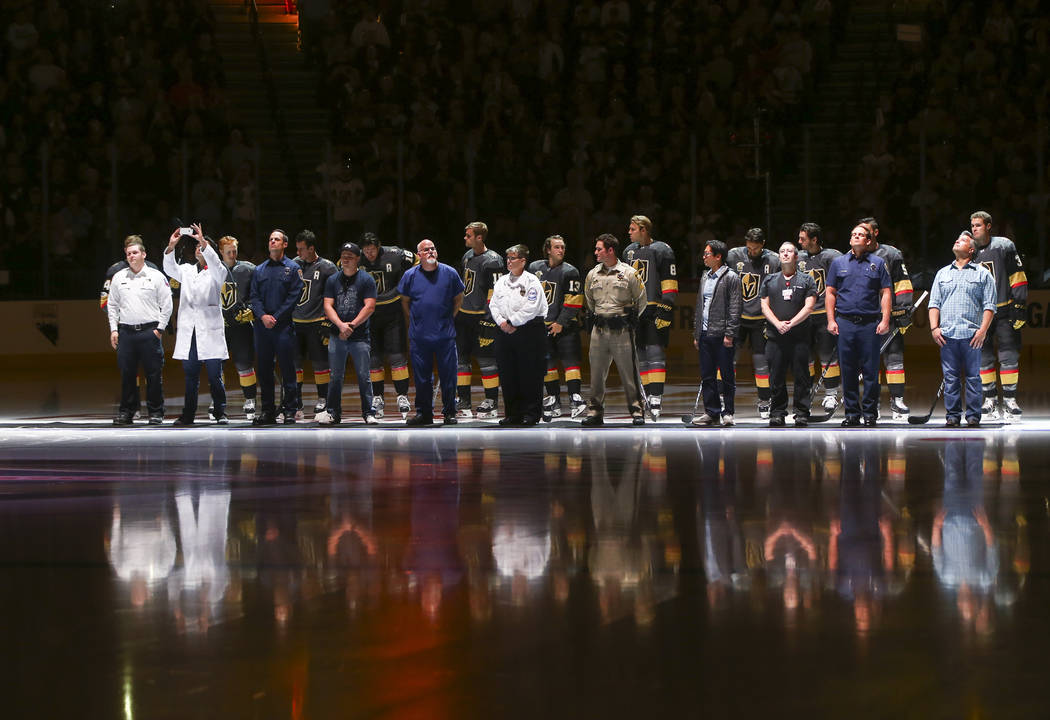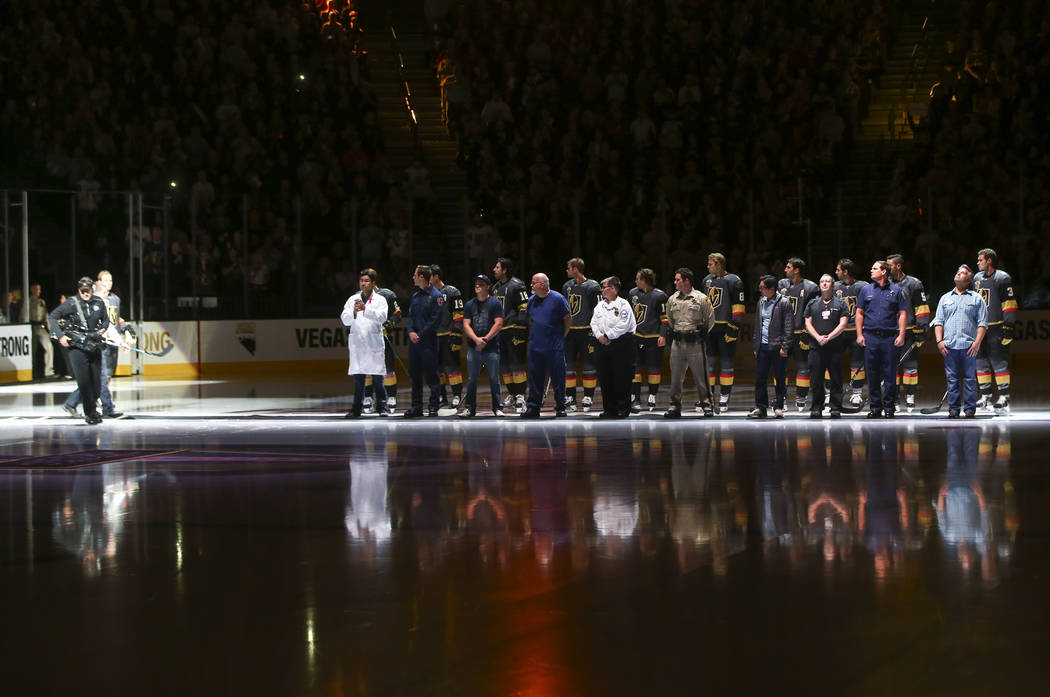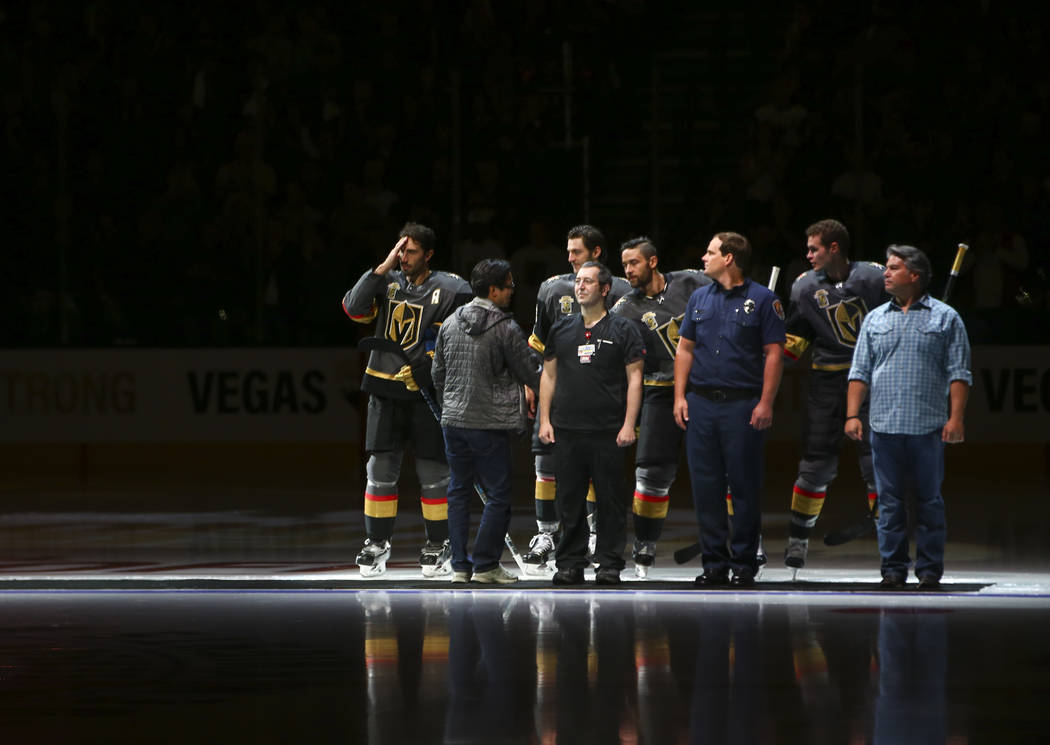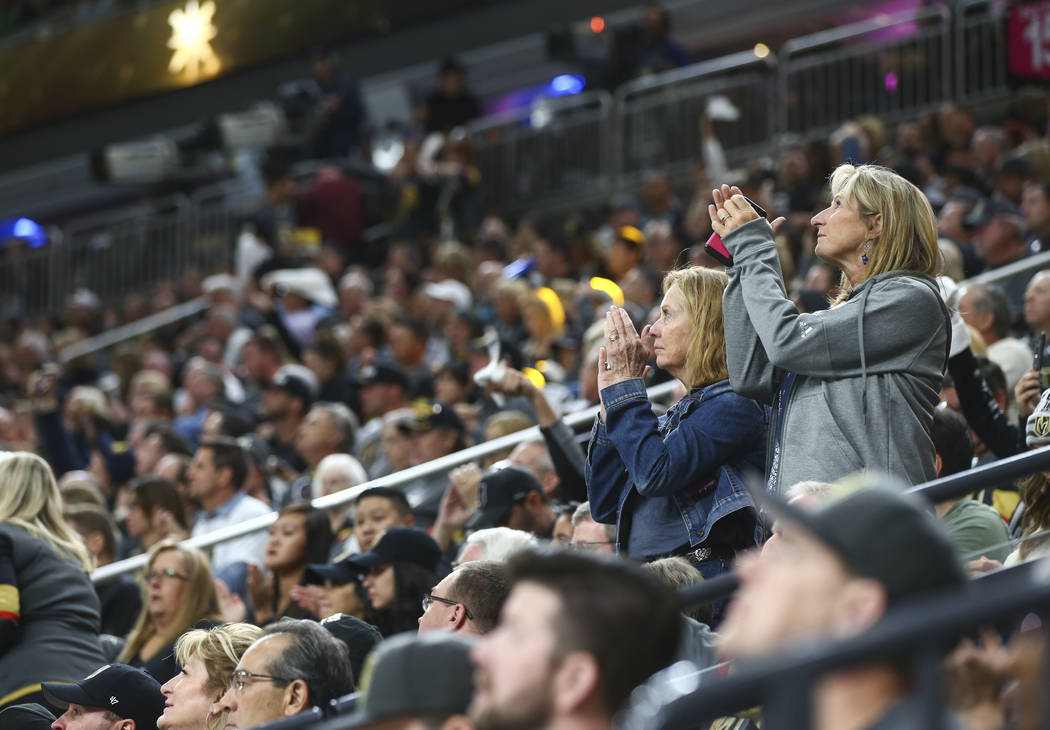 The names of the dead were emblazoned on ice and a second ticked away for each one on the video screen high above.
For a heartbreaking 58 of them in the silent darkness of T-Mobile Arena on Tuesday night, we were again reminded about a sanctuary that has been known to offer refuge from the brutality of terror.
It's just sports and, by God, it isn't.
If sorrow and gloom is part of the healing process for Las Vegas to eventually emerge from under the menacing cloud that has immersed the city since those horrifying 10 minutes Sunday evening, so, too, is the opportunity for a community to gather and celebrate what can be a needed distraction.
No one could have imagined the first home game in the history of the Golden Knights would be defined by such a mournful cause, but as it has so many times in the worst of moments, sports proved to be the most powerful of remedies.
"We were trying to thank the town and bring the town together," Knights owner Bill Foley said. "We wanted to show Vegas that we really are a part of the community."
It was sad and uplifting and agonizing and inspiring, a pregame ceremony that accomplished Foley's vision of uniting a city whose collective hearts were ripped apart by the deadliest mass shooting in modern U.S. history at the Route 91 Harvest festival.
That's what the NHL expansion team did Tuesday, connecting divergent groups of folks with a common goal: For a few hours, all the pain and loss and grief would be replaced with the simplicity and excitement and emotions of a hockey game.
Sports played such a role after 9/11, after Columbine, after the Boston Marathon bombing, after natural disasters such as Katrina and Harvey and the tornado that tore through Moore, Oklahoma.
In all such catastrophic times, sports have become a vehicle by which to begin the long and difficult process of recovery, and not a mile from the spot where shots rang from evil hiding in the shadows of a hotel room, so, too, did this particular game aid in that vein.
"I know 9/11 was very hard, and I imagine, from a distance, perhaps a tad presumptuous, that it was probably the same feeling here last week," NHL commissioner Gary Bettman said. "There is no other way to describe it — it's a tragedy, it's sad, it's horrific. But there is a healing process and life is going to be moving on.
"It shows what a major league professional sports team can do for a community in terms of bringing people together, uniting them, helping them heal from tragedy and demonstrating the power of distraction when everyone comes together. This community has been remarkable in the face of what happened, and the Golden Knights have become instantaneously part of this community."
It was a brilliant touch to have a first responder escort each Knights player onto the ice, to have those from police and fire and medical and other emergency services recognized for their heroism in the aftermath of the shootings.
It was beyond moving for the entire arena to sing "The Star-Spangled Banner" while being led by those from the Route 91 concert. It was solemn and stirring all at once.
It was fitting that Knights defenseman and Las Vegas resident Deryk Engelland addressed the crowd, and touching that survivors of the shooting performed the ceremonial puck drop.
It was a sea of white-flag waving bedlam when the Knights scored four first-period goals en route to a 5-2 victory against the Coyotes, meaning the town can now cheer the only expansion team in history to begin a season 3-0.
But more than anything else, Tuesday was about a dark arena and the straightforwardness of a slow and tortuous count on a video screen, each number honoring those gunned down in such an inhumane and unforgivable act.
And as each one ticked away, thousands of tears began falling …
1, 2, 3, 4, 5, 6, 7, 8, 9, 10
11, 12, 13, 14, 15, 16, 17, 18, 19, 20
21, 22, 23, 24, 25, 26, 27, 28, 29, 30
31, 32, 33, 34, 35, 36, 37, 38, 39, 40
41, 42, 43, 44, 45, 46, 47, 48, 49, 50
51, 52, 53, 54, 55, 56, 57 …
And suddenly, like a template of hope promising the town will emerge from under that menacing cloud, that we will one day be whole again, a voice bellowed from the darkness …
"Vegas Strong!"
58.
More Golden Knights: Follow all of our Golden Knights coverage online at reviewjournal.com/GoldenKnights and @HockeyinVegas on Twitter.
Contact columnist Ed Graney at egraney@reviewjournal.com or 702-383-4618. He can be heard on "The Press Box," ESPN Radio 100.9 FM and 1100 AM, from 11 a.m. to 2 p.m. Monday through Friday. Follow @edgraney on Twitter.