James Neal's toughness helps Golden Knights to Game 3 win
Updated May 16, 2018 - 11:33 pm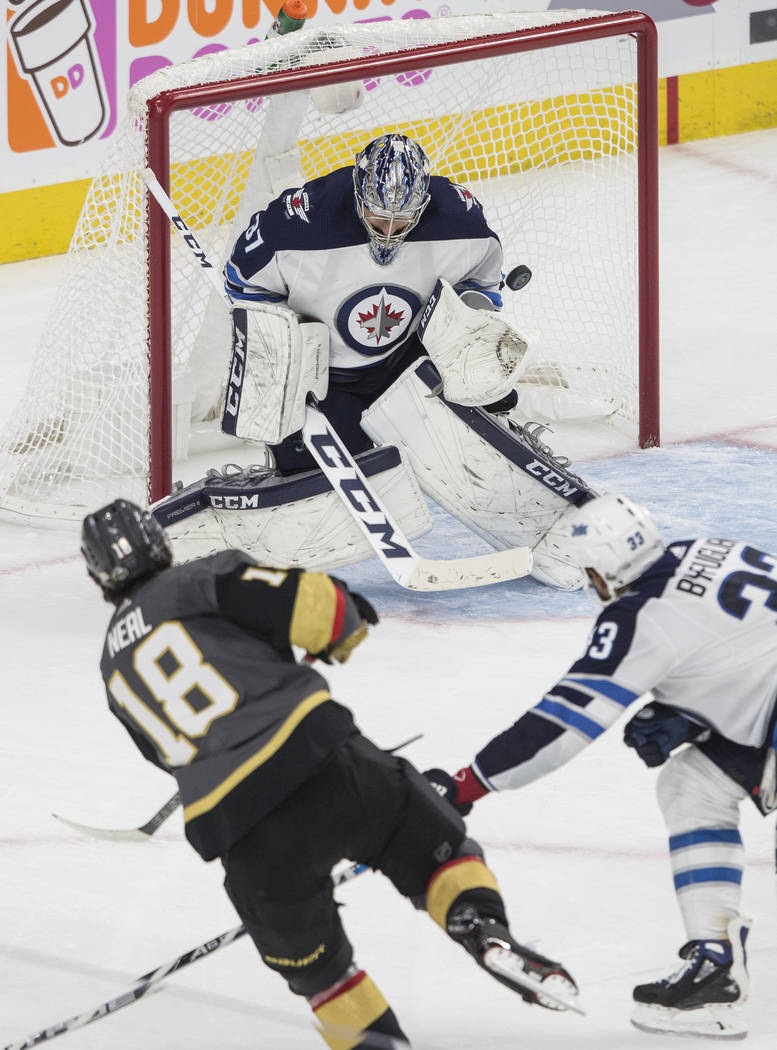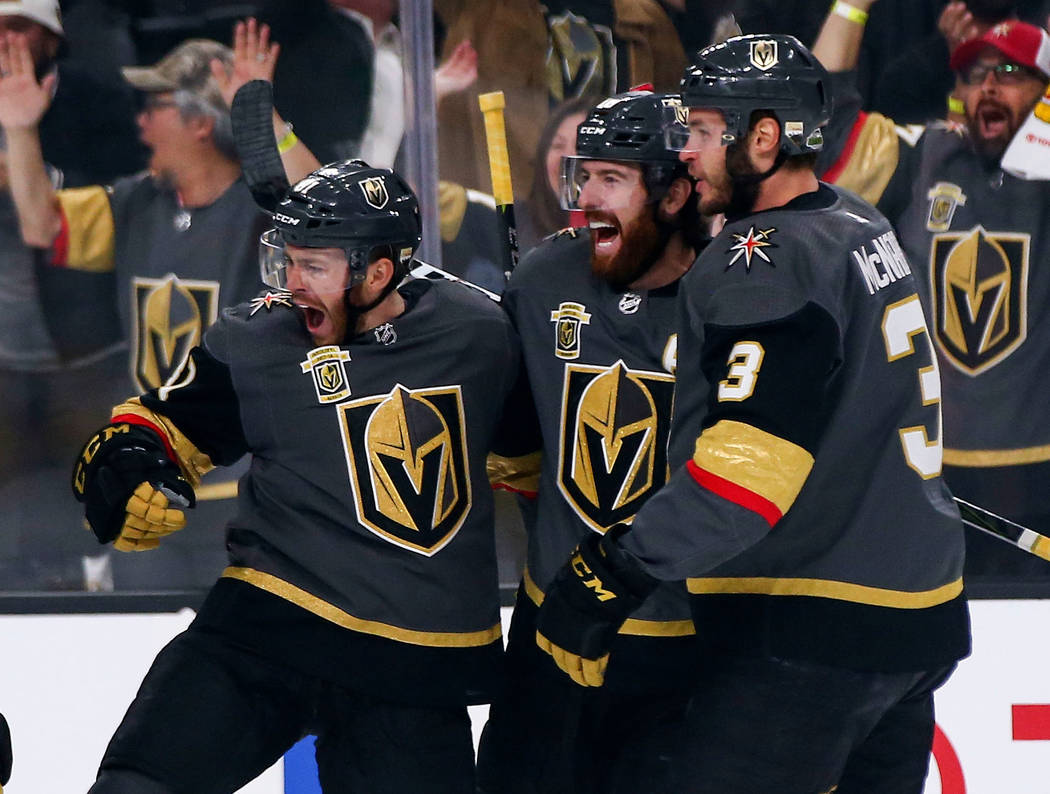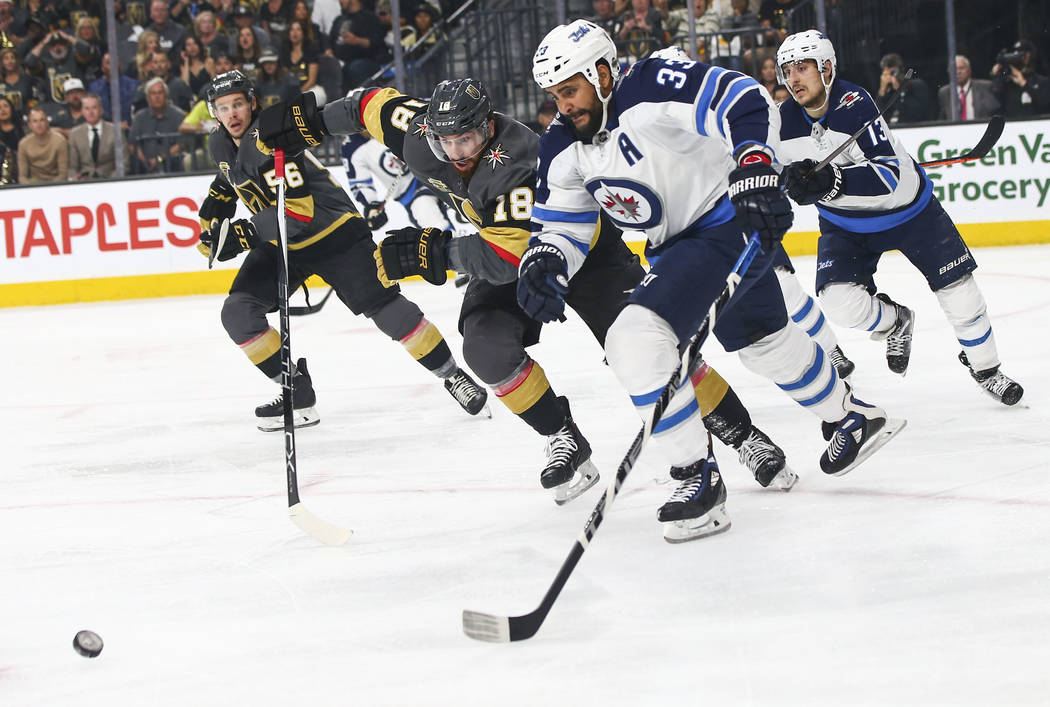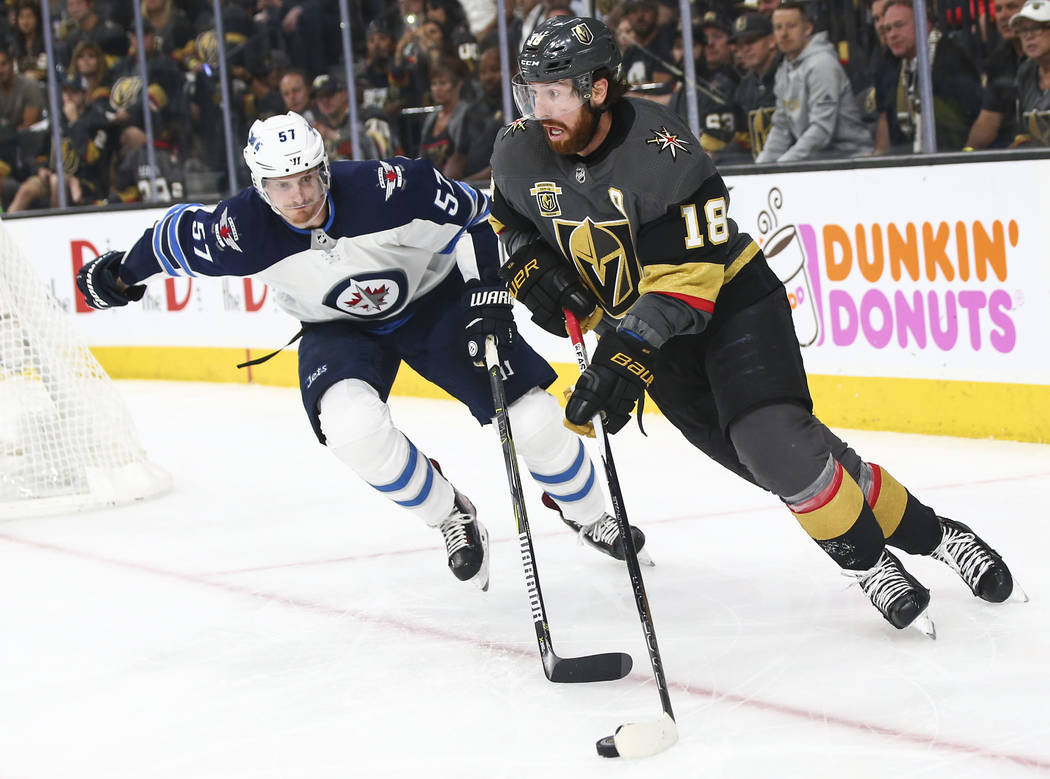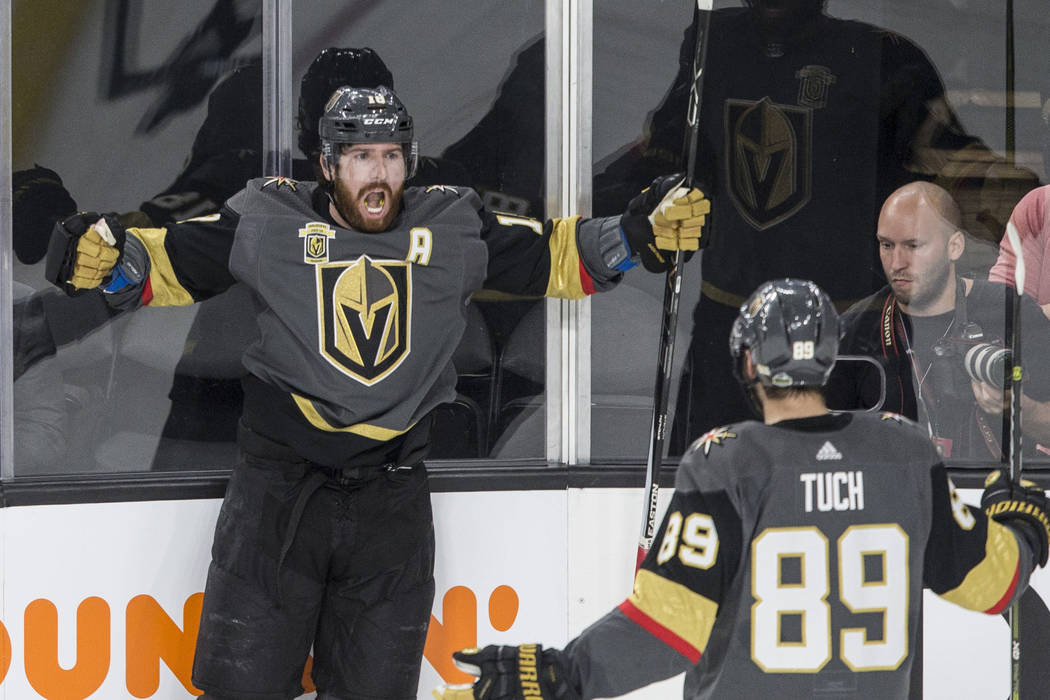 He wasn't the final name announced during the expansion draft, wasn't the face on which the Golden Knights would build a franchise.
But never was his importance to an inaugural season — at least for how long he might be around — undervalued.
James Neal was always going to play a role , be it in the short term of providing an example of how pros work or over the course of what continues to prove an improbable story.
Vegas is two wins from the Stanley Cup Final — say that five times without shaking your head — after it defeated Winnipeg 4-2 on Wednesday night in Game 3 of the best-of-seven Western Conference Final before an announced gathering of 18,477 at T-Mobile Arena.
The Knights lead the series 2-1 and can grab hold tight with a win in Game 4 on Friday at T-Mobile, a challenge that will be anything but simple given the pressure Winnipeg brought in the second and third periods Wednesday.
The Jets found their feet and Vegas was fortunate to hold them off.
It still has the makings of a long and difficult series.
But as each game passes, the presence of someone such as Neal can only benefit the pursuit of a championship, and the toughness he showed in Game 3 offers more evidence of how his teammates can in a time of great stress and pressure feel secure in following his lead.
He was thought perhaps lost early when taking a first-period elbow to the face from Dustin Byfuglien, forcing Neal off the ice and into the locker room for the standard concussion protocol.
"I got it in the eye and mouth," Neal said. "I just went off and did all my testing, and once I passed and was clear to come back, I was good."
This good: One of those huge momentum shifts that finds most games occurred early in the second, when the Jets off the first of two Mark Scheifele goals evened the score 1-1 and brought Winnipeg back into a game in which it had pretty much been dominated.
And yet 12 seconds later, Erik Haula controlled the puck behind the Winnipeg net and found a charging Neal in front for a score and 2-1 lead.
And not three minutes later, Neal came streaking down the right side, had a shot blocked by Winnipeg goalie Connor Hellebuyck, retrieved the rebound and this time fed Alex Tuch in front for a 3-1 advantage.
"(Neal) is a big part of our group," Haula said. "He played with a lot of emotion tonight. Me and James are pretty honest with our game. We know when we're not good enough. We talk about it. It was a big emphasis. We needed to be better. We need every line to be at their best this time of the year."
It's a second line that didn't attempt a shot in a Game 1 loss at Winnipeg and didn't play particularly great in a Game 2 victory, a line coach Gerard Gallant said needed to and would play better.
It was this time last year when Neal was experiencing a similar run in Nashville, one that ended with the Predators losing to the Penguins in the Stanley Cup Final.
So he knows the drill. Understands the weight of such a journey.
He was mostly viewed that expansion draft evening as a short-term option, one which at the trade deadline would draw interest from a contender seeking a veteran about to enter unrestricted free-agent status as a playoff rental.
Turns out, he was the one on a playoff team.
Remember: Neal has scored at least 20 goals in each of his first 10 NHL seasons.
The only other current players to have done so: Alex Ovechkin, Jaromir Jagr, Patrick Kane, Jonathan Toews and Thomas Vanek.
Yeah. That sort of company.
You could make the argument his largest contribution this season has come off ice, in the room, when players who have never advanced this far seek advice about how best to approach it.
You could make the case the most important words Neal has said have been made behind closed doors.
"(Vegas) was a fresh start for everyone," Neal said. "Everyone grabbed a hold and ran with it. Whether you have three Stanley Cups, or you haven't made the playoffs yet, everyone has something to prove and we played like that."
Never was his importance — at least for how long he might be around — undervalued.
He proved why again Wednesday.
Two wins from the Stanley Cup Final.
Shake those heads, is right.
More Golden Knights: Follow all of our Golden Knights coverage online at reviewjournal.com/GoldenKnights and @HockeyinVegas on Twitter.
Contact columnist Ed Graney at egraney@reviewjournal.com or 702-383-4618. He can be heard on "The Press Box," ESPN Radio 100.9 FM and 1100 AM, from 11 a.m. to 2 p.m. Monday through Friday. Follow @edgraney on Twitter.