Neal, Golden Knights both win by forward signing with Flames
Updated July 2, 2018 - 10:42 pm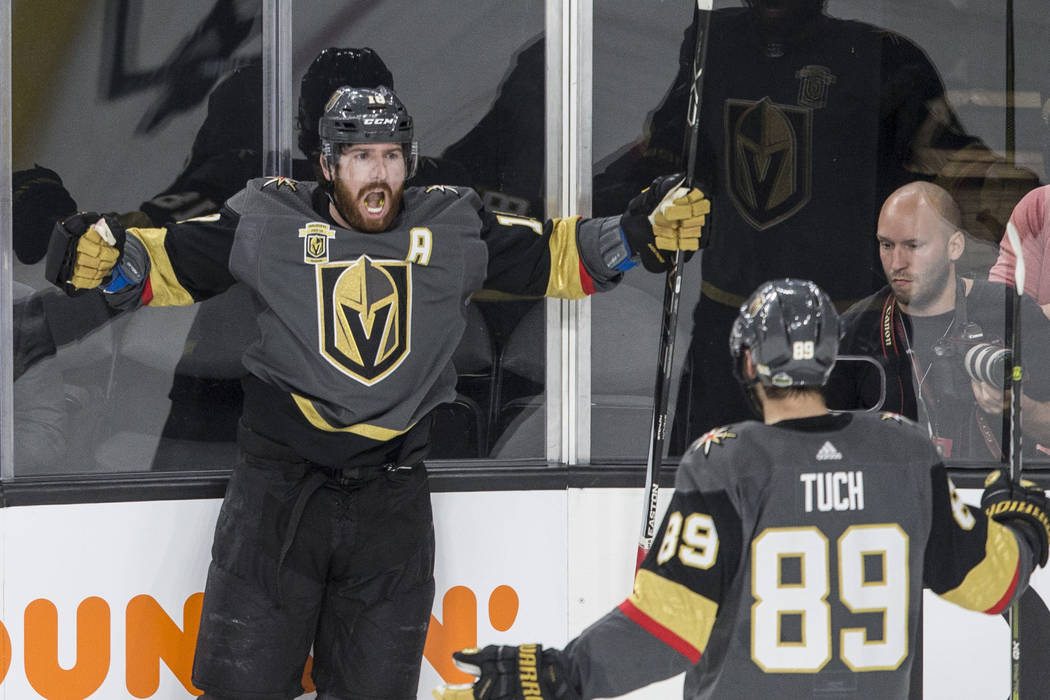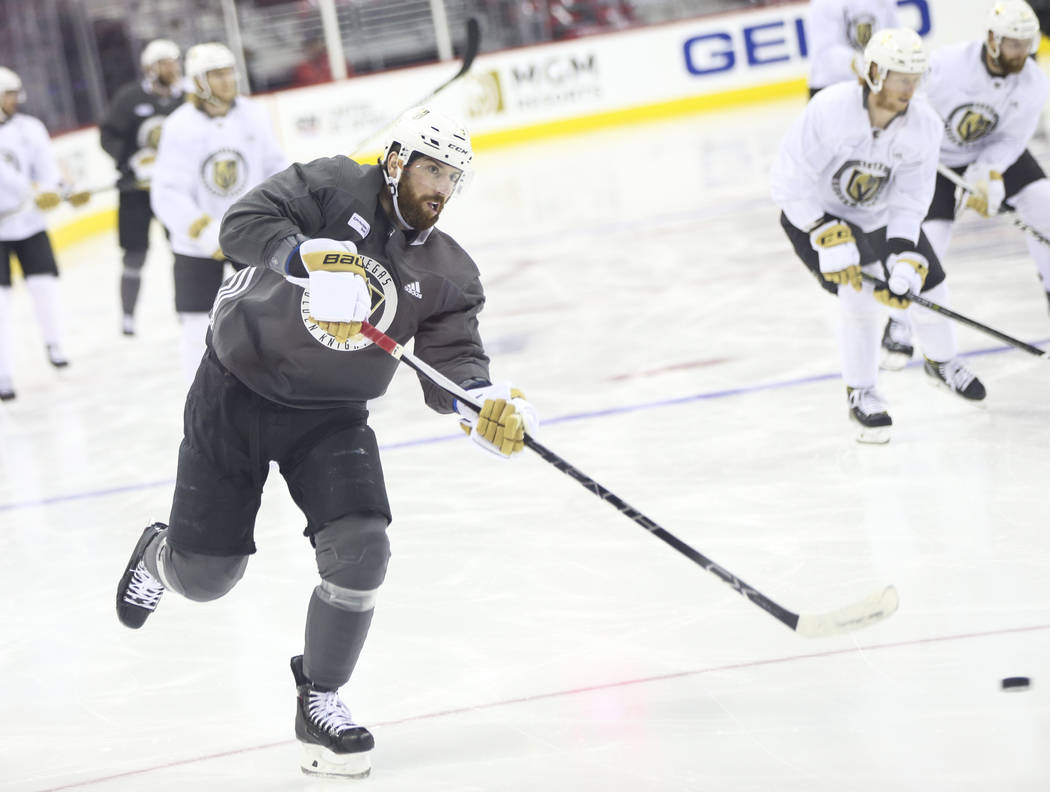 The relationship lasted a year, usually not enough time for any meaningful bond to develop.
But the Vegas Golden Knights of 2017-18 didn't present a typical storyline, and James Neal was hardly a secondary element to its plot.
He is gone, Neal having signed a free-agent contract with Calgary on Monday, thus ending his time in Vegas with one improbable season and run to the Stanley Cup Final.
Everything seems calm across Las Vegas. I didn't notice any crazy protests in and around City National Arena. No one was setting fire to No. 18 sweaters.
The 16-year old daughter didn't completely destroy the house upon learning the news — hey, what's a few cracked dishes and a busted lamp when one's favorite player skips town? — so I'm guessing all the other broken hearts across the valley will eventually mend.
Neal is gone because the Flames were willing to offer him a five-year deal, something the Knights believed too long a tenure for a winger who will be 31 by the time next season arrives.
In other words, Neal and Vegas both won.
Unrestricted free agency is a special time for any player, much less one like Neal, who was likely looking at his final contract of such sizable worth.
He needed to do what was best for him, and will be paid $5.75 million annually over the five years.
Good for him. Great for him.
It only takes one team to set the market's value if that franchise is willing to offer terms most aren't, and Calgary certainly did. I'm not sure the Flames know something everyone else doesn't. It's not as if the Saddledome is some magical time machine certain to return a player to his prime, although it's old enough to make you think Joel Otto might still take a shift or two.
Basically, the Flames wanted Neal and obviously felt it was worth the gamble that he will still produce at a high level in his mid-30s.
Vegas didn't.
That's how it won in this.
The Knights got everything and more they hoped for out of Neal upon selecting him from Nashville in the expansion draft, given had the season gone as most first-year teams experience, he would have likely been moved to a playoff contender at the trade deadline.
He was never supposed to be here longer than a year.
Heck, he was never supposed to be here longer than five months.
But instead, it was Vegas making postseason plans in February, and having a veteran forward with 25 playoff goals and who made the Stanley Cup Final with the Predators the previous season was an immeasurable advantage in the room.
He scored the first regular-season goal in franchise history, sort of beat Dallas by himself with both scores of a 2-1 victory on opening night, and would bring the sort of professionalism a team of castoffs desperately needed.
He was respected. He was a leader.
Neal played a major part in all of it, forever to be included in the annals of the team's historic beginning.
He also wasn't worth offering five years.
Or even four, really.
It's just business
That's just the cold, hard business part of it, impossible for many fans to understand or accept, but something a team with all sorts of rising talent that will be NHL-ready sooner than later knew better than anyone.
One report out of Calgary suggested in the last month that Neal turned down an extension from Vegas of five years for $25 million during the season, but the player's girlfriend has denied on Twitter more than once that such an offer was made.
That offer was never on the table… be careful believing everything you read on Twitter

— Melanie Collins (@Melanie_Collins) July 2, 2018
I tend to believe her. First, how could the analytics of what Vegas deemed Neal's worth change so dramatically in such a short time?
Second, she would seem a pretty good source.
Either way, offer or not, when it mattered most, which is now, the Knights weren't going to five years. You can also make a great argument the free-agent signing of center Paul Stastny on Sunday is more important than bringing back Neal and departed forward David Perron, who signed with St. Louis.
That's how critical a proven center can be, and if there is something that might get the likes of Tomas Tatar scoring to begin next season, it's the creative stick of Stastny.
Neal would finish with 25 goals and 44 points over the regular season for Vegas. For this and the fact he has now scored 20 or more goals in 10 straight seasons, Neal was more than suitably compensated by the Flames on Monday.
He wanted to be in Las Vegas, but wanted his terms more.
Makes sense. He got them. He won.
But so did the Golden Knights.
It's one of those rare times when that cold, hard business part works for both sides.
No matter how many dishes are cracked and hearts broken.
More Golden Knights: Follow all of our Golden Knights coverage online at reviewjournal.com/GoldenKnights and @HockeyinVegas on Twitter.
Contact columnist Ed Graney at egraney@reviewjournal.com or 702-383-4618. He can be heard on "The Press Box," ESPN Radio 100.9 FM and 1100 AM, from 11 a.m. to 2 p.m. Monday through Friday. Follow @edgraney on Twitter.