One must wonder if UNLV is looking for AD or puppet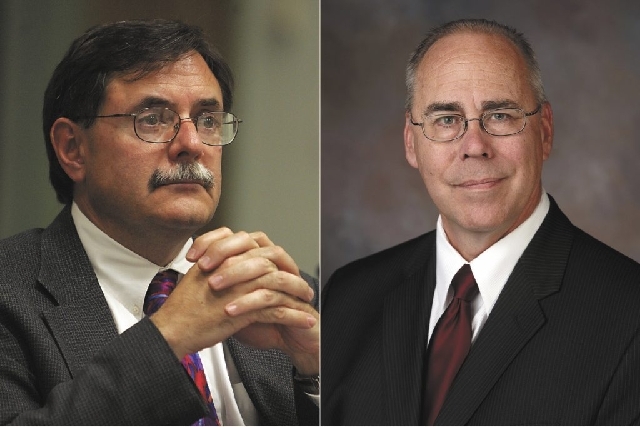 It was shortly after word came in July 2009 that Mike Hamrick was departing his post as UNLV athletic director — which means about the time I threw a block party celebrating the news — that I wrote it would be wise for the Rebels to hire a local as his replacement.
That whoever assumed the post should have an intimate knowledge of how the town works and how best to raise money in it, that there should be no national search, no thousands of dollars spent on some headhunter who doesn't know the Venetian from the Rio.
Jim Livengood proved me wrong as an outsider who arrived here and did a terrific job for 3½ years before being wrongly fired last week.
I'm getting a kick out of continued statements from UNLV president Neal Smatresk about Livengood "retiring." It's as if UNLV hopes by saying it publicly enough, people might begin to believe that's what happened.
You know, instead of Livengood being handed the choices of departing on his own or being fired for cause.
You know, instead of a truth Livengood is far too respectful of UNLV to publicly divulge.
Mark Anderson of the Review-Journal requested twice in the past week to interview Smatresk over Livengood's departure, wanting to ask questions about documents the R-J has obtained that likely damaged Livengood's ability to lead.
Anderson was denied both times.
He also requested to interview Gerry Bomotti, the senior vice president for finance and business, who many will tell you not only controls the checkbook at UNLV but also has more power and influence over the president that few outside the university are aware of and whose friction with Livengood as part of the Athletics vs. Thomas & Mack Center debate was more than contentious.
Anderson also was denied that talk.
He also emailed questions to chancellor Dan Klaich regarding the Livengood situation and specifics about how much power Bomotti holds over the president.
Klaich said such queries should be directed to Smatresk.
Sensing a pattern here?
The more interviews that are denied for no more of an explanation than "We can't discuss personnel matters," the more obvious this becomes: It might not matter if the next athletic director is local or the result of a national search.
If the person's hands are tied as they were Livengood's on financial matters and dealings with the Thomas & Mack Center, what you will have is nothing more than a figure head running athletics and adhering to the every wish of those across campus.
The person running it for now will be Tina Kunzer-Murphy, named Monday by Smatresk as the interim athletic director, effective July 1. She is a Las Vegas native and a UNLV graduate and has more than 30 years experience in athletics.
She will do a fine job until Smatresk hires a permanent replacement.
"I'm going to put my head down and focus and get to work," Kunzer-Murphy said. "This is a critical time for our football program and selling tickets and marketing the team and getting people to home games. I'm going to work very closely with the football foundation to figure out a plan for all of it.
"I will do the very best job I can before turning things over to the new athletic director. It's not my expectation to be named to that role. I just want to help right now. It's an honor and a privilege. My job is to get us through this transition. I'm very comfortable in that role. If the choice is someone local, great. I would definitely support that. It won't be me."
I'm not so sure. Kunzer-Murphy is as dialed in locally as anyone, and her extensive background in athletics and college football bowl games and TV negotiations would be seen as big positives to anyone making the hire.
But no matter who gets the job, man or woman, local or outsider, things won't change much for them if the other side of campus continues to operate in the same manner of standing behind a curtain and controlling things much like a wizard in a fairy tale.
It makes you wonder: What are Bomotti and Smatresk looking for, an athletic director or a puppet?
Jim Livengood was excellent at the former and finally refused to be the latter.
Not that he was given a choice in the timing of his departure, no matter what those fancy statements continue to say.
Las Vegas Review-Journal sports columnist Ed Graney can be reached at egraney@reviewjournal.com or 702-383-4618. He can be heard from 11 a.m. to 2 p.m. Monday through Friday on "Gridlock," ESPN 1100 and 98.9 FM. Follow him on Twitter: @edgraney.