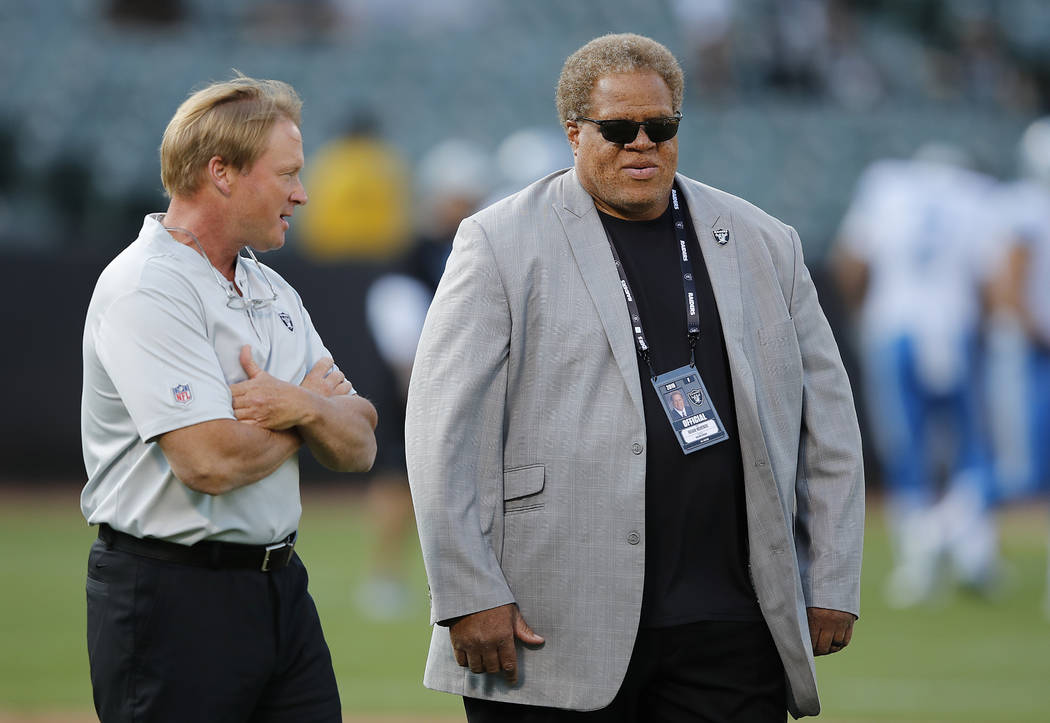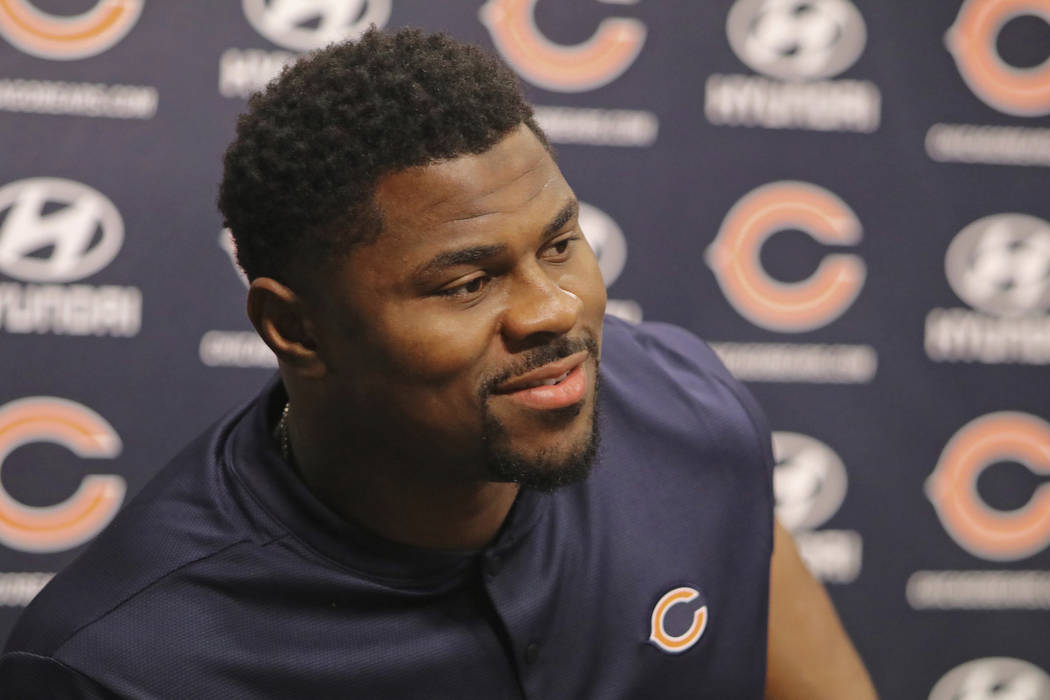 ALAMEDA, Calif. — A day later, after Jon Gruden had traded the exact sort of Raiders football player he has for years professed to admire most, the head coach explained how it came that an elite pass rusher like Khalil Mack was shipped to Chicago.
Which wasn't altogether how general manager Reggie McKenzie explained it the previous evening.
"People," said Gruden, "are trying to divide us."
I'm not so sure that's true, but it might help weaken such a claim if both appeared to be on the same page about critical points that led to such a significant decision.
Or at least within the same chapter.
Gruden on Sunday addressed the media for the first time since the Raiders sent Mack, a second-round pick and a conditional fifth to the Bears for two first-rounders, a third and a sixth.
Hours later, Chicago made Mack the highest-paid defensive player in NFL history with a six-year contract extension worth $141 million, including $90 million guaranteed, $60 million of which came at signing.
"(Mack) was a great player for us, a great person, a great teammate," Gruden said. "It wasn't my goal to trade Khalil when I got here. One of the reasons I'm here is because of him. Unfortunately, we had a standoff with the contract and could not come to terms. I don't believe we were anywhere close to where the Bears were (in guaranteed money).
"We're going to be second-guessed until the cows come home on this, and I understand that. But the bottom line is, we did our due diligence, there was a standoff, and he got a great contract from the Bears."
Gruden is a television guy. Comfortable in the spotlight. Life of the party. McKenzie is more behind-the-scenes. Measured in his answers. He's not being fitted for a lampshade at midnight anytime soon.
So it goes that they could respond to questions about the same topic differently and yet intend to provide the same message.
But not with something as big as Mack being dealt.
This wasn't some undrafted free-agent safety being sent away.
This was their best player, a two-time first-team All-Pro, the 2016 AP Defensive Player of the Year.
That the general manager and head coach weren't better prepared insinuates the final call wasn't the unanimous pact both suggested, and yet even with how opposite some of their replies were, a central theme emerged.
Holdouts are about term, and much of term is about money, and whether the Raiders could afford to venture into the sort of deal Mack eventually received or not, they weren't going down that sort of financial road.
Differing explanations
McKenzie on Saturday said the fact that franchise quarterback Derek Carr's deal calls for $70 million guaranteed didn't factor into where the team drew its line with an offer to Mack.
Gruden on Sunday said there would be implications to any team paying two players $20 million-plus annually.
"That's no mystery to anybody," he said.
McKenzie said the Raiders had not waited on Rams defensive end Aaron Donald to sign his extension — six years, $135 million, $87 million guaranteed — before deciding how far they would go to keep Mack.
Gruden said the Donald deal, "Pretty much set the stage," for what then occurred.
"And $90 million guaranteed is an astronomical number," Gruden added. "That was something we could not do."
Both general manager and coach said the trade was an organizational decision, and yet Gruden stated he wasn't involved in agreeing to send a second-round pick along with Mack.
Do you see the issue here?
At worst, there is a definite split between the two, and you don't need a 10-year coaching contract worth $100 million to let you know who is in charge and making final decisions; at best, there is serious confusion.
You don't want to pay a pass rusher, even the best one, as much as your quarterback? Makes sense.
You don't believe it's smart business for a franchise to pay two players north of $20 million? I get that.
You're worried about the coming seasons and other free agents that need signing? OK.
But for two guys who insist all is agreeable in their universe, how Gruden and McKenzie explained away one of the biggest moves in franchise history — not to mention the head coach having cleansed the roster of countless draft picks made by the general manager in recent seasons while consistently downgrading such drafts publicly — sure didn't support it.
Not on the same page.
Not in the same chapter.
More Raiders: Follow all of our Raiders coverage online at reviewjournal.com/Raiders and @NFLinVegas on Twitter.
Contact columnist Ed Graney at egraney@reviewjournal.com or 702-383-4618. He can be heard on "The Press Box," ESPN Radio 100.9 FM and 1100 AM, from 11 a.m. to 2 p.m. Monday through Friday. Follow @edgraney on Twitter.