Raiders refuse to accept blowout script in close loss to Chiefs
Updated December 2, 2018 - 7:57 pm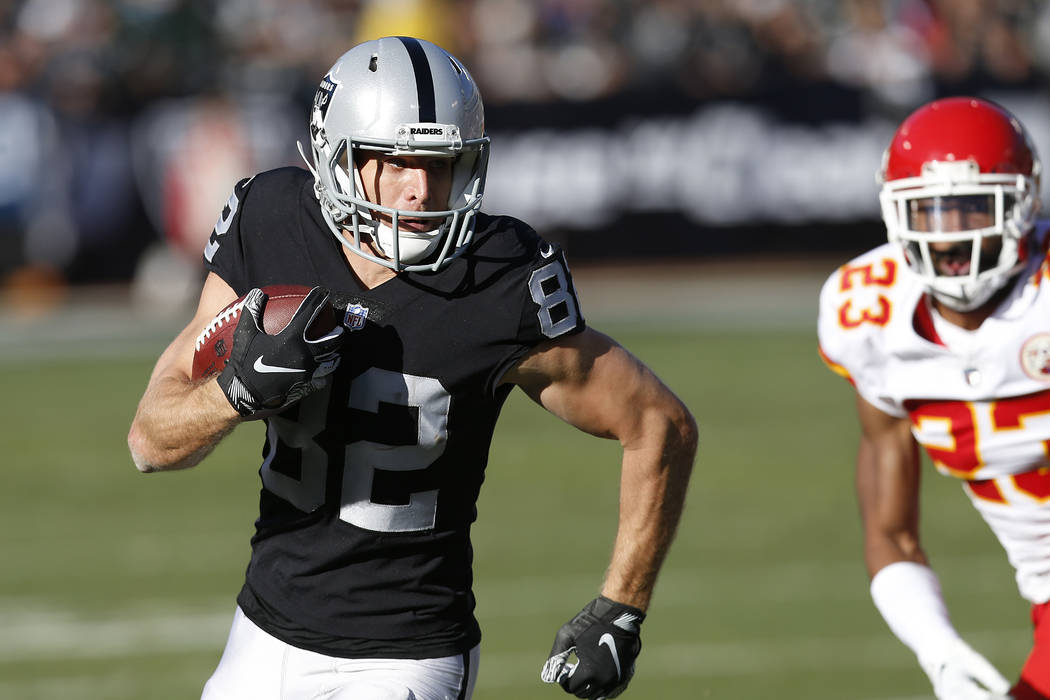 OAKLAND, Calif. — It is said to be an important rule of writing, that knowing a story's end before its beginning is critical to a successful process.
I'm not sure about that.
Sometimes, the unknown really is a terrific motivator.
And can even create some unexpected football.
The game that was set up to produce a laugher, more forgone conclusion in terms of result than Tom Brady making the playoffs, instead on Sunday offered perhaps the best example that the Raiders haven't yet bought into the idea of folding up any silver and black tents while awaiting the NFL draft.
Kansas City departed Oakland-Alameda County Coliseum a 40-33 winner, but not before the AFC West-leading Chiefs got far more than they likely expected from the Raiders, a 14-point underdog who now sit at 2-10 on the season.
"I actually think games like this make it easier to fight and continue playing," said Raiders wide receiver Jordy Nelson. "When you're successful out there and battling and see improvement from guys and being able to hang in there, you're seeing the light come on. It becomes easier to stay after it for younger and older guys.
"We're here to win every game. I've been in this league long enough to remember the year (2011) after I won the Super Bowl with Green Bay, we were 13-0 and Kansas City was (5-8) and they beat us. You have a chance every week if you play good football, and we just didn't play well enough today."
Everything before kickoff pointed to a Kansas City blowout, from the fact Chiefs coach Andy Reid is perhaps the best in history following a bye week with a record that is now 17-3, from an atmosphere that included thousands of empty green seats among the announced attendance of 54,255, from the emotional charge the visitors would play with in the wake of releasing Pro Bowl running back Kareem Hunt this week after video of him assaulting a woman in February went public.
From the fact one team is good enough to make the Super Bowl and the other has been so bad, it's in a weekly dogfight with a few others to secure the No. 1 overall draft choice come April.
But that's the thing about the whole tanking concept when it comes to teams suffering through the sort of season in which the Raiders find themselves: Fans might embrace it so as to have the franchise secure as high a pick as possible. Management might, perhaps not purposefully, in terms of how a roster is constructed.
Coaches don't.
Players absolutely don't.
Fumbling away upset
The Raiders on Sunday played with as much desire as they have all season, embracing a shootout scenario against one of the league's most explosive offenses, one averaging 434 yards, nearly 37 points and led by a Most Valuable Player candidate in quarterback Patrick Mahomes.
"We had flashes where all cylinders were firing," said Raiders running back Doug Martin. "We're disappointed. To be in a close game like that with (Kansas City) shows a lot about what we can do when we play together. But the better team won. The team that didn't make mistakes won."
He spoke of, that for the first time since the AFL-NFL merger in 1970, three different Raiders running backs lost fumbles on offense.
That, and the fact the Raiders had a better chance the city of Oakland would publicly support its move to Las Vegas in 2020 than they had defending Chiefs tight end Travis Kelce (13 targets, 12 receptions, 168 yards, two touchdowns), was enough for Kansas City to avoid what would have been one of the season's biggest upsets.
The laugher everyone anticipated was instead a more-than-entertaining game, not perfect in execution by either side but certainly proof nobody in the home locker room has one eye on vacation plans.
"I think Mahomes and Kelce must live together or something," said Raiders coach Jon Gruden. "They made some incredible plays. You can't do anything sometimes but tip your hat. I'm proud of our team. It hurts. We got beat by a hell of a team."
Just not in a way the book's beginning might have forecast.
Heck, endings are a lot more interesting this way.
More Raiders: Follow at reviewjournal.com/Raiders and @NFLinVegas on Twitter.
Contact columnist Ed Graney at egraney@reviewjournal.com or 702-383-4618. He can be heard on "The Press Box," ESPN Radio 100.9 FM and 1100 AM, from 7 a.m. to 10 a.m. Monday through Friday. Follow @edgraney on Twitter.