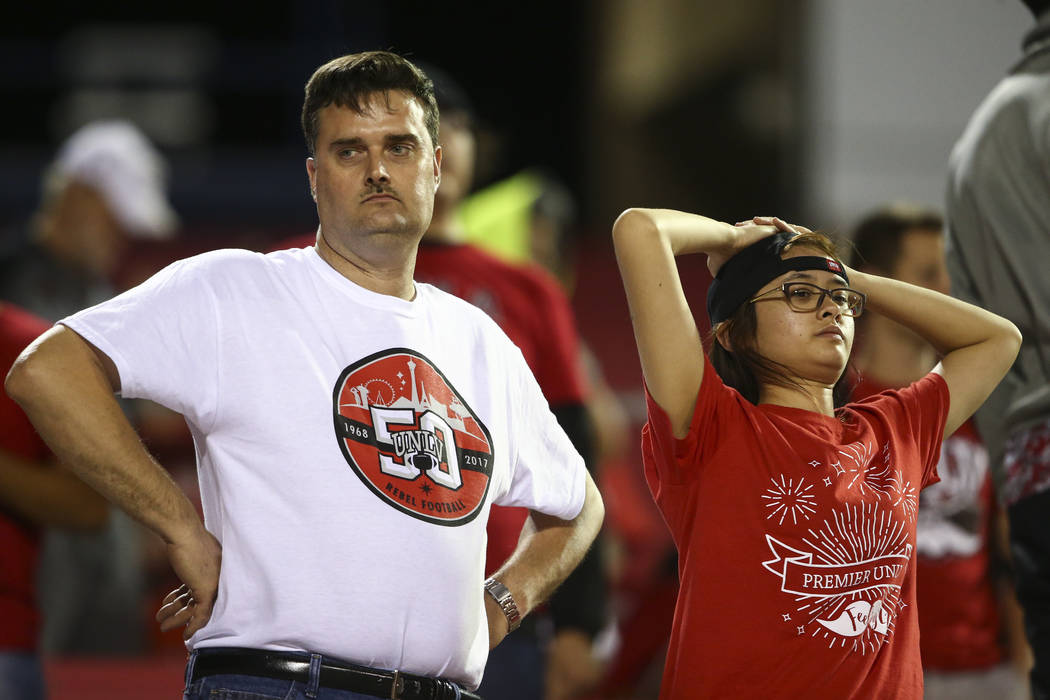 Welcome to UNLV football, Desiree Reed-Francois.
To the sloppy, undisciplined, incredibly underachieving nature that has defined it for most of the past two decades.
We're not in Blacksburg, Virginia, anymore.
The Rebels managed to even outdo their own dreadful history in the first game under a new athletic director's tenure Saturday night, sinking to a low that oddsmakers insist flirts with the worst loss in college football history based on point spread.
Pull up a turnover and let those words sink in: Worst. Loss. Ever.
Tony Sanchez began his third season as coach and you couldn't imagine a more forgettable and disheartening result, as UNLV fell to Football Championship Subdivision opponent Howard 43-40 before 15,667 at Sam Boyd Stadium.
The Rebels were 45-point favorites.
That is all.
Actually, it's not.
There is so much more to this absurdity, and it's a movie we have seen before.
"A lot of teams had bad games this week and were in jeopardy of losing to (FCS) teams," Sanchez said. "At the end of the day, nobody knows where you're going to end up. We expect to win games like this. I understand the frustration of the fans and Rebels supporters. (Howard) was a good team that came out and played hard.
"The only way to fix it is come out next week and win (at Idaho)."
It's beyond disturbing that a team believed to have taken some significant strides offered such a sub-standard effort in so many areas. It's mind-boggling this program continues to be so inefficient defensively.
UNLV hasn't stopped anyone in forever, not in the sort of consistent manner that might allow it to mature and develop as a program. It can't tackle people. It can't get anyone off the field when needed most.
And this isn't just Saturday.
This is years and years of it.
Sanchez said afterward his team's rush defense has improved over the past few seasons, and maybe that's true statistically.
But what does that really mean when the starting point was so awful?
What, have they gone from invisible to mere sieves when trying to stop somebody?
Look. Credit the visitors. Credit the Bison a ton. They obviously didn't give a hoot about odds and certainly didn't buy into the idea they would play along and roll over in the desert heat.
Howard rushed for 309 yards. Caylin Newton, a true freshman quarterback and little bother to NFL star Cam, threw for 140 yards and rushed for 190 in his collegiate debut.
UNLV couldn't stop the Bison. Worse yet, the Rebels knew that Newton was a below-average passer, often loaded up the box against the run and still couldn't make enough plays.
Here's the major issue: You can be totally out of sync in countless areas, all of which UNLV was Saturday, and still almost beat Howard.
(I can't believe I just typed those words.)
But if you repeat those issues at Idaho next week, you lose again.
If you repeat them at Ohio State, you lose by 50 instead of 30.
False starts. Personal fouls. Bad snaps. Dropped balls.
Fumbles that are turned into 77-yard scores by the opposition.
An illegal substitution … on first down?!
Poor clock management by coaches at the end of a half.
UNLV kicked off to begin the season and was called for offsides.
How many times did they practice that in the past month?
How does that happen?
Said one press box veteran, who has attended UNLV games since the mid-1990s: "You can change the coaches, you can change the players, you can change everything …"
We get it. Same old weirdness.
The numbers tell you Armani Rogers had a nice debut as UNLV's quarterback, with the redshirt freshman throwing for 220 yards and rushing for 82 while directing an offense that amassed 564 yards.
But the Rebels lost three fumbles, couldn't get out of their own way early when reaching the red zone and, if not for place-kicker Evan Pantels tying a school record with four field goals in a game, wouldn't have even been in this late.
Sorry. This is a shake-your-head ending. Funny doesn't even apply anymore.
You know that saying about the most improvement a team makes is between its first and second games? UNLV better hope that proves true, and can only be thankful today that it has 11 games by which to erase the stink that was Saturday's outcome.
Let us repeat: Forty-five point favorites.
Believed to be the worst loss in college football history.
We can't yet confirm it is, and I'm guessing the halftime text about Reed-Francois splashing water in her face to try to wake up from the nightmare was a buddy's way of lightening the mood amid another forgettable performance.
But could you blame her for doing so?
Contact columnist Ed Graney at egraney@reviewjournal.com or 702-383-4618. He can be heard on "The Press Box," ESPN Radio 100.9 FM and 1100 AM from 11 a.m. to 2 p.m. Monday through Friday. Follow @edgraney on Twitter.
Related
Howard shocks Rebels as 45-point underdog
3 takeaways: UNLV suffers inexcusable loss to Howard