Subpar Rebels find a way to defeat Illinois
December 10, 2017 - 2:00 am
Updated December 10, 2017 - 2:09 am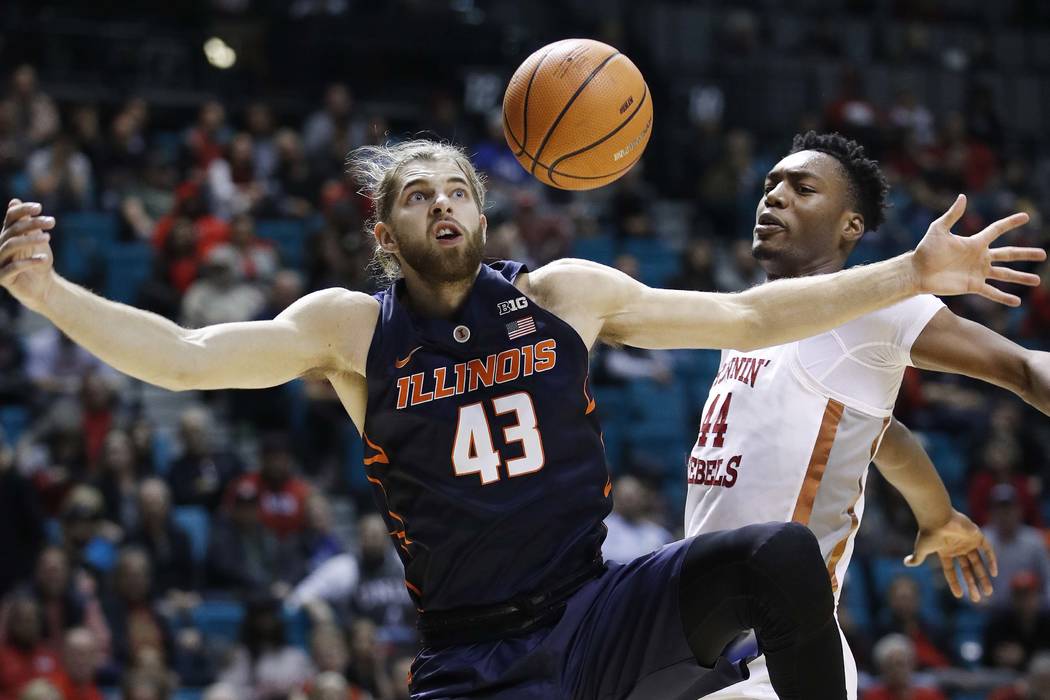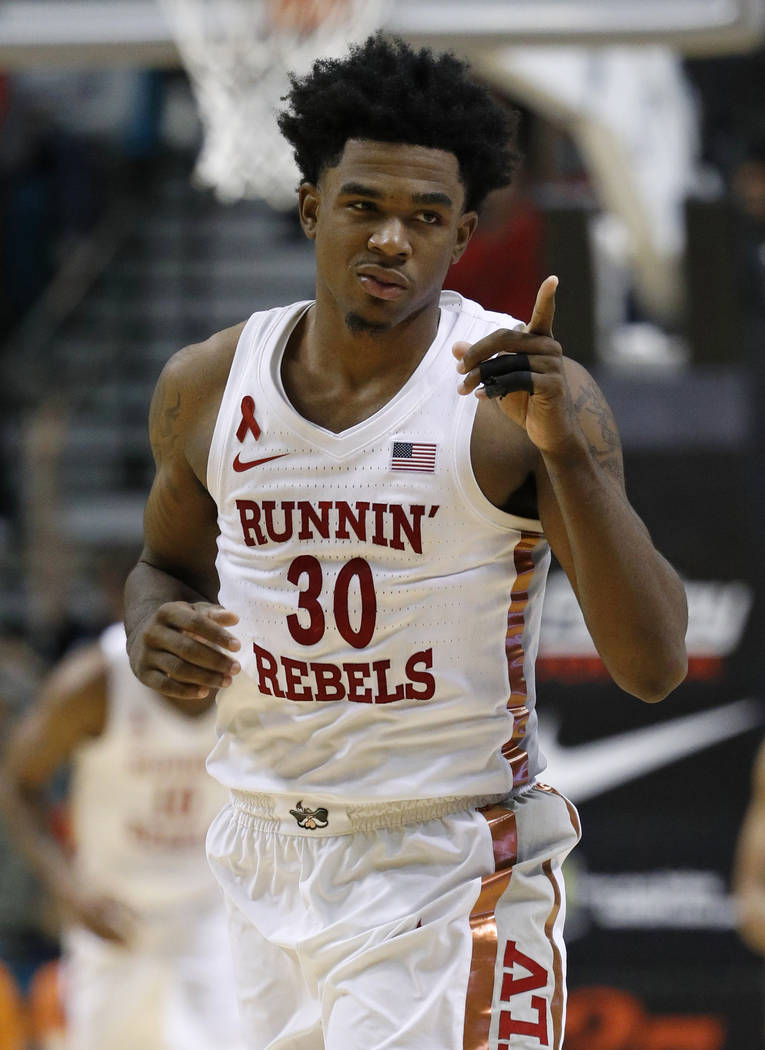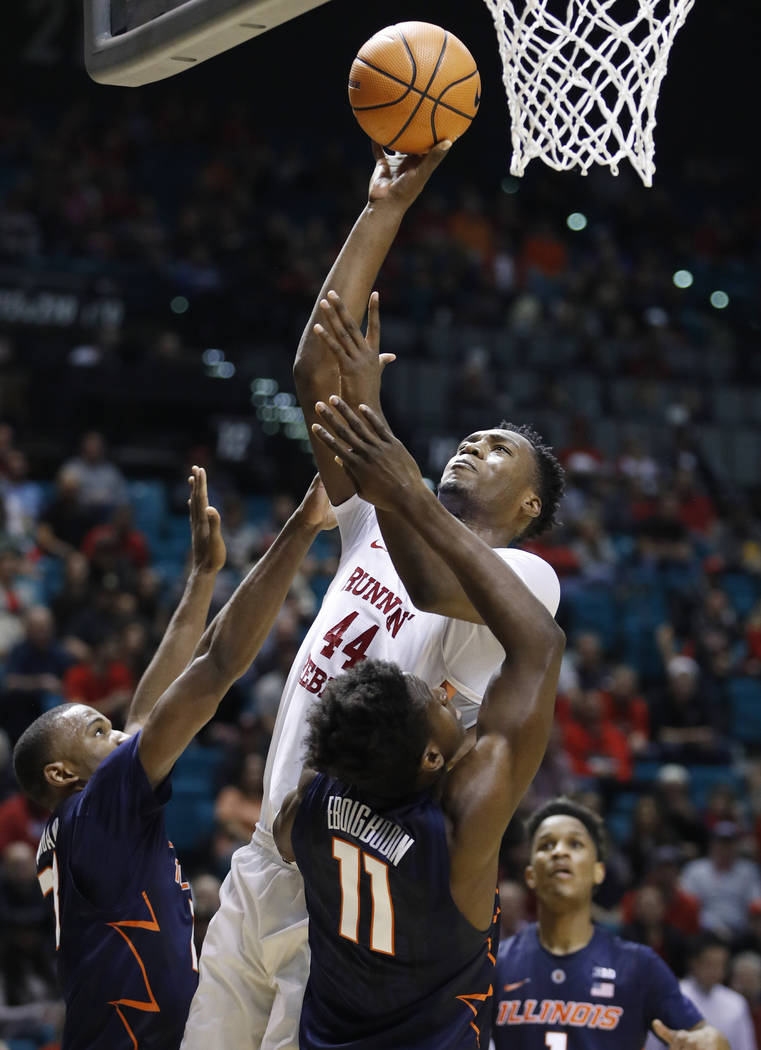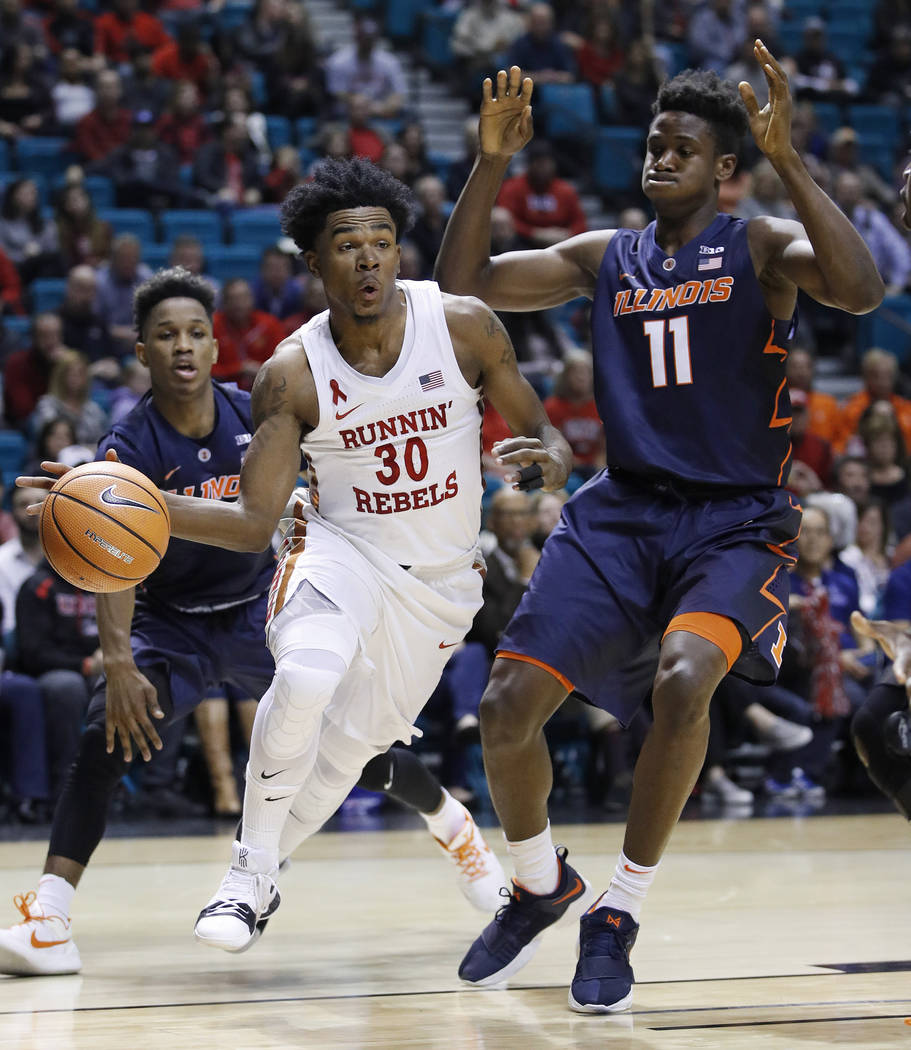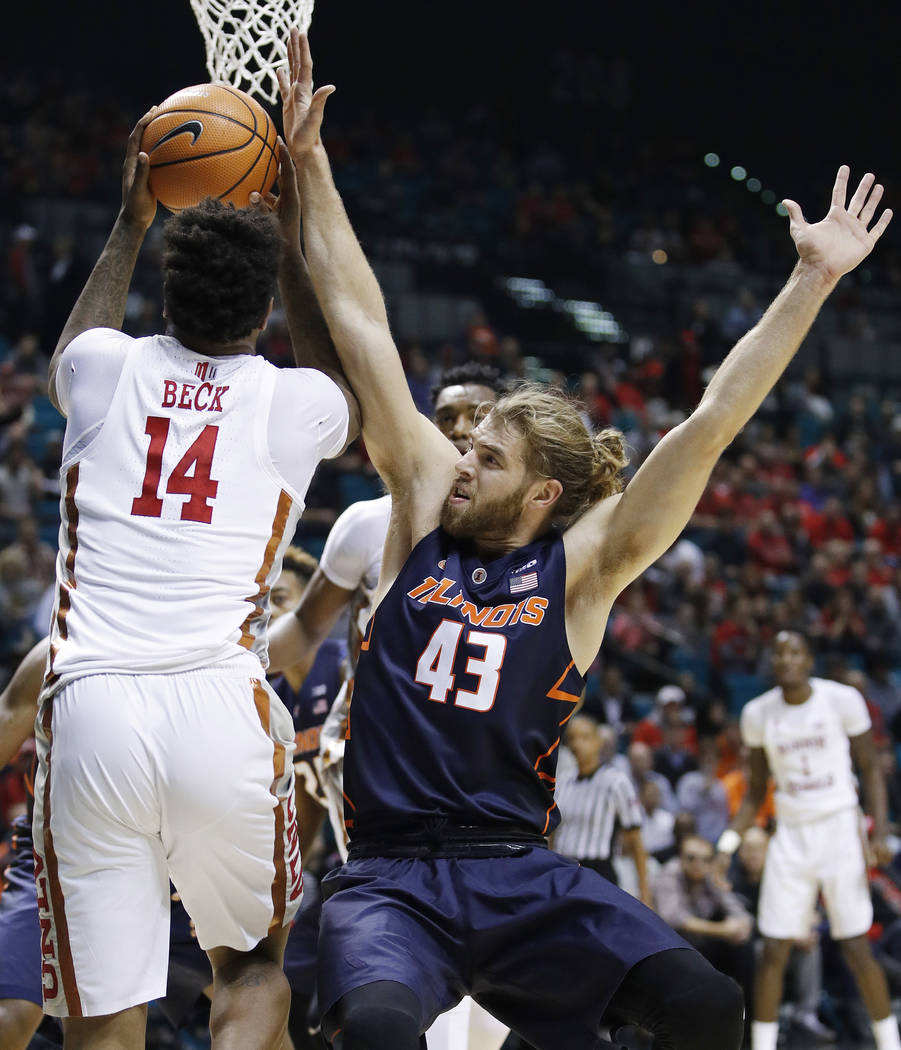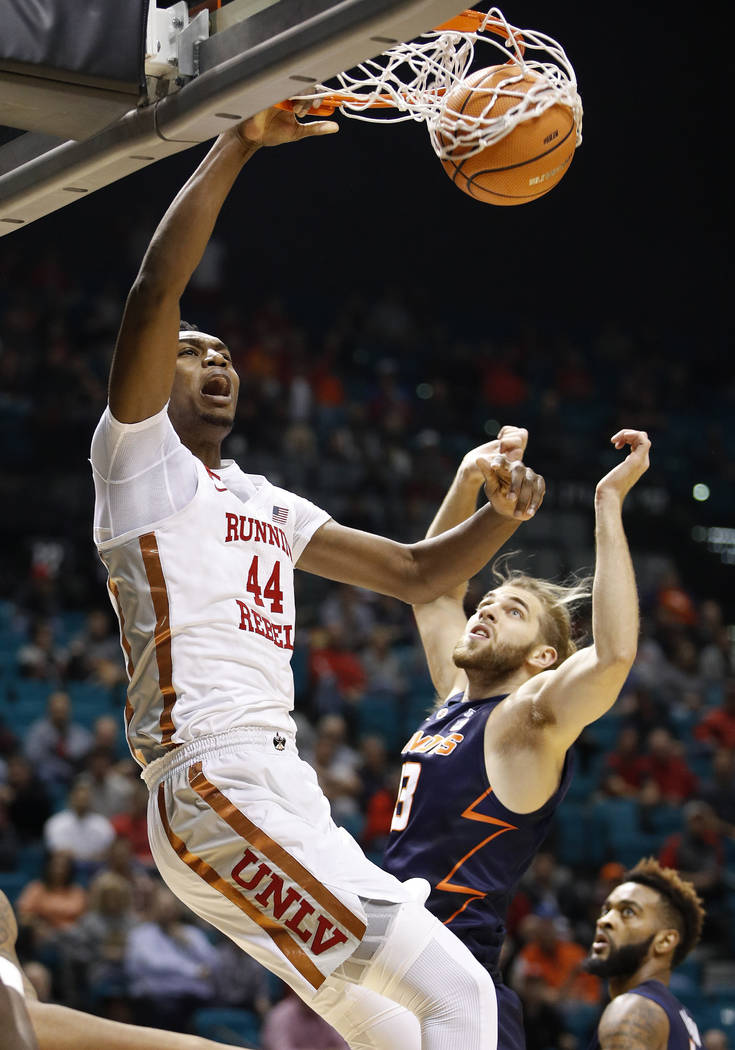 Hidden within an eighth victory in 10 games to begin the season, amid an 89-82 final against Illinois on Saturday night before 9,668 and an ESPN2 audience at the MGM Grand Garden Arena, existed this fact about UNLV's basketball team:
For long stretches, particularly in the second half, the Rebels didn't play well at all.
They were really sloppy and below average in parts.
Which is yet another example of their obvious growth.
Seriously. If you're going to prove yourself good, you have to sometimes win when you're not.
If it's going to contend with the likes of UNR and Boise State and any others that prove capable of challenging for a Mountain West title, UNLV undoubtedly will encounter nights when a subpar effort absolutely must conclude with a successful result.
Not to mention the fact this would have rightly been considered a bad loss, because Illinois isn't very good.
First-year Illinois coach Brad Underwood isn't just solid. He's terrific, one one of the nation's finest. The Illini were in this thing as much for his tutelage as UNLV's miscues. When he secures a few recruiting classes to the Big Ten school, there is no limit to how far Underwood might take Illinois.
But the more talented team Saturday played some of its best basketball in the final five minutes, when the Rebels pulled away and secured a split of what were the four legitimate nonconference games on the schedule.
It's not near good enough a resume to even hint of at-large consideration into the NCAA Tournament — wins against Utah and Illinois on neutrals courts, overtime losses at Northern Iowa and home to Arizona — but UNLV has absolutely shown enough to believe it can more than live near the top of the conference this season.
And when that happens, winning three games in three days at the league tournament in Las Vegas with an automatic berth on the line becomes a far less taxing challenge.
"This is one we knew we had to get, and that if we didn't get it, it would hurt," UNLV senior guard Jovan Mooring said. "It was just about grinding it out and doing whatever it took to get the win.
"Those types of losses (to Northern Iowa and Arizona) help you the rest of your career. Those games are ones where each of us can go back and see what we did bad both individually and as a team."
They will have good and bad to look at, understanding that despite shooting just 68 percent from the free-throw line and not making a field goal in the first eight minutes of the second half and allowing 17 offensive rebounds and getting beat on the boards overall, they were able to find a way.
The only thing neutral about this game was the court, given UNLV shot 48 free throws to 15 for Illinois.
At one point late in the second half, the Rebels had attempted more free throws (36) than Illinois had rebounds (34).
"Good game, fun to coach, enjoyed it," UNLV coach Marvin Menzies said. "I thought we played well in the second half when we needed to. We had an experienced (referee) crew, and they called what they saw. They called it tight. They don't care who wins. It worked out for us in our favor. But, no, I don't think I've ever been involved in a game with a team that attempted that many free throws."
Mooring scored 27, and freshman Brandon McCoy (22 points, 10 rebounds in 36 minutes) continues to deliver numbers. And freshman Amauri Hardy, a guard who had committed to Underwood when the coach was at Oklahoma State before choosing the Rebels after Underwood's departure to Illinois, showed some needed composure in his 21 minutes.
UNLV won on a night when junior Shakur Juiston was limited to 23 minutes and five rebounds (almost seven below his average) because he kept fouling Illinois players 90 feet from their basket, on a night when starters Kris Clyburn and Jordan Johnson combined to shoot 1 of 11, though the one was a Johnson 3 that pushed the lead to six with 4:32 left.
Menzies lists a winning time formula as this: Make free throws, rebound, take care of the ball and attempt high-quality shots.
UNLV, which led for almost 33 minutes, didn't do most of that for a majority of time.
But it did all of them well when it was time to find a way.
That's growth.
That's a positive sign, when you can win on a night you're not all that good.
More Rebels: Follow all of our UNLV coverage online at reviewjournal.com/Rebels and @RJRebels on Twitter.
Contact columnist Ed Graney at egraney@reviewjournal.com or 702-383-4618. He can be heard on "The Press Box," ESPN Radio 100.9 FM and 1100 AM, from 11 a.m. to 2 p.m. Monday through Friday. Follow @edgraney on Twitter.