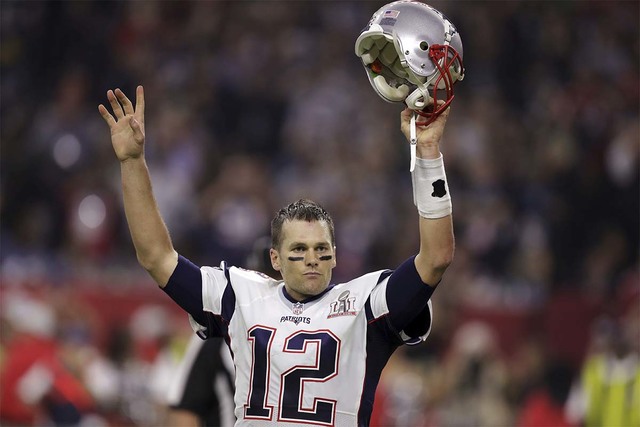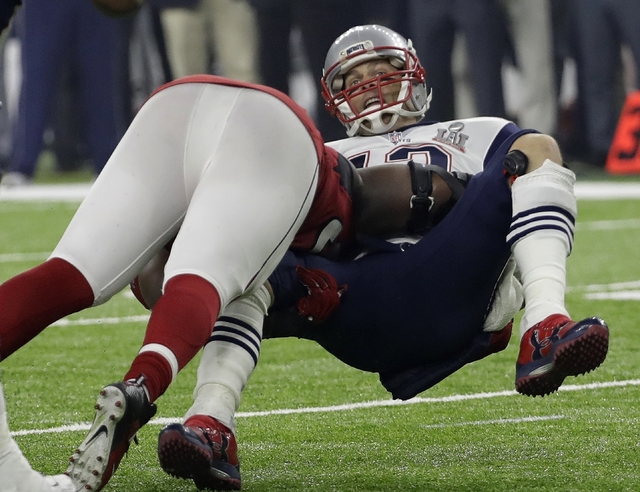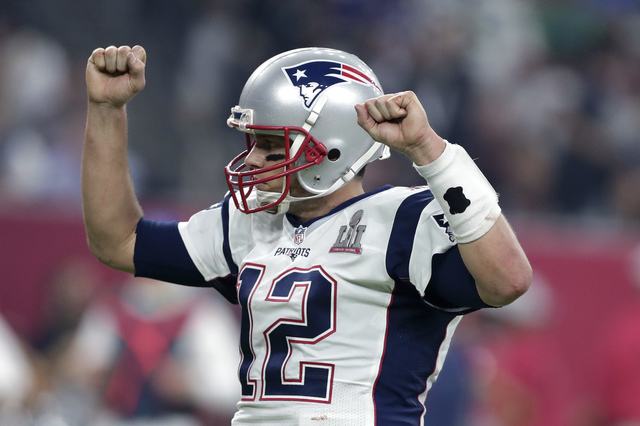 HOUSTON — The line between redemption and revenge can become blurred at times, but it's how you reach the ending of a narrative that often is the most compelling. No one could have predicted this wild a conclusion for Tom Brady on Sunday night, a fifth Super Bowl victory that was implausible as it was exhilarating.
The subjective part is dead for anyone with even an infinitesimal amount of unbiased vision, the rationalization that any quarterback in NFL history should be placed ahead of Brady on the register of the greatest to play the position now reduced to rubbish.
Any argument to the contrary should cease immediately, at least for those who don't spend every waking moment hating all things about Gisele Bündchen's husband.
For those who do, your reasoning now holds the strength of a house fy.
What this did and how it was accomplished — New England staging the greatest comeback in Super Bowl history to overcome a 25-point second-half deficit and shock Atlanta 34-28 in overtime at NRG Stadium — means Brady has won more Super Bowl titles than any quarterback.
But none before were as dramatic as LI and, likely, as personally satisfying as one in which his team trailed 28-3 with 8:36 remaining in the third quarter.
"Hell of a game," Brady said. "They're all different. They're all memorable. They're all special. But to be down 25 points … hard to imagine us winning.
"But we overcame a lot of different things this season."
A day of reckoning has arrived for the NFL commissioner: Brady is scheduled to attend a news conference Monday morning to officially receive what is his fourth Super Bowl MVP Award from Roger Goodell, a photo op that the football world has awaited since the quarterback was suspended for the season's first four games due to his part in Deflategate, that seemingly never-ending controversy in which the Patriots were found to have under-inflated footballs used in the AFC Championship Game in 2015.
The boos drowned down upon a confetti-coated field late Sunday, many of the 70,807 in attendance showing Goodell what they thought about how he handled the two-year saga.
In a week when he exhibited more emotion publicly than at any point in his long career, his voice breaking when calling his father his hero on Opening Night and then discussing how his mother's illness had affected his family the past year, Brady wouldn't bite when questioned about any feelings of vengeance toward Goodell.
But for one of the fiercest competitors ever to wear an NFL uniform, you know how incredibly rewarding this felt, how much he was bursting inside.
"How he handled everything, all he had to deal with in the beginning of the season with the (suspension) and personally off the field, he's a class act," Patriots wide receiver Julian Edelman said. "A lot of people like to hate him, maybe because he's always on top. But if you know him — the family man, the guy who loves football, the guy who loves his job — it's a blessing to play with him."
The subjective part in these debates always include numbers, and, as for this ridiculously amazing win, Brady set Super Bowl records for completions (43), attempts (62) and yards (466). Take away a three-second possession at the end of regulation, and Brady led New England to four touchdowns and a field goal the last five times his side had the ball.
Bill Belichick also won his fifth Super Bowl, the most by a head coach, and yet few argue the fact he long ago was christened the best in history to perform his job. It's a majority opinion as accepted as the sky being blue.
But it isn't so for Brady, and yet none of the other greats mentioned alongside him — not Joe Montana or Terry Bradshaw or John Elway or Brett Favre or Peyton Manning or anyone — better defined what greatness means at the game's most important position, which is to be at one's finest in the most significant and stressful moments, no matter the names of your supporting cast.
None of those other quarterbacks had the expanded number of rotating names at wideout and running back as Brady has over the past 17 years, and he still lifted mere mortal talents to elite ones. None did a better job building good players into those capable of making marvelous plays and creating championship moments.
Brady will turn 40 in August, and there's no telling how many more seasons he will choose to play, how many rings he still might win, and yet whether Sunday was about redemption or revenge or both, his performance reduced to rubbish a popular argument NFL fans love to have.
"He's the best ever," Patriots wide receiver Danny Amendola said. "End of story."
With a fifth Super Bowl title and a historic comeback, the resume has spoken in an unarguable manner.
Contact columnist Ed Graney at egraney@reviewjournal.com or 702-383-4618. He can be a heard on "Seat and Ed" on Fox Sports 1340 from 2 p.m. to 4 p.m. Monday through Friday. Follow @edgraney on Twitter.