This thing is beyond real: Golden Knights take down NHL's best
December 19, 2017 - 11:37 pm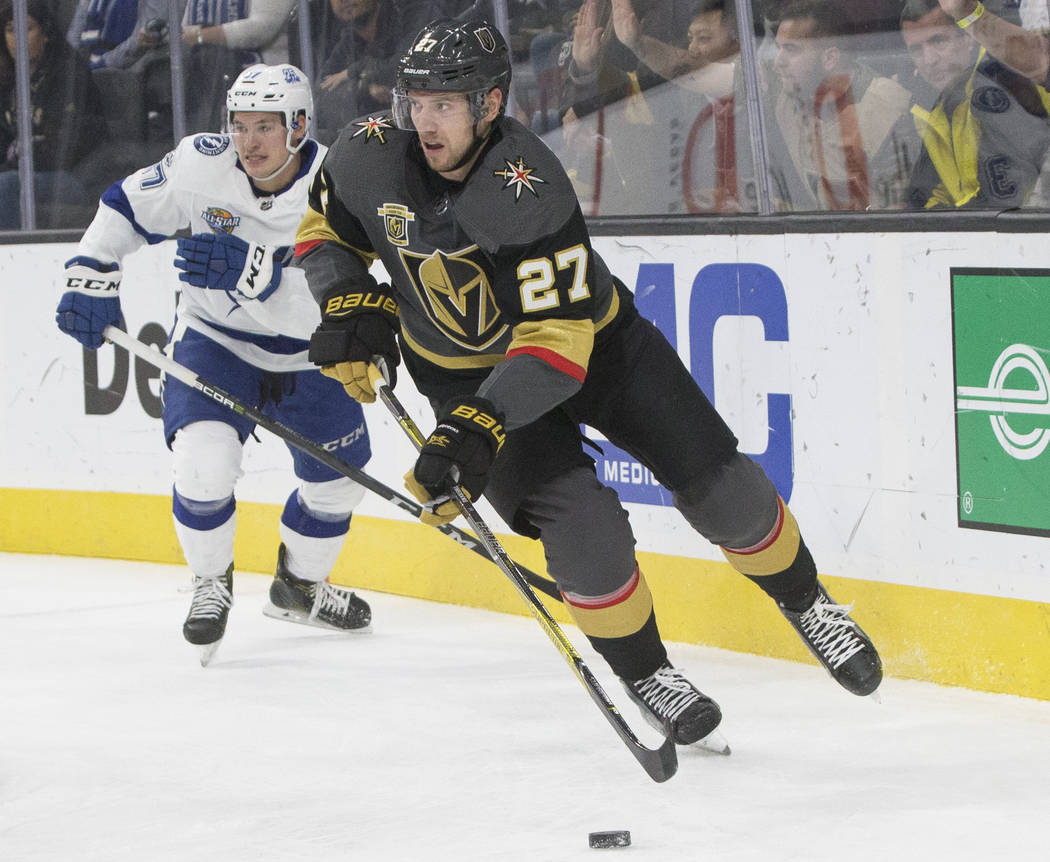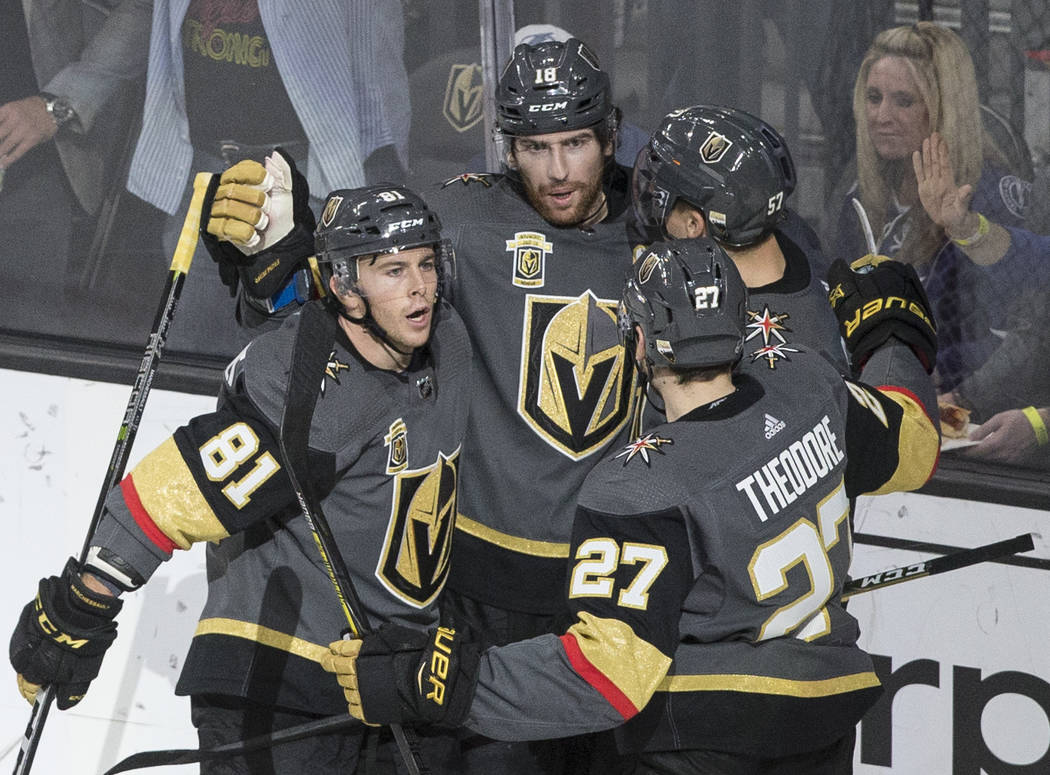 One hundred years later, a century after the Montreal Wanderers edged the Toronto Arenas, the biggest NHL game on a weeknight occurred between a team from Las Vegas and one from Florida.
Six months later, an expansion team born in June that has since turned the league on its collective head, spun its latest dose of enchantment.
It happened again.
This thing is beyond real.
The playoff atmosphere so many believe will touch T-Mobile Arena come spring arrived a bit early Tuesday night, when the Golden Knights continued their remarkable inaugural season by taking out the league's best team in Tampa Bay.
The final was 4-3 before a more-than-interested 17,813, as dramatic an ending as we have seen on what has been home ice dominance, where the Knights are now 14-2-1.
"We're having a great time," said a beaming Knights owner in Bill Foley, whose team is again tied with the Kings atop the Pacific Division. "Our fans are all over it. Every game here is like a playoff game. Our players tell me that when we are on the ice, this is like no other arena in the league. There is so much noise, so much excitement. It's terrific.
"This was a gigantic win."
Asked one reporter: Was it worth the $500 million expansion fee?
"It sure is tonight," Foley said.
The power play score from defenseman Shea Theodore to conclude his career night in points (three assists and the game-winner with 2.3 seconds remaining) hit net, and those inside erupted in a most deafening manner, this on a night the league celebrated across its schedule that first game so long ago.
When you think about a desert team against one that sits a slap shot from the Gulf of Mexico in 2017, it's pretty remarkable how the dynamics (not to mention geographical points) have changed within the NHL since then.
It's also pretty evident how fast things have become since those early days.
Or, well, last week.
The game isn't slowing down, folks.
In the time it takes to read this sentence, it got faster.
Most questions for the Knights about competing with Tampa Bay began and ended with the Lightning's speed — how do you defend it, attack it, have good gaps, not get caught loafing in the neutral zone with they turn on the jets, eliminating things before the blue line.
But, at some level, that's everyone now, because the percentages between the league's fastest teams and those not as fleet a blade are hardly immense.
Everyone can skate.
All sorts of guys have fifth gears, except for Edmonton star Connor McDavid.
"He has a sixth gear," said Knights forward Alex Tuch.
While it's unanimously accepted across NHL locker rooms that McDavid is the world's fastest skater, it's also obvious how players have altered their training regimens to sacrifice bulk for speed in order to keep up.
Diets have changed. Lifting patterns. Which muscle groups to emphasize.
It took the Knights a period on Tuesday to match Tampa Bay's speed, but then Vegas more than appeared comfortable doing so. It outskated the Lightning in the second period and for most of the third, again not in any manner falling into the expansion mode so many expected this season of dropping back and hoping to stay close.
Vegas has been the opposite all season, no matter the opponent.
They play to win from the opening faceoff.
It was the same Tuesday. No one is going to suggest the Knights are as fast as Tampa Bay, but no one can also debate Vegas is much quicker than anyone could have imagined when the expansion draft concluded.
The Knights have bothered teams on the forecheck all season with how they organize an attack. They sort of mess with people.
They were fantastic in transition against the Lightning, a fact Tampa Bay players were extremely complimentary of afterward. It probably wasn't the best game from the league's best team — Tampa Bay was at the end of a four-game road trip — but winning the way Vegas did said far more about it than anything.
The Knights didn't just skate with Tampa Bay 5-on-5.
They outplayed the Lightning when at even strength, particularly after falling down 2-0.
"We keep building on this," said goalie Marc-Andre Fleury, who stopped 35 of 38 shots. "Our confidence is growing as a team with each game. It doesn't matter what the score is. To be down two and come back to beat this team … What a feeling."
One hundred years later, not much is the same.
Six months later, a sense of enchantment and the expansion team creating it on a nightly basis has become the story of the NHL.
It's fairly incredible, is all.
And, to one beaming owner Tuesday night, absolutely worth $500 million and then some.
Contact columnist Ed Graney at egraney@reviewjournal.com or 702-383-4618. He can be heard on "The Press Box," ESPN Radio 100.9 FM and 1100 AM, from 11 a.m. to 2 p.m. Monday through Friday. Follow @edgraney on Twitter.