Theodore's late power-play goal lifts Knights to 4-3 win over Lightning
December 19, 2017 - 9:56 pm
Updated December 20, 2017 - 12:30 am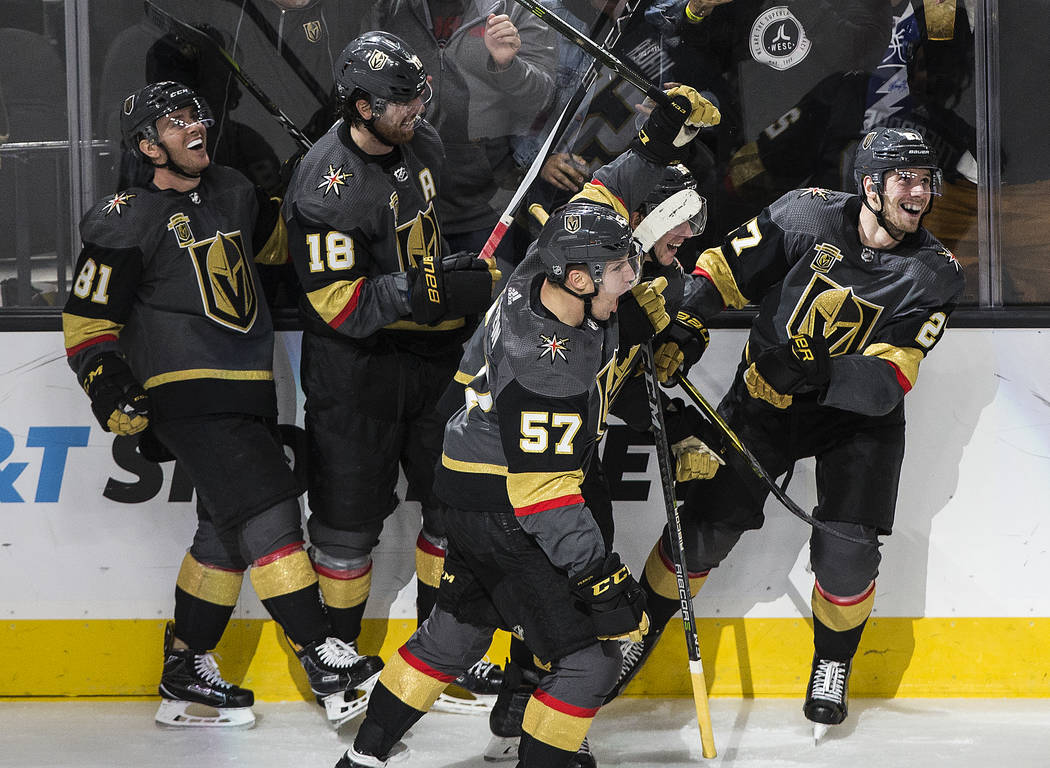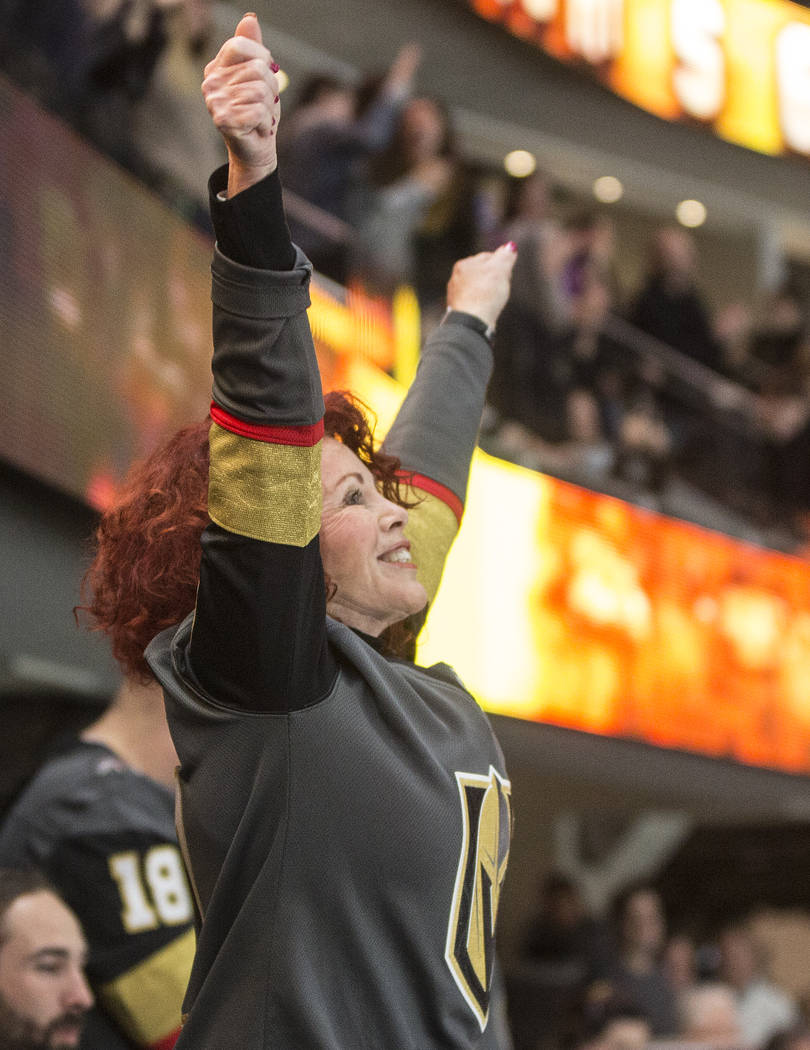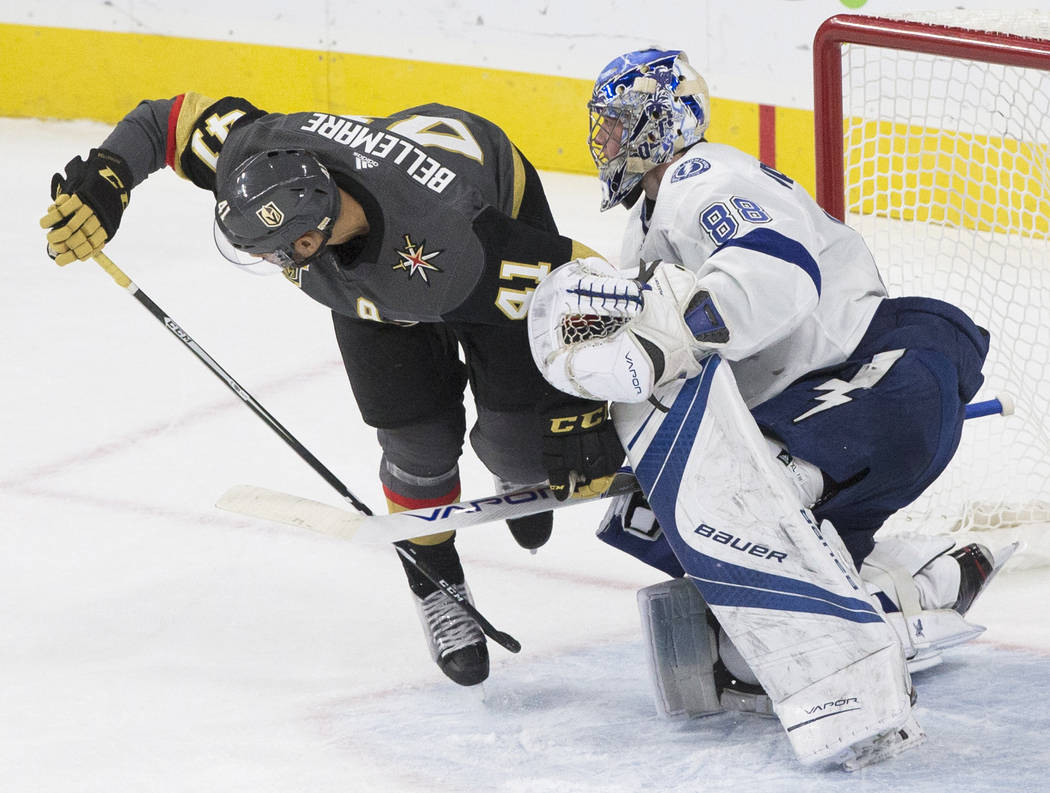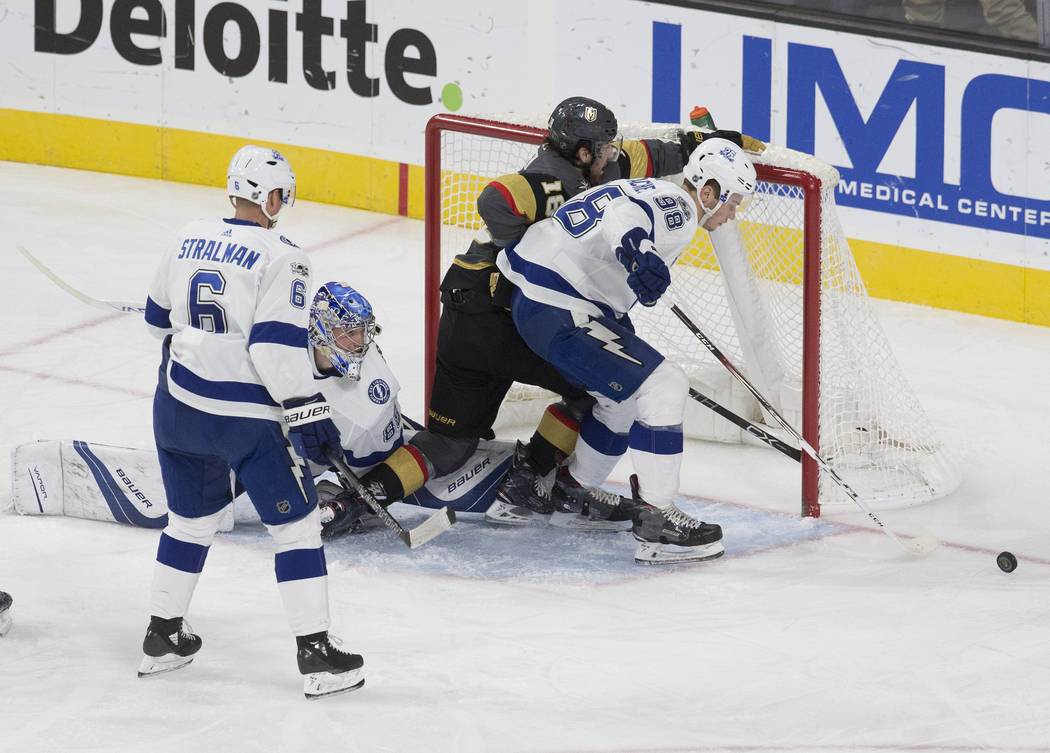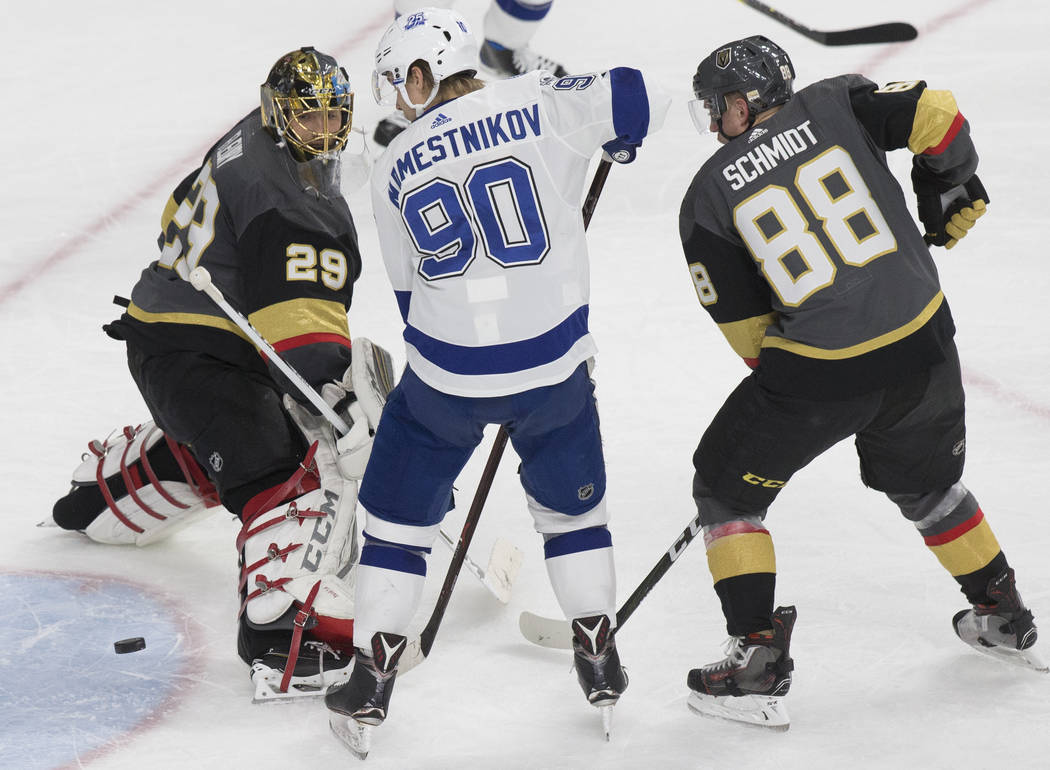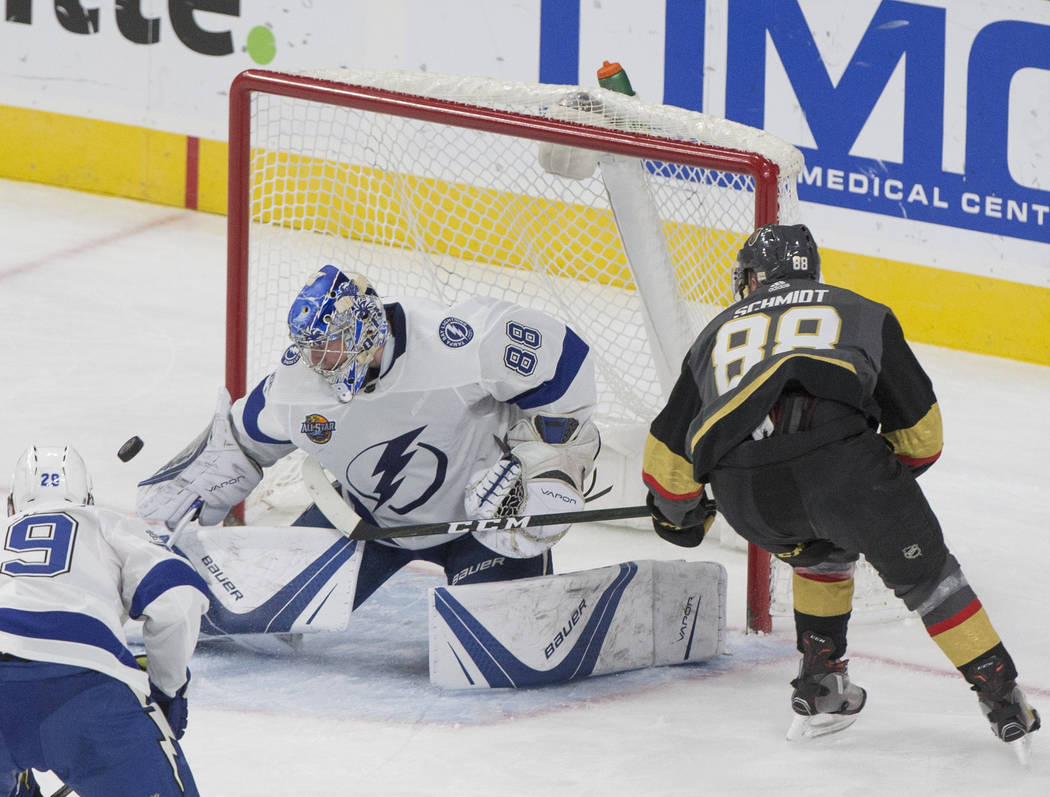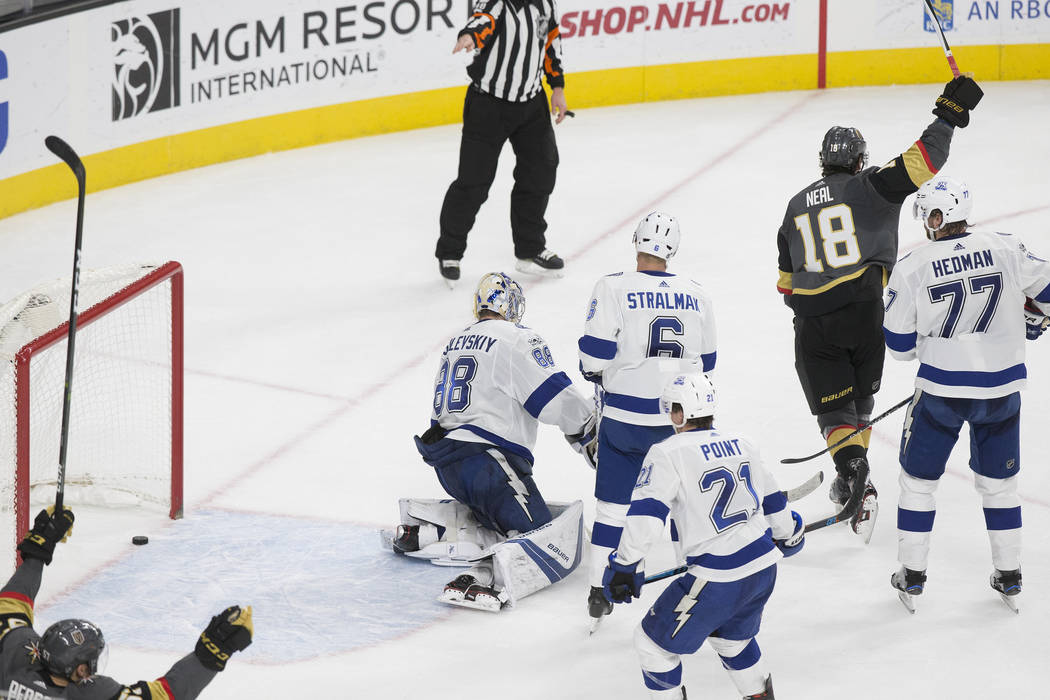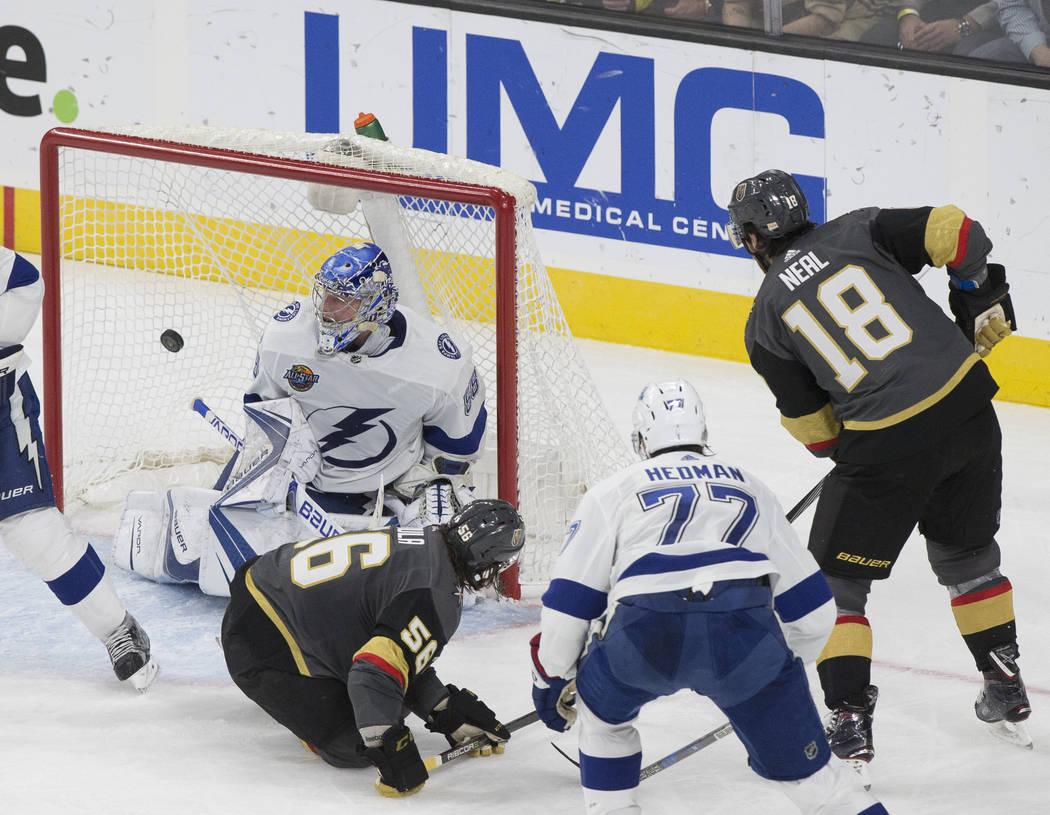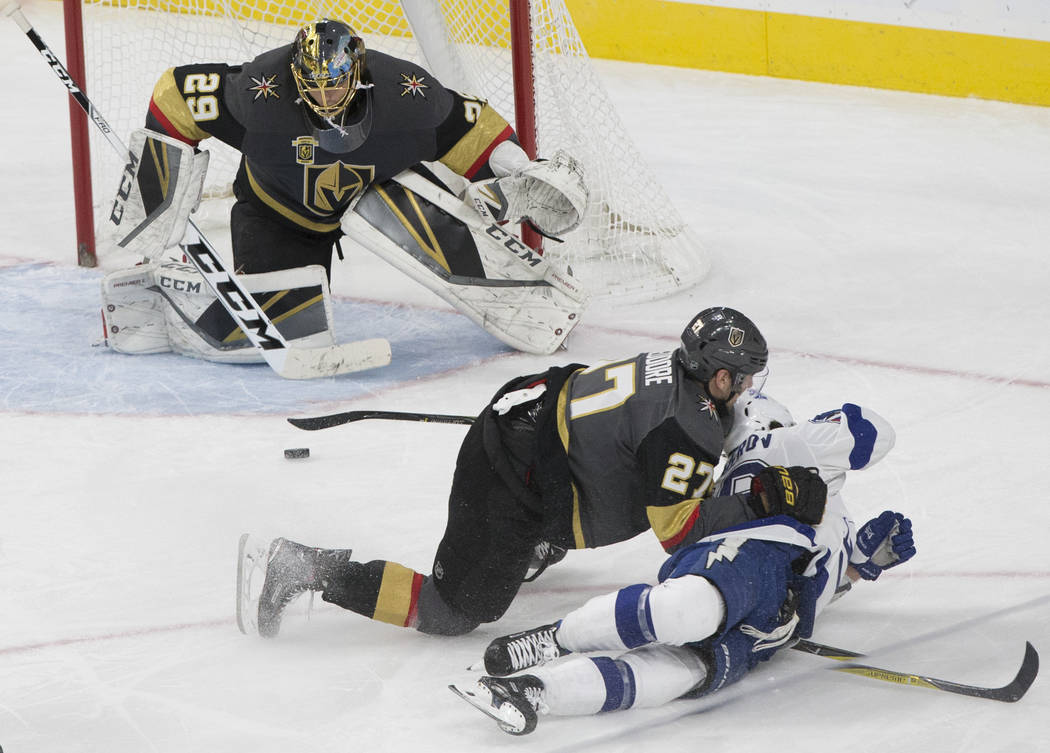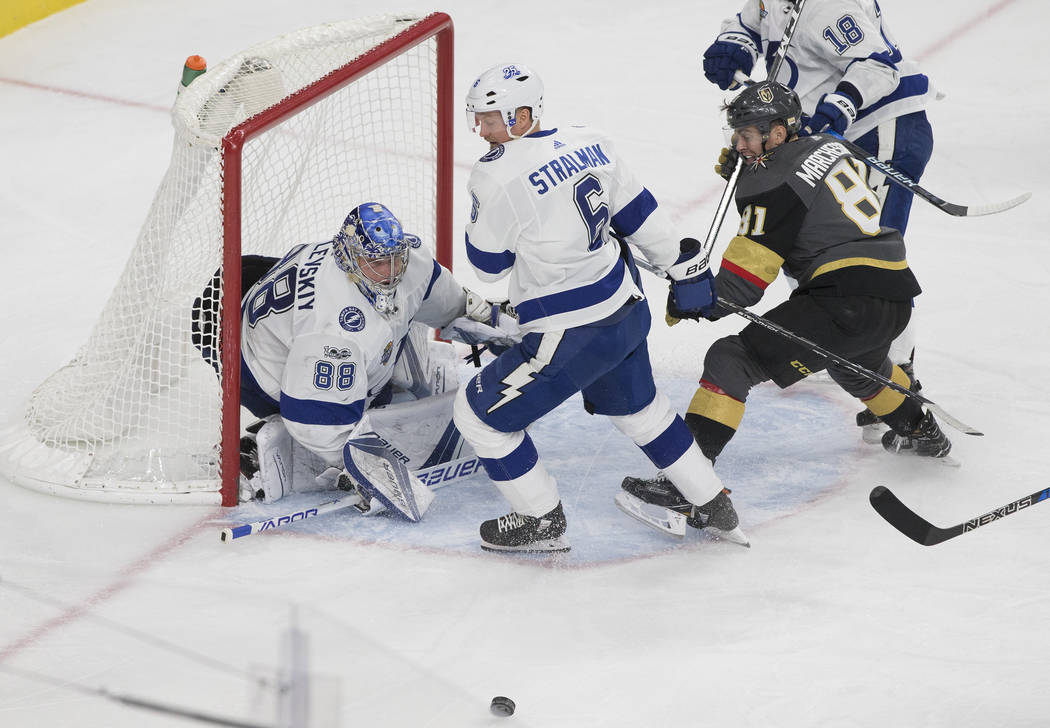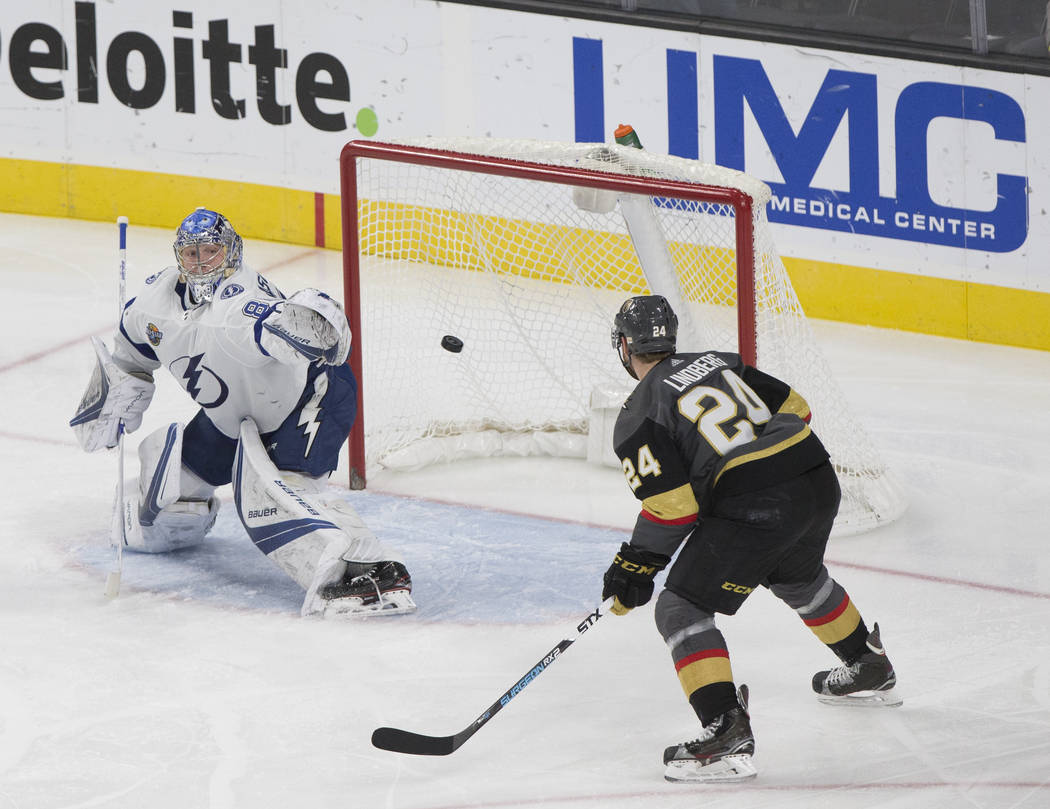 So this is what playoff hockey is like?
The Golden Knights got a taste of what the postseason life can be like come April in mid-December, and they handled it like a veteran team as the first-year Knights edged the NHL's best team, the Tampa Bay Lightning 4-3 Tuesday in front of a frenzied crowd of 17, 813 at T-Mobile Arena.
Defenseman Shea Theodore capped a four-point night by scoring on the power play with 2.3 seconds left for the game winner after Victor Hedman had brought the Lightning back from a 3-2 deficit with a wrist shot from the left point to pull even with 3:52 to play.
With the win, the Knights (22-9-2) moved back into a tie for first place in the Pacific Division with idle Los Angeles.
"In my mind, Tampa is the best team in the league, and I thought we played fast and quick and that's what you have to do against these guys," coach Gerard Gallant said. "That's a great confidence builder for our group."
Theodore, whose slap shot from the point got past Andrei Vasilevskiy for the game-winner with Braydon Coburn in the penalty box for holding James Neal's stick, said it felt like playoff hockey.
"It was really intense out there," Theodore said. "But I thought we handled their pressure well, and I thought we skated with them for the most part."
Erik Haula, who had given the Knights a 3-2 lead 4:42 into the third period, said it was a wild game to be part of.
"It was pretty amazing out there, especially at the end," Haula said after scoring his 13th, deflecting Theodore's shot from the point. "But it was fun.
"They're a phenomenal hockey team. But we kept going after them. I thought we outplayed them 5-on-5, and we never gave up, even when we fell behind."
Lightning coach Jon Cooper said: "I understand we're coming in and there's 45 wins combined by the two teams going into the game. But for game 33 between a Western Conference team and an Eastern Conference team, it felt like that game could be played in May and not December."
The Lightning built a 2-0 first-period lead as its power play was effective early on as Steven Stamkos and Vladislav Namestnikov beat Marc-Andre Fleury. But the Lightning had their own penalty-kill issues. Neal lofted a shot from in front of the right post past Vasilevskiy to pull the Knights within 2-1. For Neal, it was his team-leading 17th goal.
Then Jonathan Marchessault took a great cross-ice feed from David Perron from below the left faceoff circle and wristed it past Vasilevskiy with 1:39 left in the period to pull the Knights even. It was Marchessault's 12th goal and the 100th point of his NHL career.
The Knights had a scary moment with just under six minutes remaining in the second period when Fleury took a shot from Cedric Paquette that knocked off his mask. Fleury had missed 25 games earlier this season with a concussion. But he shook off the shot and remained in the game.
For the Knights, there was no shortage of heroes. Theodore with his four points. Perron with three assists. Haula continuing his third-period heroics. But Gallant said in the end it was about everyone who helped defeat the NHL's best team.
"It's not about James Neal. It's not about Marchessault. It's about 20 guys doing things the right way, and that's why we're having success," Gallant said.
Contact Steve Carp at scarp@reviewjournal.com or 702-387-2913. Follow @stevecarprj on Twitter.