Tomas Tatar's response to scratch defines Golden Knights success
Updated April 16, 2018 - 11:32 pm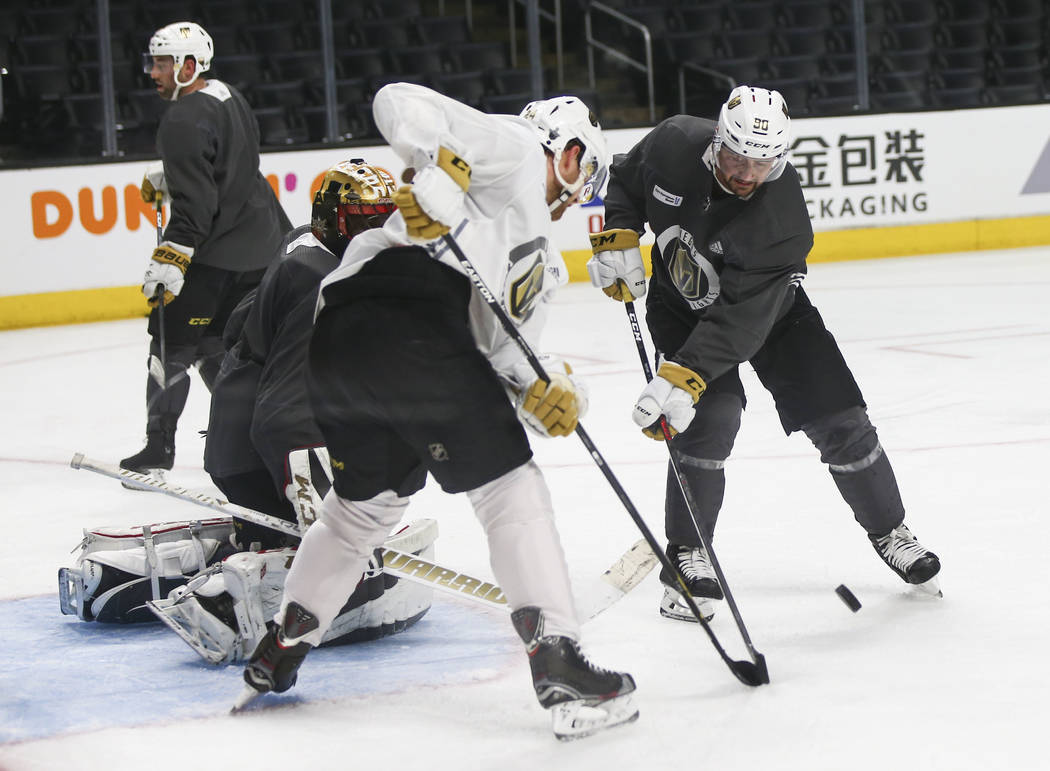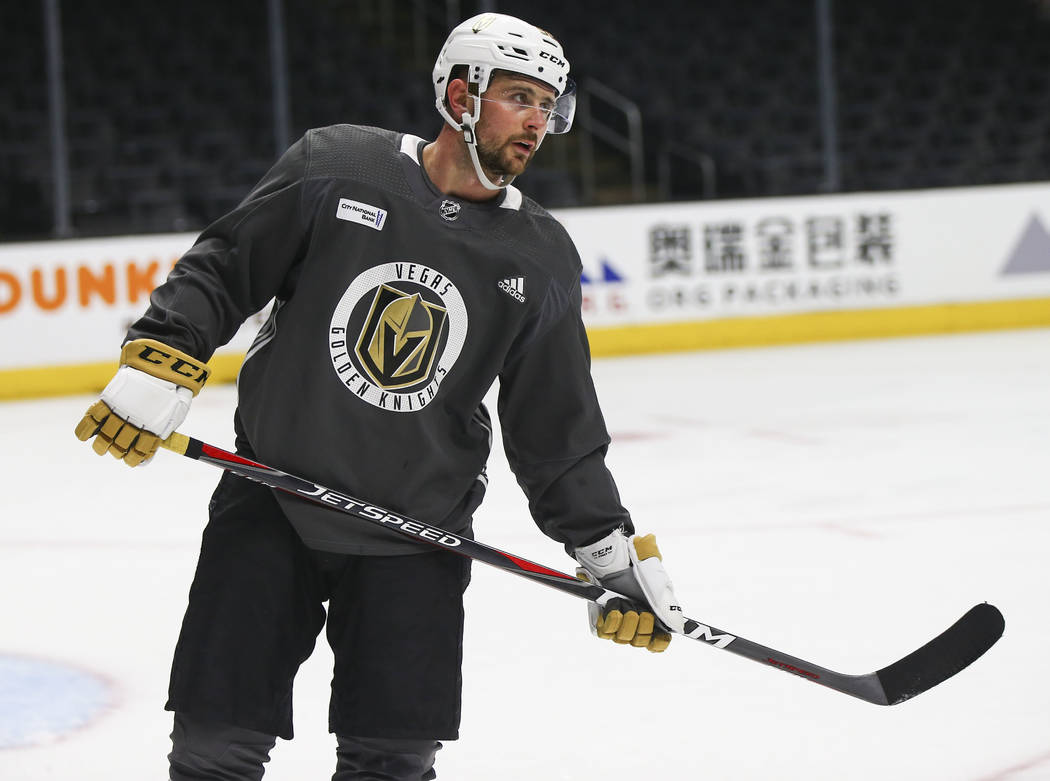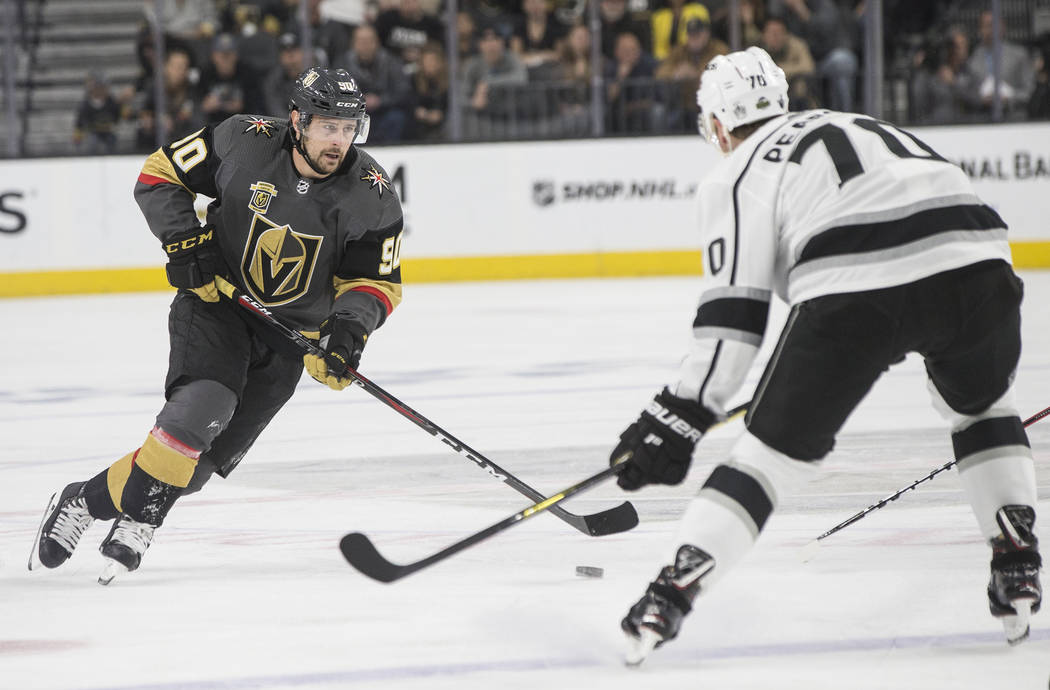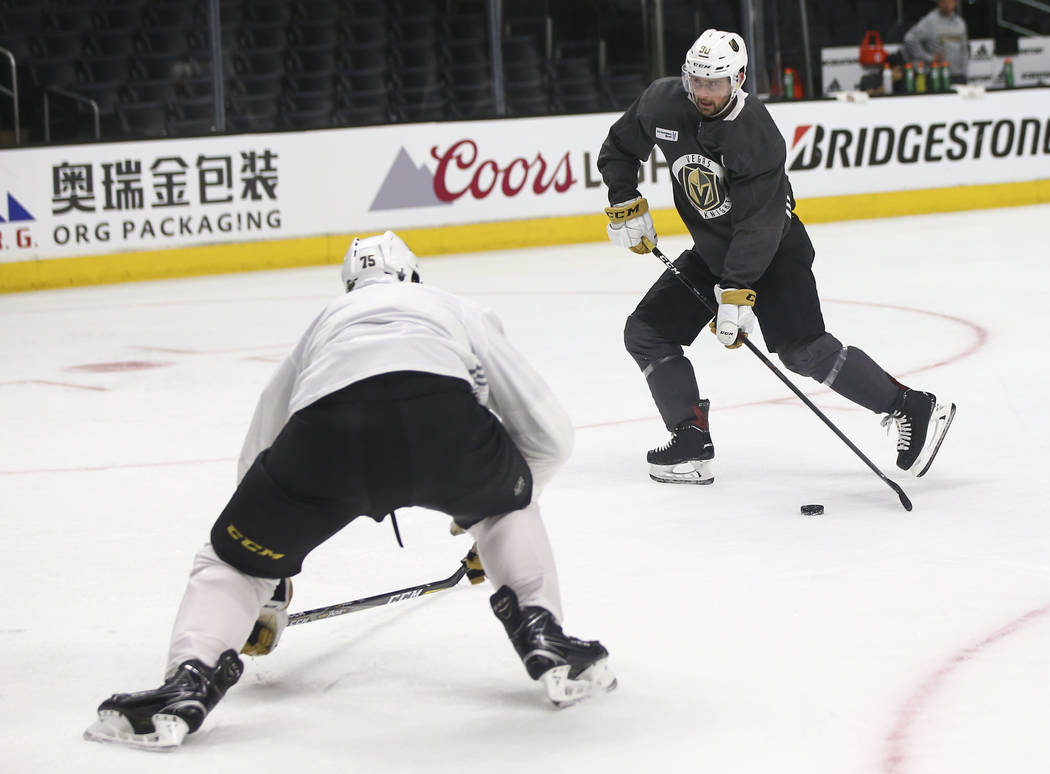 LOS ANGELES — The hockey player sprung from his seat as if he was the one who drilled a puck past a generational goalie far below, ecstatic beyond measure at its importance and of the line that produced such an immense shift in momentum.
Tomas Tatar likely never expected to be watching Game 3 of a Golden Knights-Kings playoff series from the press box Sunday, but if you need yet another reason why Vegas obliterated its expansion label to create such a historic season, look no further than the guy who was viewed at the trade deadline as important enough to relinquish multiple draft picks.
Yep. The one who was just scratched from a playoff game.
The Knights sent three selections — a first-, second- and third-rounder between 2018-2021 — to Detroit for Tatar, a scoring wing who averaged 22 goals with the Red Wings the last five seasons.
But he has been slow to find a line on which he appears totally comfortable in Vegas and, well, much of the net since arriving, offering two assists and four goals in 20 regular-season games.
So when it came time for coach Gerard Gallant to decide Sunday between continuing with what Vegas offered in the first two games in the best-of-seven series or inserting a now healthy David Perron back on a line with Cody Eakin and Ryan Carpenter, the choice didn't fall in Tatar's favor.
Juggling the lines
It's a fair debate, whether a coach should have altered any of those pieces that were part of a 2-0 series lead, but it defines everything Gallant has done since being named coach: His are lineups that, in his mind, give Vegas the best chance to win. He doesn't get caught up in names or contracts or outside perceptions of who should play.
Whatever happened to you, Vadim Shipachyov, is right.
Gallant's call wasn't overly difficult Sunday. Perron is the better all-around player who in 70 games this season had 66 points, 50 via assists, so it was the correct one for all the right reasons, made even better by the response from the player most affected.
"It was a coaching choice to choose his lineup and the guys played great," Tatar said. "I was just trying to be real positive for the boys and create an environment so they feel the best.
"Our goal is to get to the next round and our only focus is on that. Your chance can come at any time and you are ready to fill any spot. That was my main approach when I was traded, so I'm really, really happy to be here. You want to be better. You want to be focused. You want to be ready.
"I was just glad that I was able to join a team like the Golden Knights, to have a chance at being in the playoffs again."
It's just one game and yet nobody would be surprised if Gallant remains with the same lineup for Game 4 here Tuesday night, when the Knights with a victory would advance to the next round against the winner of a San Jose-Anaheim series.
Part of the future
How the trade for Tatar will eventually be judged when examining Vegas general manager George McPhee (who was not made available for comment Monday) is for another time, given the player is signed through 2020-21 at an average salary of $5 million.
He would appear part of the future, especially if Perron and James Neal or both walk as unrestricted free agents.
Someone will need to add offense.
For now, one of the first players watching from the press box Sunday to spring from his seat as Eakin scored against Jonathan Quick to tie the game at 1-1 in the third period was a guy most assumed at the trade deadline in February would be on the ice for such significant moments.
He wasn't.
"It's part of the game," Gallant said. "They all understand that. They understand that hopefully we get on a big run and they will all be part of it. Guys have to be positive and keep their heads up. It is what it is.
"It's never an easy decision. It's easy when you only have 20 guys who can play. But when you have 25 who are ready and have to scratch some, it's never easy."
The key is how players respond to the news.
In the case of Tomas Tatar, he did so as a pro.
Yet another reason the Knights have created such history.
Contact columnist Ed Graney at egraney@reviewjournal.com or 702-383-4618. He can be heard on "The Press Box," ESPN Radio 100.9 FM and 1100 AM, from 11 a.m. to 2 p.m. Monday through Friday. Follow @edgraney on Twitter.