UNLV basketball star plays five instruments and he can dunk too
December 24, 2017 - 5:08 pm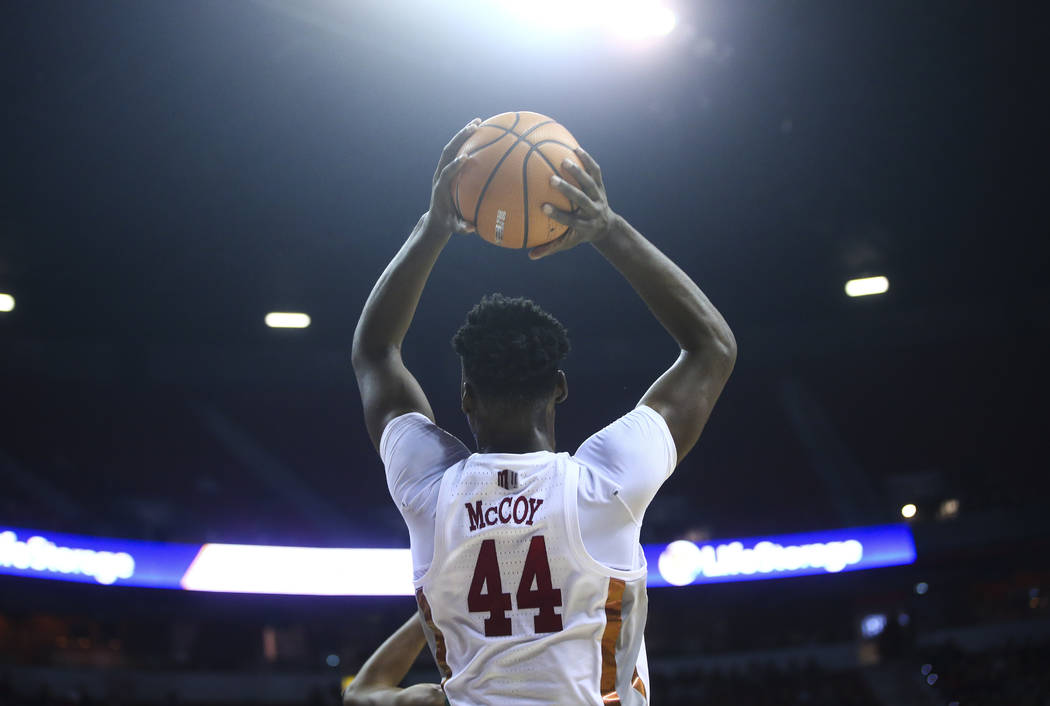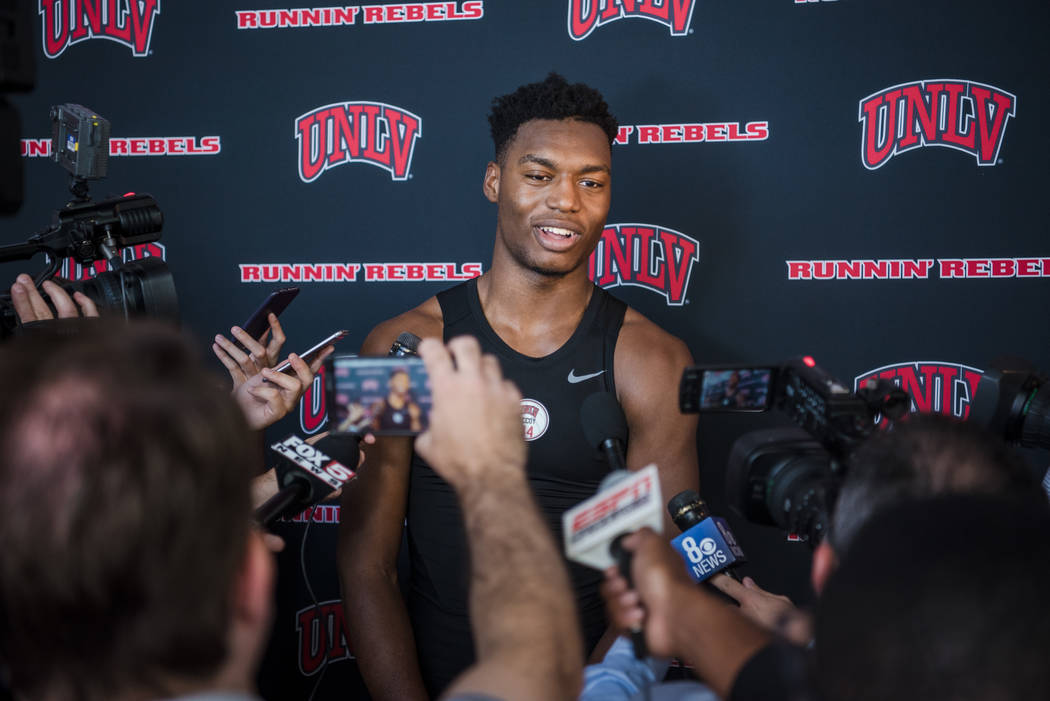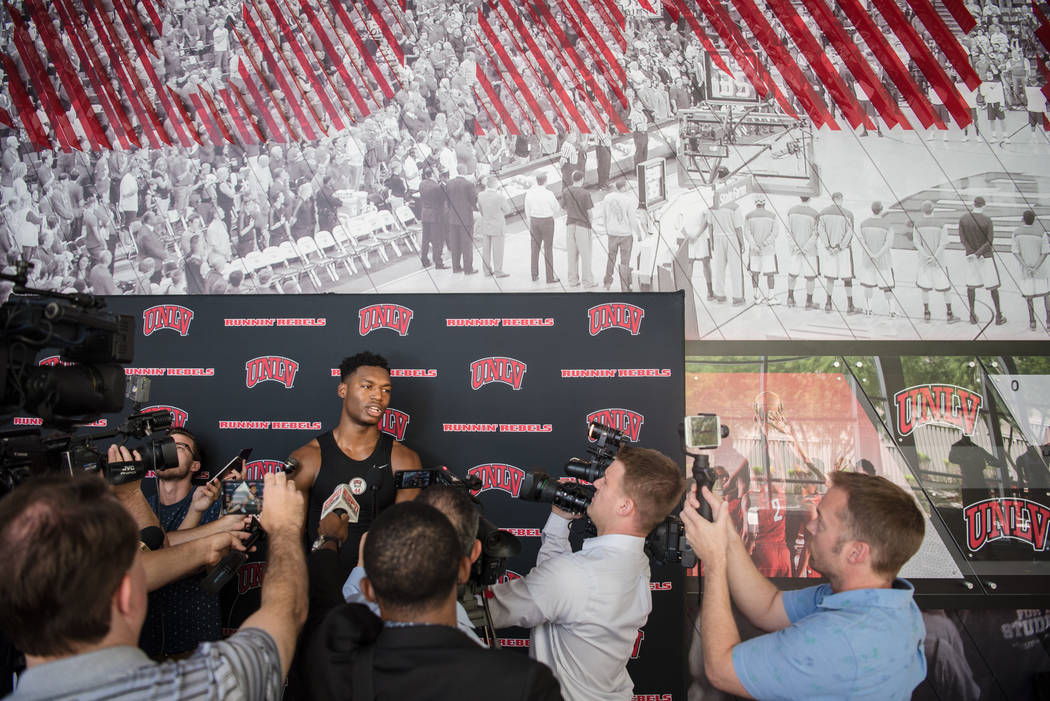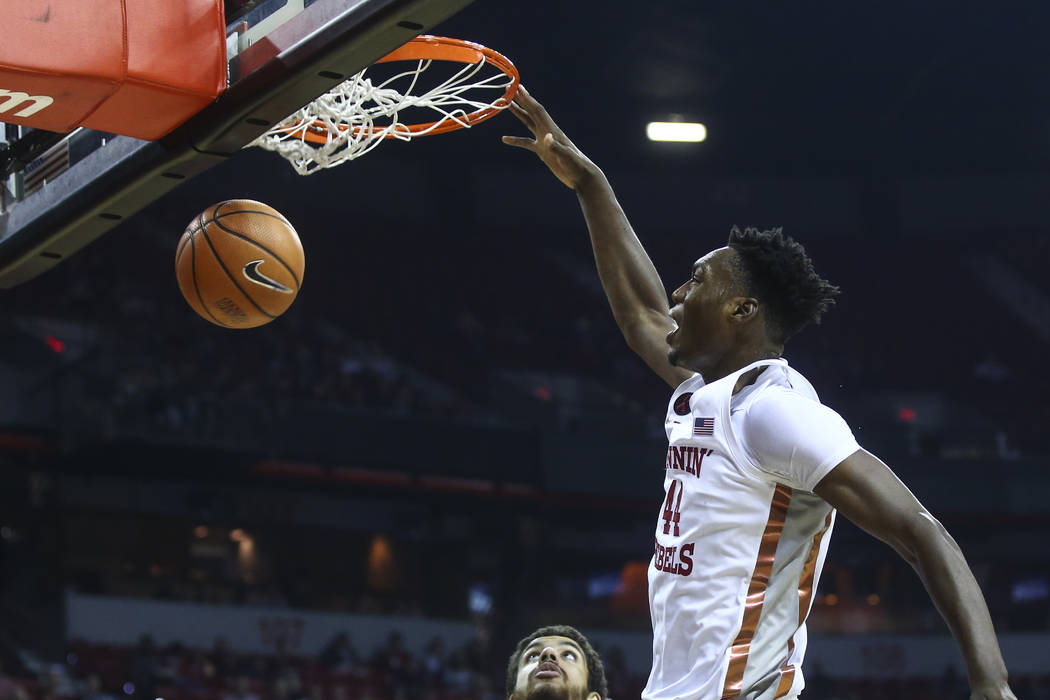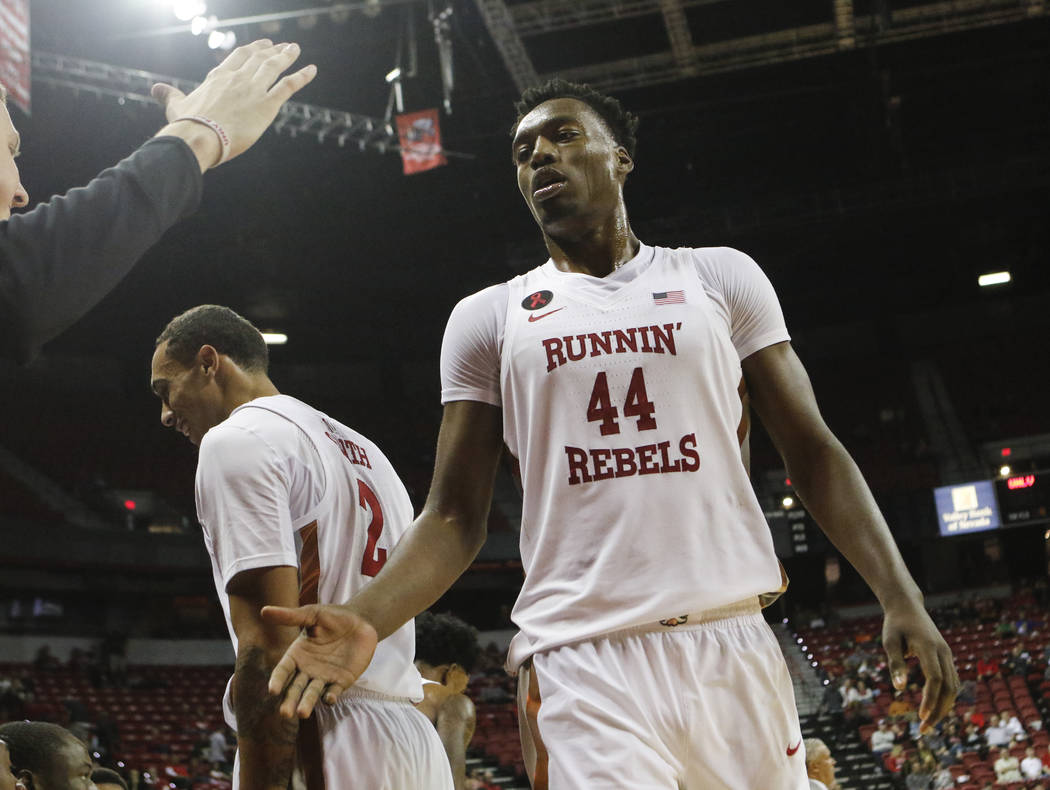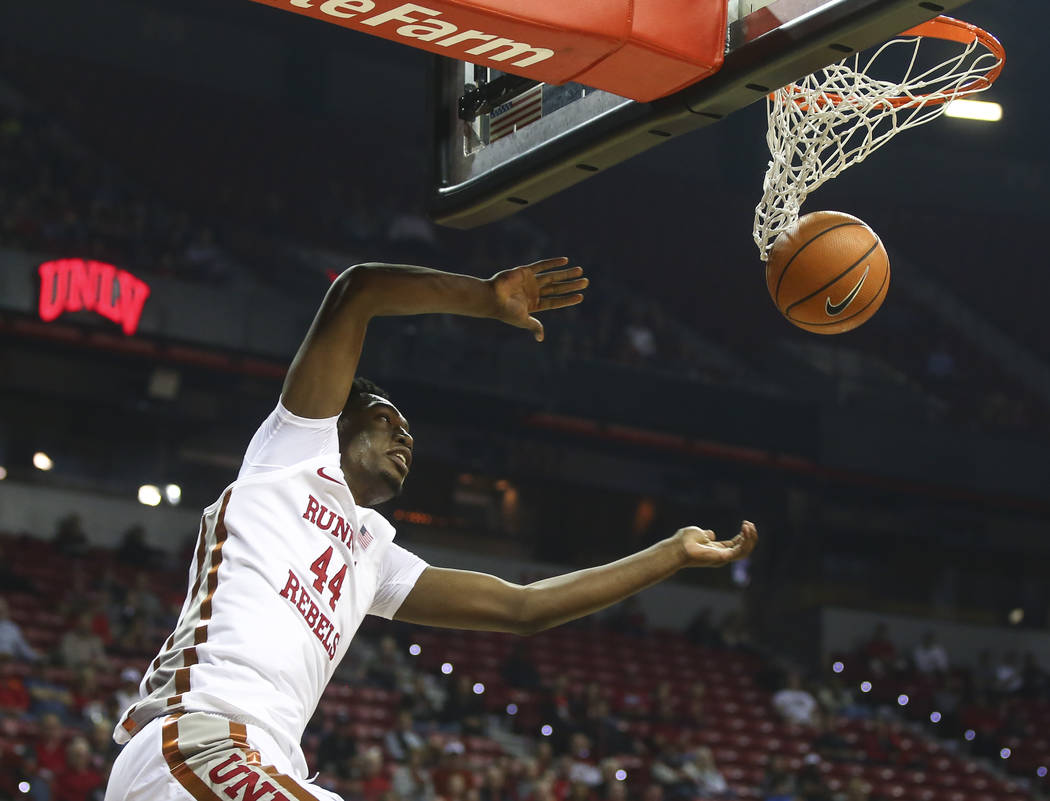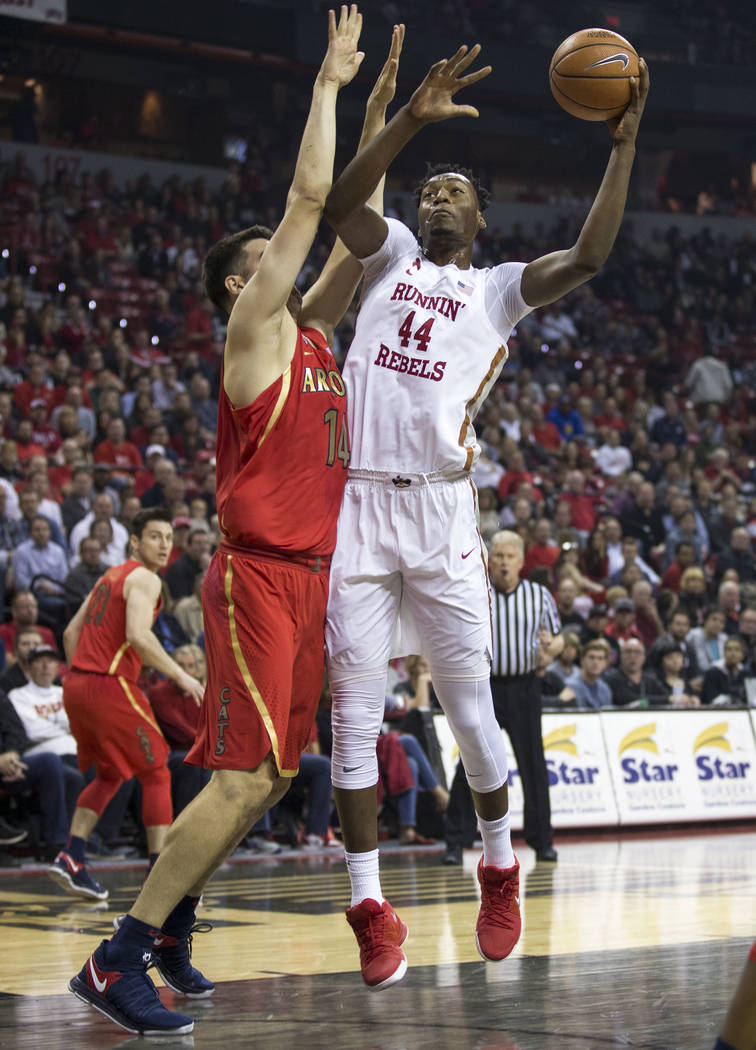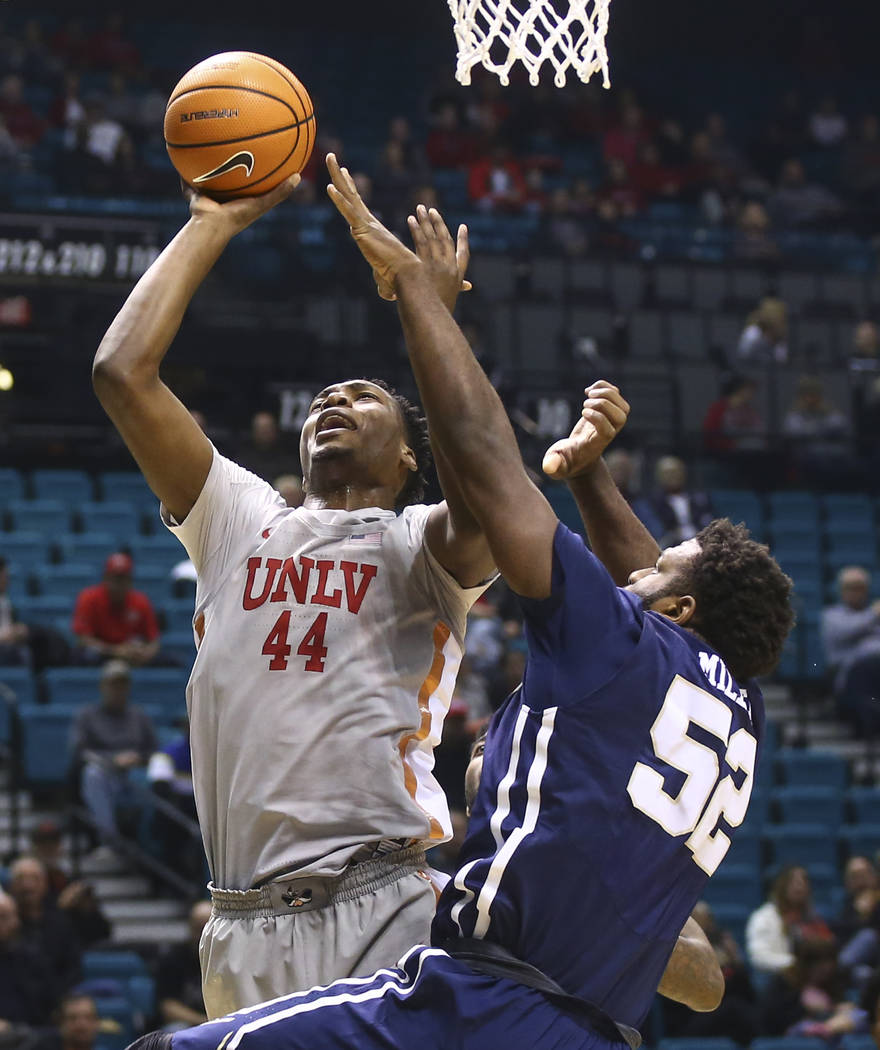 Doesn't it always come back to a girl?
Brandon McCoy wanted to impress her because that's what a 15-year old does when Cupid's arrow so accurately pierces a young man's heart, when the mere idea of speaking one's feelings is more frightening than the next horror flick about flesh-eating aliens.
"I went to YouTube and self-taught myself the piano," he said. "I learned, 'From Time,' by Drake. It's a love song."
Instead?
"I fell in love with the piano."
People aren't meant to fit neatly into folders as if sorting important documents, and that can be especially true with athletes, because beyond what you might know about UNLV's freshman basketball star exists a side to McCoy of which most who cheer his every dunk are unfamiliar.
As much as he has entertained as a prep McDonald's All-American and now presumed one-and-done college player destined for the NBA, labels that are all fine and accurate and entirely notable, the 19-year old McCoy also embraces a love for music and its power to evoke all sorts of emotions while interpreting many of life's riddles, of the opportunity to inspire far beyond a court and rim.
How he came to this place — McCoy plays the piano, guitar, drums, trombone and marimba — is defined by a journey paved from others, from the mother who sat next to him on a long bus ride to watch the country's first black president be inaugurated and the grandmother he first saw cry because of it, to a high school teacher who suggested the marching band could really use a 7-foot drummer, to the mentor/coach who taught him how to be a man.
It's said that in all stereotypes exists some level of partial truth.
McCoy wants you to know the rest.
"I hate when people judge the book by its cover," he said. "I feel that I am way more than just a basketball player. I have a mind. I think. I cry. I laugh. I don't want basketball to be the main driver of my life. It has opened all sorts of doors for me. I love to play.
"But there is so much more I want out of life."
His mother taught him to dream in such ways.
He calls her his sunshine and air.
The master sergeant
She introduced him to those machine-backed rhythms and saxophone-laced beats of R&B, of the eclectic combination that created from so many styles the sounds of rock 'n' roll, of Motown from the 1960s.
They would drive for hours and just listen.
A retired master sergeant in the U.S. Army, Mildred Davis always reminded her son to treat others well and that there was no choice when it came to education. He would earn a degree.
"I never liked sports and never knew much about them," she said. "But he was always going to get good grades and do more than me in school. I'm working on my second master's now, so I told him he has to get at least one.
"There are going to be some hard choices to make soon about (the future), things are happening so fast, but the one thing I told him is he has to have something to fall back on. That's always his education."
Instead of McCoy's scoring average, she talks about the time he made the All-City Science Fair competition in Chicago with a project that determined whether DNA could be extracted from a banana.
Instead of his NBA prospects, she talks of that bus ride to Washington, D.C., to make sure her son, then 10, was in attendance when Barack Obama was first sworn into office, about no matter how uncomfortable the trip was, she wanted him to experience such history and understand its significance.
"It was so packed that we couldn't see President Obama," Brandon said. "But we heard his words. I never saw my Grandma (Mary Hooper) cry before that. She's the backbone of our family. It stuck in my heart. It was so moving. I'm not sure I understood (the magnitude) of the moment, but I do now."
He moved from Chicago to San Diego in the eighth grade, and that's when a music teacher taught him to play guitar. He wanted to pursue the instrument even more, so his mother bought him one for Christmas.
By the time he arrived at Cathedral Catholic for his junior year of high school, music had taken hold of his interests, enough so that when given the choice by a teacher in charge of marching band, he chose the trombone.
Jessica Swift, the chair of the Visual and Performing Arts Department and music director at Cathedral, also suggested McCoy try percussion drums, which can be born easily by the tallest band member in school history.
"A very charismatic guy," Swift said. "Brandon is also very humble considering how talented a person he is. He had this great appreciation for and openness about music. He was always engaged. He was the kid who took others that might have some different challenges under his wing. He was the one who just wanted to make sure everyone was OK.
"I remember he even brought his trombone to graduation because he thought we might be performing before it. He was always ready to play."
Getting most out of college
He sits at a piano inside a music room at UNLV and plays, "1,000 miles," by Vanessa Carlton. When it's almost game time, McCoy gets amped to Lil Herb and Drake and Meek Mill. When it's casual or resting time, it's more Nickelback and Maroon 5 and even some Temptations.
"I love all music," he said.
Shaun Manning is the mentor/guardian/coach/confidante who helped guide him through adolescence, and Marvin Menzies the man he chose to play for in college, even if that means just one season.
More than anything, no matter how long (or short) his stay in Las Vegas proves, McCoy will absolutely get the most out of his experience. Few freshmen nationally are members of their respective school's NCAA Student-Athlete Advisory Committee, which includes acting as a liaison between teammates and administration, voting on legislation that affects student-athlete welfare and helping to coordinate community service efforts.
He is.
"I think about the future every day," McCoy said. "I just can't get caught up in what others say. I just have to gain as much knowledge as possible. Classes are going great. I love walking the campus, eating at the Student Union. I love the entire experience. I'm going to take advantage of all of it."
Much as he did when he had a crush at age 15 and turned to YouTube to teach himself "From Time," the song about searching for something that's missing and giving but not taking love.
He learned it by understanding there are 88 keys on a piano and proper finger placement and then practicing scales on his own, but he never did play it for the girl.
"I guess she missed out," McCoy said.
It appears she did, on a driven, respectful, goal-oriented leader proficient at five instruments and intent on making a difference in his life and those of others.
Oh, yeah.
He also plays some basketball.
Contact columnist Ed Graney at egraney@reviewjournal.com or 702-383-4618. He can be heard on "The Press Box," ESPN Radio 100.9 FM and 1100 AM, from 11 a.m. to 2 p.m. Monday through Friday. Follow @edgraney on Twitter.