UNLV women's basketball coach Kathy Olivier hungry for winning
October 26, 2016 - 11:37 pm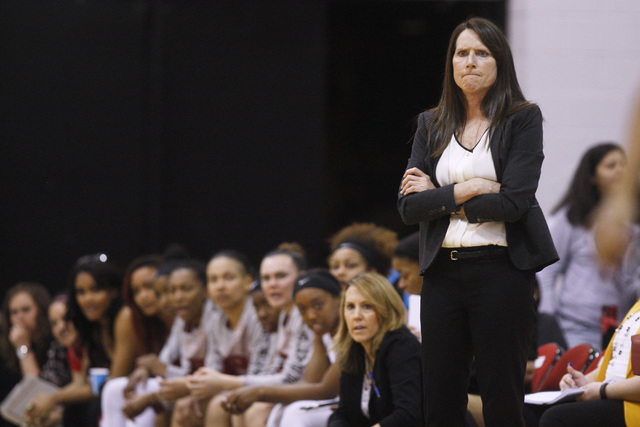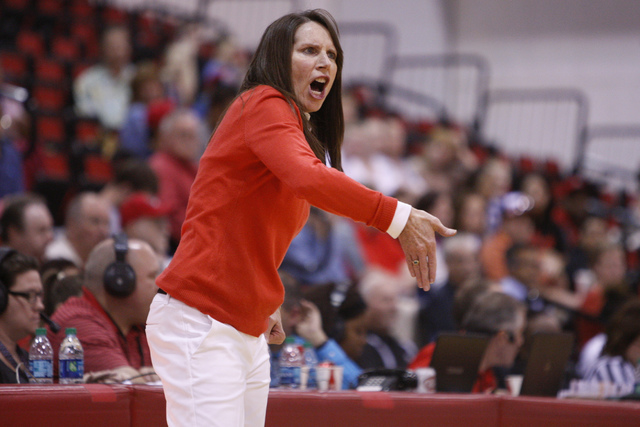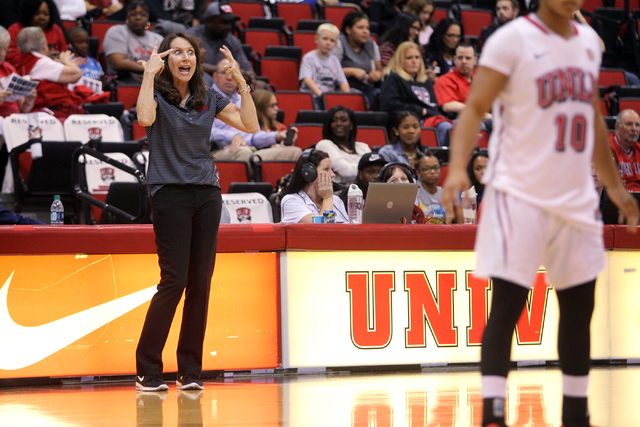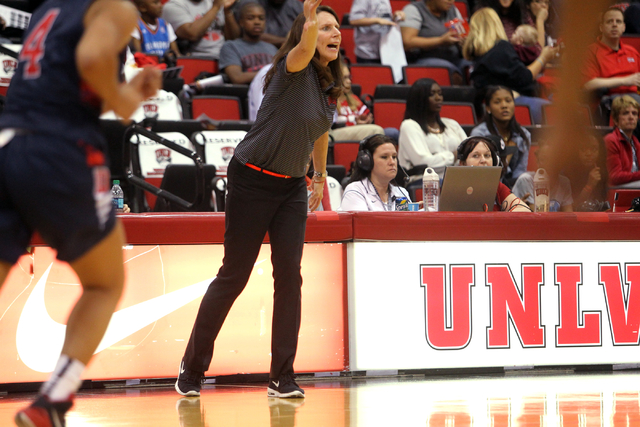 She knew it was going to be difficult, that although the previous coach had been fired after delivering eight winning seasons in 10 years, the final one had seen a disastrous 8-22 record.
She knew of the challenges, of convincing enough Division I talent that UNLV basketball didn't begin and end with the men's program.
Or at least it didn't have to.
Kathy Olivier talks about the brand more than anyone I have encountered in and around Rebels athletics, about promoting not only her team but also all those who represent UNLV. She doesn't wear the standard polo with a small logo on one side when recruiting. She wears the shirt with a loud, large UNLV scrawled across the front.
She flips channels on a Saturday evening, comes across the football team playing at Hawaii and angrily chastises herself for not knowing the game was televised.
It's her school, after all, her history while ranking second all time at UNLV in scoring average.
She soon will begin her ninth season leading the Lady Rebels, and perhaps more than any time since the former UNLV All-American returned to inherit a program from the fired Regina Miller, Olivier envisions a group capable of contending atop the Mountain West, one physically and mentally tough enough.
UNLV has never made an NCAA Tournament under Olivier and only finished higher than fourth in the conference once. In six of eight seasons, it has been fifth or worse.
But on Wednesday, the Lady Rebels were picked fourth in the league's preseason media poll, the second highest such projection during Olivier's tenure.
"We not only have talented returners back, but we have so much more experience," Olivier said. "When you have that, you're more comfortable starting a season. You can hear it in the voices of our girls, that hunger to reach (the NCAAs). We made a run in the conference tournament last year, lost in the semifinals, and I think it left a bad taste in their mouths. They talk about it all the time. They're motivated to go further."
First things first: Olivier has built a program that, in most ways, exemplifies what others should aspire to be. She graduates her players. Her team is a constant presence in the community and represents the university with class. It promotes youth basketball as much as any group locally.
Which brings us to the scarlet and gray elephant in the room: They haven't won all that much.
Olivier is 117-135 at UNLV, this after 15 seasons as coach at UCLA, where the Bruins made five NCAA fields and advanced to the Elite Eight in the 1998-99 season. Her best season with the Lady Rebels was 2011-12, when the team was picked fifth in the conference, finished second and won 22 games in advancing to the Women's National Invitation Tournament.
It's a bit ironic that for so long, the marketing folks at UNLV (what is left of them) have invented catchy slogans for the men's program based on running and pushing the tempo. All the while, the basketball team that actually plays fast and dives for every loose ball and offers an exciting brand of play belongs to Olivier.
It just needs to translate all the fun into more victories.
There is no question one's rope is longer in terms of stability when coaching UNLV sports other than football and men's basketball, that while the edict for every program always has been to win, until the Rebels get their act together in the school's two major sports and begin generating the revenue each needs to create, offering a program that succeeds on all other levels tends to be enough in the current climate.
You can make an argument whether that's right or not, and if women's basketball would draw more than an average of 1,200 fans if it won more, a theory not lost on the coach.
"Winning is all you think about," Olivier said. "It consumes you. It takes over everything — being successful by building a winning program and abiding by rules and doing it the right way. Do we want to win every game? Yes. Every single one. We have built a program in so many different ways, and you hope people see and respect that, but I also understand it's about what you put in that left column."
More than any other sport, you can make the argument women's basketball was hurt most when the Mountain West lost Brigham Young, Utah and Texas Christian. Before those schools departed, the league received multiple NCAA berths in 10 of 11 years. For the last six seasons, it has been a one-bid league.
So it's hard to make the NCAAs out of the conference, and now Olivier and all other UNLV coaches await the eventual hiring of a new athletic director after it was announced this week that Tina Kunzer-Murphy will transition into another role on campus at the end of the school year.
"Control what you can control, which is what we tell our players all the time," Olivier said. "The (next athletic director) is not my focus, not at all. Tina is such a UNLV and Las Vegas person who has supported us in any way she can. She wants winners. UNLV wants winners. The fans want winners.
"The only thing I can be concerned with is what is directly in front of us, which is this season. We're going to compete. We're going to be smart and tough. It's still super early, but I'm hoping all that I think we have shows through."
Nobody promotes the brand better.
Now all they have to do is win.
Ed Graney can be reached at egraney@reviewjournal.com or 702-383-4618. He can be a heard on "Seat and Ed" on Fox Sports 1340 from 2 p.m. to 4 p.m. Monday through Friday. Follow @edgraney on Twitter.
Mountain West women's preseason poll
1. Colorado State (17 first-place votes) 283 points
2. Boise State (11) 271
3. Fresno State 225
4. UNLV 201
5. San Jose State 197
6. New Mexico (1) 176
7. San Diego State 126
8. Wyoming 123
9. Utah State 97
10. UNR 66
11. Air Force 28
Mountain West women's preseason all-conference team
Brooke Pahukoa, Senior, guard, Boise State
Ellen Nystrom, Senior, guard, Colorado State
Bego Faz Davalos, Junior, center, Fresno State
Cherise Beynon, Junior, guard, New Mexico
Dezz Ramos, Senior, guard, San Jose State
Preseason player of the year
Ellen Nystrom, Senior, guard, Colorado State
Preseason freshman of the year
Mykiel Burleson, guard, New Mexico
Preseason newcomer of the year
Hallie Gennett, Junior, forward, San Jose State