Angler gets pleasant surprise by hooking walleye at Lake Mead
December 7, 2016 - 11:51 pm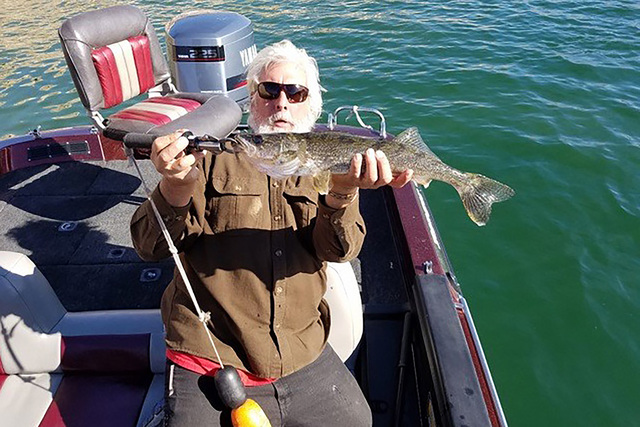 Years ago, my wife started a holiday tradition for our family when she made arrangements with Old Saint Nick to leave some weird food item at the bottom of our Christmas stockings. Through the years, these bizarre stocking stuffers have included such delicacies as a hot peanut butter beverage, pickles made from okra, broccoli leaf chips and something yet to be identified.
None of these items has won over the family taste buds, but for some strange reason, we have come to anticipate the surprise associated with the tradition.
"What weird thing did you get?" someone will ask.
And to the answer, another will reply, "Oh, that's just gross!"
While anticipation of that surprise is something we expect during the season of giving, it's not something sportsmen generally associate with fishing or hunting. Nevertheless, we sometimes find ourselves more than a little surprised.
Such was the case recently for Joe Bellomo, a retired hydroelectric plant operator and avid angler who hails from the Mammoth Lakes area of California. One of Bellomo's favorite destinations is Lake Mead, where he has battled various fish species for more than 20 years as a recreational and tournament angler.
Bellomo enjoys Lake Mead so much that he now has a house in Meadview, Arizona, so he can easily access the reservoir's upper reaches, where he enjoys fishing between Temple Bar and Sandy Point in Gregg Basin.
"I spend about a week a month down there," Bellomo said.
With that much experience, you would think Bellomo had seen everything Lake Mead had to offer, but just before Thanksgiving, he learned otherwise.
Bellomo and a friend were chasing smallmouth bass in one of their honey holes at the base of steep cliffs in Virgin Canyon.
"I was using a small grub, a chartreuse grub, about a 3-inch grub with a little lead head. Just like a Mr. Twister type deal," Bellomo said. "I was just bouncing it right along those cliff walls because it's pretty much cliffy in that area where I was, almost vertical."
Although Bellomo had caught a few smallies, he described the action as "pretty slow that week, all things considered. The weather had been up and down, and the wind. It wasn't the best week in the world."
The fish had been hitting light all week, so Bellomo wasn't surprised to feel the light tap on his line as he bounced his grub along the cliff face about 15 feet below the surface. He was surprised, however, to find out what was on the end of his line after setting the hook.
"I felt something, set the hook and thought, huh? If it wasn't moving, I'd have thought it was a rock. There was no fight to him at all," Bellomo said.
At first, Bellomo thought he had hooked a striped bass, but the fish turned out to be something he never expected to catch in Lake Mead.
"I was still thinking striper when I got it over to the boat, and I looked down and it was the wrong color. Nothing was right about a striper," Bellomo said. "I reached in there, and there it was, a walleye! Pretty strange."
The fish weighed in at 2.5 pounds.
Bellomo visits the Midwest and Canada every year to fish for walleye. He knows walleye and their haunts, but was surprised to learn that Lake Mead gives up one occasionally. So, too, was his fishing partner.
"He was pretty much amazed. He'd never seen or heard of one in Lake Mead, either," Bellomo said.
With his curiosity now aroused, Bellomo sent an email detailing his experience with a photo of the walleye to Debora Herndon, the Lake Mead fisheries biologist for the Nevada Department of Wildlife.
Herndon replied to Bellomo: "Yes, Lake Mead has walleye, though they are very rare. Occasionally, we catch them in our annual lakewide survey that we conduct with Arizona Game and Fish, mostly in the Gregg Basin area of the lake. We've also caught two at Detrital Reef in the Virgin Basin, and sometimes we hear of angler catches."
Of his catch, Bellomo said, "I would say it is an absolute fluke."
In the spirit of the season, I would say it was a real surprise.
Freelance writer Doug Nielsen is a conservation educator for the Nevada Department of Wildlife. His "In the Outdoors" column, published Thursday in the Las Vegas Review-Journal, is not affiliated with or endorsed by the NDOW. Any opinions he states in his column are his own. He can be reached at intheoutdoorslv@gmail.com.