Antique fishing lure sparks more questions than answers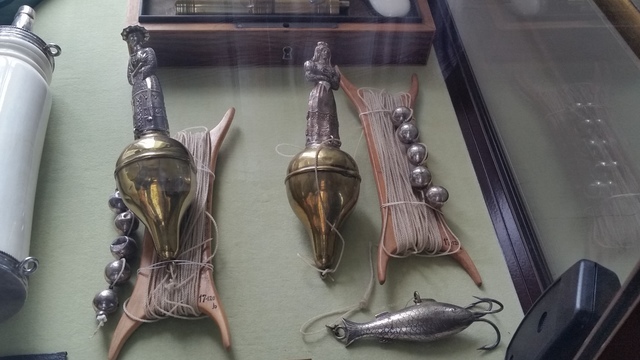 Spinnerbaits, crankbaits, soft-plastics, flies, spoons, spinners and swimbaits.
Just about anywhere you find fishing supplies, you will find at least a smattering of artificial baits that fit into these broad categories, and among them will be a handful of mainstays that can be found just about anywhere. That is true whether you fish for trout, bass, panfish or catfish.
Oftentimes these mainstays come in various colors and even different configurations, but for one reason or another, they all seem to catch fish or fishermen. Sometimes they actually catch both.
Every now and again, I find myself looking at a lure and asking, "I wonder who came up with that idea?" Or, "Why did the guy who invented that choose to do this?"
Maybe I'm one of the few anglers who stops to ask those types of questions. Perhaps most of us simply go about our fishing business and don't worry about the history behind a particular bait or bait type. It's possible we just assume our modern-day baits actually have modern-day beginnings, but a closer look at fishing's history might surprise all of us.
During a recent visit to the Rosenborg Castle in Copenhagen, Denmark, with my wife and daughter, I came across something that had me saying, "So that's where that idea came from? I wonder who thought of it?"
While making our way through a room dedicated to Denmark's King Frederick VII, who lived from 1808 to 1863, my wife pointed out two unique items on display in the corner of a glass cabinet. I had simply passed by without taking notice, but her eye caught what was obviously a fishing hook.
"Is that what I think it is?" she asked.
Upon closer examination, I realized my wife had found two antique bobbers tied to individual hand fishing lines complete with five sinkers. Unlike the plastic bobbers and floats available today, those in the display case are made of brass.
They are shaped like a pear with a large rounded portion on the top that narrows toward the bottom where the fishing line is attached through a small ring. And sitting atop the pear-shaped portion is a stunningly detailed human figure that seems like it would have served as a strike indicator. The figurine is different on each bobber, but both appear to be made of silver-colored metal.
The line, which is comprised of braided cords and is heavy by today's standards, is wrapped around a hand-carved line winder. Given their shiny appearance despite their age, it's safe to say the spherical-shaped weights are made of something more precious than lead.
Then there is the bait, a silver colored lure fashioned to resemble a small fish. It is amazingly detailed for the time period, including eyes, scales, dorsal and anal fins, and the tail.
It is at the tail where the fishing line is tied through a ring that is situated at the bottom of the tail fork, but there also is a ring located at the dorsal fin in a manner similar to that found on today's Cordell Spot. Then from the fish's snout end, there protrudes a treble hook that is built right into the bait.
After giving it a good look, it appears the bait can be rigged for jigging and possibly for trolling, though I am not sure how trolling would work with the hook located at the snout end. Looking at the rig, I couldn't help but wonder how this antique bait's performance would compare with those designed and produced today. Of course the only way to truly know would be to get it in the water, but for obvious reasons that is not going to happen.
So for now we will have to settle with asking, "Who came up with the lure's design in the first place? Why did the designer put the hook in the snout rather than in a ring place along the bottom of the lure?" And perhaps most important, "Did it catch fish?"
Freelance writer Doug Nielsen is a conservation educator for the Nevada Department of Wildlife. His "In the Outdoors" column, published Thursday in the Las Vegas Review-Journal, is not affiliated with or endorsed by the NDOW. Any opinions he states in his column are his own. He can be reached at intheoutdoorslv@gmail.com.