Boat maintenance vitally important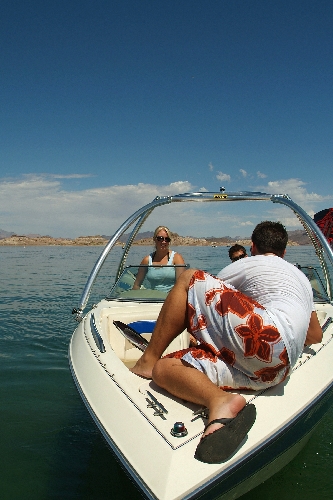 Next week is spring break for students in the Clark County School District, and for many families, that means it's time to pack up and head for the outdoors. Some will seek out a quiet corner in a favorite campground, while others will load up their boat and make their way to a remote area of Lake Mead or Lake Mohave.
Since most boat owners store their vessels for the winter, this annual excursion is often their first of the year. Unfortunately, the excitement surrounding this first trip often causes boaters to overlook some of the essential steps in the preparation process. While they check and double-check their list of necessary equipment and supplies, they fail to inspect and prepare their boat and its trailer.
During the early days of the spring boating season, you can generally identify the boaters who were in too much of a hurry to inspect their vessel. They are the ones asking for a jump or whose boat is being towed back to the marina. Though many of the problems associated with a spring boating trip are simple and easily remedied, others are much more serious.
While serving as a state game warden some years ago, I was just pulling up to the courtesy dock at Callville Bay when another boat suddenly exploded, and its passengers were thrown into the waters of Lake Mead. All three people on board suffered burns and had to be hospitalized. Later it was learned that the boat's fuel line had rotted and cracked. Fumes from gasoline leaking into the engine compartment were the primary cause of the explosion.
Begin your spring vessel inspection by taking a good look at the fuel system components. Pay special attention to the hoses and fittings, and be sure to include the fill and vent hoses. The fill and vent hoses are an often overlooked cause of fuel or fume leaks. Look for cracks and abnormal wear in all fuel system hoses, and check the fittings and clamps for signs of metal fatigue.
Be sure to clean or replace fuel filters as well. An undiagnosed plug in the fuel line can leave you just as stranded as an empty gas tank. Though it is not necessarily part of the fuel system, the bilge blower is essential to the prevention of gasoline-related explosions. Make sure it functions properly.
A boat's electrical system is another source of performance problems. Clean and tighten all electrical connections, including those at both ends of the boat's batteries. This also is a good time to check the batteries and make sure they will hold a full charge. Be sure to replace any components that show unusual wear or connections that cannot be tightened to correct specifications.
Control cables such as your throttle or steering cables will eventually show signs of wear. Check them for proper function, and inspect the casing for cracks and replace them as needed. Don't try to repair them with duct tape or some other home remedy.
Don't forget the oft-overlooked bilge pump; it's there for a reason. Windy days on Lake Mead will cause this pump to work overtime to get rid of the water building up below deck. I've been in a boat with a failed bilge pump. Let's just say a boat filled with unwanted water can make one a little nervous.
When it comes to the trailer, be sure to inspect the tires, sidewalls and tread, and grease the wheel bearings. Also be sure to check the lights and electrical connections.
This is by no means a complete checklist, but it is a good start. Ask your boat mechanic for a more comprehensive list.
Freelance writer Doug Nielsen is a conservation educator for the Nevada Department of Wildlife. His "In the Outdoors" column, published Thursday in the Las Vegas Review-Journal, is not affiliated with or endorsed by the NDOW. Any opinions he states in his column are his own. He can be reached at intheoutdoorslv@gmail.com.