Deer season ends fast but with venison for the freezer
October 11, 2017 - 3:04 pm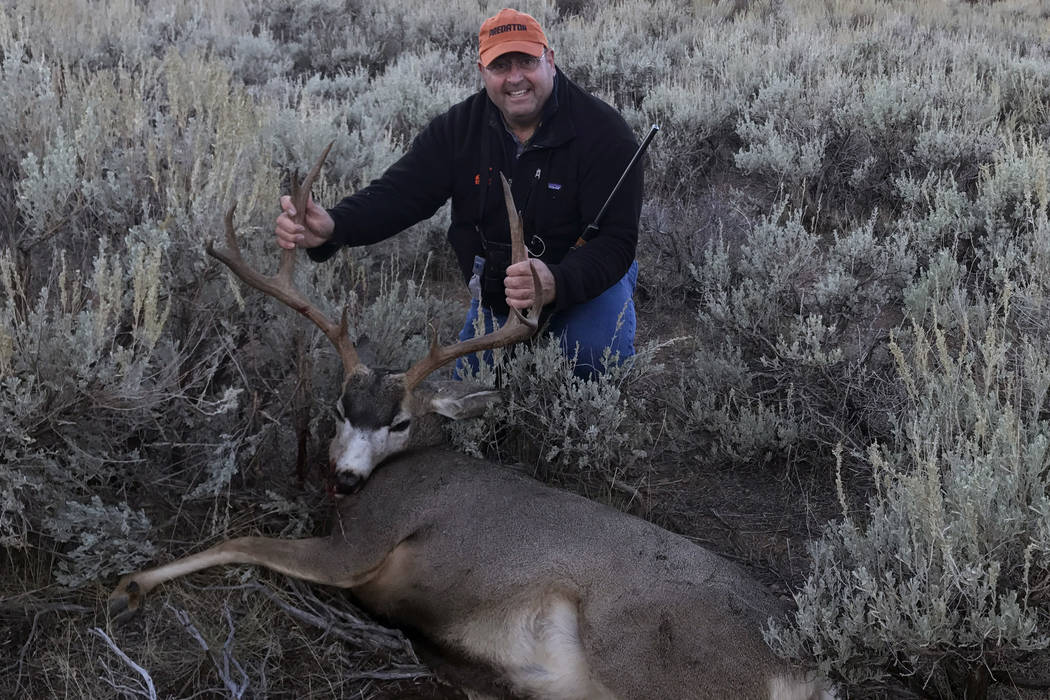 Nowhere is the full moon brighter than central Nevada.
With no smog to lessen its intensity and no artificial light pollution, the moon bathes the ground in light so bright that one can easily make his way across country at night without the aid of a flashlight.
Such was the case on the opening morning of my Nevada mule deer hunt.
Wanting to be in a blind at least 30 minutes before legal shooting time, my friend Paul and I left camp long before sunrise. The truck's thermometer read 28 degrees, but it didn't seem that cold. We bounced our way up an old two-track looking for "our" parking spot. Nothing formal, just a small clearing in the brush that serves as a place to put the truck and a landmark.
Naturally, we were trying to be somewhat stealthy in our approach. Well, as stealthy as one can be in a pickup bouncing from one rock to another. But as we pulled into the clearing and turned off the truck's motor, the interior lights suddenly came on. Any sense of stealth we had was gone.
No doubt, every deer for miles had a good laugh as Paul and I scrambled to shut off the lights. Then, in our moment of panic, I opened the door and a rather loud alarm let the entire county know the key was still in the ignition. At that point, all Paul and I could do was chuckle. Stealthily of course.
After gathering our composure, we donned our backpacks and slipped through the remnants of an old burn. Here and there we passed through a patch of sagebrush or a small stand of bitterbrush. Our destination lay over a low ridge, through a couple of shallow draws and partway down a brush-covered slope. In the moonlight, the trip was easy, though I did manage to step on a dry branch and scatter a handful of deer along the way.
The place we were looking for overlooks a broad slope below a point where two draws come together at the bottom of a brush-covered hillside. From there downslope the terrain is fairly open with a patch of waste-high brush here and there. It was here that I harvested a good buck on my previous deer hunt in 2014. So why not give it another try?
We slipped behind some bitterbrush that created a natural blind of sorts and settled in to await legal shooting hours. As the sun climbed and the sky lightened, we began to see deer. There was one here, a half-dozen there.
"Dang, Doug, there are deer everywhere!" Paul exclaimed at one point, his binoculars pressed against his face.
He wasn't going to get an argument from me. In less than an hour, we had easily seen more than a hundred deer. At one point, we even had a handful of deer feeding within a stone's throw of our hiding place. The key was staying still and glassing with binoculars. Oftentimes hunters hurt their chances by moving too much.
Then a large group of deer appeared on a low hill in the distance. "Doug! There is a big buck at the back!" Paul exclaimed.
The roman-nosed buck was wide with good mass on its main beams and tall eye guards. From a distance, he at first looked to be a big two-point, but as the buck drew closer, I counted four points on one side and three on the other. Not a Boone and Crockett buck, but a good deer nonetheless.
We watched for the next half-hour or so as the buck and his herd fed in our direction. At about 200 yards, the herd stopped in a patch of scattered bitterbrush and low-growing sage. I slid my rifle onto a set of shooting sticks, but when I found the buck in my scope, he was surrounded by does, fawns and little bucks. I had to wait for them to clear.
After several nerve-wracking minutes, the herd began to move, but the buck stood still. Finally, the shot was clear, and the buck jumped at the crack of the rifle. "He's down," said Paul a few seconds later.
By 7:25 on opening morning, my hunt was over. And though I stood over a nice deer that would provide venison for the freezer, I was somewhat disappointed that my hunt was so short.
Freelance writer Doug Nielsen is a conservation educator for the Nevada Department of Wildlife. His "In the Outdoors" column, published Thursday in the Las Vegas Review-Journal, is not affiliated with or endorsed by the NDOW. Any opinions in his column are his own. Find him on Facebook at @dougwritesoutdoors. He can be reached at intheoutdoorslv@gmail.com
Calendar
Saturday: Quail, chukar and rabbit seasons open statewide. Seasons for ducks, mergansers and geese open in Clark County and Lincoln County except for Moapa Valley.
Nov. 4: Mule Deer Foundation Banquet, Italian American Club, 2333 E. Sahara Ave. Tickets available at muledeer.org or call Carmen at 702-845-8422.