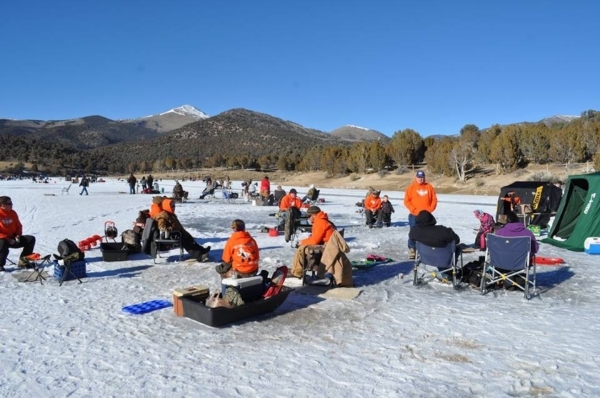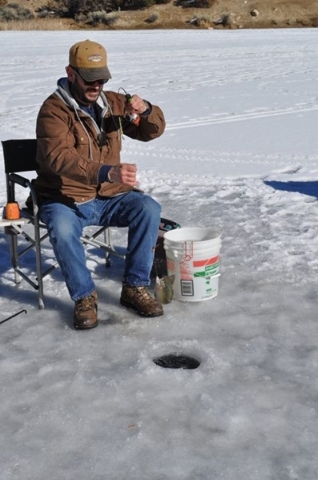 After reading my Dec. 24 column about ice fishing, Doug Thayer shot me an email asking "why no mention of Cave Lake in Ely?"
It was a fair question, especially given that the column highlighted ice-fishing opportunities within a three- to four-hour drive of Las Vegas and Cave Lake sits at that four-hour mark. Cave Lake is a 32-acre reservoir that serves as the centerpiece for the state park of the same name and has a well-deserved reputation for giving up large brown trout.
Dennis Mangum reeled in the state record brown trout from the waters of Cave Lake in December 1984. His fish weighed in at 27 pounds, 5 ounces and measured 33 inches from nose to tail. In April and May 2013, two anglers caught two browns weighing in at 14 and 15 pounds. The latter measured 30 inches long. You can see the possibilities.
Also available in Cave Lake are stocked rainbow trout. During the winter months, both can be pulled through the ice.
Located at 7,300 feet in the Schell Creek Range, Cave Lake has no problem icing over when temperatures drop, and they do drop. The ice cap on the reservoir often reaches 24 inches thick, and snow always should be figured into the equation. But since the reservoir is located about 15 miles south of Ely, visitors have easy access to the accommodations offered by several local hotels. The park also has two campgrounds with campsites available on a first-come, first-served basis.
One of the reservoir's primary winter draws is the annual Ice Fishing Derby hosted by the Ely Rotary Club.
"Their annual ice fishing tournament is a great time and a big boost for the local Rotary Club. I'm from Vegas and have been going for the past seven years," Thayer said in his email. "I would hope you have been there before … if not you should join us … the more the merrier!"
The 2016 derby is scheduled from 8 a.m. to 3 p.m. Jan 30. Grand prize is $5,000. All you have to do to collect the prize is pay your entry fee and catch one of 15 to 25 tagged fish that will be released before the event. Numbers from tagged fish that are caught will be put in "the hat" from which the grand prize winner will be drawn. The remaining tags will be worth $100.
Early entry is $45 per person until Jan. 15 and $55 thereafter. For an extra $20, entrants can be eligible for an additional VIP prize to be awarded by drawing from among those who caught a tagged fish. The VIP winner will have his choice of a $2,500 gift certificate, a gun safe or an optics package.
In addition, "We pay $100 for the largest fish and smallest fish. Also several drawings are held for other prizes," Rotary Club treasurer Scott Hase said.
All license requirements and fishing regulations still apply during the derby. For more information, go to elynevada.net/events.
If the derby atmosphere is not what you want, don't worry. There is plenty of ice for everybody, and in Ely it lasts well into early spring.
Located between Cave Lake and Ely is Comins Lake, once a blue-ribbon trout fishery and another White Pine County ice-fishing destination. This fishery is currently recovering after it was decimated by illegally released northern pike. Trout grow at a rate of about 2 inches a month in this water, so you may want to put it on your ice-fishing list for next winter.
Another reservoir near Ely is Illipah. This 70-acre impoundment is west of Ely off Highway 50 and has brown and rainbow trout. Ice fishing can be good from December through February.
When it comes to any outdoor pursuit, safety always should be a primary consideration, but especially when it comes to fishing through hardened water. Always double-check ice conditions before you venture onto the ice, and be sure to invite someone else to go along. You never know when you might need a hand, or the rescue implement that hand might hold.
— Freelance writer Doug Nielsen is a conservation educator for the Nevada Department of Wildlife. His "In the Outdoors" column, published Thursday in the Las Vegas Review-Journal, is not affiliated with or endorsed by the NDOW. Any opinions he states are his own. He can be reached at intheoutdoorslv@gmail.com.