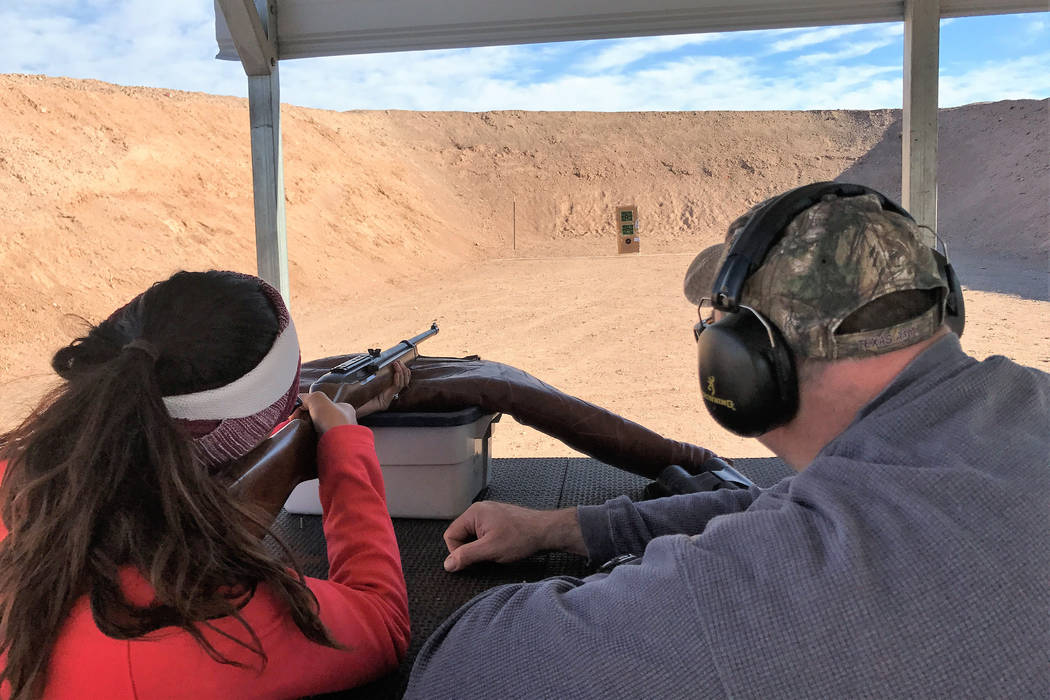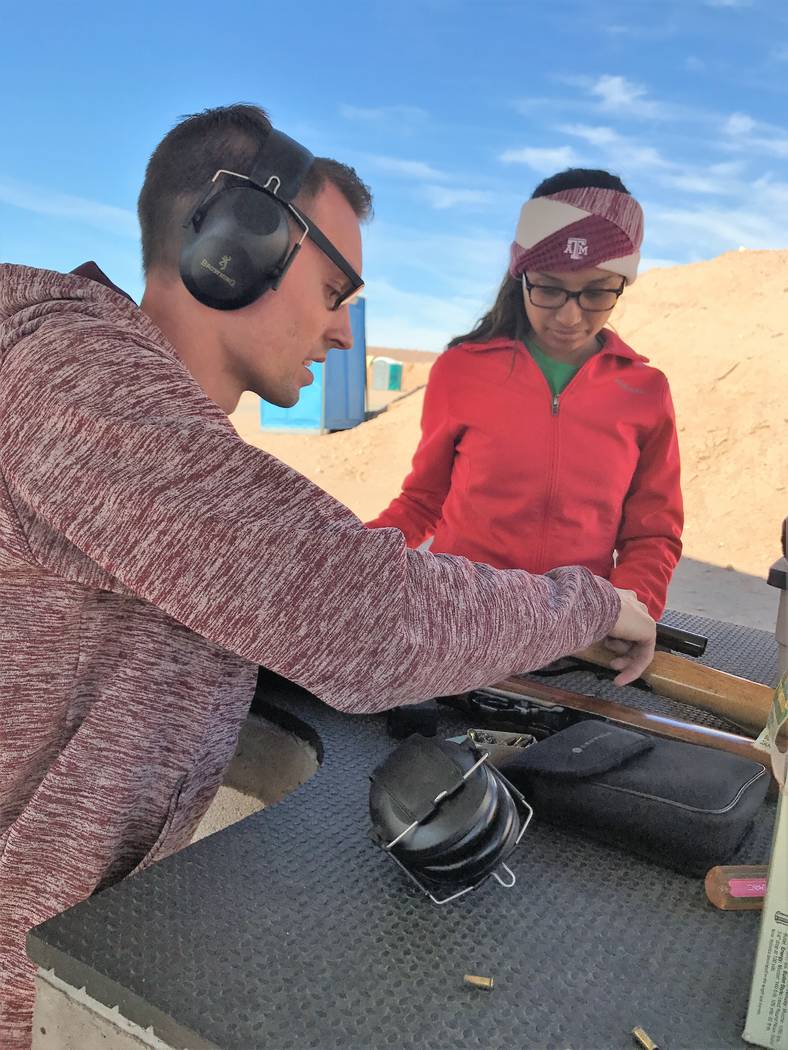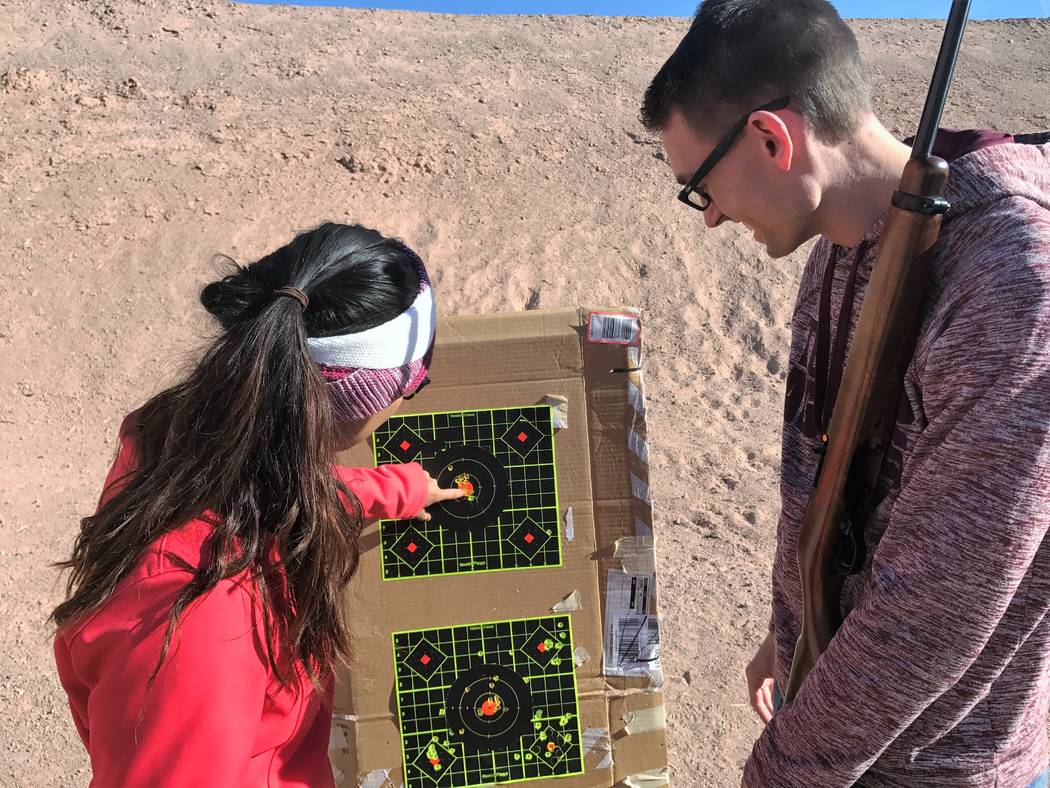 Stephanie proudly pointed to the tight group of holes just below the orange center of her target. That she was excited about her accomplishment went without saying. The smile on her face said it all.
Though my children grew up shooting firearms, our holiday trip to the range was Stephanie's first.
The experience was something my son Dallin had looked forward to sharing with Stephanie since the two were married in January 2017. So I asked him why.
"I guess because I've been doing it my whole life," Dallin said. "Shooting's always been a positive experience, because every time we go there's some friendly competition. You go out for a fun time and talk. I just like to get together, and the fact that you can help one another. You can work on your own skills here and there, and help others do the same. I like doing that as a family."
As with my other children, Stephanie's introduction to the shooting sports began with the four primary rules of safe gun handling:
— Treat every gun as if it were loaded.
— Keep the muzzle pointed in a safe direction.
— Keep your finger off the trigger until you're ready to shoot.
— Make sure of your target and what lies beyond it.
Unlike some first-time shooters who are eager to get quickly past the safety part of shooting, Stephanie paid close attention. At first, I thought it was simply because she was an adult and a student, but I later learned her focus was driven by something else.
Oftentimes, one of the mistakes we make when introducing people to the shooting sports is handing them a gun with a bit of a kick to it. And let's face it, some of the firearms we shoot can leave even an experienced shooter asking himself, "And this is fun?"
For that reason, my father taught his kids how to shoot with a .22 caliber rifle. I'm guessing it was the same for many of you. With little kick and a relatively low noise level, these rifles gave us the opportunity to develop our ability to shoot accurately and gain a love for the shooting sports.
As my father had with me, I showed Stephanie how to load the rifle and taught her the basics of sight alignment. It wasn't long before she had a tight shot group and began to grow increasingly confident, not only in her ability to hit where she was aiming but also in the knowledge that she could do so safely.
Eventually, I got out of the way and let Dallin take over the coaching role. This was an opportunity to observe as the shooting tradition was passed onto a future generation. Since Dallin and Stephanie are now shooting sports enthusiasts, chances are good their children will be, too.
"It was much more fun than I thought it was going to be," Stephanie said. "I didn't know how to handle a gun, but getting taught the right way can make it a lot more fun, because I felt really safe, and for me that was a really big part."
As a medical student, Stephanie has been involved with the treatment of gunshot wounds, which placed the need for range safety foremost in her mind. Though she confessed to being nervous before our outing, she said, "it made me more comfortable knowing that the other people around me know what they are doing, and explained things that I should know to keep the range safe."
Stephanie has become part of one of the fastest growing segments of the shooting sports. In 2001, there were 3.3 million female target shooters. By 2013, that number had grown to 5.4 million, an increase of 60 percent, according to the National Shooting Sports Foundation. One of the motivating factors in that growth is the desire to go shooting with friends and family.
Freelance writer Doug Nielsen is a conservation educator for the Nevada Department of Wildlife. His "In the Outdoors" column, published Thursday in the Las Vegas Review-Journal, is not affiliated with or endorsed by the NDOW. Any opinions are his own. Find him on Facebook at @dougwritesoutdoors. He can be reached at intheoutdoorslv@gmail.com.