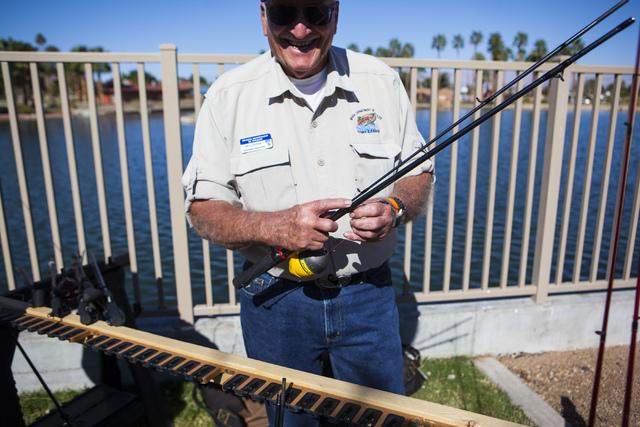 In a corner of the garage is a light-colored piece of fisherman's furniture, a wooden table of sorts that resembles a fat wedge of cheese. One end comes to a thick point and the other sweeps in a wide quarter circle, creating a rounded edge that is lined with a dozen rubber clips.
If the table were put out for a garage sale, most people would walk by and pay it little attention. But should an experienced angler happen by, he would immediately recognize it as a rack for safely storing fishing rods.
In this case, the growing collection is mine and the rack no longer holds them all. And those that don't fit can be found leaning between the tines of a raghorn elk antler standing nearby. Some might look at the collection and ask, as my rather patient wife has on more than a few occasions, "So just how many fishing rods do you need anyway?"
Just after I took up fly-fishing, I stopped by Eagle Valley Reservoir in Lincoln County. It was mid-summer and a crop of small, olive-colored crawdads provided hungry trout with a ready supply of protein. Just a week or two before, I had one of those days when you couldn't keep fish from taking your fly, and I was looking forward to having a similar experience.
But as I pulled my fly-rod clear of the camper shell, an unseen force grabbed the rod's tip and threaded it neatly between the upraised door and its locking bars. The next sound I heard was a loud snap as the rod's tip section broke in two.
There I stood, broken rod in one hand and a reservoir full of hungry trout waiting just down the hill. It was kind of like holding an empty cone after the ice cream falls out.
If I would have had a backup rod, the tale would have ended quite differently. Of course, I probably should have had two backup rods just in case something happened to the second. That is why I recommend having three rods with you. But wait a minute, what if something happened …
You can see where this fisherman's math is going.
Further complicating my wife's question is the fact that there is no such thing as a one-size-fits-all rod. Though we all have successfully multi-tasked them, experience has taught me that we can only take that approach so far. There is a reason rods come in various lengths, action types and combinations of the two.
The idea is to match your rod to the fish species you intend to catch. Catching something small, like blue gill for instance, does not require the same gear one would use to catch a large catfish. Likewise, you would not want to hook that large catfish on a rod designed for blue gill. If you do, you may want to have that backup rod somewhere close at hand.
Many years ago, I learned a very expensive lesson when my $50 striper lure disappeared forever in the waters of Lake Mead. The rod, reel and line I was using at the time were all too light for the lure. Simple physics should have warned me the line would break under the strain caused by the casting motion with a lure that heavy. Thinking back on that physics lesson, I am surprised the rod didn't break as well.
The bottom line is this: If you are one of those anglers who pursue multiple fish species that come in an equal variety of sizes and habitats, necessity dictates that you have a collection of rods. And that brings us back to the question, "So, just how many fishing rods do you need anyway?"
Well, that's a complicated question. If you have a fly-rod, a bass rod, a trout rod and a panfish rod, and at least one backup rod for each, the math should work in your favor.
Freelance writer Doug Nielsen is a conservation educator for the Nevada Department of Wildlife. His "In the Outdoors" column, published Thursday, is not affiliated with or endorsed by the NDOW. Any opinions he states in his column are his own. Find him on Facebook at @dougwritesoutdoors. He can be reached at intheoutdoorslv@gmail.com