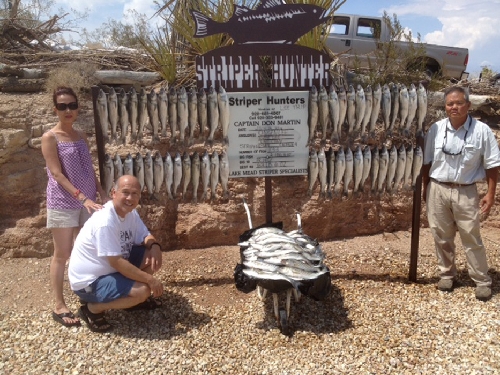 For Kensen Lee, Saturday night was one that an angler often dreams about but rarely experiences, and you could tell from the excitement in his voice that his was not the usual "fish story."
"We caught a fish with almost every cast," Lee said as he shared his story. "It was incredible."
Like you, I have heard these stories before, and they always seem a little suspect, especially when the storyteller gets to the part about the huge fish that got away just as it reached the boat. But Lee, a sportsman I have known for many years, never got to that part of the story. There were no huge fish, but there were a lot of them.
How many is a lot? Enough fish to fill four coolers and leave just enough room for the ice necessary to keep them cold. The total count was 133 fish – 129 striped bass and four catfish. Most of those, Lee said, weighed 1½ to 2 pounds. But some pushed beyond 2 pounds. That's enough fillets to make more than a few fish tacos.
Lee and wife, Ruby, were fishing with his friend Don Martin, a guide who works out of South Cove and spends his time fishing the upper reaches of Lake Mead, and Martin's friend Jay Chan. Lee and Martin team up when Martin has an opening in his work schedule.
While the fish in this part of the lake tend to be small, it is the same general area that gave up a 52-pound monster early last summer. Like all fishermen, Martin has his secret little honey holes, but he doesn't have a problem inviting anglers to share the water with him. In fact, he often can be found sharing information online at the Nevada Striper Club forum.
Lee and Martin were fishing at one of those honey holes somewhere between Temple Bar and South Cove. They threw out the lights, baited up with cut anchovies and began fishing at about 11:30 p.m. Lee said the action started out rather average and then all of a sudden the fishing turned on. When that happened, "The fish hit almost every time you dropped your bait," Lee said.
By 3:30 a.m., the party was over. Not because the bite turned off but because there was no more room in the coolers. Lee estimates that if they had the room and had fished until dawn they probably could have topped 200 fish. According to the 2012 Nevada Fishing Guide, there is no limit at Lake Mead on striped bass less than 20 inches in length. For stripers that reach or exceed 20 inches in total length, the limit is 20 fish.
■ STORM DEBRIS ALERT – Anyone looking to cash in on the striper bite in the upper basins of Lake Mead should take extra precautions this time of year. High winds and lightning associated with summer thunderstorms create a real hazard on the water, but often overlooked is the debris that dumps into the lake with each of the storms. The same is true at Lake Mohave.
Driftwood and other materials create a serious danger for boaters and can seriously damage propellers, lower units and even the boat hull. Keep in mind that storms occurring several miles in the distance can still send debris into local waterways.
Freelance writer Doug Nielsen is a conservation educator for the Nevada Department of Wildlife. His "In the Outdoors" column, published Thursday in the Las Vegas Review-Journal, is not affiliated with or endorsed by the NDOW. Any opinions he states in his column are his own. He can be reached at intheoutdoorslv@gmail.com.