Migrating ducks wing their way through Nevada
November 7, 2018 - 4:50 pm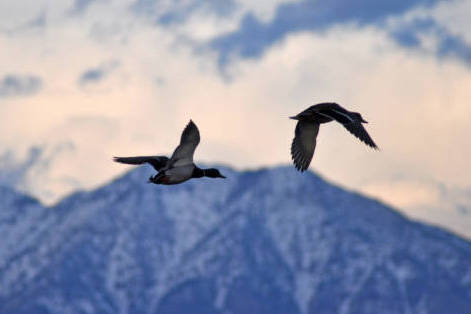 Waterfowl hunters hoping for a little help from Mother Nature may have gotten their wish Monday when a blast of frigid weather pushed its way into the Canadian prairies and gave straggling birds a migratory nudge.
According to a report posted on the Ducks Unlimited website, most of the holdouts finally have taken flight in a southerly direction and any open waters should soon freeze over. That said, there have been reports that large numbers of mallards and geese – both Canadas and snows – are still dragging their feet in Alberta. However, with temperatures quickly dropping the reluctant birds are expected to join the annual migration in the coming days.
Migrating birds will make their way south through Idaho, Montana, and Wyoming on their way to places like the Bear River Migratory Bird Refuge in northern Utah and the Ruby Lake National Wildlife Refuge southeast of Elko, Nevada. From there, some of the birds will move west across the Silver State and others will fly south through Clark County.
Along the way they'll stop at the Kirch, Key Pittman and Overton Wildlife Management Areas along with the Pahranagat National Wildlife Refuge and perhaps Ash Meadows. How long it takes for the birds to show up depends on the weather conditions along the way. A little turbulent weather accompanied by cold temperatures would do a lot to keep them moving this way.
Regional forecasts call for cooler temperatures in Southern Nevada by week's end. Overnight lows are expected to drop below freezing at the Kirch WMA and Pahranagat Valley while Overton will see lows in the mid to upper 40s. Unfortunately, there is no storm activity in the forecast. Only bluebird skies.
While nice weather is just that, it usually doesn't bode well for duck hunters, so they tend to prefer things a little on the nasty side.
When it's clear and sunny and the winds are calm, ducks tend to spread out and are somewhat unpredictable. They can float around with few cares. They don't need to find cover, and they have an easier time picking out hunters hunkered down in a blind or hiding in the tules.
All it takes is the glint of sun off a shiny shotgun barrel, a reflection off your face or a movement that lets the sunlight highlight your silhouette. Once they know you are there, the birds will flare off in another direction.
The key to bagging ducks is recognizing their flight paths and, when possible, setting up where you have a chance of intercepting passing birds. Like other animals, birds are creatures of habit, and when holding in a location for several days, it doesn't take them long to develop patterns. But they also learn your patterns as well. Where you can, change up your set and adjust in your own pattern.
Foul weather, on the other hand, is a hunter's friend. Cloudy skies help to mute colors and mask shapes, and the birds become less wary. Clouds also greatly reduce the likelihood of light reflecting off your gun barrel or your upturned face. This gives the birds a sense of security and they often fly throughout the day. Obviously, the more active the birds are the better chance you have of filling your bag.
In stormy conditions, the birds will seek respite from the wind and gather in pockets of cover, but they will also be forced to move as the storm activity changes. That tendency to move creates hunter opportunity.
Whatever the weather, remember to camouflage yourself by wearing muted, natural colors or suitable camouflage. The key is to break up your shape, so the birds have a hard time picking you out.
Between now and your next outing, you can follow the duck and goose migration by checking the Ducks Unlimited Migration Map at ducks.org. There you will find updates from DU professionals and other hunters that may help you make plans.
On Monday, C. Monroe posted this report from south of the Bear River Refuge: "Once we got set up we had a steady flow of singles and doubles come our way all day… Made a change to decoy location and that proved to be what we needed to get them to finish. Bagged 10 today. Limits on pintail and a nice mix of gadwall, teal, and some blasted spoonies. Lots of pintail around. Mallards were up high and very call shy."
Freelance writer Doug Nielsen is a conservation educator for the Nevada Department of Wildlife. His "In the Outdoors" column, published Thursday, is not affiliated with or endorsed by the NDOW. Any opinions he states in his column are his own. He can be reached at intheoutdoorslv@gmail.com.