Outdoor enthusiasts should exercise caution after storm
September 10, 2014 - 2:59 pm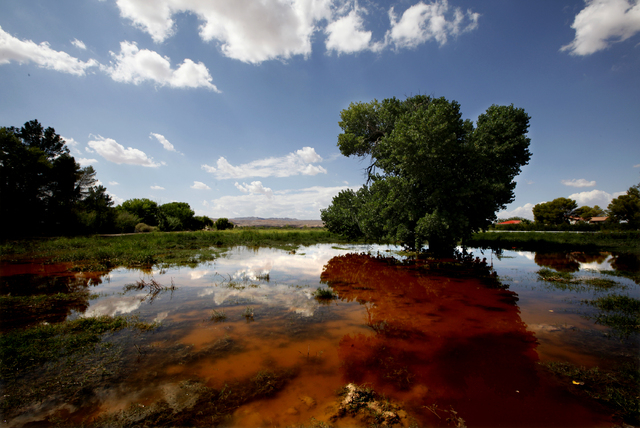 Severe flooding associated with the powerful thunderstorm that pounded much of Southern Nevada with heavy rains Monday caused significant damage to area infrastructure. Left in the storm's wake are damaged homes, businesses and roadways. Portions of Interstate 15, one of the Southwest's primary travel routes, were damaged so badly that the freeway had to be closed to vehicle traffic.
Images of the damage caused by the storm help us understand the extent of the damage in developed areas and along major travel corridors, but it is what we don't see that should have Nevada's outdoor enthusiasts on their toes the next time they go afield.
For obvious reasons, what you won't see on TV, on the Internet and in the newspaper are images or stories about the damage left behind in the remote areas where we go to hunt, camp or ride ATVs. Sure, you will hear about conditions affecting outdoor activities in places such as Red Rock Canyon and Kyle Canyon in the Spring Mountain Range because they are major recreation destinations for people who live in the Las Vegas area. But what about XYZ Canyon, where you planned to hunt quail on opening day?
In the mid-1990s, a young couple traveling east from California arrived in Reno only to find Interstate 80 closed because of heavy snows. Thinking that they might get around the closure by taking another route, they found a small two-lane highway and continued eastward. Their trip turned into a near-death experience and left people asking, "If Interstate 80 were closed, why would anyone expect a two-lane highway in the middle of nowhere to be open?"
In the aftermath of Monday's storm, it would behoove sportsmen and other outdoor enthusiasts to ask a similar question. "If Interstate 15 is closed, what does that mean for the dirt roads and two-tracks that lead to XYZ Canyon or Notellum Cove?"
Chances are they also were damaged by the storm's flood waters. So it would be wise to exercise extra caution on your next trip into the Southern Nevada back country. Don't take anything for granted.
Consider the road through Lincoln County's Kane Springs Wash, one used by many of us outdoor types. It is generally well maintained and bladed on a regular basis, and a person can make good time even though the road is dirt.
However, after a heavy rainstorm, you will often find ruts that have been cut across the road by water running down area washes. The ruts can be difficult to see until you are right on top of them, especially if you are driving too fast. The result could be a blown tire, or worse.
If you already have a destination in mind for opening day of quail season, you might want to make a scouting trip between now and then to get a good look at road conditions. Why wait until opening morning to learn whether you can get where you planned to go? An early look will let you know what changes you might need to make in your game plan and will give you the time to look elsewhere if need be.
Though they don't need any roads once they launch their boats, anglers and other recreational boaters also should exercise caution after significant thunderstorms. The storm waters that damage roads often create safety concerns on Lake Mead and Lake Mohave by washing debris into the water. That debris can even include items such as large trees from the mountains upstream. Special attention should be given to your surroundings in areas near the Muddy and Virgin River inlets, as well as the Colorado River inflow.
Given the damage that occurred in Moapa Valley, there is no telling what boaters might run into at the upper end of Lake Mead's Overton Arm. Not only for the next few days, but well into the future.
Freelance writer Doug Nielsen is a conservation educator for the Nevada Department of Wildlife. His "In the Outdoors" column, published Thursday in the Las Vegas Review-Journal, is not affiliated with or endorsed by the NDOW. Any opinions he states in his column are his own. He can be reached at intheoutdoorslv@gmail.com.