Restoration programs have helped outdoors thrive in Nevada
February 22, 2017 - 10:48 am
Updated February 22, 2017 - 6:31 pm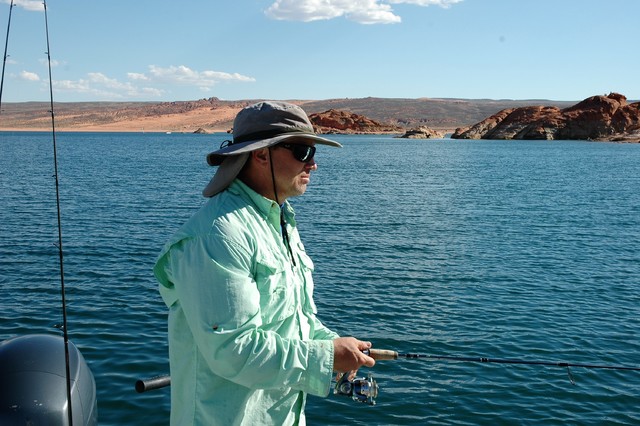 Before technology began to replace outdoor skills, one of the things old-timers taught novices about navigating in the wild was to periodically check their backtrail. They knew that taking a minute to identify a series of landmarks would help them remember where they came from and could even point the way going forward.
I have learned that this principle is true in all aspects of life. Taking a few minutes to look back helps us remember where we have been and gives us a better understanding of who we are and how we got where we are. And that understanding can help us remain focused on the trail even as others try to cover our tracks.
Perhaps the first major landmark on the trail traveled by America's sportsmen and women, for example, laid the foundation for America's conservation movement. At the turn of the last century, they were the first to push for regulations governing hunting and fishing and promoting a conservation ethic by limiting harvest, establishing season dates and defining legal means of take.
Perhaps the most significant landmark along the sportsman's trail was placed there 80 years ago with passage of the Pittman-Robertson Act, legislation supported and promoted by hunters and anglers. Co-sponsored by Nevada Sen. Key Pittman, and known more formally as the Wildlife Restoration Act of 1937, this law is an integral part of the North American Model of Wildlife Conservation, a user-pay approach that to this day provides the bulk of funding for wildlife management in all 50 states.
Pittman-Robertson placed an excise tax on sporting arms and ammunition that is collected at the federal level and redistributed among the states to fund wildlife management. Later legislation added archery tackle to the taxable items list. So successful was the Wildlife Restoration Act and its funding mechanism that it became the template for a similar program to fund state fisheries management programs through an excise tax on fishing tackle and associated equipment.
Passed in 1950, the Sportfish Restoration Act is commonly referred to as the Dingell-Johnson Act. It placed excise taxes on sport fishing equipment, import duties on fishing tackle, yachts and pleasure craft, and set aside a portion of gasoline fuel tax dollars attributed to small engines and motorboats. Funds garnered through these taxes fund fisheries management and recreational boating access.
Since their inception, the Wildlife and Sportfish Restoration Programs account for almost $10 billion and $8.5 billion. During that same period, the two programs account for $175 million and $130 million in funding for wildlife and fisheries management in Nevada.
Throw in funding generated by hunting and fishing license sales, and sportsmen and women are directly responsible for $56.9 billion in funding to state fish and wildlife agencies since 1939. That amount doesn't include funding raised and spent in behalf of wildlife by such conservation organizations as Ducks Unlimited, Rocky Mountain Elk Foundation, Mule Deer Foundation or Nevada Bighorns Unlimited and the Fraternity of the Desert Bighorn.
Another look back along the sportsman's trail reveals the economic landmark left by hunters and anglers each year on the national and state economies. In 2011, 37.4 million over age 16 hunted or fished in the United States and spent $90 billion.
That same year in Nevada, 163,000 sportsmen and women spent 2.2 million days afield, spent $409 million and accounted for more than 5,300 jobs. A closer look reveals that hunters and anglers spent $1.1 million per day in Nevada in 2011 while generating $205 million in salaries and wages, $48 million in federal taxes, $38 million in state and local taxes, and creating an economic ripple effect of $615 million.
Despite their history, these three landmarks are not things of the past. The significant contributions of hunters, anglers, recreational shooters and pleasure boaters continue to mount and cannot be dismissed as something from a bygone era. They remain an important part of our future.
Freelance writer Doug Nielsen is a conservation educator for the Nevada Department of Wildlife. His "In the Outdoors" column, published Thursday in the Las Vegas Review-Journal, is not affiliated with or endorsed by the NDOW. Any opinions he states in his column are his own. He can be reached at intheoutdoorslv@gmail.com.