Sand Hollow State Park offers escape from Las Vegas Valley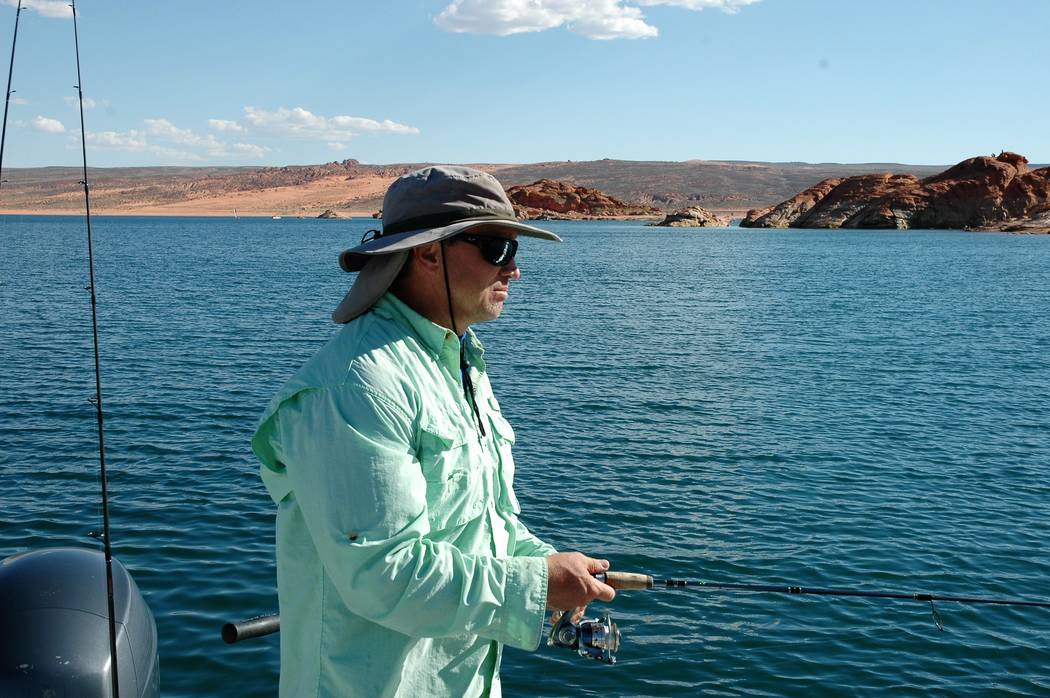 We all need the chance to get away from the concrete, asphalt and human congestion that's a part of living in Las Vegas. But the demands of life often make long-term getaways impossible. That's when a short-term option becomes essential.
One of those options is Sand Hollow State Park about 15 miles east of St. George in Southern Utah. Located about two hours from the glitz of Las Vegas, Sand Hollow is just far enough away that you can see the stars after sundown.
Some parks offer camping, some provide water-based recreation and others are located near places where off-highway vehicle enthusiasts gather. Sand hollow offers visitors a unique combination of all three. This makes the park one of Utah's most popular, so you might want to avoid planning a quick getaway on a holiday weekend.
The major holidays are obvious — Memorial Day, Independence Day and Labor Day — but don't overlook Pioneer Day on July 24. Strictly a Utah holiday, Pioneer Day celebrates the day Mormon pioneers entered the Salt Lake Valley for the first time in 1847 and is a big deal for locals that head outdoors in large numbers.
As its name implies, Sand Hollow is situated in a depression. The 20,000-acre park is surrounded on three sides by red cliffs, sandstone outcroppings and plenty of red sand. This red sand provides park visitors with access to Sand Mountain, a 15,000-acre playground for off-highway vehicles. You can bring your own or rent them from the park concessionaire, which also rents powerboats and paddle craft.
Keep in mind that Sand Hollow is in the desert, so it gets a little warm during the summer but also offers year-round access. Natural shade is nonexistent and man-made shade structures are limited, so you will want to bring your own.
The park offers two formal campgrounds with designated camping spots, bathroom and shower facilities, but there also is an opportunity for limited shoreline camping. Those who choose the latter will need a special permit. And if you want to ride an OHV from your campsite to the sand dunes, you will need to camp at the Sand Pit Campground.
If you prefer camping where OHV use is not permitted, then the Westside Campground is for you. It offers campers full hookups, cabanas and showers.
Serving as the park's centerpiece is 1,300-acre Sand Hollow Reservoir, which offers good fishing for bluegill and largemouth bass. Most bass average 8 to 16 inches, but fish as large as 5 pounds have been caught. The reservoir also is home to bullhead catfish and black crappie.
Sand Hollow is a unique water because it provides anglers with the opportunity to fish a variety of habitat and structure. There are two riprap covered dams, rock faces, a gentle shoreline and shallows with inundated brush. My first experience with sight fishing for bass came along the southern end of the reservoir where, depending on the water level, one can find acres of brush to fish.
A black Senko cast into openings in the brush was all it took to lure fish from their hiding places in the vegetation. My friend and I didn't catch any monsters, but we caught a lot of fish. When they shut down, we backed off into the deeper water of a channel between the shallows and a small island. There it was a jerkbait that did the trick.
We also have had success fishing tubes along the cliff faces and dam faces, and trolling crankbaits in deep water. The bottom line is Sand Hollow offers the chance to use your favorite techniques while fishing a variety of structure. Fishing is good right now with lots of nesting activity. Senkos, Ned rigs and crankbaits are catching fish.
Since Sand Hollow also attracts an active recreational boating contingent, your best bet for fishing during the summer is take advantage of the early morning and late afternoon hours if you go up on the weekend. Midweek ventures might allow you to avoid boating traffic. Another option is to put Sand Hollow on your calendar for spring and fall.
For more information, go to stateparks.utah.gov/parks/sand-hollow.
Freelance writer Doug Nielsen is a conservation educator for the Nevada Department of Wildlife. His "In the Outdoors" column, published Thursday in the Las Vegas Review-Journal, is not affiliated with or endorsed by the NDOW. Any opinions are his own. Find him on Facebook at @dougwritesoutdoors. He can be reached at intheoutdoorslv@gmail.com.