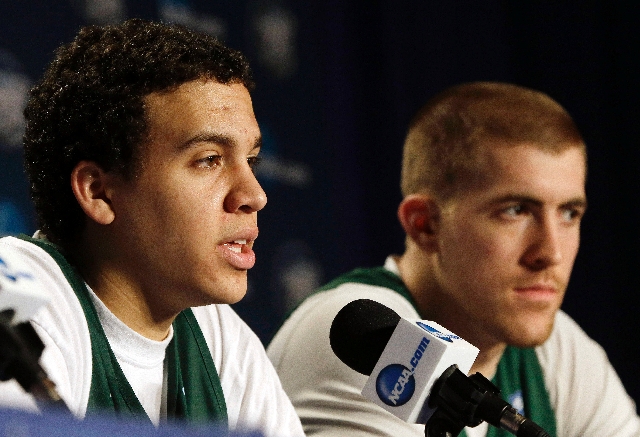 Dunks are more exciting than free throws, and that's stating the obvious, but Doug McDermott is the type of player who excites bettors even though he's not a big-time dunker.
McDermott makes free throws, which is important when Creighton is winning and barely covering. Thirty-six NCAA Tournament games are in the book, with more than a few featuring tight point-spread decisions that were influenced by free throws made and missed.
The past two days had a little of everything — the good, bad, ugly and the upsets. It was not the best 48 hours we've ever witnessed in the tournament, but it was not disappointing.
"It has been kind of living up to the anything-can-happen scenario," MGM Resorts sports book director Jay Rood said Friday, right as something really unexpected was happening.
Florida Gulf Coast, a No. 15 seed and a 13½-point underdog, stunned second-seeded Georgetown, 78-68. It's the tournament's biggest upset so far, and it's doubtful there will be a bigger one. The Hoyas were minus-1,200 on the money line.
The familiar backcourt of Bernard Thompson, Sherwood Brown and Brett Comer carried the Eagles in their first NCAA appearance.
Up to that point, the biggest losers were New Mexico and the Mountain West. No net was hanging around Steve Alford's neck after he coached the Lobos, a 10½-point favorite, to a 68-62 loss to Harvard on Thursday.
"We needed Harvard big," Rood said. "That was a huge upset."
It got ugly early for the Mountain West, which lost Boise State and UNLV before the fat and happy Lobos did a belly-flop.
Colorado State and San Diego State rescued the conference from a total disaster. The league's five teams in the tournament will be lucky to sniff the win total of 4½, but some of us sensed that skunk might be hiding around the corner.
To be fair, the Big 12 and Big East are not faring too well, either.
Akron was bad and ugly. The Zips, missing their point guard, ran into the wrong opponent in Virginia Commonwealth with its full-court pressure-cooking defense. The Rams, 8-point favorites, rolled to an 88-42 win.
"It was unbelievable how much money came in on VCU," Rood said. "That was by far our biggest loser of the day."
That was Thursday, and, after Syracuse put a merciless 81-34 beating on Montana, the favorites were 9-7 against the spread. Two teams seeded No. 5, Oklahoma State and UNLV, laid eggs. Laying 3½ points with the Rebels away from home is almost always bad.
There were five outright upsets Thursday and four more Friday, when favorites went 9-7 ATS. Indiana closed as a 21½-point favorite at most books in its 83-62 victory over James Madison.
Mississippi's Marshall Henderson finally got hot and shot down Wisconsin. The Atlantic 10 was able to strike again as La Salle knocked out Kansas State. Iowa State, a 1-point favorite, made Notre Dame look bad, 76-58.
McDermott was one of the good things. The 6-foot-8-inch junior forward totaled 27 points and 11 rebounds in Creighton's 67-63 victory over Cincinnati on Friday. He did swing an elbow that resulted in a flagrant foul and almost cost the Bluejays the cover as 3-point favorites, but he made up for it by hitting all 11 of his free throws and 2 of 4 3-pointers.
Colorado State and Louisville were about as good as it gets in their openers, and those teams happen to meet today in Lexington, Ky. The Cardinals are 11-point favorites.
"I always thought Colorado State would be a good tournament-type team because of their five senior starters and style of play," said handicapper Chuck Edel (ChuckEdel.com). "I don't think it was a fluke how they beat Missouri."
The Rams are rough inside and have skilled guards. Dorian Green, recovered from an ankle injury that hobbled him in the Mountain West tournament, hit 11 of 12 free throws and scored 26 points in an 84-72 blowout of the Tigers. Colton Iverson helped Colorado State to a 42-19 advantage in rebounds.
I'll side with Edel on the double-digit underdog Rams, who won't allow many second-chance points because of their outstanding rebounding. He's also on Butler as a 2-point underdog to Marquette, which was ridiculously lucky to get by Davidson.
VCU, a team I won't bet against, is a 3½-point underdog to Michigan. In a battle of bet-on teams, Saint Louis is a 4-point favorite over Oregon. The Billikens have won and covered 16 of their past 17 games.
A pair of No. 1 seeds, Gonzaga and Kansas, were in danger of making the wrong kind of history.
"I've never seen it this packed," Rood said of the Mirage sports book, where bettors got to see a little of everything the past two days, even a player who made all of his free throws.
Contact sports betting columnist Matt Youmans at myoumans@reviewjournal.com or 702-387-2907. He co-hosts "The Las Vegas Sportsline" weekdays at 2 p.m. on ESPN Radio (1100 AM, 98.9 FM). Follow him on Twitter: @mattyoumans247.