Cowboys rookie Ezekiel Elliott in running for MVP
December 26, 2016 - 1:39 pm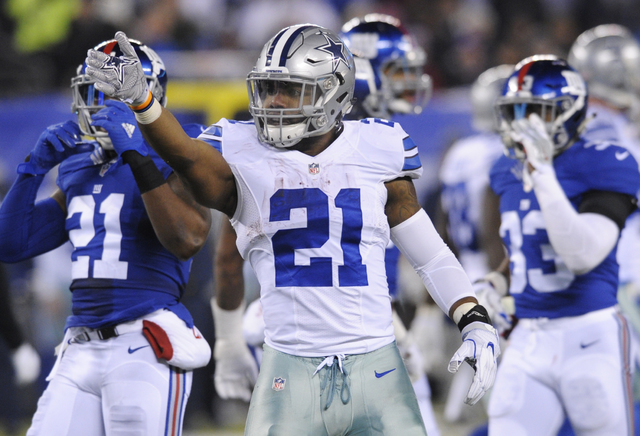 In this era of the NFL, the quarterbacks get the media hype and the monster money. But this season, the biggest award should go to Dallas Cowboys rookie running back Ezekiel Elliott.
Most Valuable Player cases can be made for three quarterbacks — Atlanta's Matt Ryan, Green Bay's Aaron Rodgers and New England's Tom Brady — but there's also a strong argument against each of the three, and it's tougher to knock Elliott.
The anti-Elliott crowd might say he's not even the most valuable rookie on his team, that quarterback Dak Prescott has been more of a catalyst in the Cowboys' surprising success. Prescott has been great, but the former Ohio State star has been better.
The key question Monday night, when Dallas hosts the Detroit Lions, is will the Cowboys play Elliott and Prescott for four quarters like it's a normal regular-season game?
"It's a tough game to handicap," Sunset Station sports book director Chuck Esposito said. "I tend to think the Cowboys are going to play those guys."
Of course, it's anything but a normal situation for both teams. Dallas (12-2) has clinched the top seed in the NFC. Detroit (9-5) can lock up at least a wild-card spot by beating the Cowboys. The Lions could lose Monday and still get into the playoffs by beating the visiting Packers in Week 17 to win the NFC North.
A win would take the pressure off the Lions, who don't want everything riding on their ability to knock off the red-hot Rodgers in the 256th game of the season.
The Cowboys will not open the postseason until mid-January, and too much time off has proven to be a negative factor for several top-seeded teams in the past, so it makes some sense for Prescott, Elliott and other key starters to play against Detroit. But will they play only three quarters, and will they play with the same sense of urgency with nothing on the line?
When handicapping the game, it seems more important to emphasize motivation than personnel matchups. The Cowboys obviously have superior personnel. Dallas dominates with the league's most powerful offensive line, and Elliott is the NFL's rushing leader with 1,551 yards.
Here's a tired, weak anti-Elliott argument: His success is a product of his offensive line. That's essentially true for every running back and quarterback. Brady, Rodgers and Ryan would not be lighting up defenses if their offensive lines were no good, and they would not be putting up big passing numbers without help from elite wide receivers, tight ends and running backs.
Among the quarterback candidates, Rodgers (36 touchdowns, seven interceptions) and Ryan (34 touchdowns, seven interceptions) boast the best numbers. Rodgers struggled early in the season, however, and Green Bay (9-6) might miss the playoffs. The Falcons (10-5) have clinched the NFC South, but Ryan has faced weaker defenses all season.
Brady has been phenomenal, with 25 touchdown passes and two interceptions, yet he missed four games to a suspension. How can a player who missed 25 percent of his team's games and ranks 21st in the league in passing yards (3,278) be MVP? Brady was held without a touchdown pass in two games, one being a home loss to Seattle. The Patriots went 3-1 without Brady and 10-1 with him.
Impressive because of his cool demeanor and maturity, Prescott also has outstanding passing stats (20 touchdowns, four interceptions), but he ranks 20th in yards (3,418). And is his success not also a product of Dallas' dominant offensive line and the help provided by Elliott and the running attack?
Elliott, who has 31 receptions for 351 yards, is closing in on 2,000 total yards from scrimmage. He has 310 rushing attempts (341 total touches and 14 touchdowns) and only one lost fumble.
It's not a runaway decision — and Rodgers could steal the show with a grand finale — but Elliott has the edge in the MVP race.
Still, the Cowboys would be wise to lighten his workload in the final two weeks. While there's little reason to risk an injury to Elliott or Prescott, the rookies should see enough playing time to stay sharp for the postseason.
What happened Sunday is a reminder. Two franchise quarterbacks — Oakland's Derek Carr and Tennessee's Marcus Mariota — were lost for the season with broken legs. Carr was an MVP candidate before the injury, but he's probably a long shot.
"If you're Jerry Jones and you see Mariota and Carr both break legs, you might be concerned about Zeke and Dak," Esposito said.
Jones, the Cowboys' owner and chief decision-maker, is likely lobbying for Tony Romo to see the field at some point soon. But that's a different debate, and it's not a serious factor in handicapping Monday's game.
Allowing Elliott some rest, by limiting his carries to 10 to 15, is what Dallas should do. Detroit's defense has allowed 20 points or fewer in eight straight games. The Lions are capable of competing to the wire in this game, and their chances improve if Elliott gets a break and the Cowboys are more relaxed with their No. 1 seed secured.
Detroit gets in with a win, and I bet the underdog plus-7. The line has ticked down, so it would be a smaller wager after losing a half-point of value.
Pick: Lions (+6½)
Contact sports betting reporter Matt Youmans at myoumans@reviewjournal.com or 702-387-2907. Follow @mattyoumans247 on Twitter.