Jayhawks leave tournament early, taking large number of tickets down with them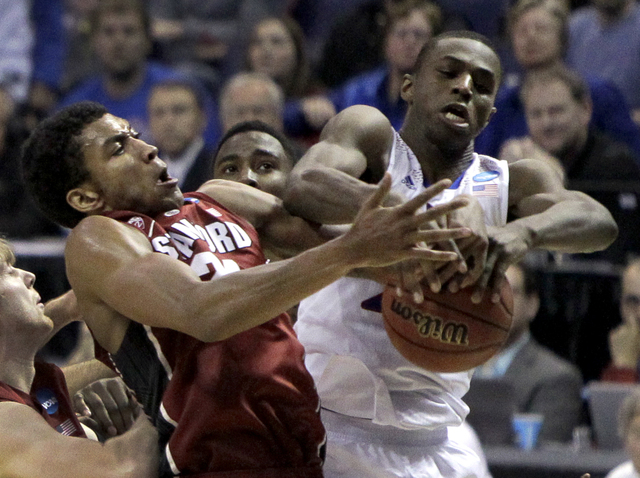 One day, maybe in the near future, Andrew Wiggins might rise as an NBA star. But the freshman guard went one-weekend-and-done and never had his shining moment in the NCAA Tournament.
Wiggins went out with a whimper Sunday morning as Kansas got knocked out. By mid-afternoon, Wichita State was the first No. 1 seed to get spit out, though we won't call it a shocker.
Doug McDermott, Jabari Parker and Marcus Smart are gone, too. Some serious star power has been sucked out, yet the tournament continues to grow in appeal as the big-name players and high-seeded teams go down. There is no better reality show, and this one is actually unscripted.
"The tournament is just phenomenal," said Sunset Station sports book director Chuck Esposito, referring to the dramatic games and the energetic crowds of bettors who consumed cheap hot dogs and beers and wagered all week.
"It's packed houses, people wall to wall. I love the fact it has become such a big event, and it becomes bigger and bigger every year. It's fun to watch."
It was not fun for those who bet Kansas, a 7-point favorite over Stanford. Wiggins had four points and four turnovers in the Jayhawks' 60-57 loss.
"The Kansas crowd was the most vocal crowd," South Point oddsmaker Jimmy Vaccaro said. "That was the biggest game of the day. It was an unbelievable beginning for us."
The crowds were mostly quiet after the Jayhawks were eliminated, taking a majority of the parlay, teaser and money-line tickets down with them. But Kentucky-Wichita State was up next, and another upset seemed unlikely. The next game always brings a shot of adrenaline, and sometimes whiskey.
So the public piled on the Shockers, who entered the tournament undefeated but exited early at 35-1 and with a pitiful parting gift — a victory over a Cal Poly team with a losing record.
Wichita State led 40-31 in the first minute of the second half. Its star, Cleanthony Early, was sensational. Early scored 31 points and Ron Baker finished with 20. It's mind-boggling, but on the game's final play, Early stood on one wing with Baker on the other, and neither touched the ball.
Gregg Marshall, one of the sharpest coaches in college basketball, lost his edge when drawing up the last shot in a timeout with 3.2 seconds left. The inbounds pass went to point guard Fred VanVleet, who was 1-for-5 from the field. A backcut and a layup by Early or Baker could have forced overtime.
Instead, by design, VanVleet fired up a 3-point attempt over two defenders. It was off the mark, and another team from Kansas, the best team from the state, was history. I was one of the suckers on the Shockers, who opened as 2-point favorites and fell 78-76. The line climbed as high as 5½ before closing at 4½.
"Kentucky covering was good," Esposito said, "and having them win outright was even better."
The Wildcats, stocked with NBA prospects, were ranked No. 1 in the preseason, but they lost 10 games and drew a No. 8 seed from the same incompetent NCAA selection committee that seeded Massachusetts sixth.
Kentucky turned in probably its greatest performance of the season. Wichita State was a legitimate elite team that deserved a better fate. What we love and hate about the tournament was all wrapped up in that one game.
"I usually like to walk around the book and see what's going on," Vaccaro said, "but I watched just about every play of that game."
Just as riveting was Iowa State's 85-83 victory over North Carolina. DeAndre Kane drove for the winning layup with 1.6 seconds to go, and time expired on the Tar Heels. The Cyclones covered as 1½-point favorites.
Here's another twist to the script. Last summer, Kane was a graduate transfer who wanted to go to UNLV. But Rebels coach Dave Rice had to say he was sorry, that no spot was open. Kane was off to Iowa State, and the rest is history.
The rest of Sunday's action was a bore. Arizona, Baylor, Tennessee, UCLA and Virginia advanced in blowouts.
The Bears used superior athletes and a stifling zone defense to shut down McDermott and crush Creighton, a 3½-point favorite, 85-55. The Volunteers won their third game of the week in a massacre of Mercer, a Cinderella which stunned Duke and made Parker a one-and-done March memory.
"Nothing compares to the first four days," Esposito said. "Every bracket had Louisville, Michigan State and Florida on it."
But who had Dayton, Stanford and Tennessee still standing? In the 48 games Thursday through Sunday, favorites went 24-22-2 against the spread, the wagering handle skyrocketed, the books won (as usual) and countless cheap hot dogs and beers were consumed.
"After all these years, I still enjoy it," Vaccaro said. "I still enjoy the craziness and the insanity."
The best Sweet 16 matchups are Kentucky-Louisville, UCLA-Florida and San Diego State-Arizona. In four days, it begins again, but without Duke, McDermott, Wiggins and Wichita State.
Las Vegas Review-Journal sports betting columnist Matt Youmans can be reached at myoumans@reviewjournal.com or 702-387-2907. He co-hosts "The Las Vegas Sportsline" weekdays at 2 p.m. on ESPN Radio (1100 AM). Follow him on Twitter: @mattyoumans247.