Kevin Durant zig-zags as Thunder roll past Mavericks
April 21, 2016 - 10:47 pm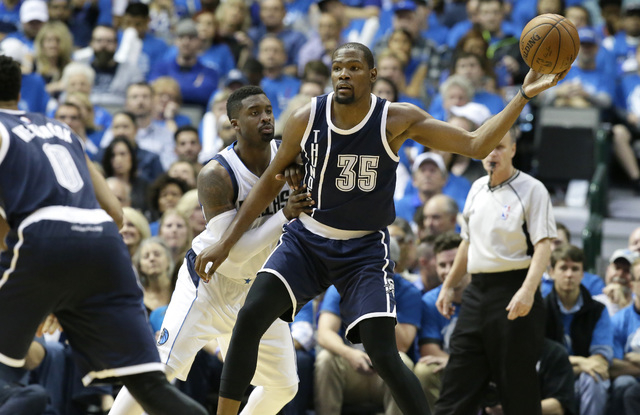 Applying the zig-zag theory to a player instead of a team, Kevin Durant was due for a big game. He was as bad as he gets Monday in a loss, so the expectation for a fallen superstar is to see him rise again.
Durant delivered 34 points Thursday to lead Oklahoma City to a playoff win, hours after the Washington Wizards subtly announced that Durant might not be rolling with the Thunder next season.
It's far from official, but the Wizards made a monster bet — hiring coach Scott Brooks and handing him a five-year, $35 million deal — in hopes of luring Durant back to his hometown of Washington, D.C. Durant will be a free agent this summer, and he's a fan of Brooks, who was fired by the Thunder last April.
"There's only one reason to hire Brooks," Sportsmemo.com handicapper Erin Rynning said. "There's that question for OKC, what's going to happen to them after the season? I don't know where Durant's going to go."
Brooks, regarded as an average NBA coach, is being paid well to help make Washington the answer. But it might be Boston, or it might be the Los Angeles Lakers. When the playoffs turn boring and predictable, it's time to entertain questions about the future.
The playoffs have been predictable. Favorites were 14-2 straight up and 11-4-1 against the spread through Wednesday. Oklahoma City and Toronto covered as favorites Thursday before Golden State tipped off as a 4-point favorite at Houston.
But the playoffs are about to get intriguing. The Western Conference semifinals could be wild, with the probable matchups being Oklahoma City-San Antonio and Golden State-Los Angeles Clippers.
This is likely the Thunder's last run with Durant and point guard Russell Westbrook, the Batman and Superman of Oklahoma City. The Lakers hope to lure Westbrook home to Los Angeles next summer. Sometimes, Durant and Westbrook appear inseparable, and other times they appear at odds. It's possible they will make free-agent decisions together in 2017.
"I can't see Durant doing a long-term contract with Oklahoma City. I could see him doing a one-year deal," Rynning said. "Westbrook has kind of passed him by in terms of, who would you rather have?"
Durant was a disaster in a Game 2 loss to Dallas, shooting 7-for-33 from the field with seven turnovers. But the zig-zag theory proved itself Thursday, when Durant shot 11-for-25 and Westbrook added 26 points. At William Hill sports books, 79 percent of the money was wagered on the Thunder, who covered 9½ points in a 131-102 victory over the Mavericks.
The Spurs, up 2-0 in their series mismatch with Memphis, will be waiting in the next round.
"If both teams come in looking the same — not one looking ugly and one looking super — the Spurs are probably (minus)-160 favorites," William Hill sports book director Nick Bogdanovich said. "The Spurs know how to play under pressure, and it's definitely a huge coaching advantage."
Oklahoma City's move to dump Brooks and bring in Billy Donovan, a former college coach, will probably backfire in two ways. Durant and Westbrook expressed loyalty to Brooks, and Donovan would lose a chess match to a blindfolded Gregg Popovich.
San Antonio has arguably the best defender on the planet, Kawhi Leonard, who can make life miserable for Durant or Westbrook, if not both at different times.
"You see what the Thunder are capable of, they are so big and athletic and you see their potential, but you think they are probably going to screw it up somehow," Rynning said. "I think it's close. You look at the players, and you give a slight edge to the Thunder. Leonard is really good, but the rest of those guys have trouble with the speed of the game. But the coaches are about as big a mismatch as you can get."
The Warriors-Clippers series might tighten if Stephen Curry is hobbled with a sore right ankle. Golden State coach Steve Kerr sat Curry on Thursday, calling it "too big of a risk" with an eye on the next round.
"If Curry is not 100 percent, the Clippers can get the Warriors," Bogdanovich said. "There's no doubt in my mind the Clippers can win that series."
I am betting on Cleveland and Miami, and LeBron James and Dwayne Wade, meeting in the East finals.
You can decide if this was a smart bet: On April 17, William Hill books took a $40,000 wager on Cleveland at minus-2,000 to win its first-round series against Detroit. The Cavaliers are up 2-0, putting the bettor halfway to netting $2,000.
The Wizards bet $35 million on Brooks' recruitment of Durant, and we'll see if it pays off this summer.
BOTTOM LINES — NFL lines for Weeks 1 through 16 were posted Thursday at CG Technology sports books. I will highlight some of the matchups in a blog post today at reviewjournal.com/sports.
Las Vegas Review-Journal sports betting columnist Matt Youmans can be reached at myoumans@reviewjournal.com or 702-387-2907. He co-hosts "The Las Vegas Sportsline" weekdays at 2 p.m. on ESPN Radio (1100 AM). Follow on Twitter: @mattyoumans247