Lakers tanking in NBA's race to the bottom
February 23, 2015 - 6:50 am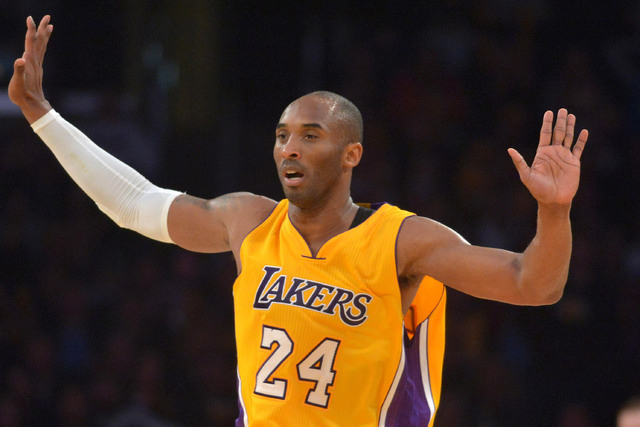 With his right arm in a sling, Kobe Bryant represents what's wrong with the Los Angeles Lakers. He remains a big part of the team's future although his best days are in the past. At the same time his body is breaking down, he's losing his mind.
Bryant is talking about a career rebirth, talking about competing for another championship, maybe as soon as next year. He deserves an Oscar nomination for acting delusional.
The only thing the Lakers are doing right is losing, because in the NBA's race to the bottom, teams need to get embarrassingly bad before becoming good again.
The "Showtime" Lakers are long gone and not making a comeback anytime soon. Right now, it's shut-it-down time for the Lakers, who have been tanking games and will continue to tank for their final 27 games.
"With the Lakers and some of these teams, there is not much incentive to win. When you handicap these games, you have to think about that," Sportsmemo.com handicapper Erin Rynning said. "You have your playoff teams and you have to handicap the teams that are ready to tank."
For the Lakers, New York Knicks and Philadelphia 76ers, losing is the No. 1 priority and an improved chance of winning the draft lottery is the prize.
The Lakers, 14-41 after Sunday's victory over Boston, rank fourth in the draft lottery standings. But their pick was traded and only will be retained if they survive the lottery with a top-five pick. If the Lakers finish sixth or lower, their pick goes to the 76ers.
In other words, losing the draft pick would be devastating to the Lakers' rebuilding plans, so they need to lose as many games as possible. With that in mind, betting on the Lakers to win or cover games down the stretch is risky business.
Fully aware of the situation, while also claiming the team is not tanking, Lakers coach Byron Scott recently trotted out a starting lineup of Jordan Clarkson, Wayne Ellington, Tarik Black, Ryan Kelly and Robert Sacre.
The first three guys off the bench were Moe, Larry and Curly.
The young guys give a good effort but predictably come up short, so Scott got the results he needed with that lineup — six straight losses.
Scott has better players on his roster — Nick Young, Carlos Boozer, Ed Davis, Jordan Hill, Wesley Johnson and Jeremy Lin — but if he played them for too many minutes, the Lakers might accidentally win.
"I think it will be more of the same," said Jeff Sherman, oddsmaker at the Westgate Las Vegas sports book. "Scott is going to put that bad lineup out there, and the guys will play hard. If you're in this situation, it doesn't do you any good to finish with the 15th pick, and the Lakers need to hold on to that top-five pick."
Carmelo Anthony and the Knicks were just clowning around and so serious about being a joke that Anthony played in last week's All-Star Game before shutting it down for the season with a knee injury.
Minnesota, 12-42 and another team that would be wise to lose, made a move at Thursday's trade deadline to bring back veteran Kevin Garnett. With point guard Ricky Rubio back and rookie Andrew Wiggins improving, the Timberwolves are no longer terrible.
There are storylines for bettors to follow aside from tanking teams, and one is George Karl. One of the NBA's all-time great coaches is now running the show in Sacramento. And the Kings are running more, going over the total in their first two games with Karl in charge.
Oklahoma City was dealing at the deadline to help Kevin Durant and Russell Westbrook, and the Thunder have won six straight games to rise to eighth in the West.
Golden State (43-10) is atop the Western Conference with Stephen Curry and Klay Thompson staging the most entertaining show in basketball. Atlanta (44-12) leads the East, but who truly believes the Hawks will win it?
"I personally don't think Cleveland is going to come out of the East. I still lean to the Bulls, who seem to be slowly getting a little better," Rynning said. "The West is wide open. The Warriors deserve to be favored, but anybody could beat anybody."
One exception is the Lakers. Bryant is coming back next year for $25 million, and if the team catches a lucky break in its clumsy rebuilding plan, he possibly could be surrounded by a cast good enough to compete for a playoff spot.
"As much as I've been a Kobe fan, the guy is absolutely in denial," Sherman said. "He's going to be there to basically collect his paycheck. At this point, it's just starting over. This is the worst Lakers team I've ever seen. The last week of the season might be interesting."
The Lakers still are worth watching, for all the wrong reasons.
Las Vegas Review-Journal sports betting columnist Matt Youmans can be reached at myoumans@reviewjournal.com or 702-387-2907. He co-hosts "The Las Vegas Sportsline" weekdays at 2 p.m. on ESPN Radio (1100 AM). Follow him on Twitter: @mattyoumans247.