Sharps rewarded for backing Dolphins
December 15, 2013 - 11:21 pm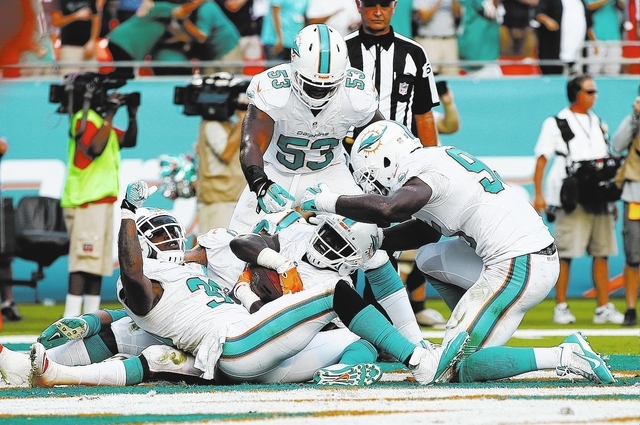 Even when the odds are against Tom Brady, we expect him to succeed. He captains comebacks like no other quarterback in the NFL. So we expect him to succeed especially when the odds are against him.
Brady and the New England Patriots opened the week as 2½-point favorites and closed as 2½-point underdogs. The odds turned on Brady before kickoff Sunday in Miami and again late in the fourth quarter.
"It was a huge move," said Nick Bogdanovich, director of William Hill sports books. "It was a hell of a game that could have went either way."
This time, the script flipped. Brady directed another potential winning drive before throwing a game-ending interception in the end zone with two seconds to go. The Dolphins survived 24-20, and Brady spit an expletive that rhymes with pity before walking out of his brief postgame news conference.
Pity the Patriots' bettors and their bad luck. In a coin-flip decision that could have gone either way, the Dolphins turned out to be the right side.
"The last couple of days, we had a lot of movement on Miami. The Dolphins were a sharp play," LVH sports book director Jay Kornegay said. "The public almost always bets the Patriots."
Sharp money — which is different than $50 three-team parlay money — showed on Miami mostly because injury-ravaged New England figured to sorely miss tight end Rob Gronkowski. And when Brady might have been targeting Gronkowski in the end zone at the end of the game, he instead was throwing to Austin Collie and Michael Hoomanawanui. Who?
"The Patriots were kind of playing with a chip on their shoulder," Kornegay said. "I think they were tired of hearing they couldn't win without Gronk."
It's doubtful the Patriots can win the Super Bowl without Gronkowski, even with Brady and coach Bill Belichick scheming to overcome the odds.
"The Patriots have got Brady and Belichick, and they're trying to get by on guile with those two," Bogdanovich said. "Anytime you've got Brady and Belichick, you've always got a chance."
Anytime Tony Romo is passing under pressure in the fourth quarter, there's always a chance the Dallas Cowboys will implode. Anytime Drew Brees is on the road, there's always a chance the New Orleans Saints will send your three-team parlay down the commode.
The Cowboys' latest collapse was a classic example of their potential and lack of guile. Up 23 at halftime, Dallas stopped running DeMarco Murray, who carried 18 times for 134 yards and should have had bigger numbers in both categories. But as Jason Garrett stood on the sideline striking the pose of a dunce, Romo made dumb throws, again.
The Romo apologists need to shut up and hide this week. He's a clown in the clutch. Romo threw two interceptions in the fourth quarter, and the Cowboys, 5½-point favorites, took another big step back in a 37-36 loss to Green Bay.
"It looks like Garrett is not the answer as a head coach," Bogdanovich said. "It's typical Cowboys — they just don't know how to win."
Matt Flynn took apart Dallas' defense in the second half to put the Packers in the middle of the playoff picture. That's incredible, and so was Kellen Clemens, who helped the St. Louis Rams, 7-point underdogs, rough up the Saints 27-16.
It was a bad week for elite quarterbacks, the phony Romo not included. Peyton Manning lost as a double-digit favorite in Denver on Thursday, three days before Brady and Brees were humbled on the road.
But Flynn, Clemens and Matt Cassel combined to go 3-0, so go figure. Cassel passed for 382 yards and two TDs for the Minnesota Vikings, 7-point 'dogs who were down two running backs in a 48-30 victory over Philadelphia.
Bogdanovich called the day a "small winner" for his book, due to the Eagles and Saints losing.
"We didn't win many, but those two really carried the day," he said.
Kornegay called the day a loser, in large part because San Francisco blew out Tampa Bay 33-14 and Kansas City crushed Oakland 56-31.
"We needed the Buccaneers and Raiders. In major decisions, we're 0-2, so it's not going to be a good day," he said. "We lost our two biggest decisions and lost a majority of the key decisions."
Notice the high scores. Ten of 15 games in Week 15 have soared over the total. In the NFL, the rules coddle the quarterbacks and defenses are going the way of dinosaurs.
"Nine out of 10 fans I talk to, even though they like high-scoring games, the referees play such a huge part in the games, it turns people off," Bogdanovich said. "It should be like the warning on cigarettes — bet an NFL 'under' at your own caution. They might as well play flag or touch."
Jay Cutler made a successful comeback, Mike Shanahan's gamble on a 2-point conversion failed, and the script was flipped in Pittsburgh, where the Steelers were home 'dogs and dominated Cincinnati.
As Brady said, it was an especially (expletive) day for those who bet on the Patriots, Cowboys, Eagles and Saints.
Las Vegas Review-Journal sports betting columnist Matt Youmans can be reached at myoumans@reviewjournal.com or 702-387-2907. He co-hosts "The Las Vegas Sportsline" weekdays at 2 p.m. on ESPN Radio (1100 AM). Follow him on Twitter: @mattyoumans247.