Bill Foley shoots and scores in making first impression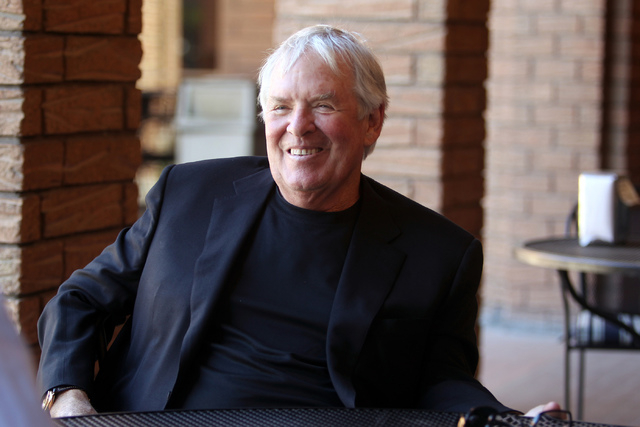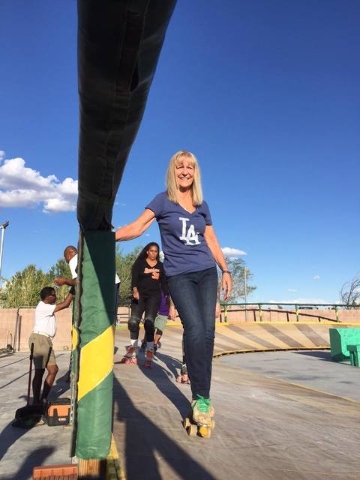 For a multi-bazillionaire, Bill Foley, the former pond hockey player who, to use his favorite expression, will own Las Vegas' NHL expansion entry "if we get a team," comes across as a fairly common man.
I found him nearly as delightful as riding shotgun on a Zamboni.
I was introduced to Foley at his office across from TPC Summerlin on Monday. He was wearing a dark blue polo shirt with a logo over the breast, jeans and loafers that appeared comfortable. No tailored suit with an ascot or anything like that.
Bill Foley immediately puts you at ease.
The first thing he does is hand you his business card — Black Knight Financial Services — with his name and number on front, and the Black Knight logo on back. The card is black and white and old gold — these are the Army colors. Bill Foley's beloved West Point. The Black Knight on back is sporting a sword and a shield.
The Black Knight soon will be wielding a hockey stick in lieu of a sword.
"If we get a team."
Foley said the old gold probably will be a brighter shade of yellow gold — shows up better on hockey uniforms on cable TV. Might the Las Vegas sweater incorporate gray as an accent color, a nod to the Long Gray Line of West Point graduates?
It might, Foley says.
"If we get a team."
(Long Gray Line also would be a great moniker for Las Vegas' top center iceman and left and right wings. Not as great, perhaps, as Detroit's celebrated Production Line — Gordie Howe, Sid Abel, Ted Lindsay — of yesteryear. But not bad.)
For the record, it's not official that the team will be called the Black Knights, or some variation thereof. But it would be Miracle on Ice II if it is called something else.
All together now:
"If we get a team."
Foley said he has heard from a guy who proposed the team be called the Snapping Turtles. This guy then offered to sell him the rights to a similarly titled Internet domain. And here you thought the old Broad Street Bullies were audacious.
The counter on my voice recorder showed the former pond hockey player and a checking line comprised of three sportswriters discussed professional ice hockey and its assorted topics for 51 minutes, 3 seconds. Though he must be a busy man, at no point did Bill Foley attempt to show us the door, or have his assistant come in and say Gretzky was on the phone.
As first impressions go, it reminded me of the first time I saw Bobby Orr take possession of the puck behind his net and skate the length of the ice with it, gaining momentum with every stride.
William P. Foley II, Executive Chairman, Black Knight Financial Services — owner of Las Vegas' soon-to-be-NHL expansion entry "if we get a team" — couldn't have been more obliging.
ROLLER DERBY REDUX
I'm told there was quite a roller derby reunion at Sam's Town last week. Many past stars attended. Many tales were told about the old San Francisco Bay Bombers. Did Charlie O'Connell's name come up? Surely it had to; the greatest Bomber of all recently died at age 79.
There was an exhibition "game" on the banked track in the backyard of the northwest Las Vegas home of roller derby enthusiast Lali Outhoummountry and her husband, Patrick.
Retired District Court judge Valorie Vega, who skated for the Los Angeles Thunderbirds when she was in law school at Southern California, was among those who laced up the skates.
She called off the jam after only one circuit.
"I got up there and made it around once for old-time's sake," she said. "It was a lot of fun."
The same could be said for the six years she spent jamming with the T-Birds.
She said it was a major hoot catching up with former teammates and the other stars of the derby, such as John Hall, one of her coaches with the T-Birds. The Hall of Famer is 80, but he still skates twice a week and trains flat track roller derby players in San Diego.
Judge Valorie said she got her start with the Thunderbirds when a couple of the team's female skaters had to take maternity leave. It was sort of like Wally Pipp complaining of a headache, and Lou Gehrig taking his place.
Sort of.
BIG SKY PLAYS THROUGH
Ancillary sporting events and Las Vegas are like a stealth bomber with lots of camouflage: Sometimes they slip in and out of town without making a blip on the radar.
Take last weekend, for example, when the Big Sky Conference played its men's golf championship at Boulder Creek Golf Club in Boulder City.
Idaho won the team title and Evan Russell of Hartford — Hartford? In the Big Sky? — the individual crown. Two weeks earlier at Boulder Creek, Idaho also won the women's championship with the Vandals' Sophie Hausmann and Eastern Washington's Marissa Borja finishing in a first-place tie for medalist.
Big Sky spokesman John Oglesby (of Moapa Valley) said this was the first time the conference decided its golf championships in Southern Nevada. It was basically done for two reasons: To provide the golfers with a nice experience, and because it usually doesn't snow here in late spring. The same can't be said for a lot of the Big Sky towns.
TOASTING THE FOXES
When I called the Crown & Anchor Pub, where people in Las Vegas gather to drink copper-colored beer by the pint and watch soccer on TV, Leicester City was leading Everton 2-0 in the 37th minute Saturday.
Nobody was chanting "Leicester Till I Die" or singing "When You're Smiling" or performing in a drunken, off-key voice any of the other 211 Leicester City soccer songs and football chants available for download on FanChants UK. For once, you could hear the bartender on the other end of the line.
"Smaller than usual," she said of the patron turnout for Leicester City vs. Everton.
Thanks for nothing, Tottenham Hotspur.
When the side known as Spurs allowed Chelsea to rally for a 2-2 draw Monday, it handed Leicester City the much revered English Premier League championship — for the first time in the team's 132-year history — with two games to play.
This was an amazing story.
But it rendered Leicester's match against Everton meaningless.
It also dramatically cut into the Crown & Anchor's copper-colored beer sales margins.
It was 5,000-1 that Leicester City would win the Premier League title when the season began. It was even money that a huge throng would convene at the Crown had the Foxes not wrapped things up prematurely.
It was less than even money that had Saturday's game meant anything, it would have been rowdy and raucous when I called to inquire about the score and the scene, and somebody would have called me "mate."
"Anybody watching football on the telly and quaffing pints?" the bartender was asked.
"There's a few," she said, almost apologetically.
Tips were smaller than usual.
Thanks for nothing, Tottenham Hotspur.
Las Vegas Review-Journal sports columnist Ron Kantowski can be reached at rkantowski@reviewjournal.com or 702-383-0352. Follow him on Twitter: @ronkantowski