Rebels could pick a program to follow, but which one?
December 20, 2014 - 10:44 pm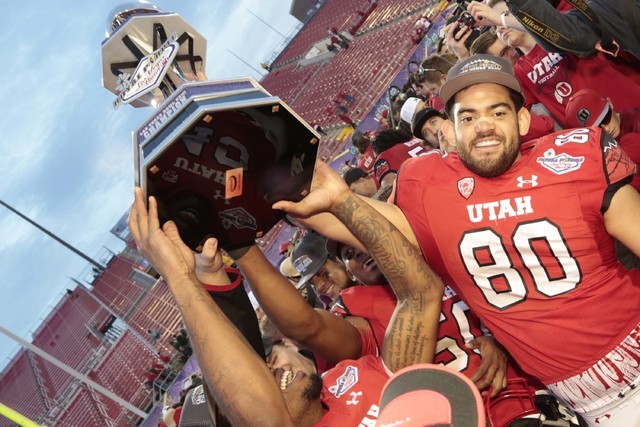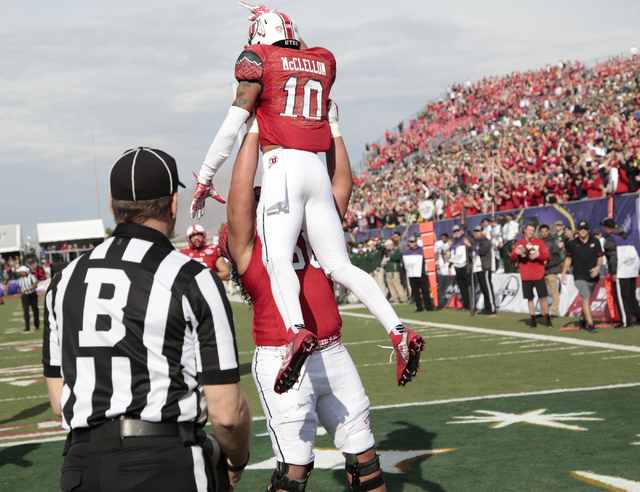 Every five years when UNLV fires its football coach there is a great whoop-de-doo and la-di-da about football. It usually lasts until the UNLV basketball team plays a quality nonconference opponent.
People postulate on what's wrong with football, who the next coach should be, other programs to which UNLV should aspire or mimic. Then the Arizona dunkmeisters come to town for a midweek game and people move on.
Colleagues have surmised UNLV needs a new weight room and a place to eat and study because that's what Boise State has. It uses these things to attract kids with thick necks who can block and tackle.
The coach part once again was decided without input from the wise and wizened colleagues. It's going to be a local high school guy with a big rep this time.
As for the Mountain West teams UNLV should try to emulate, the colleagues to which I have spoken have determined it should not be Boise State, they of the blue carpet and the hook-and-laterals as seen on TV, but somebody such as San Diego State or Colorado State.
The colleagues are wise amd wizened. They know these are realistic programs for the downtrodden to imitate. It's like an impressionist starting out by doing Jack Nicholson.
Other parallels can be drawn.
San Diego State and UNLV are known as basketball schools, with the difference being the Aztecs sometimes win at football, too.
Until recently, Colorado State had not been a basketball school, at least not since "One on One" with Robby Benson and Annette O'Toole was filmed on the CSU campus during the 1970s. But whereas over the past 25 years UNLV has enjoyed only four winning football seasons, Colorado State has enjoyed 14. Most were under Sonny Lubick, who started his coaching career in Beatty.
Colorado State was the 10-win Mountain West team that lost to the middle-of-the-road Pac-12 team in Saturday's Las Vegas Bowl at Sam Boyd Stadium. Multiple flea-flickers featuring Bob Arum-style trickeration were executed. The final score was 45-10, and the Pac-12 team was Utah, which not long ago was a Mountain West team.
This was before Utah built a $35 million palace in which its football players eat and study.
Colorado State finished 10-3. Were UNLV to finish 10-3, a bronze statue of incoming coach Tony Sanchez would be commissioned, and they probably would place it in a conspicuous place on the Strip. Maybe in front of the Riviera, where bronzed fannies of the Crazy Girls beckon passers-by inside.
There won't be any bronzed fannies beckoning Colorado State inside when it returns to Fort Collins, just a $13 million indoor practice facility where the Rams can practice flea-flickers. There's also also a place to eat and study and diagram flea-flickers, because CSU has one of those athletic centers with a training table and tutors and such.
This is what the Lied Athletic Complex at UNLV could have been, had somebody with vision drawn up the blueprint.
And now, sound the trumpets and roll the drums. Revise the recruiting brochure, and print it on glossy paper: CSU is getting a new on-campus football stadium that will seat around 34,000 spectators and cost around $220 million.
On Dec. 7, the CSU Board of Governors voted 11-0 to move forward on the new stadium, though most people who live in Fort Collins don't seem to want it. And doesn't that sound familiar?
People at UNLV talk about "improving the culture" of football. These are the exact words Jack Graham, the Colorado State athletic director, spoke in August.
On the day after he was fired.
Jack Graham was a booster with deep pockets before he became CSU athletic director. He changed the culture. Then he was fired.
So despite turning it around in football (for now), CSU is searching for an AD, and it's searching for a football coach, too. This is because Jim McElwain, the football coach Jack Graham hired, is now football coach at Florida.
As the wise and wizened colleagues at Yahoo! Sports wrote: "In the current landscape, CSU generally is the kind of place that hires someone on the way up (like McElwain) or someone who proves to be in over his head (Steve Fairchild). It's the kind of place that generally has a four-year window — coaches prove they can do the job and move on to something bigger, or prove they can't do the job and get fired."
Also, at last report, Colorado State's chances of being invited to join the Big 12 were nonexistent.
Spend some money, win some games, change some culture. Then what?
And at what cost?
In a related note, Texas A&M, which lost 59-0 to Alabama in October, will implode the west side of Kyle Field today, the final phase of a remodeling project that will cost $450 million.
Whoop-de-do. La-di-da.
Las Vegas Review-Journal sports columnist Ron Kantowski can be reached at rkantowski@reviewjournal.com or 702-383-0352. Follow him on Twitter: @ronkantowski.