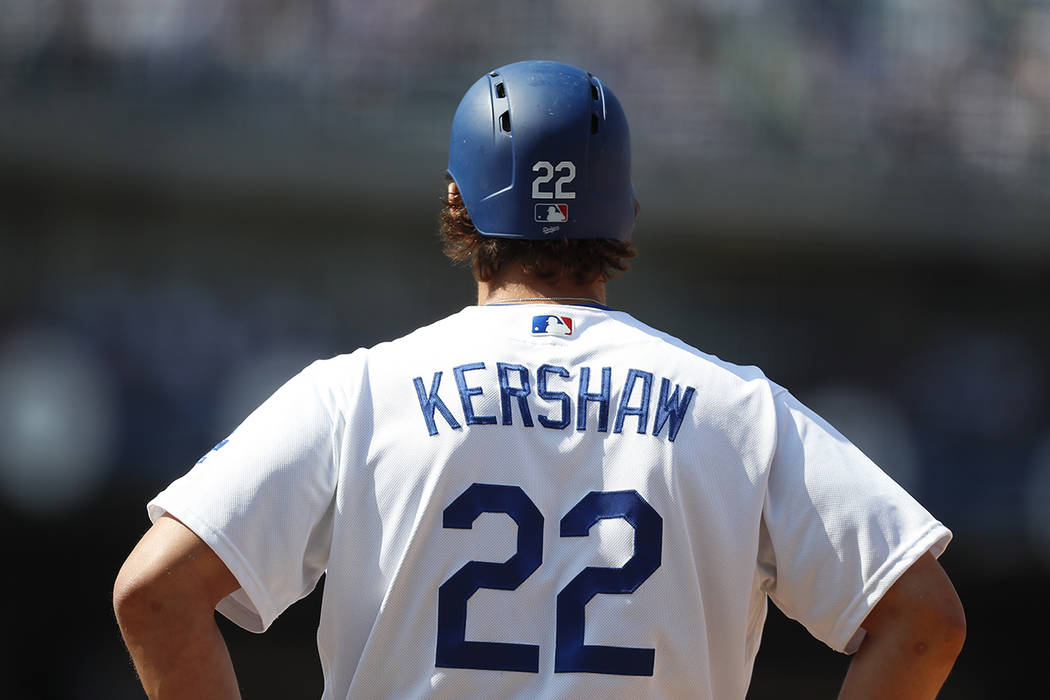 As fireworks exploded around my Las Vegas home on the Fourth of July, my run line bet blew up in my face.
Not wanting to lay minus-340 on Clayton Kershaw and the Dodgers, I instead backed them on the run line (minus-1½) at minus-160 at home against the Diamondbacks.
It might've been a so-called square play, but it looked like a winner as Kershaw carried a no-hitter into the seventh and Los Angeles took a 4-0 lead into the ninth. I was one out away from cashing my ticket when Dodgers closer Kenley Jansen served up a three-run homer to Daniel Descalso that made it 4-3 and drove a Roman candle through my heart.
For those bettors who have wisely wagered only straight up on Kershaw this season, he has been the most profitable pitcher in baseball at plus 11.6 units (meaning a $10 bettor would be up $116 and a $100 bettor $1,160). That isn't usually the case with the three-time Cy Young Award winner.
"He's never been the No. 1 moneymaker because when he loses as a (minus) 340 favorite, it takes away three starts," handicapper Micah Roberts said. "I watch every one of his starts, and I'm just amazed. They've won 12 straight around him."
The Dodgers are 16-2 when Kershaw (13-2, 2.19 ERA) starts and, in case you were wondering, 11-7 on the run line. Kershaw, the minus-150 favorite to win the National League Cy Young Award (Max Scherzer is the plus-120 second choice), is the first Dodgers pitcher to win 13 before the All-Star break since Orel Hershisher in 1988 — when Los Angeles last won the World Series.
Roberts (Sportsline.com) picked the Dodgers to win the World Series before the season started and is sticking with Los Angeles (57-29 through Wednesday), the 7-2 favorite to win it all after opening at 7-1.
The Dodgers are the fourth-most profitable team this season for bettors, at plus 14.9 units. The Astros (58-27) are the top money team, at plus 21.0 units, and the Diamondbacks (52-33) are No. 2 with plus 17.6 units.
The Brewers (48-40) are arguably baseball's biggest surprise. Milwaukee, which opened the season with one of the lowest win totals (71) and some of the longest odds to win the World Series (300-1), is the No. 3 money team with plus 15.2 units. The Brewers crushed the Cubs 11-2 on Thursday to open up a 4½-game lead in the NL Central over the defending World Series champs.
"The Brewers (in first) at the All-Star break? What kind of odds could've you got for that?" Roberts said. "That's incredible."
Cubs, Indians languish
The Cubs (42-43) are arguably baseball's biggest disappointment after opening the season as the World Series favorite with the highest win total (96). Chicago is batting .239, baseball's third-worst average, and is 22nd in quality starts.
"It's starting pitching and a lack of hitting. A complete turnaround from last year," Roberts said. "They're not getting anybody on base. For Kris Bryant to only have 34 RBIs in July, that's just crazy. But that division's so weak, they're going to be fine."
The Cubs, with minus 18.9 units, are the third-worst money team this season, ahead of only the Giants (34-53, minus 21.7 units) and Phillies (28-55, minus 20.1 units).
The Indians (44-39, minus 18.8 units) and Mets (38-45, minus 14.6 units) also have hemorrhaged money. But Cleveland is the best under team (49-29-5) in baseball and New York is the top over team (48-25-10).
"The Cubs and Cleveland have burned the most money," William Hill sports book director Nick Bogdanovich said. "Both teams have had inflated prices all year and they've incinerated money. That doesn't mean they won't get it together and make a run."
The Rockies (50-38, plus 13.9 units) and Royals (44-40, plus 8.9 units) also are among the top money teams. When it comes to money pitchers, Kansas City ace Jason Vargas (12-3, 2.62 ERA) is second only to Kershaw with plus 10.8 units.
As for taking big favorites on the run line, Roberts, a former Las Vegas sports book director, advises against it.
"It's hard enough to win by one run," he said. "The only time the wisest guys in Las Vegas bet on the run line, they would take the plus-1½ to take advantage of the value.
"I never, ever once saw a sharp guy, in my 18 years behind the counter, come and play a limit bet laying the 1½."
Roberts, who bets on baseball every day, said he stays away from huge favorites altogether.
"I don't want to lose one game and have it take away from two of my wins," he said. "I look for the underdogs that I think can win. I don't go anywhere past a (minus) 140 favorite."
Contact reporter Todd Dewey at tdewey@reviewjournal.com or 702-383-0354. Follow @tdewey33 on Twitter.
Baseball betting money makers
Courtesy of Covers.com
(Through Thursday's morning games)
Most profitable teams
Team; record; units won
1. Houston Astros; 58-27; 21.0
2. Arizona Diamondbacks; 52-33; 17.6
3. Milwaukee Brewers; 48-40; 15.2
4. Los Angeles Dodgers; 57-29; 14.9
5. Colorado Rockies; 50-38; 13.9
6. Kansas City Royals; 44-40; 8.9
7. Los Angeles Angels; 44-45; 5.8
8. Minnesota Twins; 43-41; 5.5
9. Atlanta Braves; 40-43; 3.9
10. Boston Red Sox; 49-36; 2.3
Most profitable pitchers
Name (team); team record; units won
1. Clayton Kershaw (Dodgers); 16-2; 11.6
2. Jason Vargas (Royals); 13-4; 10.8
3. Taijuan Walker (Diamondbacks); 10-3; 8.2
4. Dallas Keuchel (Astros); 10-1; 8.2
5. Lance McCullers Jr. (Astros); 12-3; 8.1
6. Zach Davies (Brewers); 12-6; 7.8
7. Carlos Carrasco (Indians); 13-3; 7.1
8. Jon Gray (Rockies); 5-0; 6.8
9. Matt Shoemaker (Angels); 10-4; 6.7
10. Alex Wood (Dodgers); 10-3; 6.5
Note: A unit is a measurement of the size of one's bet. For example, a $100 bettor who has won 11.6 units on Kershaw this season would be up $1,160.