Falcons bettors get reprieve on a NFL Sunday dominated by underdogs
September 24, 2017 - 10:08 pm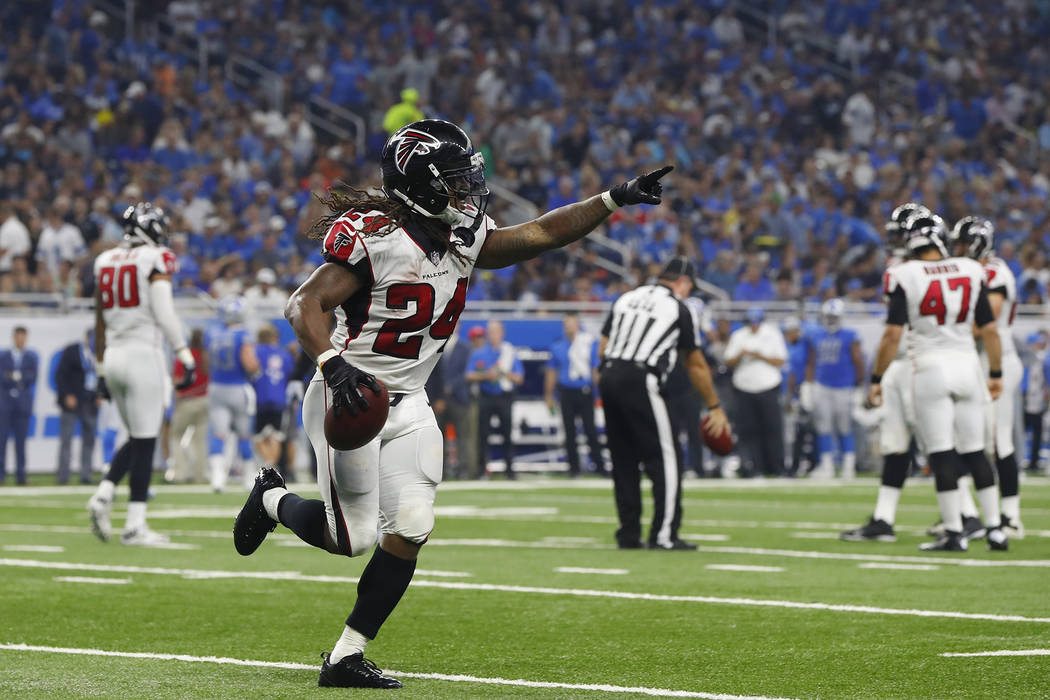 It felt like Super Bowl LI all over again Sunday, when the Patriots pulled out a miracle comeback win at the same time as the Falcons appeared to suffer another gut-wrenching loss.
Only this time Atlanta and its backers earned a reprieve from the replay official when Matthew Stafford's apparent winning touchdown pass to Golden Tate was overturned to end the game. The Falcons, 3-point favorites, escaped with a 30-26 win and cover.
Stafford drove Detroit 88 yards to the 1-yard-line with 12 seconds left, when he hit Tate on a quick slant that was ruled a touchdown. But after a review, officials ruled he was down just shy of the goal line with eight seconds left.
Then, by a rule warmly embraced by those with money on Atlanta, a 10-second runoff ended the game. Out of timeouts, the Lions could not stop the clock.
The Falcons and Chiefs — 24-10 winners over the Chargers — are the NFL's only 3-0 teams. They also were the only public teams to win and cover on a day dominated by underdogs, who went 11-3 against the spread with eight outright wins.
The Titans, giving 2½ points to the Seahawks, were the only other favorite to cover in a 33-27 win.
"Whenever you see underdogs faring well, it's usually a very good day for the sports books," South Point oddsmaker Jimmy Vaccaro said shortly after the Redskins-Raiders game kicked off Sunday night. "We had an above-average day. It'll wind up being a very, very good day if somehow the Redskins can beat the Raiders.
"We couldn't stop anybody from betting Oakland."
As if on cue, the Redskins — 3½-point underdogs — went ahead 7-0 en route to a 27-10 victory over the Raiders.
Washington joined other outright upset winners in the Jets, Jaguars, Colts, Saints, Vikings, Bears and Bills, who dealt Denver its first loss in a 26-16 win in Orchard Park, New York.
"It seemed like every parlay we wrote today had the Broncos on it," Westgate sports book director Jay Kornegay said. "Having the Bills win outright made it our biggest win of the day."
Denver linebacker Von Miller's unsportsmanlike conduct penalty kept a fourth-quarter Bills drive alive that ended with a field goal to give Buffalo a 10-point lead with three minutes left.
Miller, who said he had been "laughing and joking" with Tyrod Taylor all game, offered the Bills quarterback his hand to help him up after a third-down incompletion before he quickly pulled it away and was penalized.
The Jets might not be the worst team in the NFL after all following their dominant 20-6 win over the Dolphins, who played dead as 6-point favorites and didn't score until the final play of regulation. This was the same New York team that gave up 45 points to Oakland in Week 2.
But one week's performance doesn't always carry over to the next in the NFL, where the Jaguars whipped the Ravens 44-7 in London on Sunday a week after getting trounced 37-16 at home by the Titans.
"Who knows what you're going to get," Kornegay said. "That's kind of the history of the NFL, in general."
Few could have foreseen Jacksonville quarterback Blake Bortles throwing for four TDs and no interceptions and Vikings quarterback Case Keenum throwing for a career-high 369 yards and three TDs in Minnesota's 34-17 win over Tampa Bay.
Or the Bears, as 7-point underdogs, beating the Steelers 23-17 in overtime to knock out all teasers on Pittsburgh.
On another weekend in which we gained weight and lost money instead of the other way around, a few things still made sense. The Browns lost their 15th consecutive road game in a 31-28 loss to the Colts, and Aaron Rodgers and Tom Brady led the Packers and Patriots to dramatic last-minute wins.
Rodgers fired a TD pass to Jordy Nelson with 17 seconds left to tie it at 24 after Green Bay trailed 21-7 at halftime. He then set up Mason Crosby's 27-yard field goal in overtime with a 72-yard pass to Geronimo Allison.
Brady threw his fifth TD pass of the game to Brandin Cooks with 23 seconds left a play after he found Danny Amendola on third-and-18 in New England's 36-33 win over the Texans.
"Other guys in that situation would have a 50-50 chance to win," Vaccaro said. "But those two guys, you kind of knew they would drive the ball down the field and win the game."
If only choosing winners was that easy.
More betting: Follow all of our sports betting coverage online at reviewjournal.com/betting and @RJ_Sports on Twitter.
Contact sports reporter Todd Dewey at tdewey@reviewjournal.com. Follow @tdewey33 on Twitter.