Handicapping Supreme Court's decision on sports betting case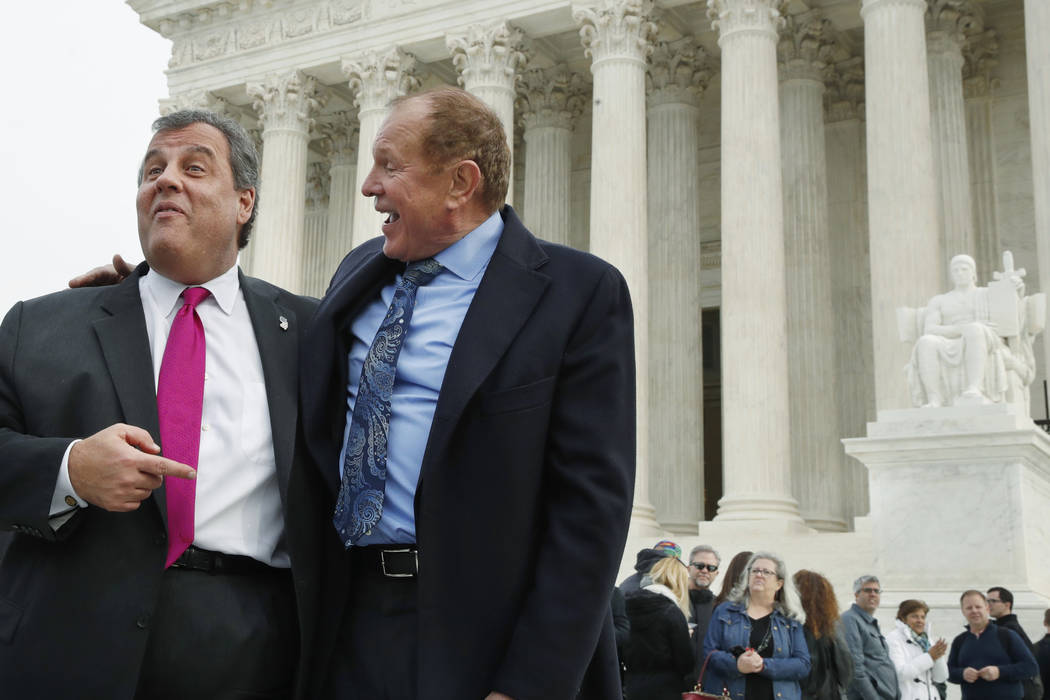 Trailing the Tampa Bay Lightning 3-1 in the first round of the Stanley Cup playoffs, the New Jersey Devils are 15-1 underdogs to win the series.
By contrast, the state of New Jersey is considered a favorite to win its sports betting case in the Supreme Court despite entering with an 0-7 record against the four major pro sports leagues and the NCAA in lower court rulings.
"I think it is highly likely that New Jersey will prevail," said Miami-based attorney Daniel Wallach, a gaming and sports law expert. "Historically, the Supreme Court has reversed federal Court of Appeals decisions over the last five years in excess of 70 percent of the time. Last year, it was 83 percent."
New Jersey passed legislation in 2014 that decriminalized sports betting at casinos and racetracks. But it has been blocked from taking wagers by lawsuits from the leagues, who argue that would violate the Professional and Amateur Sports Protection Act (PASPA) — a 1992 prohibition of sports bets beyond states that already had it.
Nevada is the only state to offer single-game wagering, while Delaware offers only NFL parlay cards.
New Jersey argues that PASPA is unconstitutional. If the Supreme Court agrees, New Jersey is expected to start taking sports wagers almost immediately, and at least 20 other states are poised to take bets during the 2018 football season.
Split decisions
Using a 60-20-20 split, Wallach broke down the three most likely decisions by the Supreme Court, which could make its ruling as soon as Monday or as late as June 25. The favorite would open the floodgates for legal sports betting across the country.
"I think there's a 60 percent chance that the court will strike down PASPA as unconstitutional by virtue of the 10th Amendment violation under the anti-commandeering doctrine," Wallach said.
Simply put, the doctrine prohibits the federal government from forcing states to act against their will.
At least 20 states have introduced sports betting bills in anticipation of a favorable decision by the Supreme Court.
"Those states would be in position to open up sports betting almost at the same time or soon after New Jersey does," Wallach said. "As a practical matter, no state will be able to implement sports betting as quickly as New Jersey. They're just going to need two weeks."
William Hill in prime position
That's because the William Hill sports bar at Monmouth Park in New Jersey can quickly and seamlessly be transformed into a William Hill sports book.
William Hill, which operates 108 of Nevada's 190 sports books, reached an agreement with Monmouth Park in 2013 to become the 148-year-old racetrack's exclusive sports betting provider.
"With a positive outcome in New Jersey, William Hill is probably going to be the biggest beneficiary of sports betting right away," Wallach said.
League of their own
As for the other two potential rulings, Wallach gives the leagues a 20 percent chance of victory and New Jersey a 20 percent chance of winning a narrow decision.
"You have to bear in mind that the leagues have won every single federal court decision going back nearly six years. They're 7-0," Wallach said. "There is always a chance that the court will preserve the status quo."
Jersey Shore thing
The other possible outcome, which Wallach said is "rising with a bullet," is that the court will avoid deciding the case on constitutional grounds and instead issue a narrow ruling that New Jersey's repeal law — which, again, only decriminalizes sports betting — does not violate PASPA.
That would allow New Jersey to offer unregulated sports betting while keeping PASPA in place.
"That scenario would not be a major win for all the states. It would be a win primarily for New Jersey," Wallach said. "If you give New Jersey officials truth serum, that's the result they're hoping for. Because when the dust settles, New Jersey wants to be in a position where they're the only ones offering sports gambling outside of Nevada and, to a lesser extent, Delaware."
Contact reporter Todd Dewey at tdewey@reviewjournal.com. Follow @tdewey33 on Twitter.