Las Vegas sports books buried by Eagles, mystery bettor who won $10M
February 4, 2018 - 11:15 pm
Updated February 4, 2018 - 11:40 pm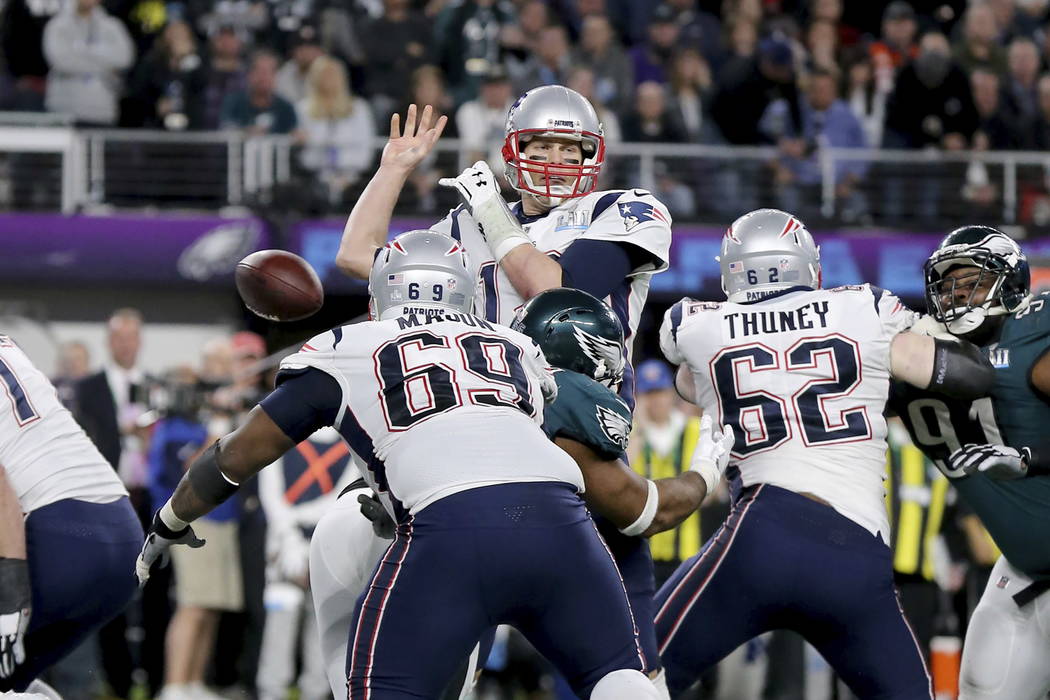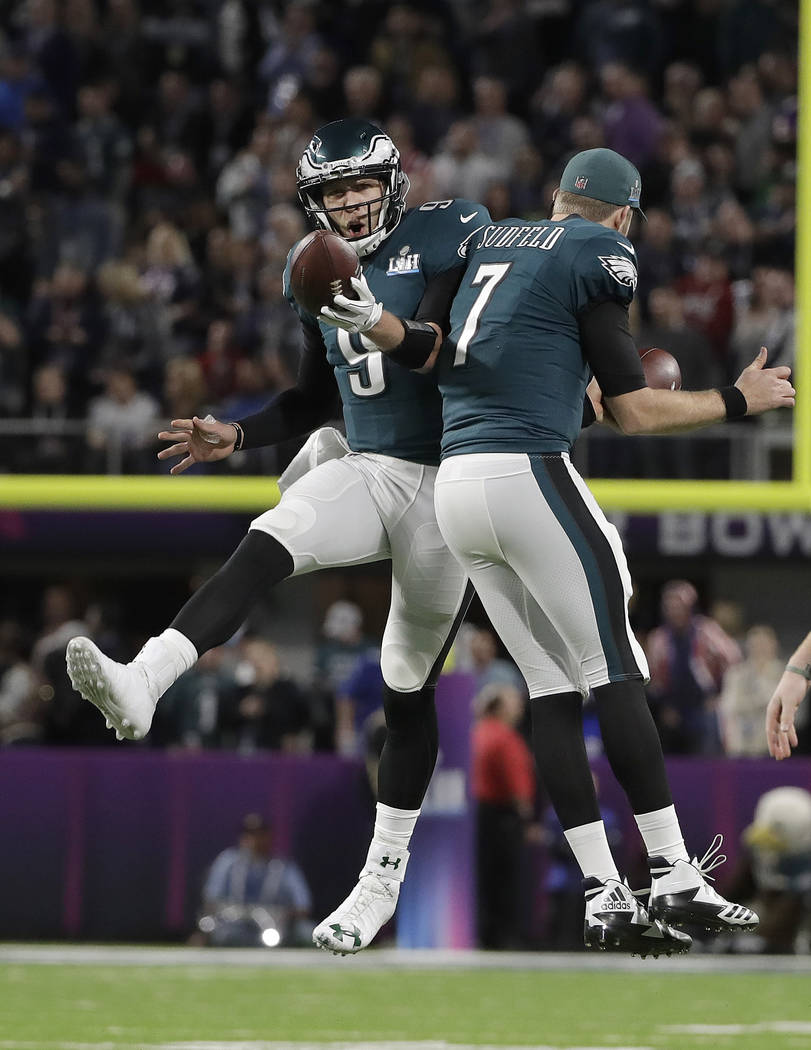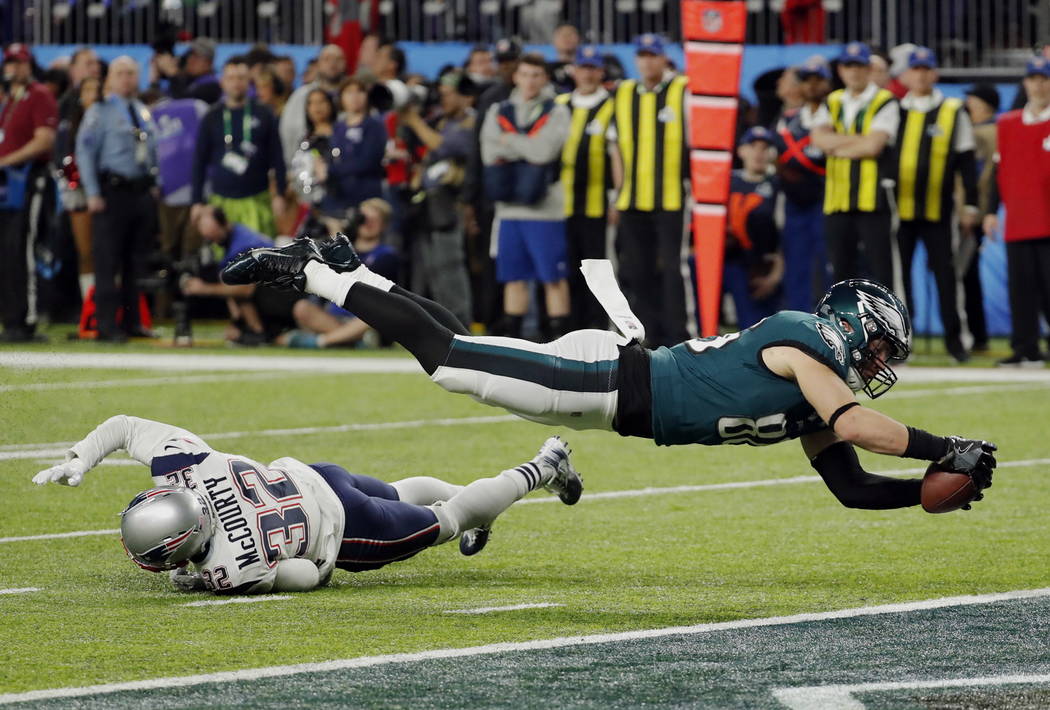 The house doesn't always win, especially when the Patriots are in the Super Bowl and a mystery bettor riding an epic hot streak is on the other side.
Caesars Palace sports book reported a seven-figure win on the Eagles' 41-33 upset of New England in Super Bowl LII and the Westgate sports book reported a small win. But William Hill sports book reported a multimillion-dollar loss, CG Technology sports books reported a mid six-figure loss and most other Las Vegas sports books also lost on Sunday's game.
The mystery bettor — just call him Biff Tannen Jr. — who beat Las Vegas out of millions of dollars when he won all of his wagers on the World Series reportedly won more than $10 million on at least $7.4 million in money-line bets on Philadelphia, which closed at plus 170.
The betting public cleaned up on props in the game that featured the most total yards (1,151) of any game in NFL history.
When all the numbers are tallied, there's a chance Nevada sports books might lose only their third Super Bowl in 28 years.
"It's going to be close," CG Technology sports book director Jason Simbal said. "If I had to bet right now, I would say we're a small loser. And if it is a winner, it's like (a) 1 percent (hold)."
The Patriots also burned the books in Super Bowl wins over the Falcons and Seahawks and in two Super Bowl losses to the Giants.
"The Patriots are not good to the sports books in Super Bowls," Simbal said. "Whenever we need them, they don't get there and when we don't need them, they get there."
Boyd Gaming sports book director Bob Scucci, who reported a small loss on Sunday's game, also is not a fan of New England.
"I was a big fan at kickoff time but that turned around really quickly," he said. "We're just always on the wrong side of the Patriots. The two Giants ones were terrible, last year was ridiculous and the Seahawks was probably the biggest turnaround."
Wynn Las Vegas sports book, which took a $500,000 money-line wager from the unidentified bettor and a $180,000 money-line bet on the Eagles right before kickoff, also lost on the game.
"We don't usually lose Super Bowls," Wynn Las Vegas sports book director Johnny Avello said. "Once in a while. The last couple have been tough. Maybe the Patriots won't be there next year."
Philadelphia, which closed as an underdog of between 4 and 5 points (at Boyd Gaming), capped a 10-1 ATS run by underdogs in the NFL playoffs.
The Patriots trailed 15-3 in the second quarter and 29-19 in the third before rallying to take a 33-32 lead on Tom Brady's 4-yard touchdown pass to Rob Gronkowksi with 9:22 left.
But New England's defense couldn't stop the Eagles on a key fourth-and-1 at midfield and Nick Foles (28-for-43, 373 yards, three TDs) hit Zach Ertz for a go-ahead 11-yard touchdown pass with 2:21 left. The play was one of two touchdown catches that could've been overturned by replay but weren't.
"Everyone is so tired of this nonsense," Westgate sports book manager Ed Salmons said. "It seemed pretty obvious that the league said, 'Just count anything reasonably close.' "
Brady, who threw for 505 yards and three TDs, had plenty of time to direct a winning drive but was strip-sacked by Brandon Graham. The Eagles added a field goal to make it 41-33 and it wasn't over until Brady's Hail Mary attempt fell incomplete in the end zone as time expired.
In another huge play in the game and for prop bettors, Foles caught a TD pass on fourth-and-1 in the final minute of the first half. The odds on Foles to score a TD were 7-1 and was one of a plethora of props cashed by bettors.
"We got buried on that," Salmons said of Foles' TD catch. "The props didn't do very good. Every guy scored a touchdown and every guy went over."
William Hill lost $4.6 million on three seven-figure wagers, including two to the mystery man, who also won a $3 million bet on the Eagles at MGM Resorts sports book.
"Great game, (crappy) result," William Hill sports book director Nick Bogdanovich wrote in a text.
Contact reporter Todd Dewey at tdewey@reviewjournal.com. Follow @tdewey33 on Twitter.