More than a feeling: Patriots the play in Super Bowl LII
February 2, 2018 - 10:00 am
Updated February 2, 2018 - 4:50 pm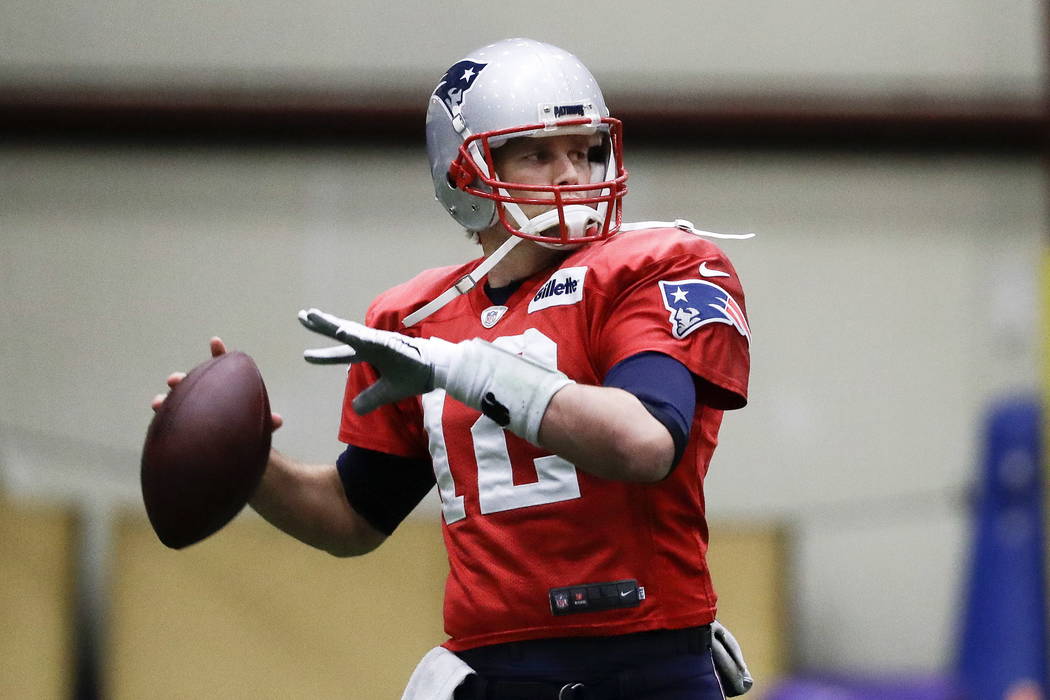 Wisconsin native Erin Rynning used the alias Midwest Square for his $5,000 entry in the Westgate's inaugural SuperContest Gold this season.
But in reality, Rynning is a Las Vegas sharp who's betting on the Patriots to win Super Bowl LII over the Eagles.
The professional sports bettor finished an agonizing second in the SuperContest Gold, missing out on the winner-take-all $470,000 grand prize by a half-point when Stag Capital won its final play of the season on Tampa Bay (+7) over New Orleans.
"It was a tough one to lose," said Rynning, who went 49-31-5 ATS (61.3 percent). "I think about it every day at some point. To make matters worse, there was no second place."
In a bittersweet twist, Rynning (Sportsmemo.com) cashed both of his $1,500 entries in the Westgate SuperContest for about $50,000 and each entry would've won the Gold.
While Stag Capital made its picks using a computer algorithm, Rynning is an old-school handicapper who makes his own numbers on every game.
"Pretty much by pencil and paper," he said. "I've got a pretty good feel for things."
Patriots a bargain on money line
Rynning's feeling on the Super Bowl is that New England, a 4- to 4½-point favorite, is a good play on the money line.
"For me, if I can lay 170 or 180 on the money line, that's better than laying 4½," he said. "In Vegas, because of the big Eagles plays, the money line is much lower than the global line at some of the offshore books."
While the vast majority of early action has been on Philadelphia at Las Vegas sports books — which have taken millions of dollars in money-line bets on the Eagles — Rynning doesn't see value in taking the Eagles plus the points.
"I made it pretty simple. I have a big-time coaching edge with (Bill) Belichick over (Doug) Pederson and a very big quarterback edge with (Tom) Brady over (Nick) Foles," he said. "What worries me is the Eagles are definitely a team that matches up and can give New England problems. They have a good defensive line that can put pressure on Brady and a good running game that can keep the ball away from their offense.
"But I'm a professional bettor. I'm a value guy. If you like the Eagles, you better have bet them the last two games at plus 3½ on a very strong home field. I believe New England is better than Minnesota and better than Atlanta and now they're on a neutral field and the line's only 4½. That doesn't equate to value for me."
New England value play ATS
CG Technology sports book vice president Matt Holt sees the Patriots as a value play ATS because they were 7-point favorites over the Eagles on the look-ahead line. That was before Foles played the game of his life in a 38-7 win over the Vikings and New England was life-and-death in a 24-20 comeback win over the Jaguars.
"There is a massive public overreaction to what happened in the two championship games," Holt said. "The value now lies on New England."
Holt expects the Patriots to pull away in this one and likes them to cover the adjusted point spread of minus-8½ (+160).
Rynning also can see New England winning its first Super Bowl by double digits.
"I kind of feel they could get the lead early and play their game," he said.
We're also backing the Patriots in their pursuit of a record-tying sixth Super Bowl title. Philadelphia's stock is the highest its been since Carson Wentz went down and Rynning and Holt were the first handicapper and oddsmaker we've encountered that didn't like the Eagles.
The betting public also is backing Philadelphia en masse so far and we learned the hard way earlier this season to beware of the popular public underdog.
The Bills were the top consensus play in the SuperContest and SuperContest Gold as home 'dogs to the Saints in November and were promptly whipped 47-10.
The Eagles' pass defense is vulnerable, allowing Eli Manning to average 400 yards passing and three TDs in two games this season. Playing in perfect conditions with Rob Gronkowski expected back by his side, Brady should be able to feast on Philadelphia's secondary and guide New England to its 14th consecutive cover as favorites of 7 points or fewer.
We'll take the two old GOATs (Brady and Belichick) over the pair of backup quarterbacks (Foles and Pederson).
More betting: Follow all of our sports betting coverage online at reviewjournal.com/betting and @RJ_Sports on Twitter.
Contact reporter Todd Dewey at tdewey@reviewjournal.com. Follow @tdewey33 on Twitter.