Tenfold, Hofburg might give Justify run for money in Belmont
Updated June 7, 2018 - 6:31 pm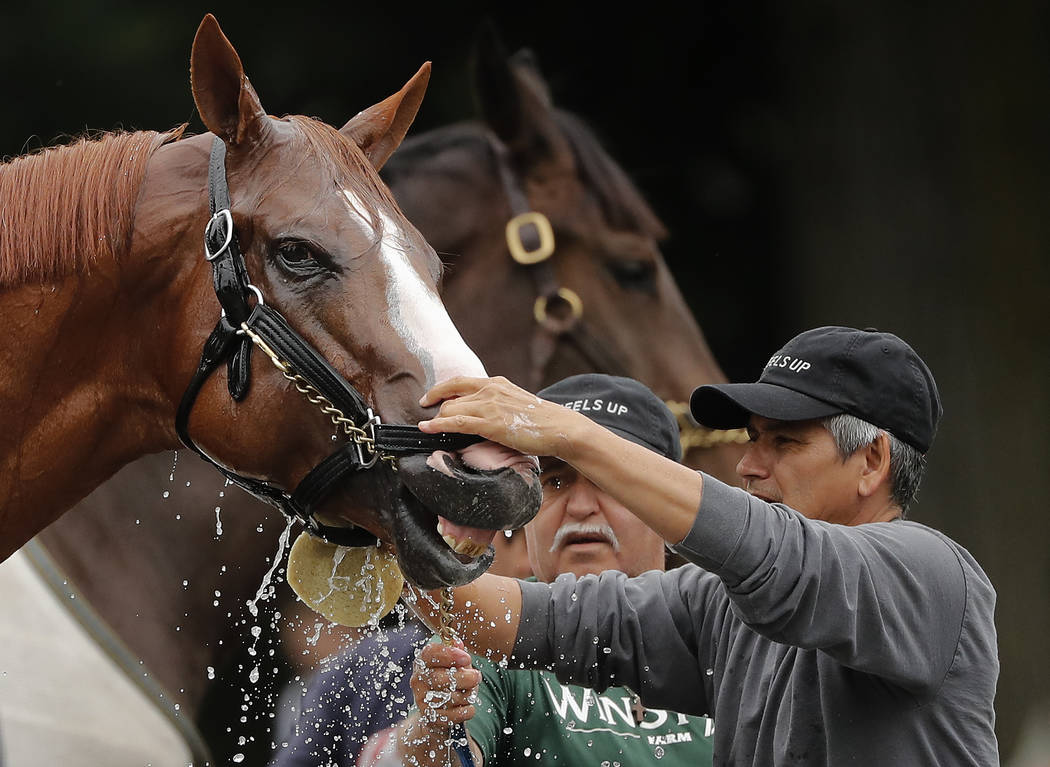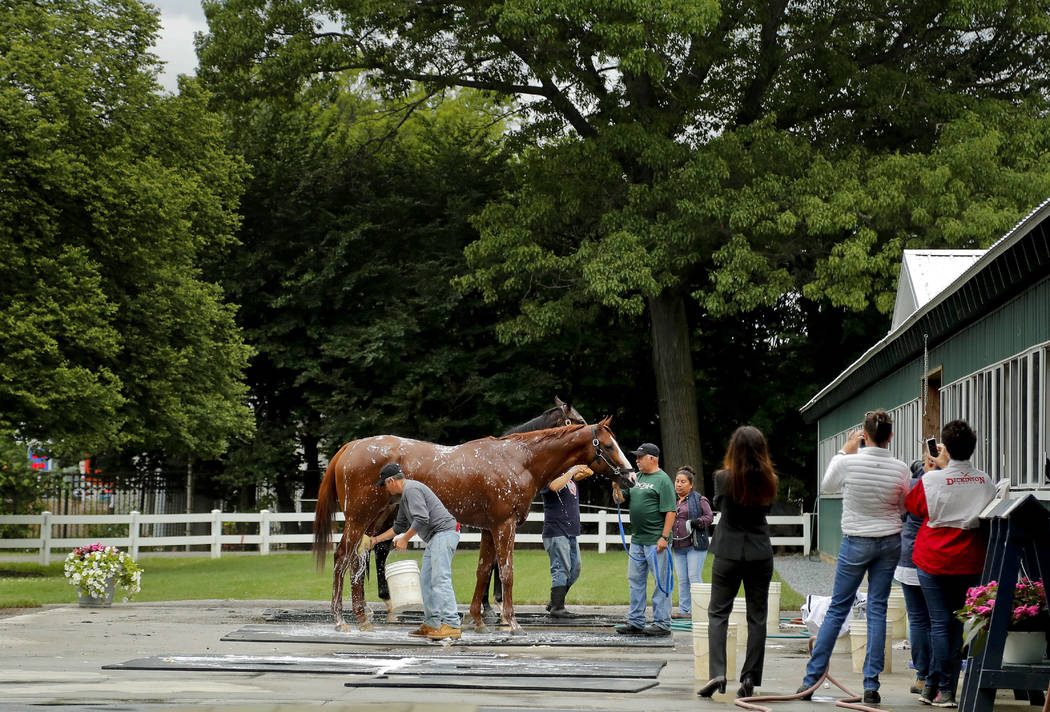 There will be a palpable buzz at Las Vegas race books Saturday, when Justify tries to become the second horse in the past 40 years to win the Triple Crown.
But Wynn Las Vegas race and sports book director Johnny Avello said he can't justify a wager on the favorite at 4-5 morning-line odds to win the 150th running of the Belmont Stakes.
"If Justify went off at 2-1, I'd play Justify. But that's not going to happen," Avello said. "He's going to be 4-5, possibly a little bit less. I, personally, will try to beat him.
"He may win the Triple Crown, but I'm actually going in a different direction. I think he's just kind of tailed off a little bit from his earlier numbers, and I believe that this is just a tad too far for the breeding of the horse."
The Belmont is a 1½-mile test that has seen only three favorites win in the past 22 years.
Will Justify win the Triple Crown? Wynn Las Vegas opened the odds at 60-1, but yes is now at even money. No is minus 120.
Depending on the odds, Avello said he is planning on playing either Hofburg or Tenfold to win and place.
"If Hofburg is 4-1, I probably wouldn't be interested on the win side, but if he was 6-1 or 7-1, I might be," he said. "Tenfold was 12-1 on the morning line. If he's anywhere in the 12-1 to 15-1 range, I'd certainly look at that seriously. It's all going to set up on what the odds are."
For exacta, trifecta and superfecta players, Avello suggests using Hofburg, Tenfold, Justify and Vino Rosso, with Noble Indy or Gronkowski in a third or fourth spot only.
"If you can get a horse on top that's a good price, that's the key," he said. "You'd have to use Justify in the second spot. The problem with using him in the first spot is there's no payoff."
After winning the Kentucky Derby and Preakness out of the No. 7 post, Justify will come out of the No. 1 post in the Belmont.
Avello breaks down the rest of the field:
Post position, horse, jockey, morning-line odds:
2. Free Drop Billy, Albarado, 30-1
"Had an awful race in the Derby. He just doesn't look fast enough to win this."
3. Bravazo, Saez, 8-1
"If he runs the race he ran at the Preakness (second to Justify), that would give him a shot to win this. But I'm not expecting that to happen."
4. Hofburg, Ortiz Jr., 9-2
"He's a horse you certainly have to consider. He's out of (the sire) Tapit, and Tapit horses have done very well in the Belmont (winning three of the past four). This horse is very lightly raced. He didn't run in the Preakness. He's certainly going to be fresh. And he's got one of the best jockeys on him in Irad Ortiz, who knows this course as good as anybody."
5. Restoring Hope, Smith, 30-1
"This is (Justify trainer) Bob Baffert's second horse in here. He ran on an off track his last race and was terrible. He'd be a huge price if he wins, but I'm not going to use him."
6. Gronkowski, Ortiz, 12-1
"He's had no races on a normal track. They've all been on synthetic or turf, and he's won four out of six. He picks up Chad Brown, one of the premier trainers in the country. That helps, but I still don't know what this horse will do. I wouldn't throw him out totally."
7. Tenfold, Espinoza, 12-1
"This horse is owned by the Winchells, who own Tapit. Tenfold's got a combination of Curlin and Tapit in its breeding. I liked his race in the Preakness. I like his trainer (Steven) Asmussen, and I think he's getting better. This is a horse that I think has a shot to beat Justify."
8. Vino Rosso, Velazquez, 8-1
"I don't see any reason why this horse may not be in the mix. You've got jockey John Velazquez winning at an almost 30 percent clip at Belmont this year and Todd Pletcher winning at a 24 percent clip as a trainer there. So this combination is always lethal."
9. Noble Indy, Castellano, 30-1
"One of his owners also owns a piece of Justify. I'm not sure how they'll approach the race. If you're looking for a good payoff horse, you might consider looking at the top three or four. He's got Pletcher as his trainer and Javier Castellano as his jock. His Derby was terrible, but if you throw that race out, everything else looks good."
10. Blended Citizen, Frey, 15-1
"He's the only horse in the race that has won a race at Belmont Park, and that was in the Peter Pan on May 12. He just doesn't look the part to me as a Belmont winner."
More betting: Follow all of our sports betting coverage online at reviewjournal.com/betting and @RJ_Sports on Twitter.
Contact reporter Todd Dewey at tdewey@reviewjournal.com. Follow @tdewey33 on Twitter.
Belmont Stakes
Post time: 3:37 p.m. Saturday at Belmont Park in Elmont, N.Y.
Distance: 1 1/2 miles
TV: KSNV-3
Post position, horse, morning-line odds
1. Justify 4-5
2. Free Drop Billy 30-1
3. Bravazo 8-1
4. Hofburg 9-2
5. Restoring Hope 30-1
6. Gronkowski 12-1
7. Tenfold 12-1
8. Vino Rosso 8-1
9. Noble Indy 30-1
10. Blended Citizen 15-1